Bathroom hygiene is a sensitive subject at any time but especially so during a pandemic. With the spread of the corona virus throughout the world, the focus has shifted so much towards bathroom cleanliness that the hygienic qualities of sanitation products are now a topic of great importance not only for consumers wanting to modernise their homes but also for architects and project planners working on public buildings.
The subject is of interest from several different perspectives: the hygienic properties of sanitation products are important not only from the health-care viewpoint but also due to their impact on planning requirements and with respect to sustainability. Hygienic functions are frequently linked with the digitalisation of functions in the home and are increasingly 'invisible' in design, i.e., in comparison with the significance attached to them, the hygiene features of sanitation products are 'conspicuously inconspicuous'. In other words, taking a closer look is all the more worthwhile.
The focus is shifting to hygienic requirements – in private and (semi-) public premises
An important aspect when it comes to hygiene and sanitation products is safety – not just for purely functional reasons but also for protection against bacteria and viruses. Naturally, this applies no less to fittings in public facilities than to those in the home. In this case, the development of the bathroom into a lifestyle sphere means greater demands not only on the quality of the time spent there but also on the duration, e.g., as a result of working from home, and, therefore, on the atmosphere.
Altogether, the awareness of the need for cleanliness and safety has increased significantly in the wake of current developments. A variety of solutions are already available from the industry. "When it comes to hygiene, there is no need to reinvent the bathroom", says Jens Wischmann, managing director of the German Sanitation Industry Association (VDS). "The bathroom is actually one of the cleanest rooms in any dwelling thanks to the surfaces and modern products, which are standard nowadays."
Today, hygiene as a subject is of much greater relevance in semi-public and public areas. The hospitality sector, for example, must develop new hygiene concepts. However, many sanitation facilities for offices, event locations and public areas must be adapted and converted to meet higher demands on hygiene. For such cases, too, the sanitation industry offers numerous solutions.
Naturally, the subject of hygiene is of utmost importance in the hospital and care sector. According to the 'Helios-Kliniken-Gruppe', one of the biggest providers of in-patient and out-patient care in Europe, around 600,000 patients become infected with pathogens in German hospitals every year. Some 400,000 of these hospital infections are unavoidable even if the hospital has done everything correctly in terms of hygiene measures because these infections are caused by patients' own pathogens. However, around 200,000 of the infections caught in German hospitals could be avoided if strict hygiene measures were to be taken.
They go hand-in-hand: product care and sustainability
The care properties of sanitation products are frequently linked directly with hygiene. Thanks to the latest anti-microbial technologies and surfaces, it is easy to keep washbasins, bathtubs and toilets clean and hygienic. Such products have a special surface coating that dirt and limestone cannot adhere to, thus enabling the water to flush away any residues more easily. Furthermore, this puts a brake on bacteria growth.
Similar solutions that hinder microbial growth are also available for washbasins and toilet seats. Moreover, many modern toilets have a rimless flushing system that offers fewer places where bacteria or other pathogens can take hold. Another advantage is environmental friendliness when cleaning such products because they eliminate the need to use aggressive toilet cleaners.
Jens Wischmann also draws attention to sustainability: "Water-carrying bathroom products undoubtedly represent a growth market. And sustainability is already an important aspect of many hygienic sanitation products. I expect to see more new products and services from the hygiene segment at ISH digital 2021."
Product innovations for the toilet: value added in terms of hygiene and convenience
The digitalisation of toilets and taps offers major benefits by minimising manual surface contact. In some cases, for example, there is a sensor behind some toilet mechanism, which enables the user to flush the toilet by simply waving a hand in front of it. Some sanitation manufacturers go a step further and offer toilets with an intelligent function that operates the flush without the user's involvement. A system such as this has an additional advantage in that it prevents the formation of pathogens in stagnant water, e.g., when the inhabitants are on holiday or the accommodation is vacant.
In the case of many electronic toilets, it is not even necessary to touch the seat cover. Thanks to sensor control, it opens and closes the cover automatically when a user approaches. Several electronic toilets even have a Bluetooth interface and can be operated using a smartphone. Depending on the version, some even have an integrated self-cleaning function.
Well thought out: touch-free concepts
Another advantage of touch-free products besides improved hygiene becomes evident when cleaning washbasins and fittings: because there is no need to touch anything, no water can drop from the user's hands onto the tap, which means less water marks and limescale on the surface of the fitting. A worthwhile addition in this connection is a touch-free soap dispenser that can be used not only for foam soap or sanitiser but also as a hygiene-foam dispenser next to the toilet. With a little hygiene foam, normal toilet paper can be turned into a wet wipe suitable for disposal in the toilet.
Shape the future
There is no question that hygiene has proved to be a particularly sensitive subject in public or semi-public buildings, such as office blocks, restaurants, gymnasiums, hotels, event locations, schools, universities and, above all, in hospitals and nursing homes.
In this connection, touch-free products will / must have a key role to play in the future. The technology is well developed and can help to meet the higher standards of hygiene required to cope with the pandemic. Moreover, modern touch-free fittings look very similar to conventional models and, thanks to the increasing miniaturisation of the sensor technology, the fittings can be designed to fit in with the architectural setting.
Many of the functions offered by modern fittings, such as the length of time the water flows, sensor sensitivity and automatic flushing for hygienic reasons, can also be set up and adjusted via a smartphone or tablet computer. Naturally, cleaning times, flushing intervals, flush duration, etc. can be set to meet individual needs. And fittings can be either mains or battery operated. In the latter case, low-energy electronics ensure a long service life without battery changes.
The ideas of the German sanitation industry – ranging from a reduction in the amount of water needed for the toilet and handwashing, energy savings through a needs-based supply of hot water, less cleaning agents, touch-free functions in private and hotel bathrooms, long life thanks to timeless design and a high standard of quality – are not only effective and comfort-enhancing but also, above all, sustainable.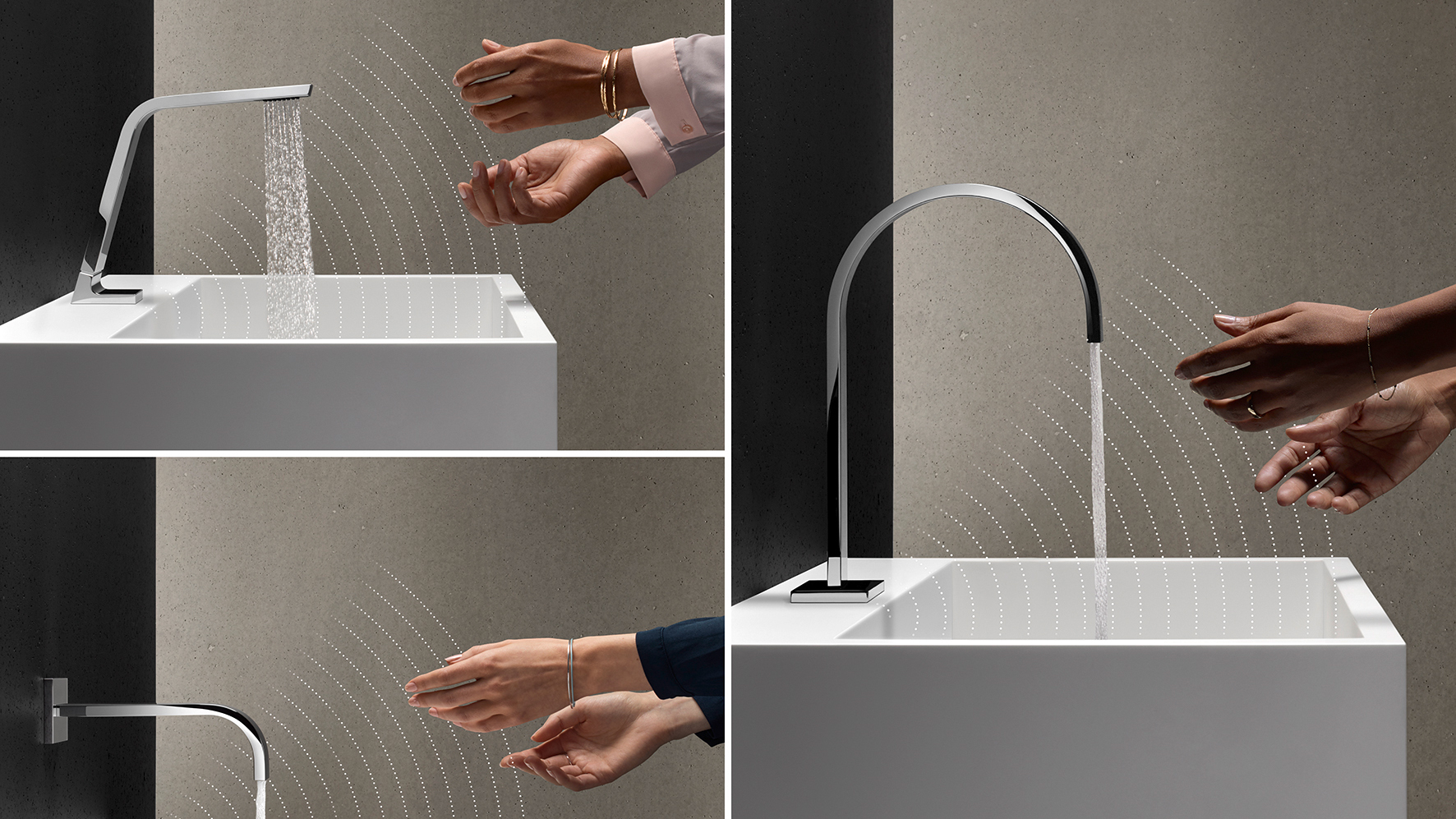 Detailed information about ISH digital can be found at  www.ish.messefrankfurt.com.
Press releases & images:
http://ish.messefrankfurt.com/presse
Social media:

www.ish.messefrankfurt.com/facebook
www.ish.messefrankfurt.com/twitter
www.ish.messefrankfurt.com/youtube
www.ish.messefrankfurt.com/linkedin
www.instagram.com/building.technologies.messeffm
Background information on Messe Frankfurt
Messe Frankfurt is the world's largest trade fair, congress and event organiser with its own exhibition grounds. The Messe Frankfurt Group employs around 2,500* people in a total of 30 subsidiaries. The company generated annual sales of approximately €250* million in 2020, following sales of €738 million in 2019. Even in difficult times caused by the coronavirus pandemic, we are globally networked with our industry sectors. We have close ties with our industry sectors and serve our customers' business interests efficiently within the framework of our Fairs & Events, Locations and Services business fields. One of the Group's key USPs is its closely knit global sales network, which extends throughout the world. Our comprehensive range of services – both onsite and online – ensures that customers worldwide enjoy consistently high quality and flexibility when planning, organising and running their events. We are expanding our digital expertise with new business models. The wide range of services includes renting exhibition grounds, trade fair construction and marketing, personnel and food services. Headquartered in Frankfurt am Main, the company is owned by the City of Frankfurt (60 percent) and the State of Hesse (40 percent).
For more information, please visit our website at: www.messefrankfurt.com
* preliminary figures 2020