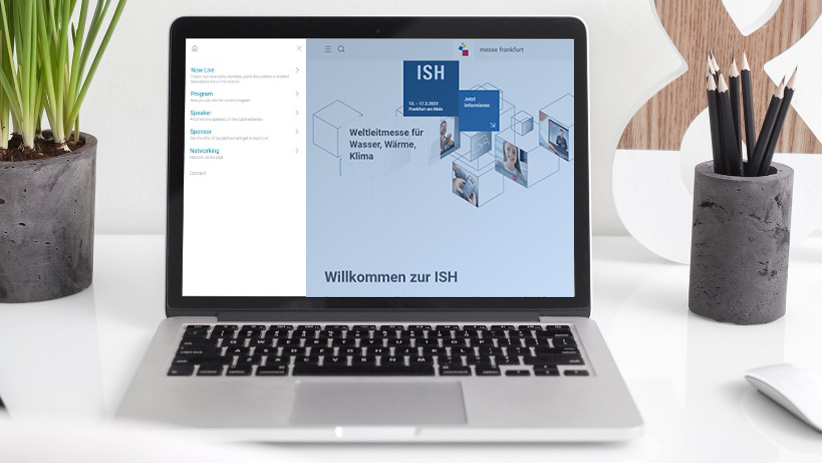 ISH will be launching both physically and digitally in 2023. The platform on the web, the ISH Digital Extension, is already open for exhibitors, visitors and journalists. Find new contacts via AI-supported matchmaking or arrange appointments during the fair. Chat with new business partners? That's possible too, of course. You can also offer your product presentations as streaming in thematically appropriate channels. The appointment function including video call is available until 24 March. Until 30 April, the platform is still open to everyone, incl. chat function.
What is possible, how the platform works, where the daily programme items are and much more can already be found out in the videos on the digital platform.
Pre-Event
Look forward to the digital pre-event one week before the start of the ISH trade fair with interesting insights into ISH 2023 and an introduction to the Digital Extension.
Onsite + digital: here we go
ISH opens in Frankfurt from 13 to 17 March 2023. The ISH Digital Extension functions will also be available at the same time and beyond. That's new for everyone. Our overview shows you which functions will be available to you from when. So that you can plan your trade fair appearance perfectly - in Frankfurt and digitally.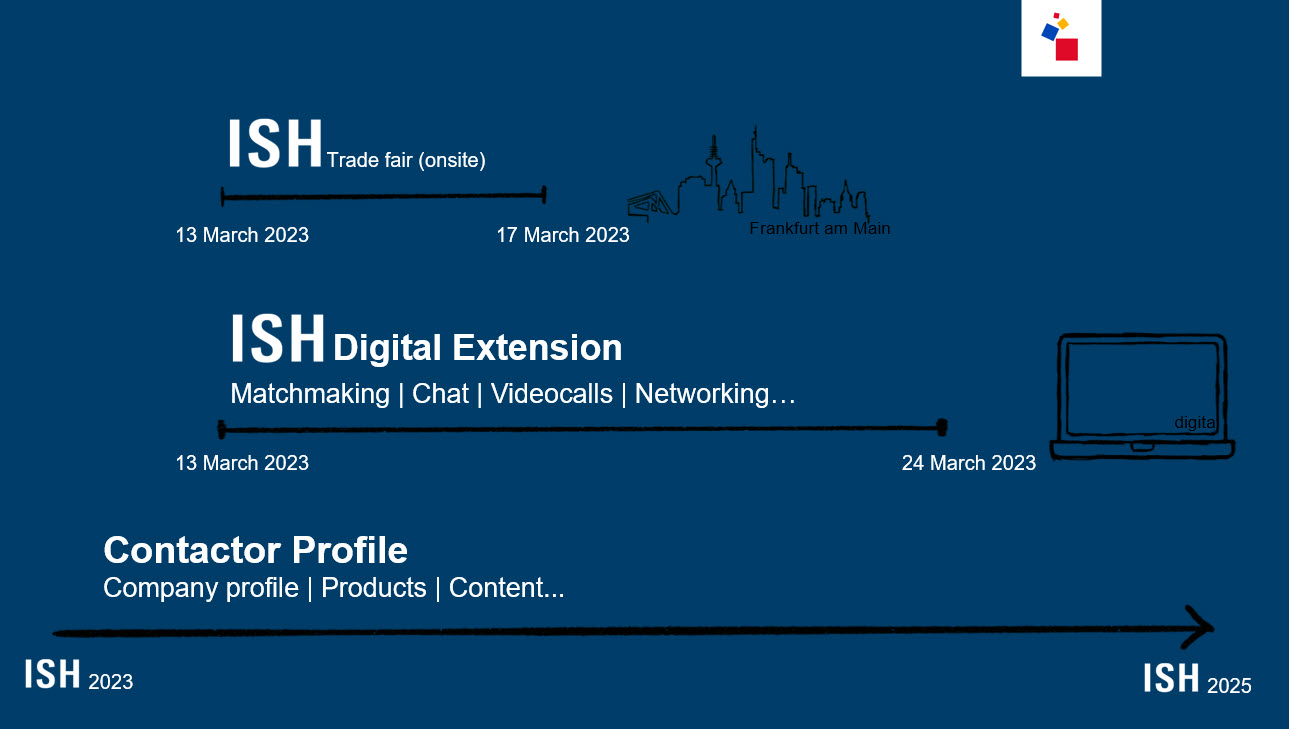 The platform can be used in its entirety by all trade fair participants, parallel to the start of the ISH, from 13 March 2023. All functions of the Digital Extension are available until 24 March 2023. The platform with chat function will remain open until 30 April 2023.
Digital features
Take advantage of the wide-ranging opportunities for interaction and networking offered by the digital features. This is what all attendees can look forward to:
Podcasts - Tips for exhibitors
#1 Hybrid trade fairs
What digital features can exhibitors concretely look forward to? How can exhibitors present their products and solutions on the digital platform? What are the advantages of the mix of face-to-face encounters on site and the online services? Marlene Hammel, communicator at Messe Frankfurt, and Jenny Engelhardt, digital expert from the trade fair industry, in dialogue on the topic of "hybrid".
#2 How to maintain your online exhibitor profile
Find out how you can take full advantage of the Media Package Manager (MPM) for your trade fair marketing in a podcast. You can change and supplement your information before, during or after the trade fair –  because the exhibitor and product search function is available to trade visitors as a research tool all year round.