Fire & Flame is the new platform at ISH for manufacturers who combine the latest heating technologies with future-oriented design. As an exhibitor, you will meet new and existing customers, stakeholders, experts, media representatives and politicians interested in all aspects of single room fireplaces and exhaust technology.
ISH is the heart of the entire sector and a powerful innovation driver that is visibly taking the energy revolution forward. The market share of renewable energy sources such as wood is rising steadily and the demand for CO2­neutral solutions is higher than ever. In the hall 9.2, you can show how future heating technologies based on wood – the No. 1 renewable energy source – will be able to meet tomorrow's requirements and inspire with their stylish design.
When it comes to heating with wood, gas or ethanol stoves and electric fire, the biennial show combines future technologies with the latest design ideas to create business success stories.
Inspire around 25,000 interested trade visitors from 108 countries worldwide (ISH 2019 figures) in Hall 9.2 with the possibilities of future heating technologies and demonstrate them live in operation. Show them how single room fireplaces can be coupled with other heating technology components, e.g. heat pumps, photovoltaic systems or solar thermal systems, to make them completely CO2-­neutral.
Fire & Flame – forum for the stove industry – is the gathering of the industry that focuses on exchange, networking and knowledge transfer, while presenting the latest innovations to a wide audience. This is where the entire industry meets in one place at one time.
Fire & Flame participation options
We offer you three participation options to make your trade fair presentation as individual and simple as possible.
As an exhibitor at Fire & Flame – forum for the stove industry – with products such as single room fireplaces, gas and ethanol stoves, electric fireplaces and flue gas technology, you can choose from various types of participation:
Fire & Flame (individual):
Participation in requested size for your individual stand construction with a customized stand proposal.
1-side open:         EUR 271,00 / sqm * 
2-sides open:       EUR 278,00 / sqm *
3-sides open:       EUR 281,00 / sqm  *
4-sides open:       EUR 286,00 / sqm  *
*plus AUMA fee of € 0.60/sqm, plus environmental charge of € 3.90/sqm, Media package 985 EUR
Fire & Flame (15 sqm, 30 sqm, 45 sqm, 60 sqm):
Participation with predefined stand space at a complete price incl. Media package without stand construction.
15 sqm (5 x 3 m):        3.300 EUR
30 sqm (5 x 6 m):       6.450 EUR
45 sqm:                        9.450 EUR
60 sqm (10 x 6 m):    12.450 EUR
Complete stand (20 sqm)
Participation with a complete solution in a shared area including stand construction at a package price for 4,900 EUR.
Stand space of 20 sqm
Floor carpet
Lockable cabin including shelve rack
Monochromatic inscription (company name)
Illumination of booth
Shelve rack or alternatively brochure rack
Seating furniture (maybe differing from picture)
potted plant
Optional: screen (fee-based service)
Power connection 1-3 kW including 3-outlet socket
Pre-cleaning and daily cleaning
4 exhibitor passes
Assembling and dismantling passes
500 free entry ticket vouchers for invitation of customers
Media package incl. ISH Digital Extension
15 min short presentation on exhibitor forum
Small wood storage
All participation options include:
15 minutes short lecture in the Exhibitior Forum
Small storage for wood
500 visitor vouchers for free
All prices plus VAT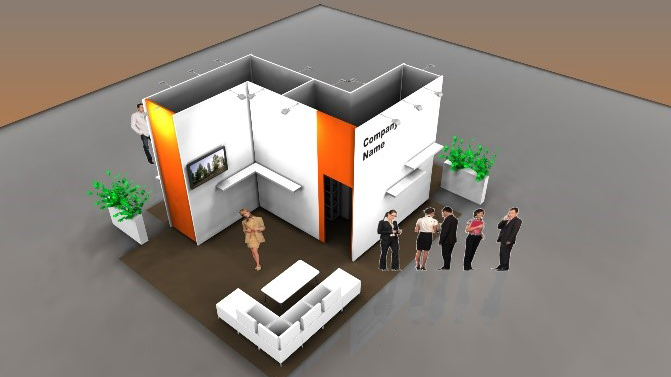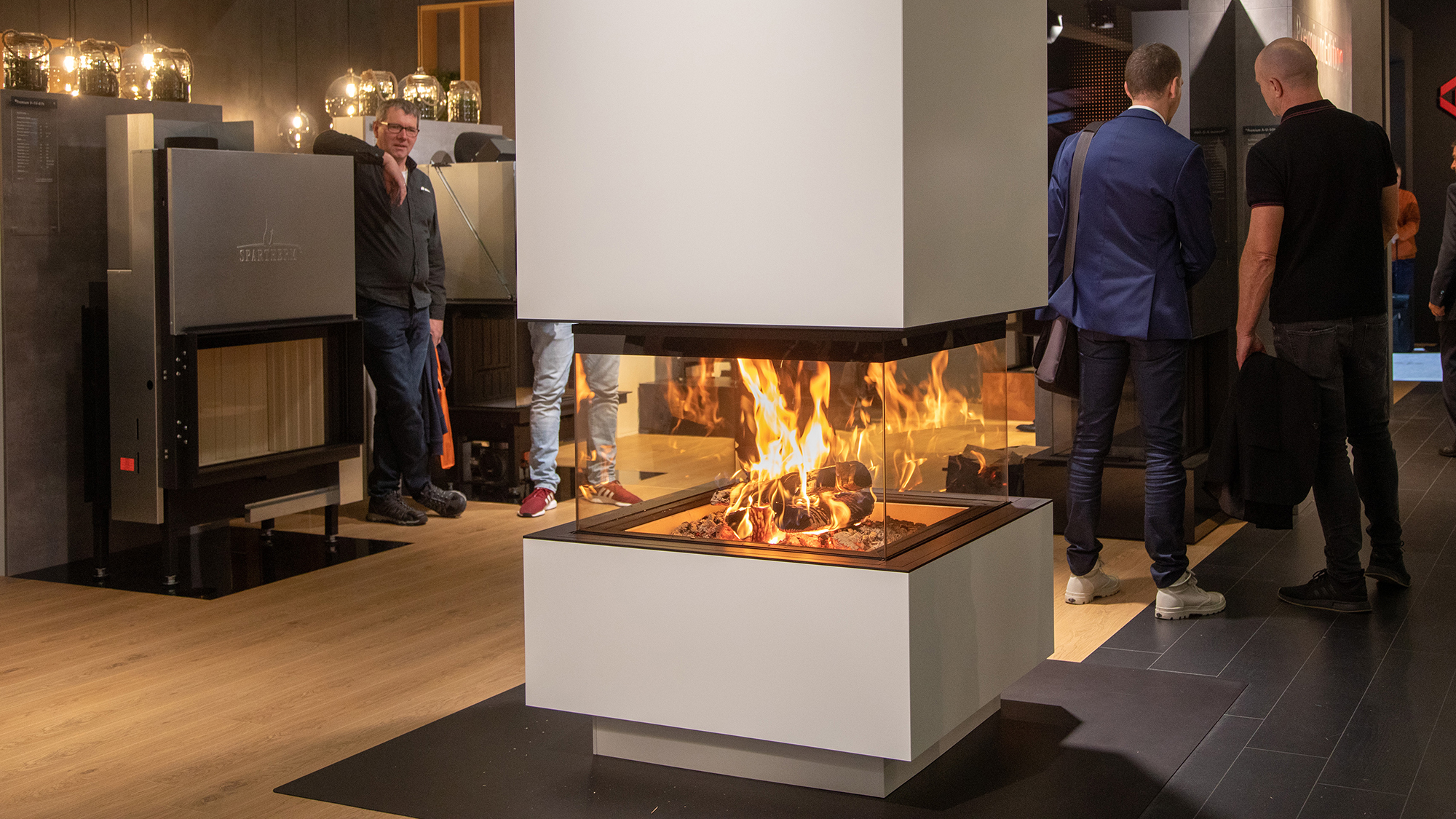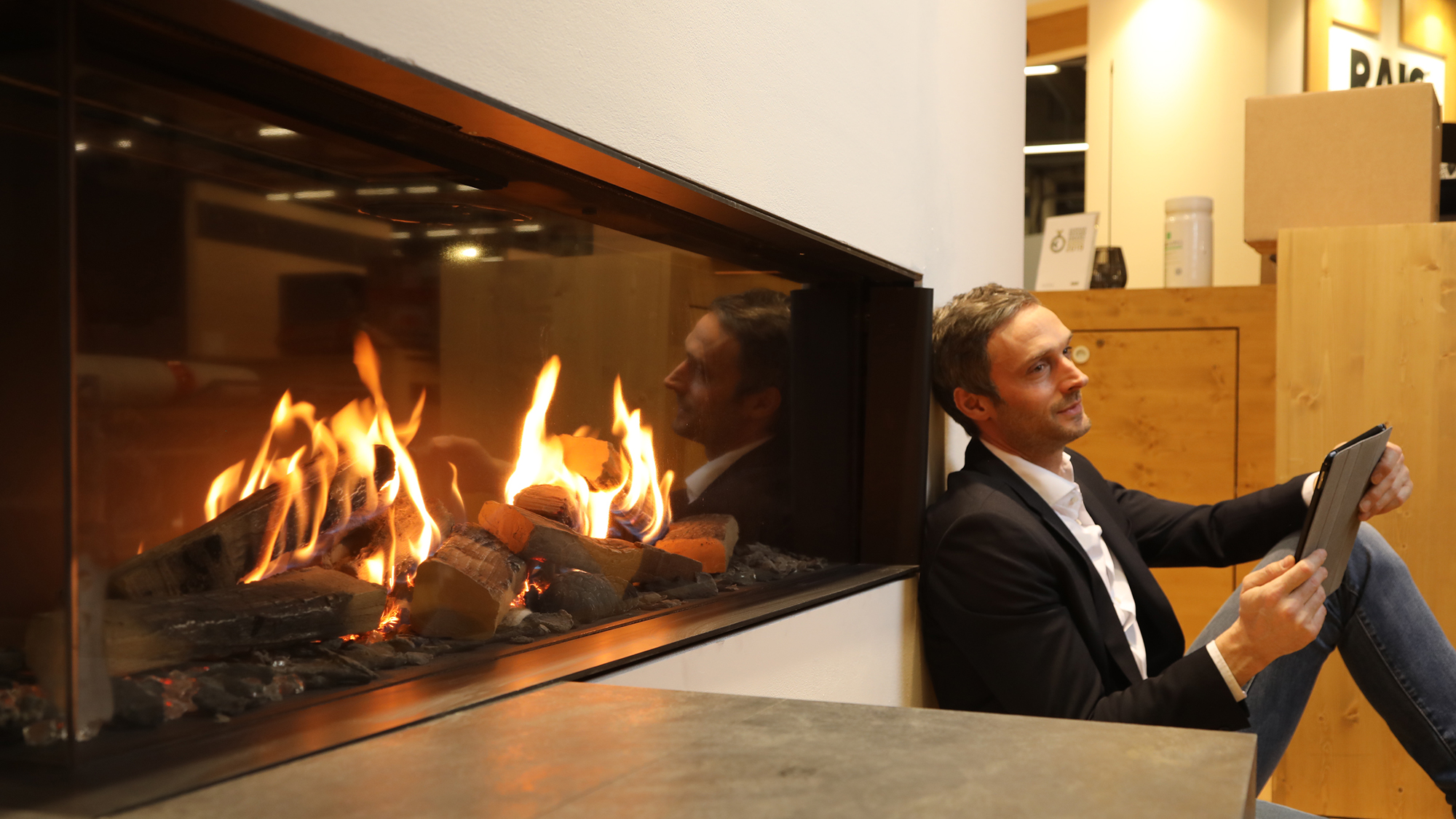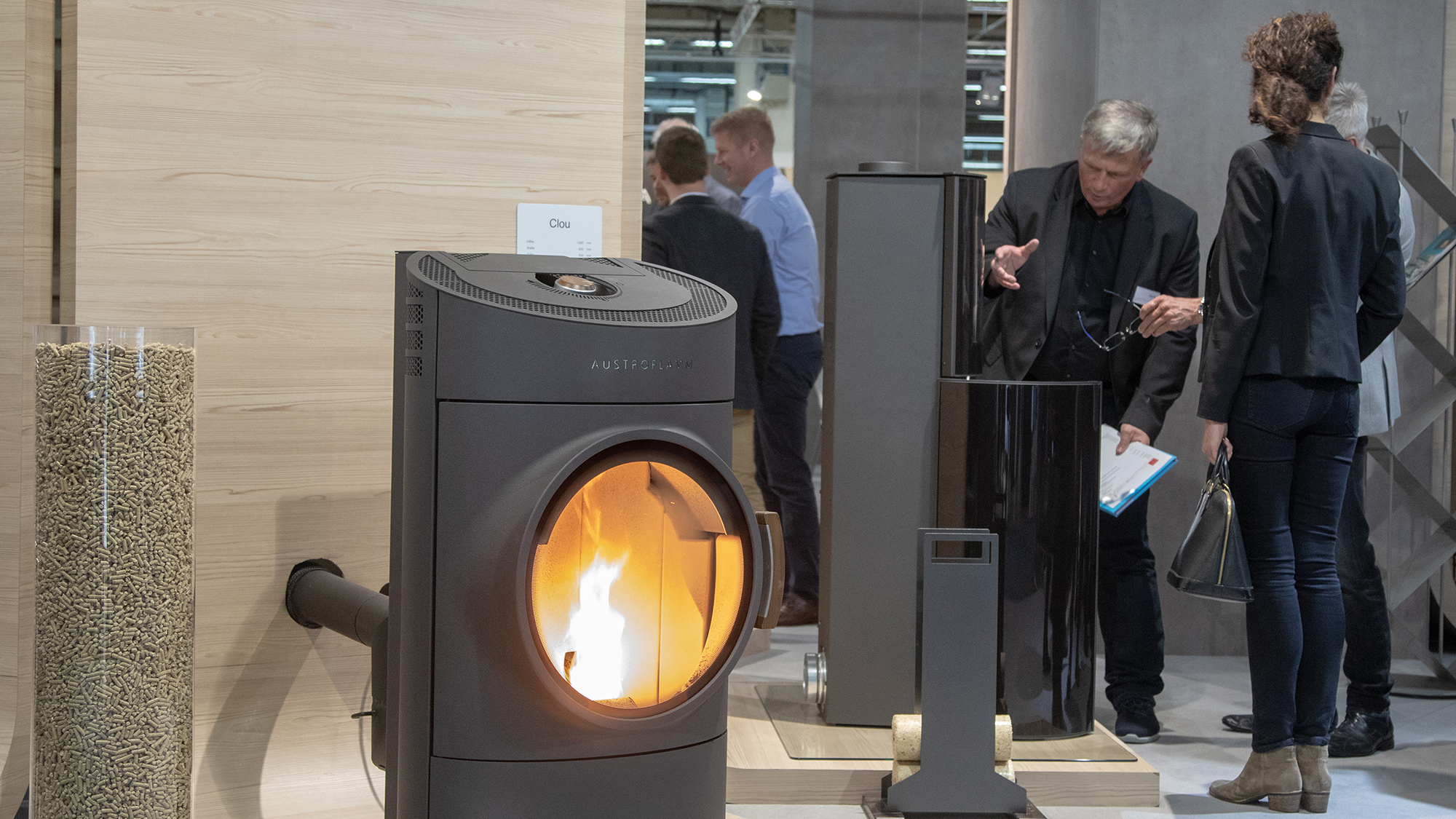 Together with you we promote a joint success of Fire & Flame – forum for the stove industry
Individually tailored advertising – for increased attention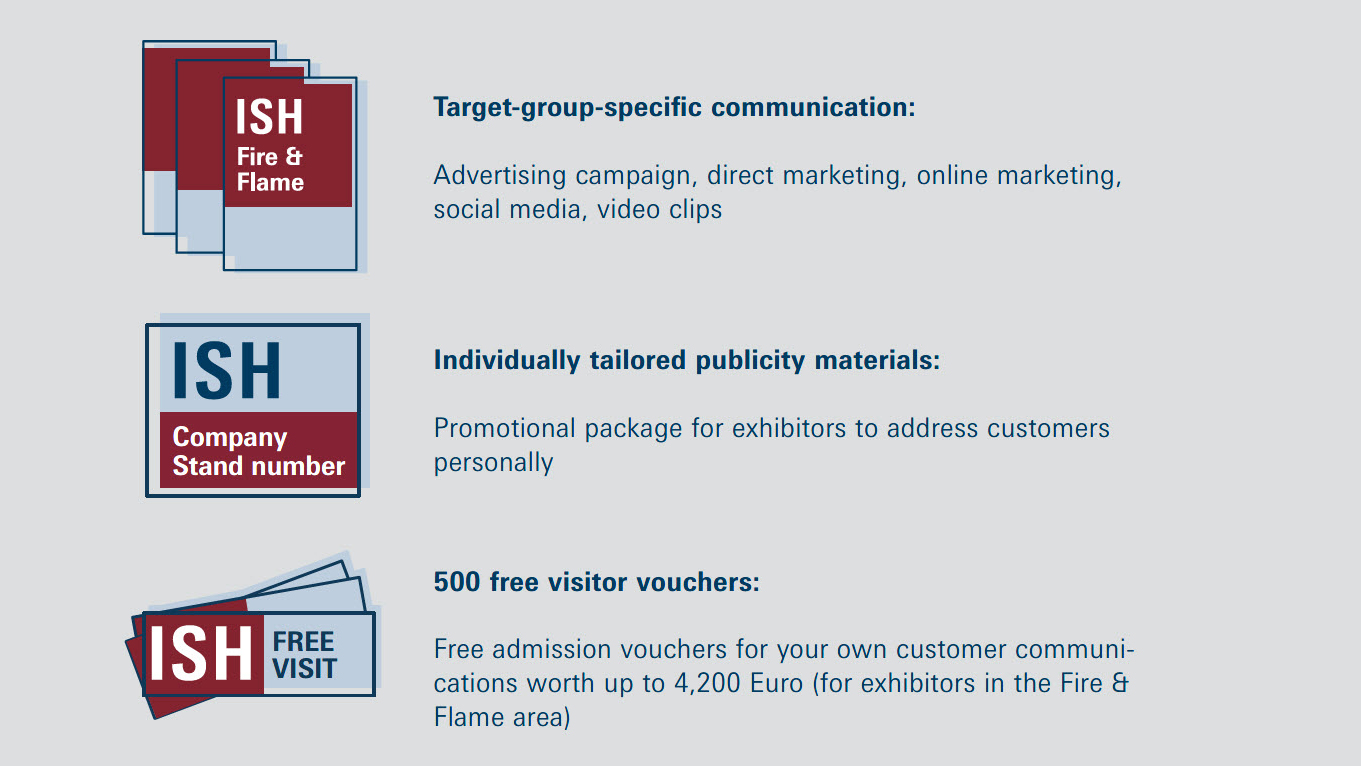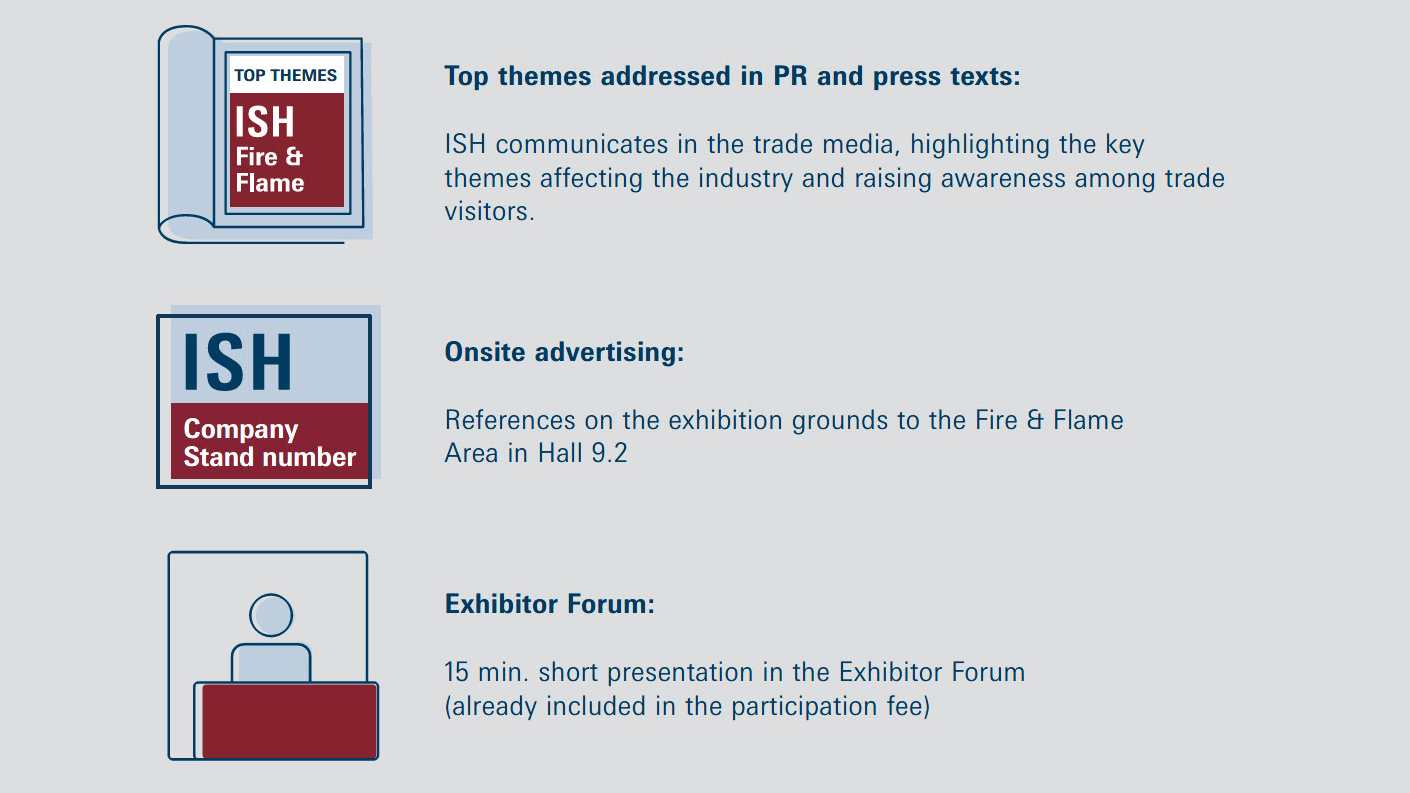 In association with ISH, Fire & Flame can assist you to: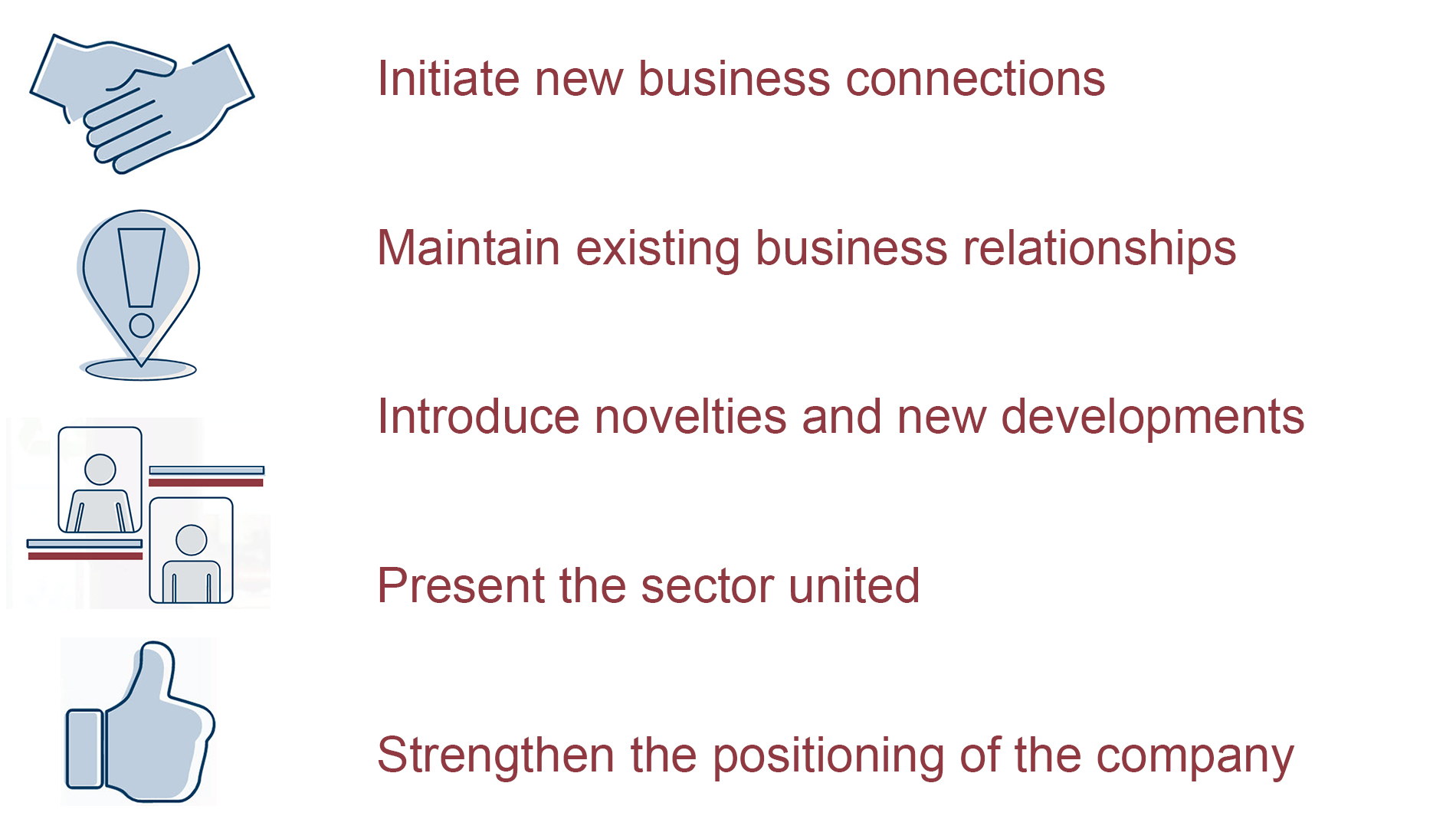 Stove Forum – Skillfully imparting knowledge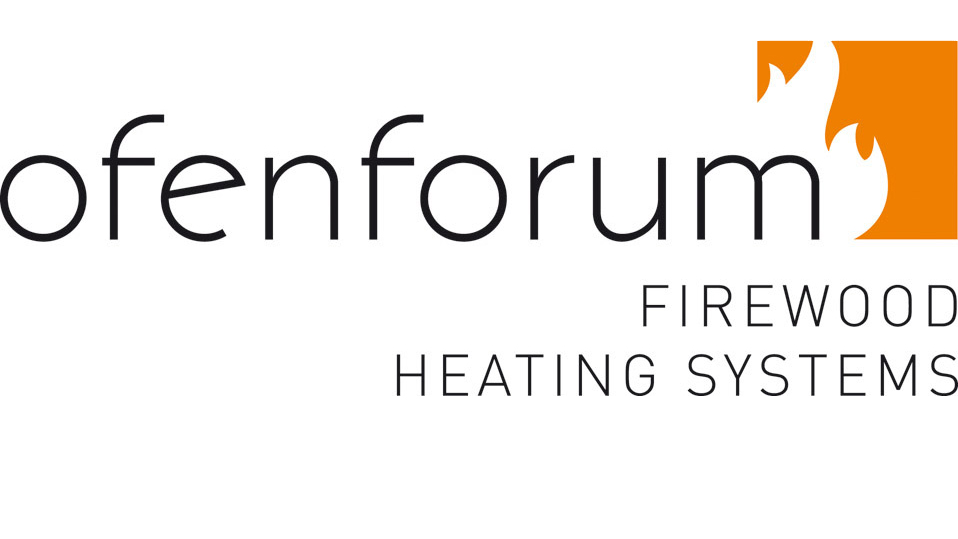 In 2023, the Stove Forum will once again be the central meeting place for the industry. Here, the focus is on the latest products, technologies and solutions. Get to know the current industry trends and join the discussion about the future of the industry.
The stove forum offers you information, knowledge and experience exchange on current topics. The top-class lecture programme addresses topics relevant to the industry, such as product innovations, news from technical regulations, 1st BImSchV, gas fireplaces and much more. Be there.
In addition to the wealth of information, the stove forum also offers the opportunity to talk to colleagues in the industry and make new contacts. An interesting programme of lectures and other events, such as the awarding of the Ofenflamme, await you.
Mehr.Wert package
At ISH 2023, the ZVSHK and Messe Frankfurt will for the first time be offering a special Mehr.Wert package for stove manufacturers. This includes:
free admission incl. use of public transport to/from the fair
discounted travel by train
VIP benefits, such as free cloakroom, advance admission (less queuing), food in the Stove Forum, etc.
Special conditions for accommodation in the "Ofendorf" (Hotel Ruby Lousie in the city near the opera)
For ISH 2023, specialist tradesmen in the furnace and air heating installer sector are creating a special Mehr.Wert programme with many discounts, including overnight stays at special rates.
Fact & Figures
Look forward to the new Fire & Flame platform. The visitor exhibitor figures for hall 9.2 at ISH 2019 were impressive.