ISH digital was rounded off by live and on-demand streams of the programme of events.
Technology and Energy Forum: the German heating industry is Green Deal ready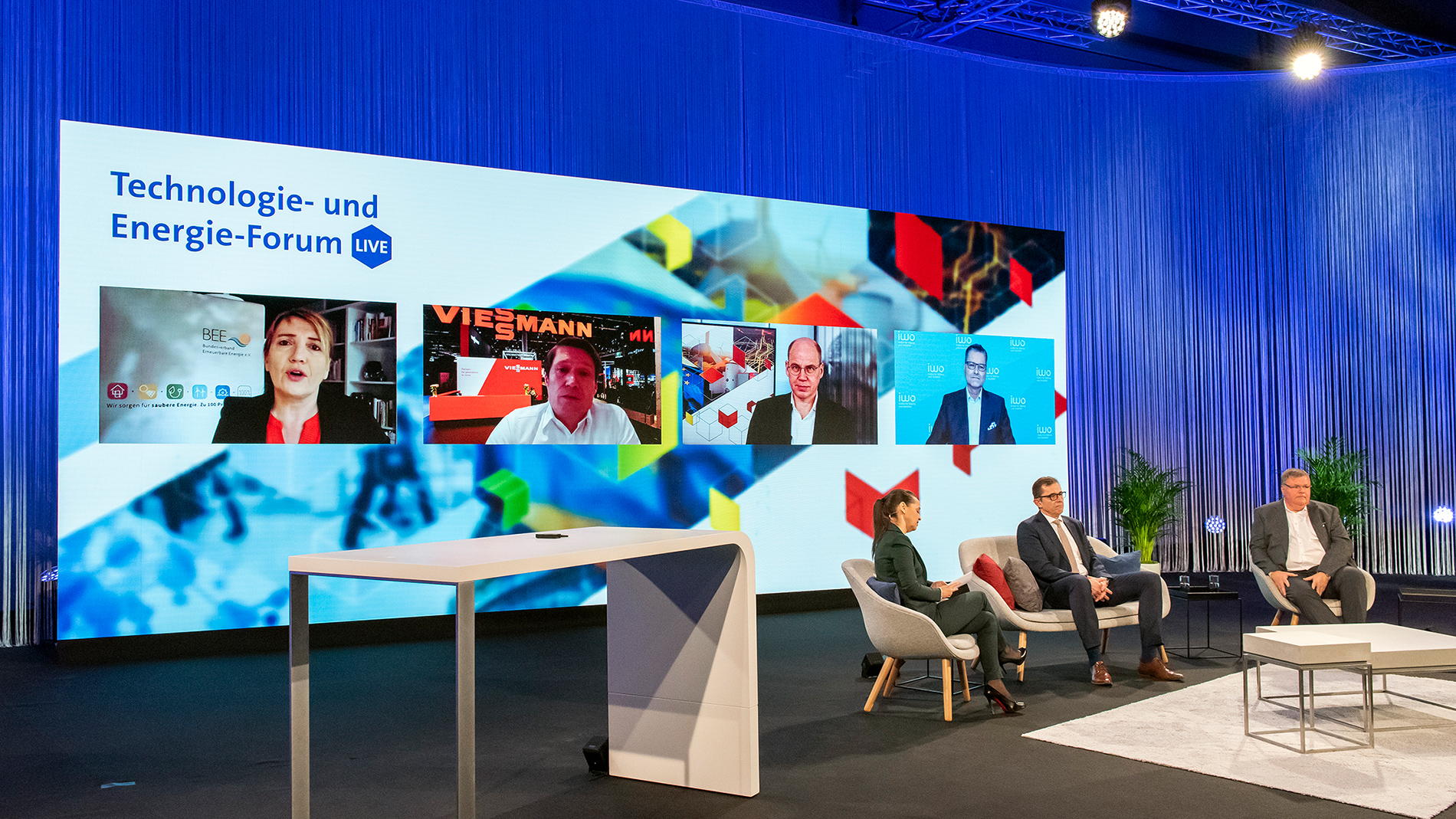 Under the heading 'Green Deal ready, the Federation of the German Heating Industry (BDH) organised the digital Technology and Energy Forum in cooperation with Messe Frankfurt. Patron of the event was Secretary of State Andreas Feicht of the German Ministry of Economics (BMWi). The Main Partner was the 'Future Gas' initiative, the Gold Partner was the Institute for Heat and Mobility (IWO). Additionally, 12 partner associations made an active contribution to the Forum.
The focus of the special show was on the Green Deal of EU, the aim of which is to achieve a climate-neutral Europe by 2050 with CO2 emissions having been reduced by 55 percent in 2030 compared to 1990. The heating industry and its partners presented strategies for achieving this ambitious climate target with regard to the building sector. In this connection, particular attention was paid to solutions such as hybrid systems, heat pumps, fuel-cell heating, wood-burning central heating, hydrogen-ready condensing-boiler technology and digital energy-management systems. Additionally, the sources of energy relevant to the heating market – gas, oil, electricity and biomass – played a leading role against the background of increasingly important green sources of energy, such as bio-methane, hydrogen, green fuels, green electricity and wood energy.
'Pop up my Bathroom Magazine': a full programme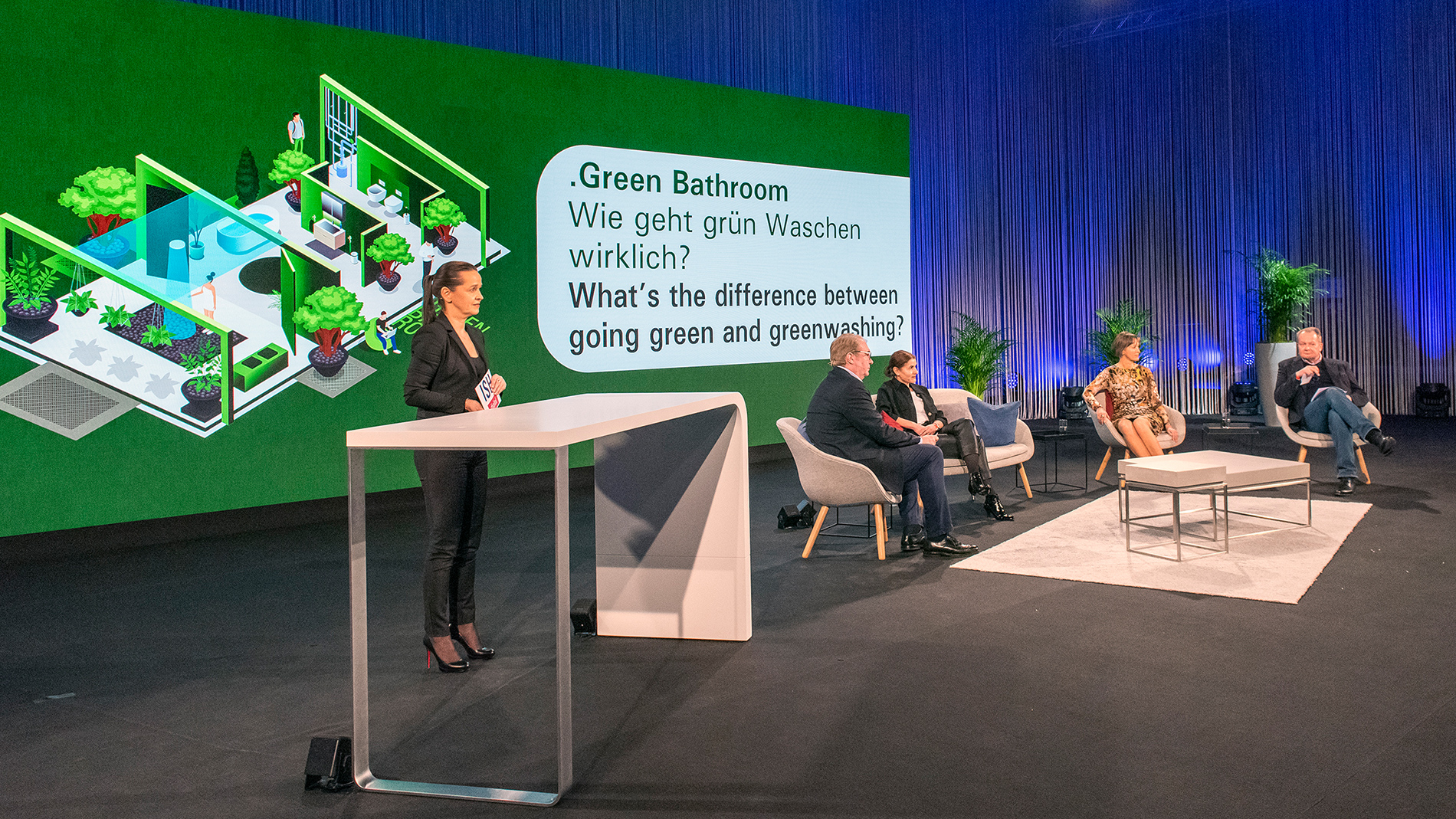 As always, the 'Pop up my Bathroom' trend platform was part of this year's ISH. This time, however, in the form of an online magazine. Daily from 22 to 26 March, it contributed to the event programme of ISH digital. Straight from the fair, the 'Pop up my Bathroom Magazine' streamed daily contributions on subjects of topical interest and bathroom-planning trends.
Especially set up for this purpose, the studio of ISH digital 2021 was the setting for 'Pop up my Bathroom Magazine' with a variety of guests and experts (host is VDS managing director Jens J. Wischmann) who discussed a different theme every day. In addition to the three trend themes identified by 'Pop up my Bathroom' – 'Green Bathroom', 'Living Bathroom' and 'Smart Bathroom', the programme also spotlighted two core themes for the sanitation sector: hygiene and modernisation.
Trend theme Green Bathroom – bathrooms are becoming greener
Core theme Hygiene – the emphasis is on cleanliness
Trend theme Smart Bathroom – smart doesn't only mean more technology
Core theme Bathroom Modernisation – the modernisation wave has begun
Trend theme Living Bathroom – comfort in the bathroom
Further information: www.pop-up-my-bathroom.de
Talk: 'Digitalisation in drinking-water – a factor for more convenience, efficiency and hygiene'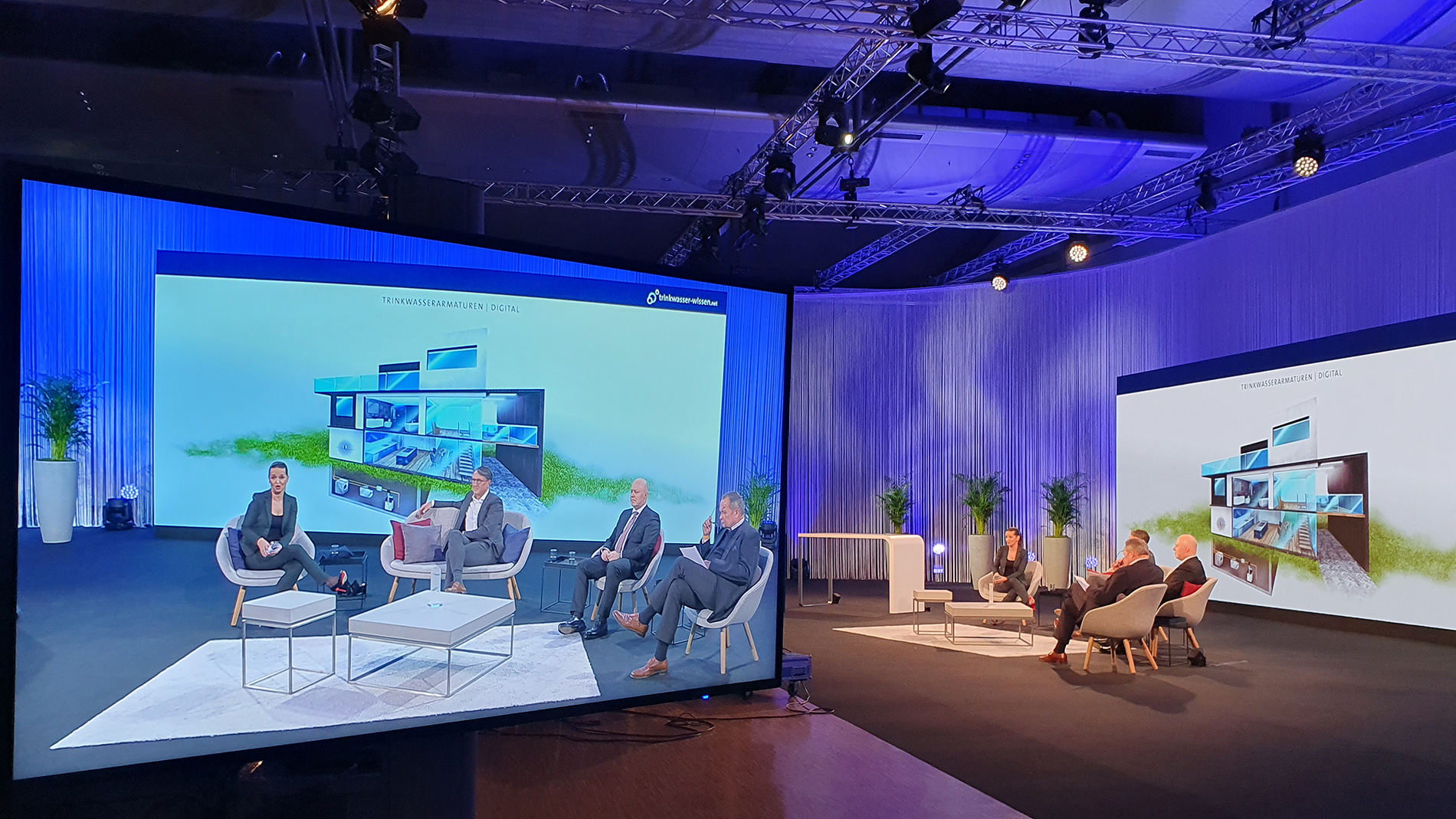 23.03.2021 I 2:00 – 3:00 p.m.
40 percent of Germans use smart-home-ready appliances – and the trend continues upwards. This applies in particular to the fields of entertainment and communication, energy management and security. Drinking-water installations, however, are apparently not the focus of attention and hardly any use is made of their potential – which is surprising.

Thus, taps can dispense much more than just water. They are digital high-tech products that offer impressive evidence of the sector's innovativeness. In this connection, manufacturers of branded products are focusing more and more on people and their needs. Their aim is to create genuine value added, as well as offer greater safety and efficiency together with improved health and more energy.

In the ISH digital live talk, Dr Michael Rehse (Gebr. Kemper), Oliver D. Gessert (Franke Aquarotter) and Wolfgang Burchard (VDMA Fittings) discussed various aspects of this subject, including questions such as:
To what extent can a connected drinking-water installation contribute to improved hygiene?
Digitalisation and water efficiency: how do they go together?
What is meant by 'convenience' in this connection?
Additionally, the discussion participants took an expert look at the factors that influence the pace of digitalisation in the sanitation industry.
Collaborating on innovations: Startup@ISH digital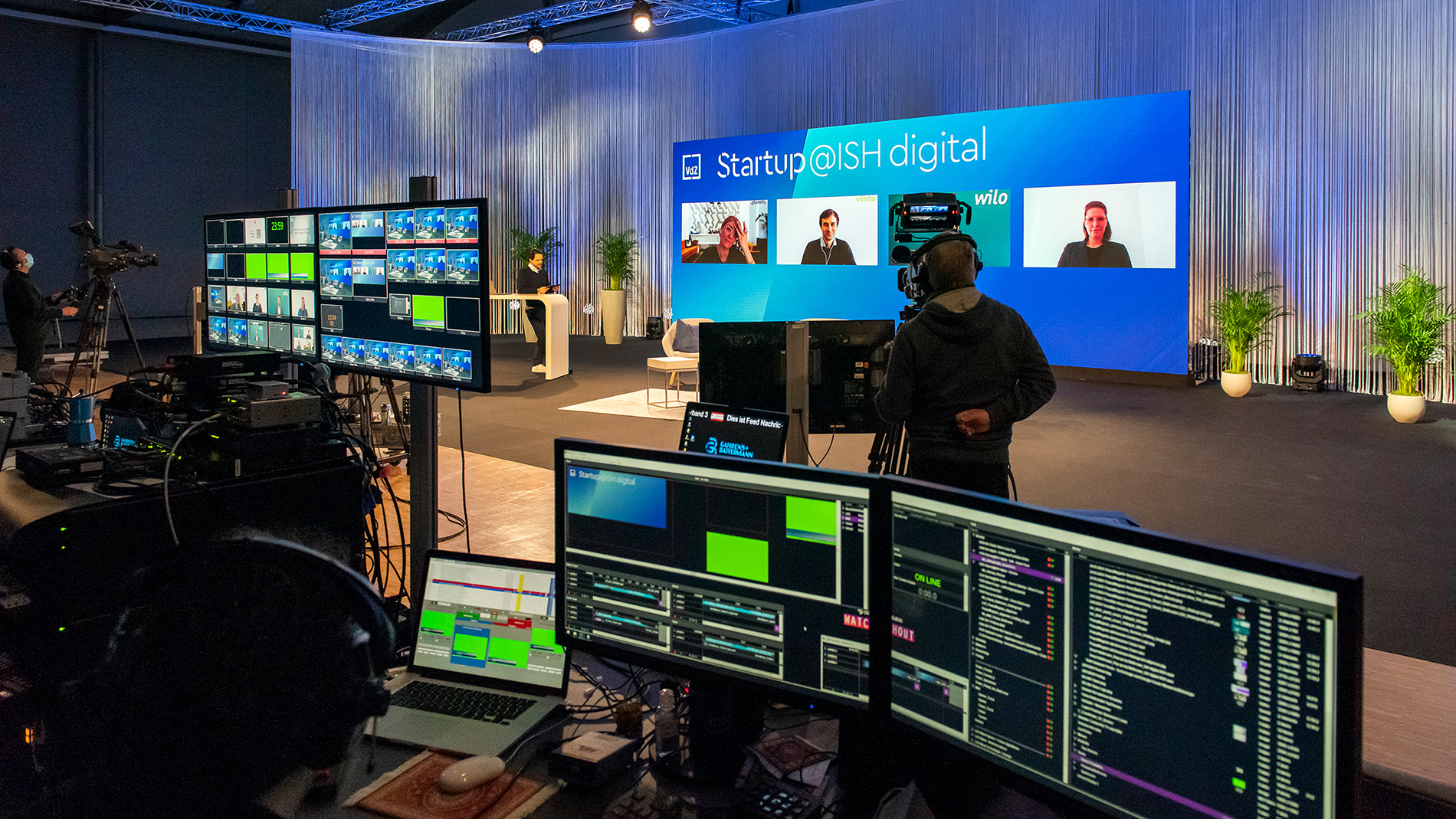 Startup@ISH digital put the international spotlight on the innovative strength of start-ups in the field of building-services technology. The organisers, VdZ Forum for Energy Efficiency in Building Services Technology, compiled a varied and interesting conference and networking programme. For newcomers, the 'How to start a start-up' lectures offered fascinating insights into the world of start-ups. In the 'Talks', technology and digitalisation fans participated live when founders, representatives of the sector and external experts discussed top themes such as green-tech, hydrogen, blockchain, 'green' indoor climate and the 'new bathroom' from a variety of new perspectives. Additionally, there was a special talk on the Installation Stage. In the 'Pitches', start-ups presented their innovations especially for investors on the lookout for new ideas and collaboration opportunities. At 'Speed dating', founders and players from the sector could expand their networks and cultivate interesting contacts.
Learn more about the programme
AIR CONDITIONING FORUM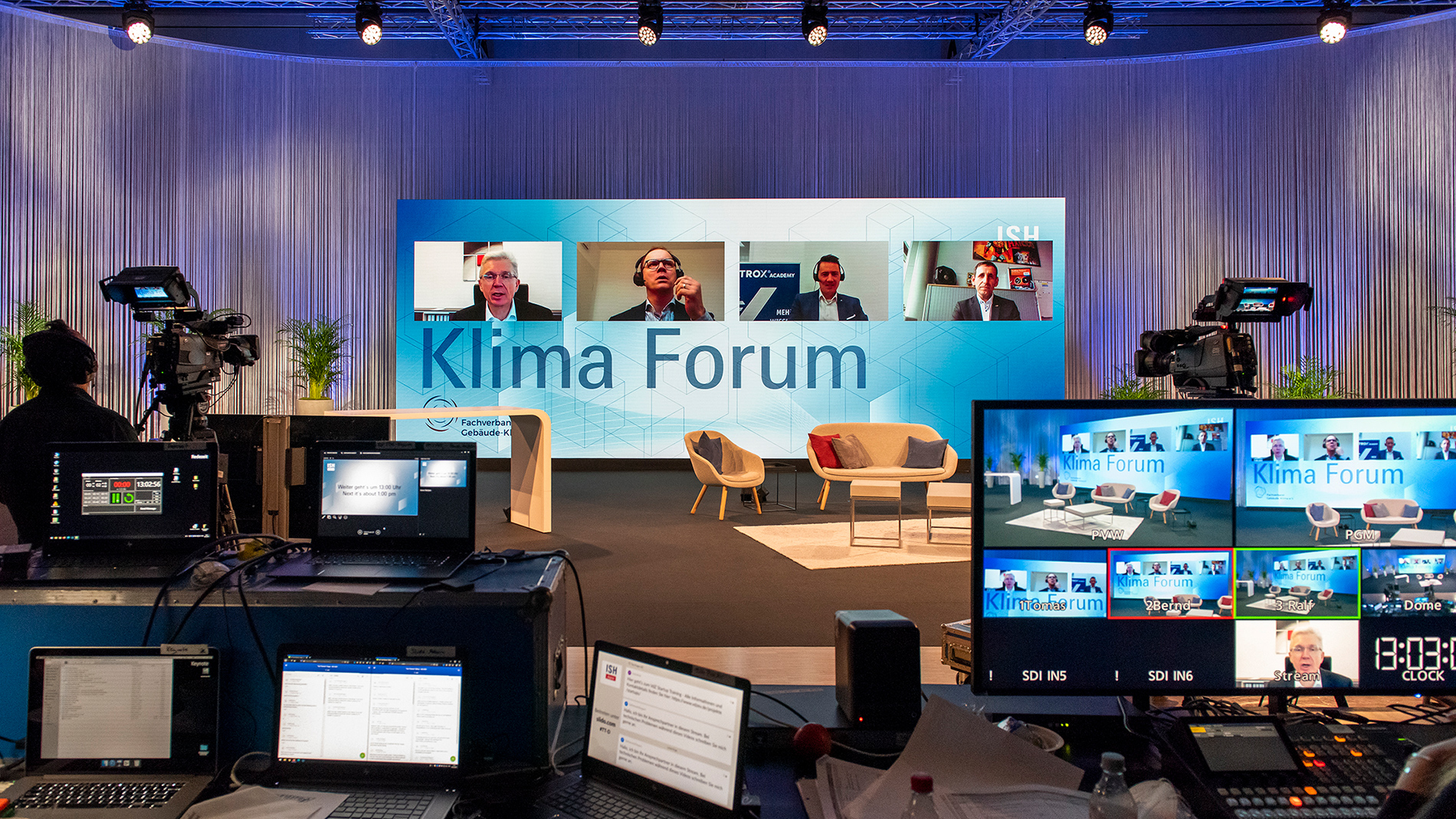 In a variety of formats, e.g., lectures, expert round tables and panel discussions, the AIR CONDITIONING FORUM tackled subjects of topical interest from the field of air-conditioning and ventilation technology. Particular attention was paid to the use of ventilation technology with special emphasis being given to the circumstances of the pandemic. A presentation of the latest scientific findings was also be included. In cooperation with EVIA, the European Ventilation Industry Association, current developments relating to eco-design regulations were delineated and discussed in two forums whereby the current situation with regard to ventilators was likely of particular interest. Experts from the European Commission also took part in this event. From the various product segments, the Forum spotlighted air cleaners, room air-conditioners and smart home ventilation. The AIR CONDITIONING FORUM is organised by the Association of Air Conditioning and Ventilation in Building (FGK) in cooperation with Messe Frankfurt.
ISH Building Forum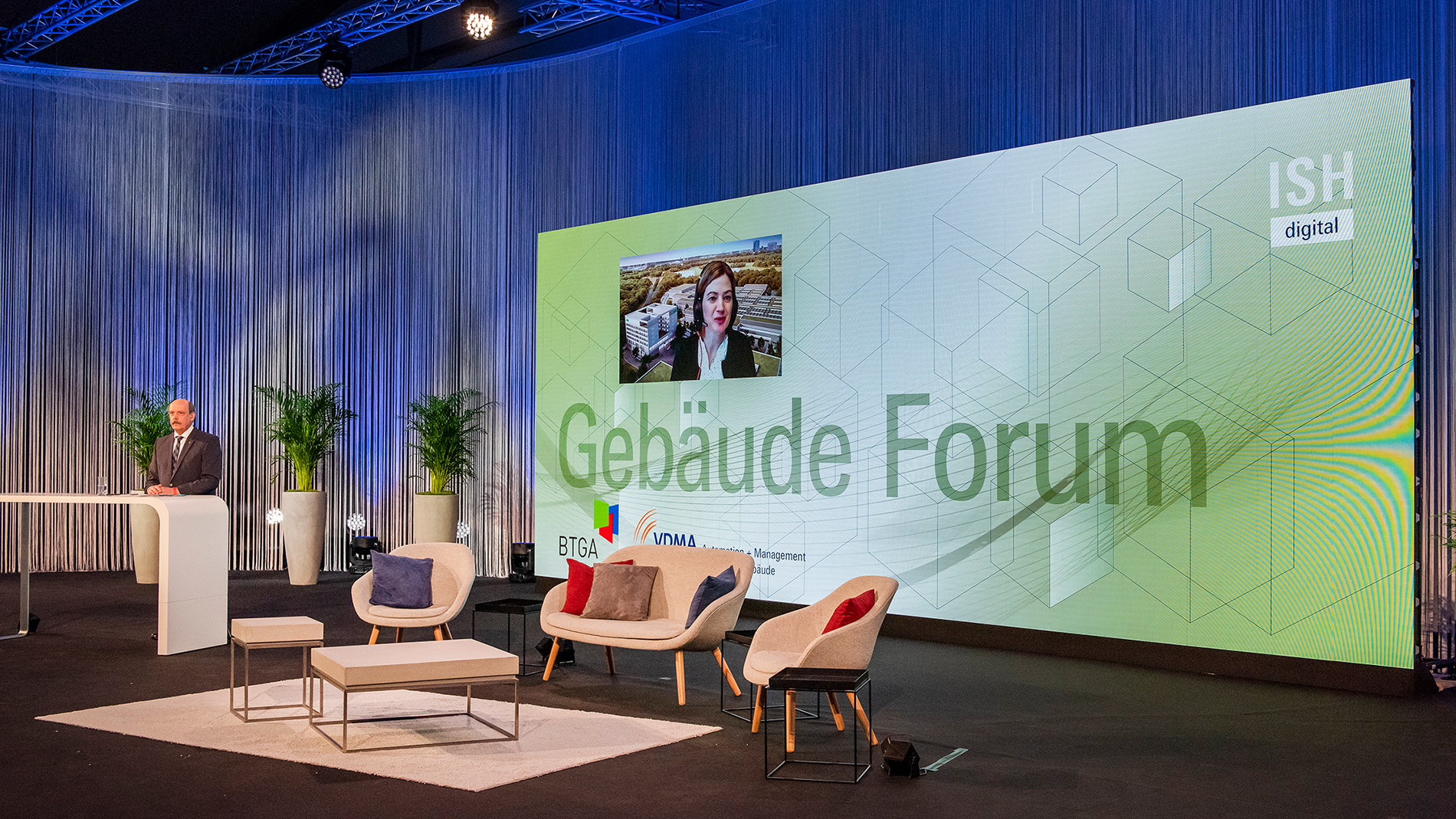 As part of the programme of events of ISH 2021, this year's Building Forum took the form of online lectures, discussions and live broadcasts on a variety of topical issues from Messe Frankfurt's Podcast Studio.
The ISH Building Forum events, which were organised by the VDMA Building Control and Management Association for House + Building in cooperation with the Association of the German Building Services Industry (BTGA), focused on the following subject areas at different times throughout the fair:

Digitalisation of the building industry
EU Renovation Wave
Federal funding for efficient buildings
Building Energy Law
The use of ventilation systems in the case of increased infection-protection requirements
Building repurposing practice
IT security in building automation
Current status of work on VDI 3814
ISH digital – Talks by World Architects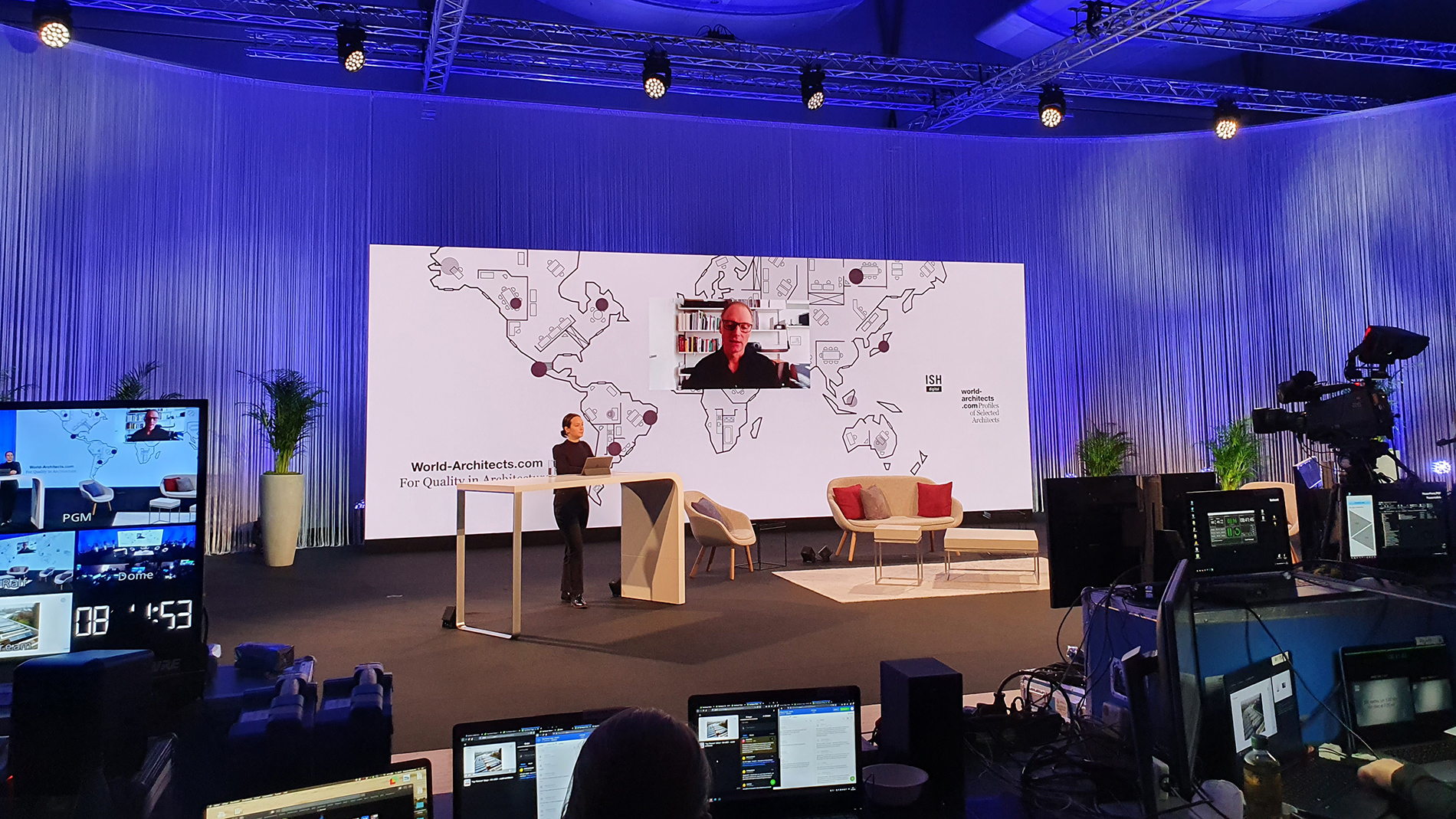 To start the day, the talks by World Architects offered valuable impulses. From 23 to 26 March, architects, engineers, planners, students and industry representatives met for interdisciplinary knowledge transfer and exchange of experience. Renowned speakers provided insights into current developments in the industry.
Alexander Brenner
"A holistic approach"
(Alexander Brenner Architekten, Stuttgart)
https://www.world-architects.com/en/events/ish-digital-talk-alexander-brenner
Annelen Schmidt-Vollenbroich und Ana Vollenbroich
"The bathroom in domestic culture"
(Nidus Studio, Düsseldorf)
https://www.world-architects.com/en/events/ish-digital-talk-annelen-schmidt-vollenbroich-and-ana-vollenbroich
Barbara Runggatscher
"Behind the scenes"
(noa* network of architecture, Bozen und Berlin)
https://www.world-architects.com/en/events/ish-digital-talk-barbara-runggatscher
Markus Pfeil
"Energy concepts – high-tech – low-tech"
(Pfeil & Koch ingenieurgesellschaft, Stuttgart, Köln)
https://www.world-architects.com/en/events/ish-digital-talk-markus-pfeil
Panel discussion with Association of German Architects and guests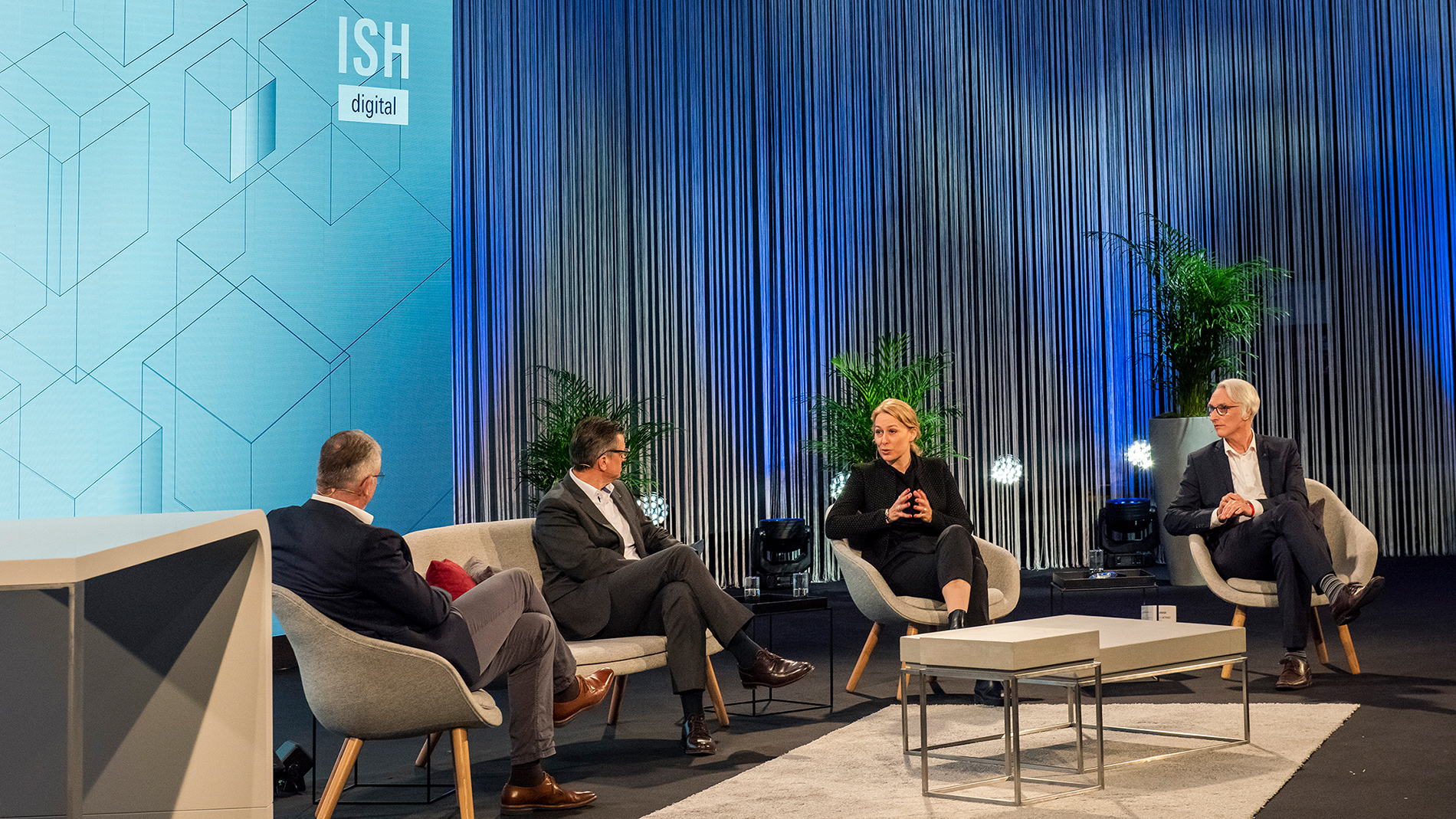 Monday, 22 March / 14.00 – 15.00 hrs
Panel discussion with the Federal Association of German Architects (BDA) and the German Society for Sustainable Building (DGNB) on the subject of:
Construction as a material resource
It is no longer acceptable to demolish buildings without prior consideration having been given to the ecological value of the resources contained therein. Why? Many of the parts and materials used in old buildings are suitable for recycling in new building projects and thus not only avoid the resource-hungry production of new building materials but also reduce the amount of waste to be disposed of. Representatives of BDA and DGNB discuss the subject of construction as a material resource with representatives of Hansa and Villeroy & Boch.
Chair: Dr. Thomas Welter, Managing Director BDA
Language: German / Translation English