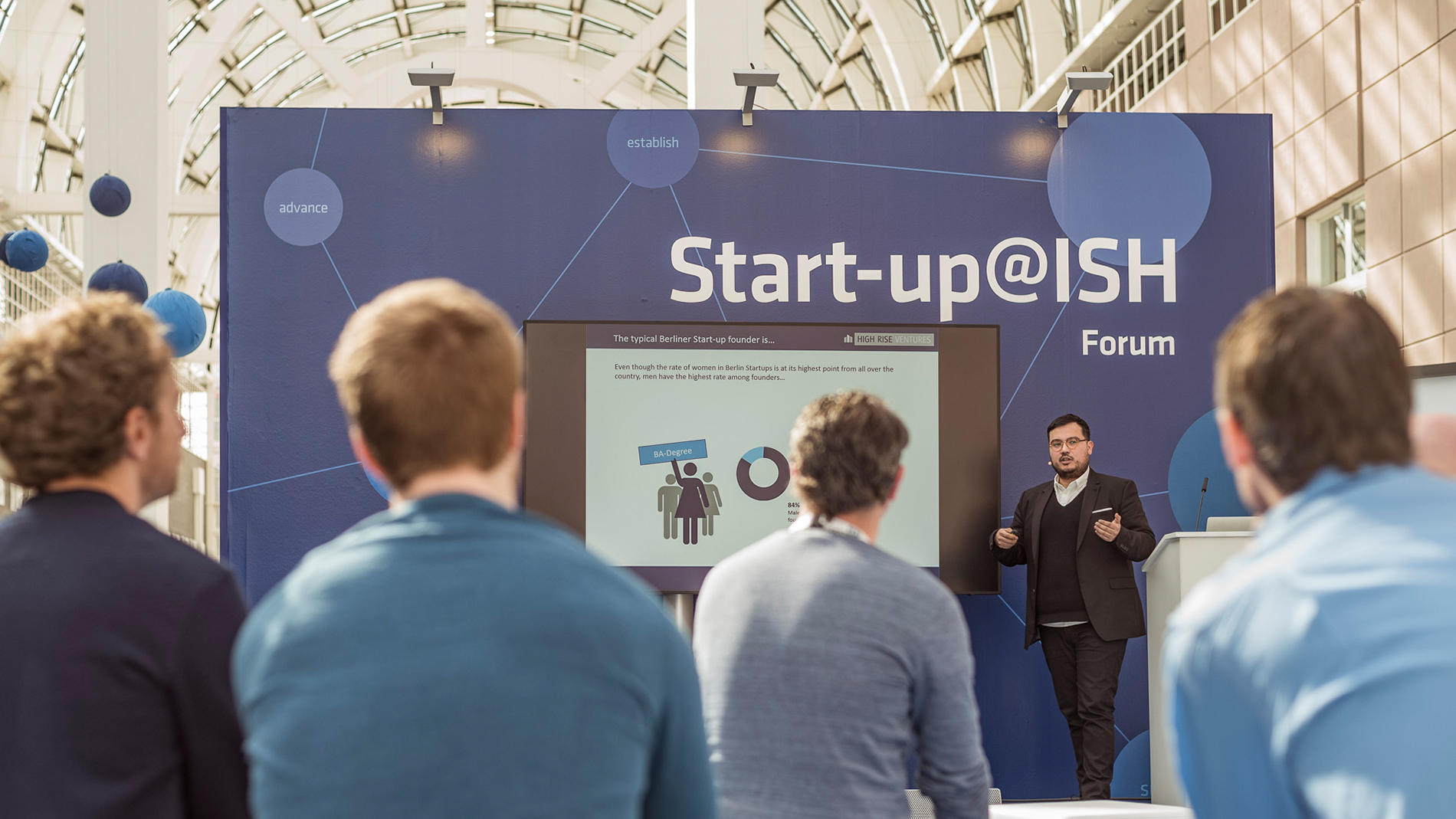 Startup@ISH digital puts the international spotlight on the innovative strength of start-ups in the field of building-services technology. The organisers, VdZ Forum for Energy Efficiency in Building Services Technology, have compiled a varied and interesting conference and networking programme. For newcomers, the 'How to start a start-up' lectures every midday offer fascinating insights into the world of start-ups. In the 'Talks', technology and digitalisation fans participate live when founders, representatives of the sector and external experts discuss top themes such as green-tech, hydrogen, blockchain, 'green' indoor climate and the 'new bathroom' from a variety of new perspectives. Additionally, there will be a special talk on the Installation Stage. In the 'Pitches', start-ups present their innovations especially for investors on the lookout for new ideas and collaboration opportunities. At 'Speed dating', founders and players from the sector can expand their networks and cultivate interesting contacts.
How to start a start-up
What are start-ups? How do they differ from established companies and what are business angels? If this is something you have always wondered, then 'How to start a start-up' is exactly right for you. Daily during the lunch break, we will look at these and other questions about start-ups and their significance for our sector. In brief sessions, you can learn from our partners at EIT InnoEnergy more about the methods of working and self-perception of founders and special aspects of the working relationship between SMEs and start-ups.
Green Tech – innovations for sustainable development in the sector
Green Tech has gone from being a niche subject to a major technology trend in just a short space of time. The significance of entrepreneurial approaches for achieving our objectives in terms of sustainable development has been recognised both nationally and internationally – from the UN Sustainable Development Goals and the EU Green Deal to the climate package of the German government. At the same time, consumer awareness of the need for sustainability increased greatly and the market for sustainable bonds grew rapidly. Innovations from the green-tech segment offer solutions for environmental and climate protection whereby renewable energy and energy efficiency play a leading role. In the future, products and services will not only be measured on the energy balance over their entire life cycle but they will also have to make a decisive contribution to achieving EU climate targets. Although many innovative products and services come from start-ups, many of the sector's well-established companies are also banking on sustainability.
In Start-up Talks: Green Tech, a founder, an expert and a representative of the Association of German Start-ups will discuss the role played by green-tech start-ups and how they can work together successfully with companies to counteract climate change and reach climate targets. What role does building-services technology play in this connection? How is the growing significance of sustainability changing the strategy of established companies in the sector? Which changes and innovations are to be expected in our sector?
New bathroom – the new bathroom individuality
Personalisation and individuality – two buzz words that describe modern, young customers in particular. The desire for opportunities to express one's personal identity is increasingly finding expression in the home with, above all, bathroom being furnished in accordance with the customer's taste  – customised in terms of design, colour and material. Satisfying this demand represents a new set of challenges for conventional production, supply and installation structures.
In Start-up Talks: New Bathroom, a founder, an expert from the sector and a trend researcher will discuss ways in which new, innovative production and manufacturing methods can meet the demand for individual design. With which new business models and products are young start-ups discovering tomorrow's market? How can start-ups cooperate with established companies to meet customer expectations on a grand scale? How are new materials, 3D printing and small-batch production making individual bathroom furniture suitable for mass markets?
Installation channel: Next generation installation trade meets next generation customer
Transparent, fast and at the press of a button - digitalisation has created a new installation-trade and customer generation. It has reached the trade, is lived reality and the tools and formats are on hand. But how will things develop in the future? The traditional balance of power between the installation trade and the customer is shifting. At the same time as digitalisation is causing customer expectations for change, the technical options open to craftspeople are changing, too. Start-ups offer a variety of innovative solutions to make communication and the provision of services from the trade to the customer more transparent, faster and more calculable.
In Start-up Talks: Next Generation, a founder, a young installation entrepreneur and an expert will discuss how the new generation of craftspeople work. How is the business relationship changing and which tools help craftspeople reposition themselves? How can new groups of customers and markets be reached with the aid of digital technologies? How can products be made more individual and in line with the customer's wishes? How can processes be structured to ensure high quality and fast reaction times? How can we close the gap between digitalised companies and customers and those who cannot or will not accept this technology?
Hydrogen – cooperation potential for start-ups and established companies
Hydrogen is the big topic of the moment. The political framework has been created and thus boosted hopes of achieving the EU climate targets. Technical developments in connection with manufacturing are gathering pace rapidly and the first facilities for the production of green hydrogen are set to start operations in 2022. So, does this mean a global breakthrough in the energy revolution is just around the corner? It would appear so, especially in the mobility field. Nevertheless, the energy revolution cannot be achieved without our sector. In the heating segment, too, a number of pioneers are already working successfully with hydrogen as a source of energy. But that is not all: the start-up scene is also contributing a wide variety of innovative ideas and business models.
In Start-up Talks: Hydrogen, a founder, an expert from the sector and an external expert will discuss the potential offered by collaborations between start-ups and established companies from our sector. Which applications are future-oriented? How can innovations be promoted in the future and to what extent are lessons from other branches of industry applicable to our sector?
Indoor climate – healthy and green air in (co-) working spaces
Good indoor air has had a high priority for a good working atmosphere since last year at the latest. Whether at school, at home or in the office, clean air is the basis for a healthy working environment. The supply of fresh air, as well as monitoring and eliminating any harmful substances, is the most important aspect of good indoor-climate management. Monitoring air quality was not discovered in 2020 but rediscovered in the wake of a completely new and urgent situation, and then developed to meet new demands. In this connection, some start-ups are not only using traditional technology but also plants as filters in a modern design. Unclear is, however, the extent to which plants actually contribute to a healthy indoor air at work.
In Start-up Talks: Indoor Climate, a founder, an expert from the sector and an expert from the co-working segment will discuss present-day expectations with regard to indoor climate and how they can be met. Can using plants as filters offer genuine value added or what is required for a holistic solution? What new features have emerged since 2020 and how relevant are they really for the workplace atmosphere? How are employers and (co-) workspace providers reacting to the new demands and the increased attention?
Blockchain – the future of connectivity in the building sector
Blockchain technology has been shattering traditional business models, especially in the energy sector, since 2016. On the hunt for new solutions, this has come at exactly the right time because this digital, decentral, transparent and independent transaction technology offers numerous advantages. Through smart contracts, processes and business models can be shown virtually and thus bring about decisive changes to the conventional structures of the energy market. Blockchain applications are also of interest to the open heating market because it is not only possible to provide exact proof of origin but also resolution at a given time and location and thus demonstrate the associated heat flows.
In Start-up Talks: Blockchain, a founder, an expert from the sector and an external expert will discuss the exact potential offered by blockchain for the heat market. Which business models are conceivable and how is blockchain changing processes in individual companies?
Start- up Pitches
Young companies and fresh ideas with just a click! Our sector is bubbling with new ideas, innovations and exciting business models. From innovations in energy storage, via air filters and taps, to software, the huge spectrum of products and themes promises great benefits for every part of the sector.
In the Start-up pitches, young founders present their companies and business ideas in pertinent pitches. Subsequently, they will not only answer all questions from the audience but also be available for further discussions if required.
Discover new start-ups daily and participate live:
11.30 to 12.30 hrs, Tuesday to Thursday, on the Top Themes channel and a special event for craftspeople on the Installation channel on Tuesday from 15.00 to 16.00 hrs.
Speeddating
Meet new partners! In our speed dating, you have the opportunity to make contact with founders, players from the sector and visitors in short conversations. This successful format promotes intensive and efficient networking. The speed dating will be shown clearly in your calendar with all forthcoming sessions. A click is all it takes to join in – spontaneously and with no need to register. You will be matched at random and can thus meet numerous new and stimulating players from the sector in the shortest possible time. Afterwards, you will receive a summary of all 'meetings' so that you can concentrate fully on the discussions and, if interested, make contact subsequently.
Look for speed dating in your calendar now and become part of the big network of the sanitation, heating and air-conditioning sector.