If natural gas or methane is produced regeneratively, for example, as biogas or using the power-to-gas method, then it is even largely climate-neutral and can be combined in diverse applications with wind and solar energy, for example. This makes gas as an energy source an ideal partner for renewable energy and efficient solutions for greater climate protection – also in the heating sector.
Recording of ISH digital from 24.03.2021:
Gas has a bright future: hydrogen and bio-methane in the heating market

Utilising climate-neutral gas via the existing gas infrastructure
Germany has an extensive nationwide network for natural gas. The transportation infrastructure available across the country consists of 540,000 km of pipelines. The integration of CO2 neutral gas into the existing gas infrastructure facilitates secure and economical supply to the climate-neutral heating market in the future.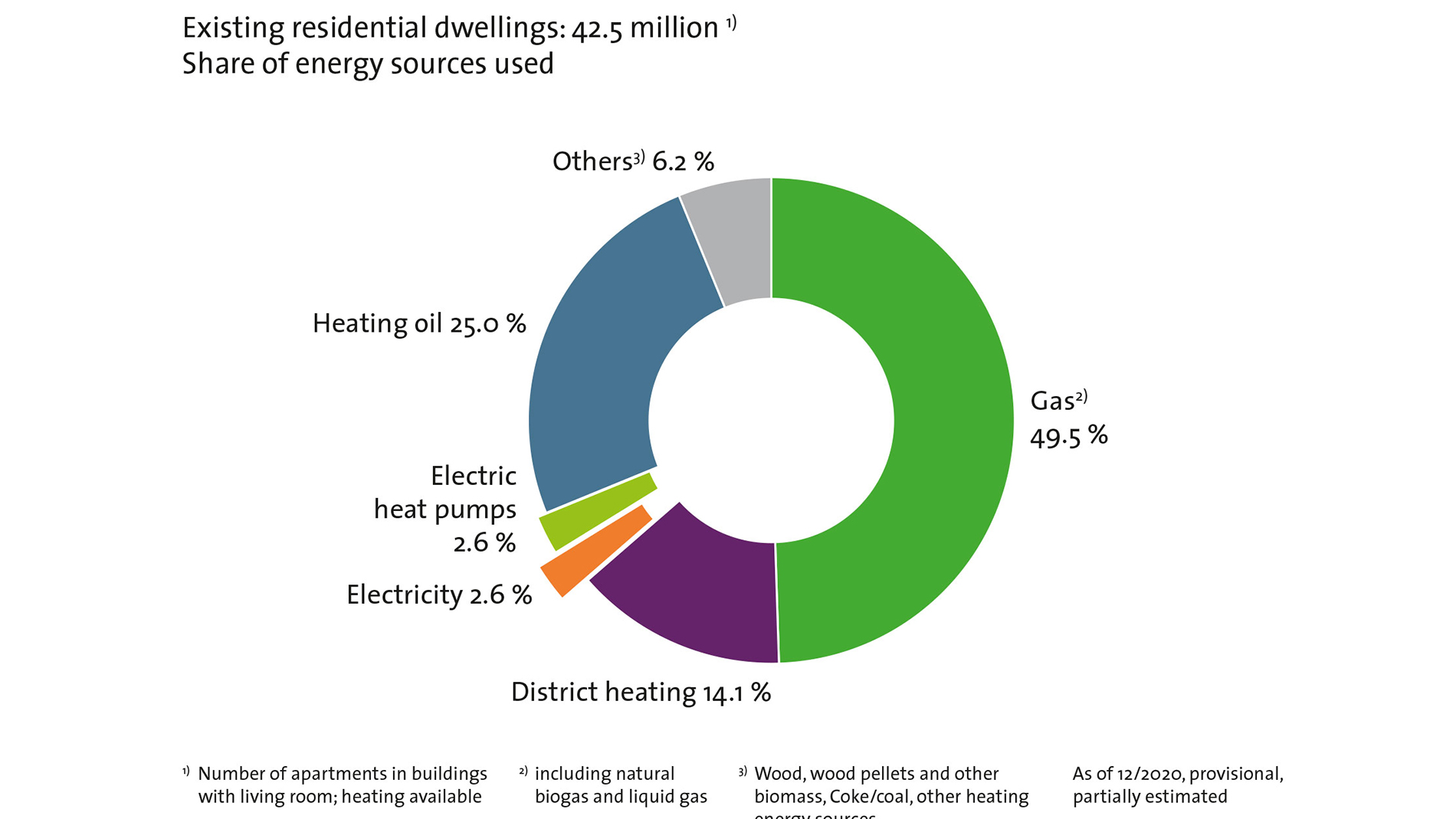 Climate protection with efficient gas technologies
The supply of heat to buildings constitutes about 40 % of the total energy demand in Germany. 10 % of all CO2 emissions are attributable to heating in private households. Around half the energy for heat generation in Germany is currently provided by natural gas. Gas heaters are particularly low-cost and climate-friendly in existing buildings. For example, an oil heater produces up to 40 % more CO2 emissions. With the least emissions among conventional energy sources, natural gas is already today making a significant contribution to CO2 reduction today in the heating sector. Since 1990, it has been possible to almost halve CO2 emissions in Germany in the heating market. – This was also because many old heaters were converted to modern gas condensing technology.
Gas heating systems can also be operated with gas from renewable sources, for example, with biogas, bio-methane and hydrogen. With an increasing amount of climate-neutral gases, greenhouse gas emissions can be further reduced, thereby making a crucial contribution to achieving the climate goals of the building sector. The political world has also acknowledged this by means of the amendments to the Building Energy Act made at the end of 2020. Legislation has thereby created the possibility of feeding gas condensing heaters with 50% bio-methane via the gas distribution network and that this can be offset with the mandatory quota for the use of renewable energies in the heating market.
The technical entry hurdles for these additions to the natural gas network are relatively low. The terminal devices at the customer's premises will not be impaired by this, as has already been proven. Moreover, innovative gas technologies are available in the market, such as gas hybrid heating technology or hydrogen-operated fuel cells. These can be operated with climate-neutral gases or combined with solar energy or wind energy.
Further information:
www.trge.de  
Aktuelles - DVGW Veranstaltungen
www.h2-dvgw.de
www.gat-wat.de 
Webseite figawa - Bundesvereinigung der Firmen im Gas- und Wasserfach
Informationsportal Sonnige Heizung
www.erdgas.info
www.raustauschwochen.de
These topics might also interest you
Tags