Organiser: Messe Frankfurt in collaboration with the German Design Council
Location: Foyer Hall 4.2
The Design Plus competition rewards future-proof products, which demonstrate an optimum combination of sustainability, aesthetic appeal and functionality and is one of the most prestigious and well-known awards in Germany.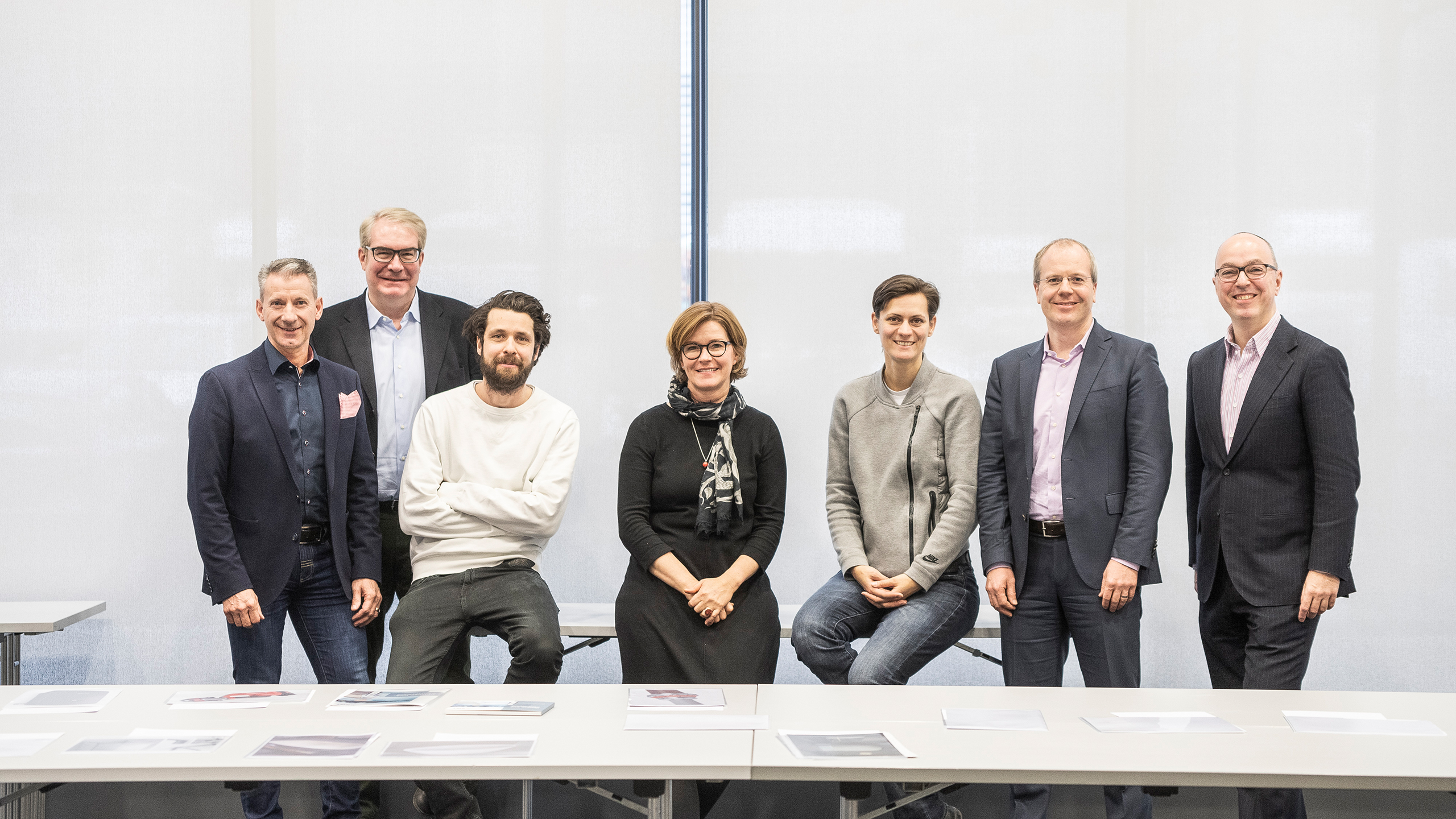 A five-strong expert jury assessed a total of 161 submissions according to the following criteria: quality of design, overall concept, innovative content and choice of materials in terms of both technological and ecological aspects. 114 companies, of whom 48 are from Germany and 66 from abroad, took part in the competition. The expert jury selected 37 products to receive the 'Design Plus powered by ISH' awards. Of these, 18 go to German companies and designers. 19 awards are conferred on international companies from countries that include Belgium, Finland, France, Israel, Italy, the Netherlands, Portugal, Spain, Switzerland, Taiwan, Turkey and the United States of America.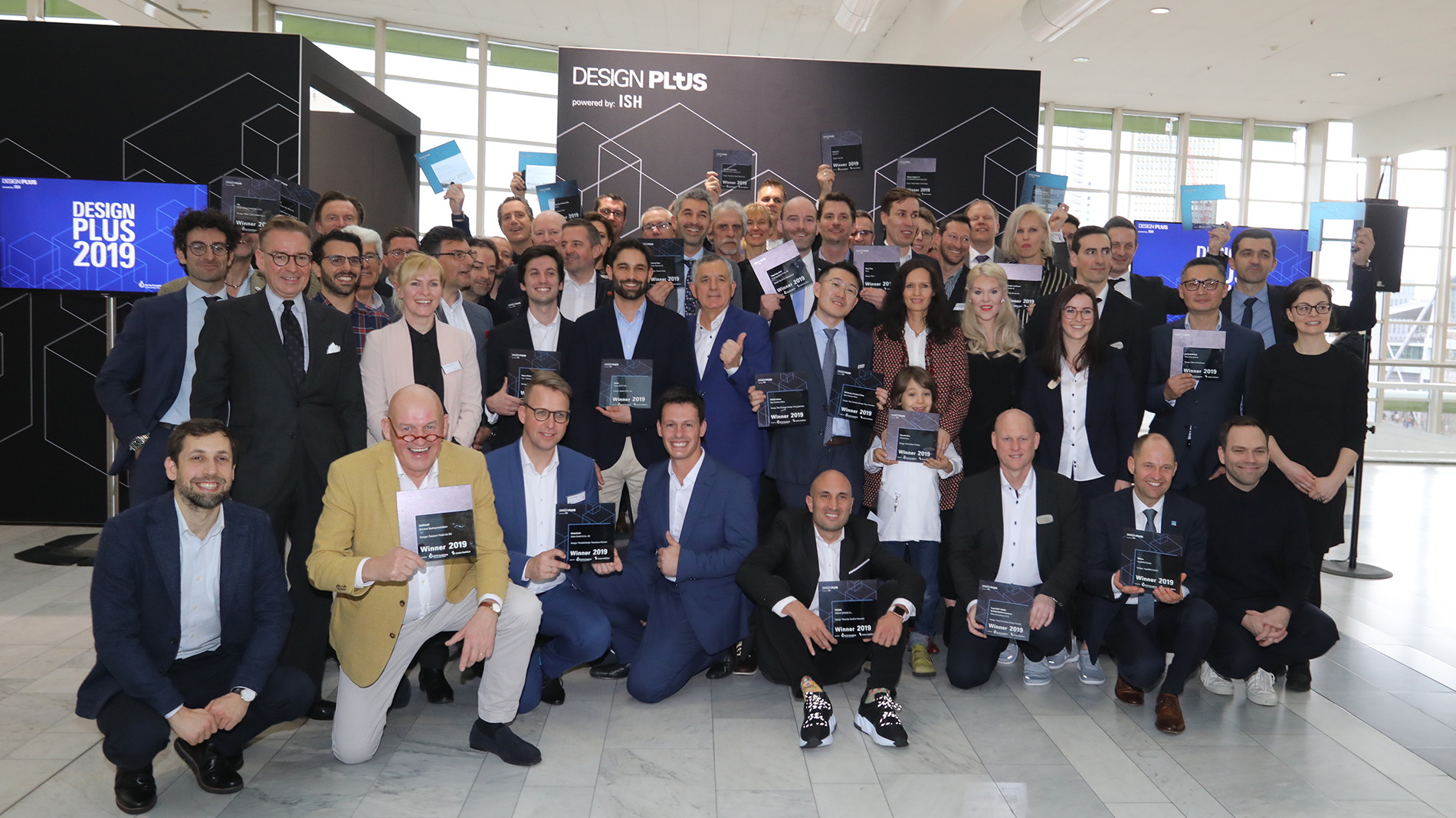 In the 'Bathroom' category, the judges selected, for instance, some innovative WCs and multifunctional shower cubicles, as well as individual items of bathroom furniture, including vanity units, mixer taps and fittings. In the heating and air-conditioning segments, the panel decided on, amongst other things, an improved design for radiators, pellet stoves and wood burners with clean-burn technologies and clever ways of regulating combustion rates.
All award-winning products were displayed at ISH in a dedicated exhibition in the Foyer of Hall 4.2. The formal awards ceremony took place on the opening day of the trade fair.
Prize winners Design Plus powered by ISH 2019
DN Series | Comfort Close - Shower cabinet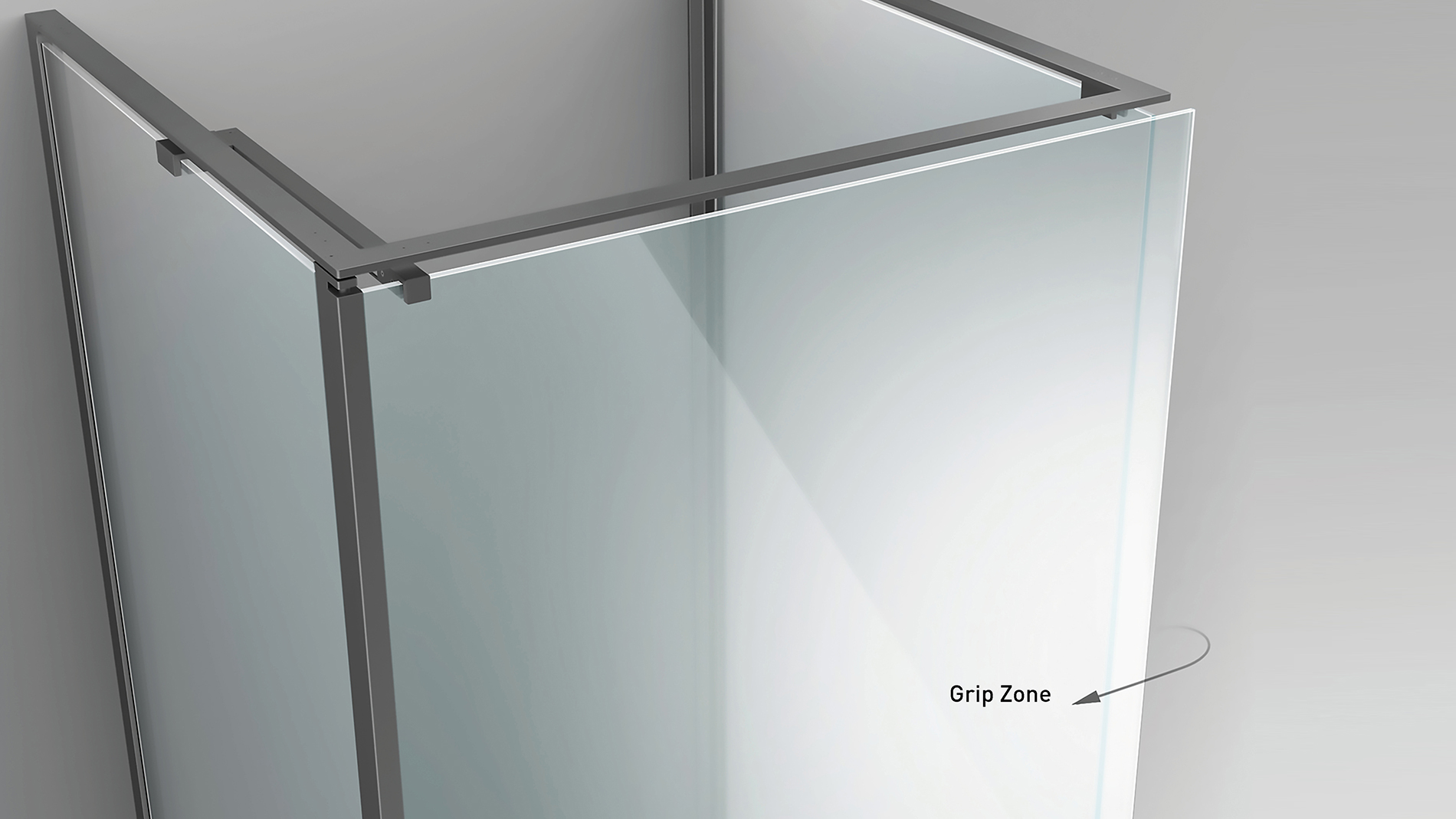 Manufacturer: Blue Sanitary Ware
The elegant loft-style shower cubicle impresses with a design that is consistently reduced to the essentials. The pleasantly soft automatic locking mechanism is integrated into a rod and at the same time supports the weight of the delicate profile frame, a fantastic solution. An extremely high-quality design whose slightly protruding glass door also avoids the need for a handle.
DT(QT) Series - Shower cabinet handle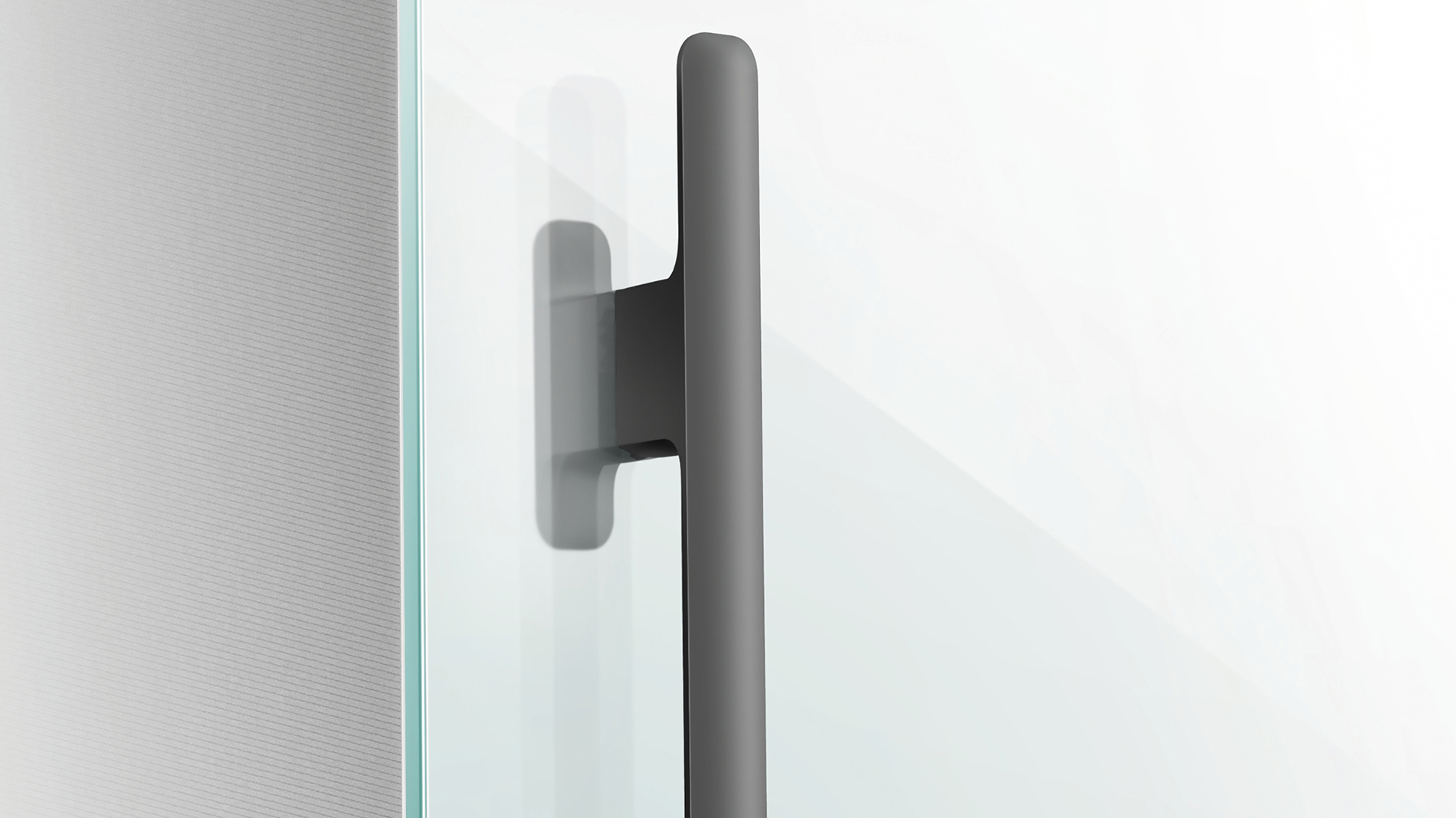 Manufacturer: Blue Sanitary Ware
With pleasantly soft corner radii, consistently spanned surfaces and circumferential, sharply edged flanks, the range of handles  and accessories makes an impression of the highest elegance and quality. A fantastic example of stringency, precision and purist aesthetics for a sophisticated bathroom ambience.
IntrCooll - Air condition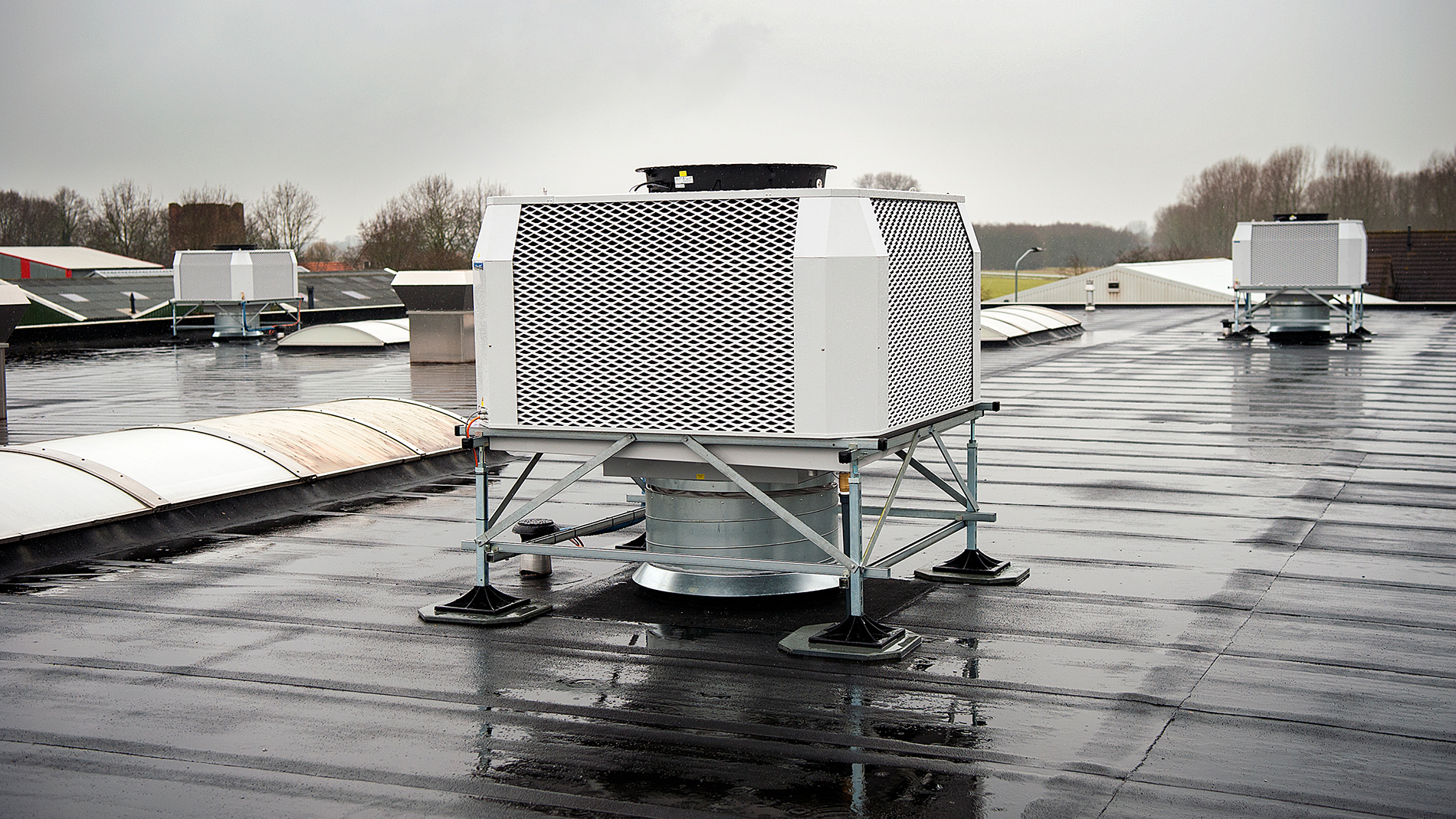 Manufacturer: Oxycom Fresh Air BV

In comparison with conventional air-conditioning solutions, IntrCooll promises operating cost savings of up to 80 percent. At the same time, the housings of its externally visible components are made of seawaterand corrosion-resistant aluminium, with slightly bevelled edges designed to lend them an appealing appearance. A successful design for a highly technical product. Somebody's given this some thought!
Dachs 5.5 - Combined heat and power unit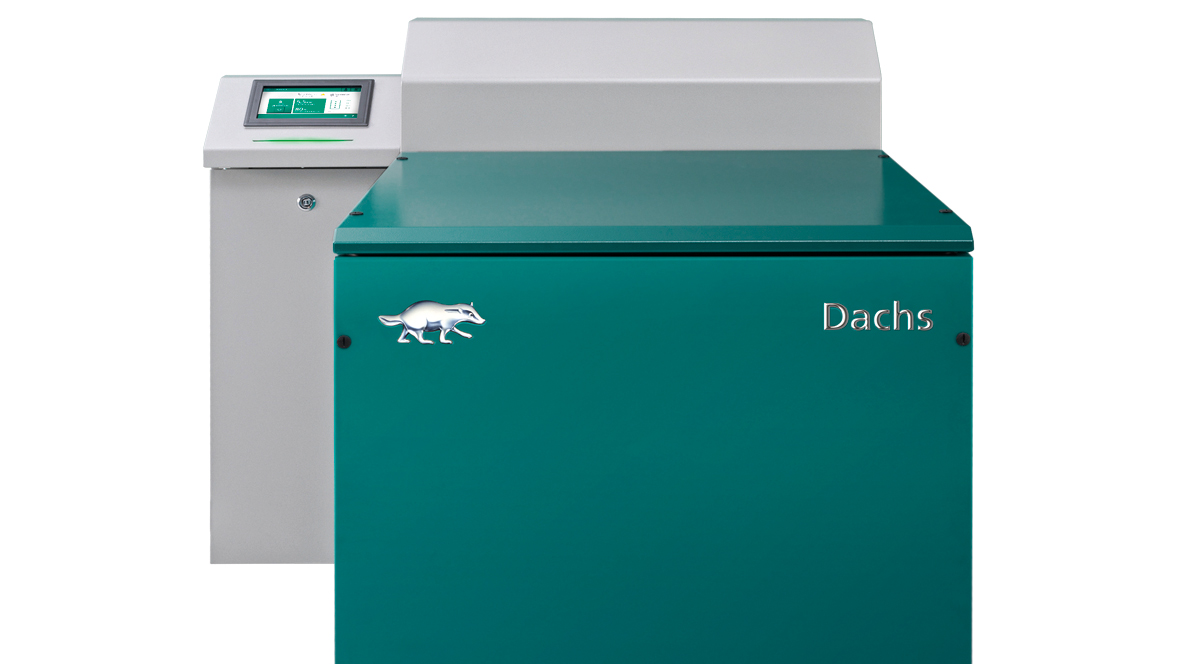 Manufacturer: SenerTec

The Dachs Generation 2 is a state-of-the-art CHP energy centre that heats and simultaneously generates electricity. As inconspicuous and unpretentious as the device may appear from the outside, the high-end technology it contains is impressive. An environmentally friendly and economical solution for residential, administrative and office buildings with an honest, solid and compact design.
Step-by-Step - Radiator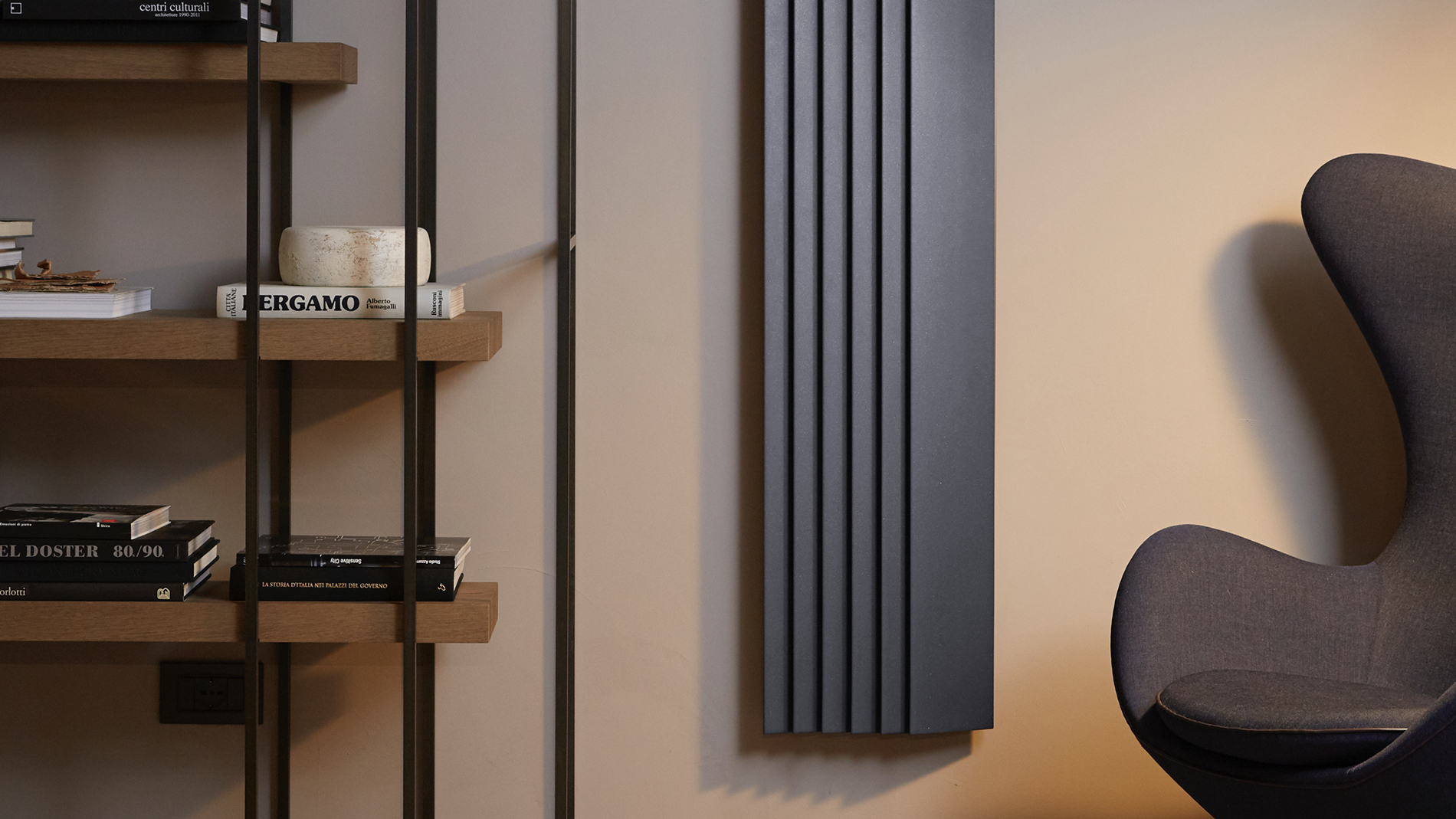 Manufacturer: Tubes Radiatori Srl
With its surface of elliptical, pleated aluminium elements, the radiator repeatedly impresses with a strong architectural presence that catches the eye. A timelessly elegant design that lends rooms a special touch.
Funke FHS-Kupplung - Pipe Coupling for the plumbing sector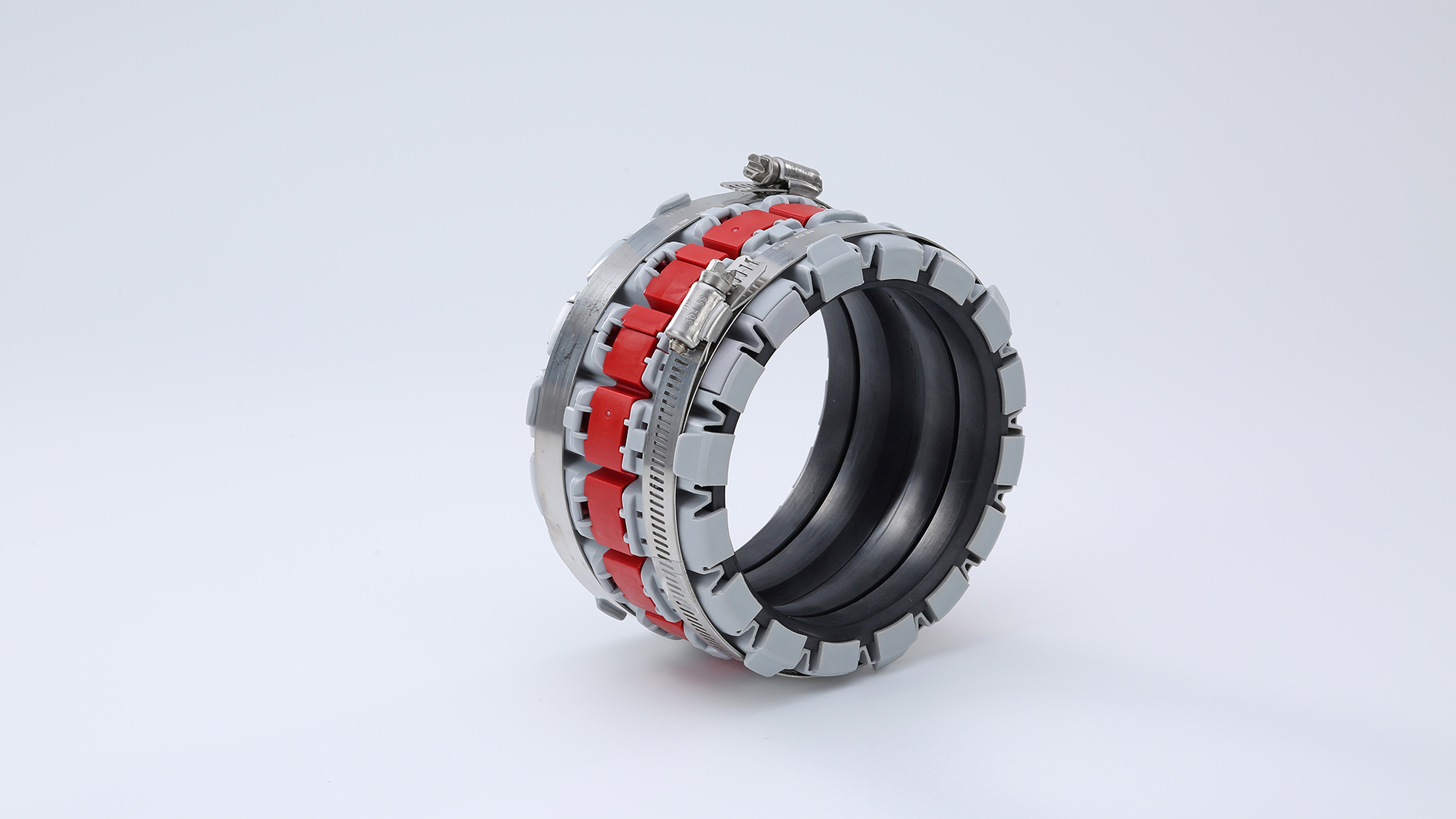 Manufacturer: Funke Kunststoffe GmbH
The Funke FHS coupling promises a fast, flexible and tight solution for connecting water pipes, whether they are pipes with different outside diameters from 40 to 110 mm or made of different materials and surface structures. A practically and intelligently solved innovation that can be used indoors and outdoors, in the ground or flush-mounted.
The One - Toilet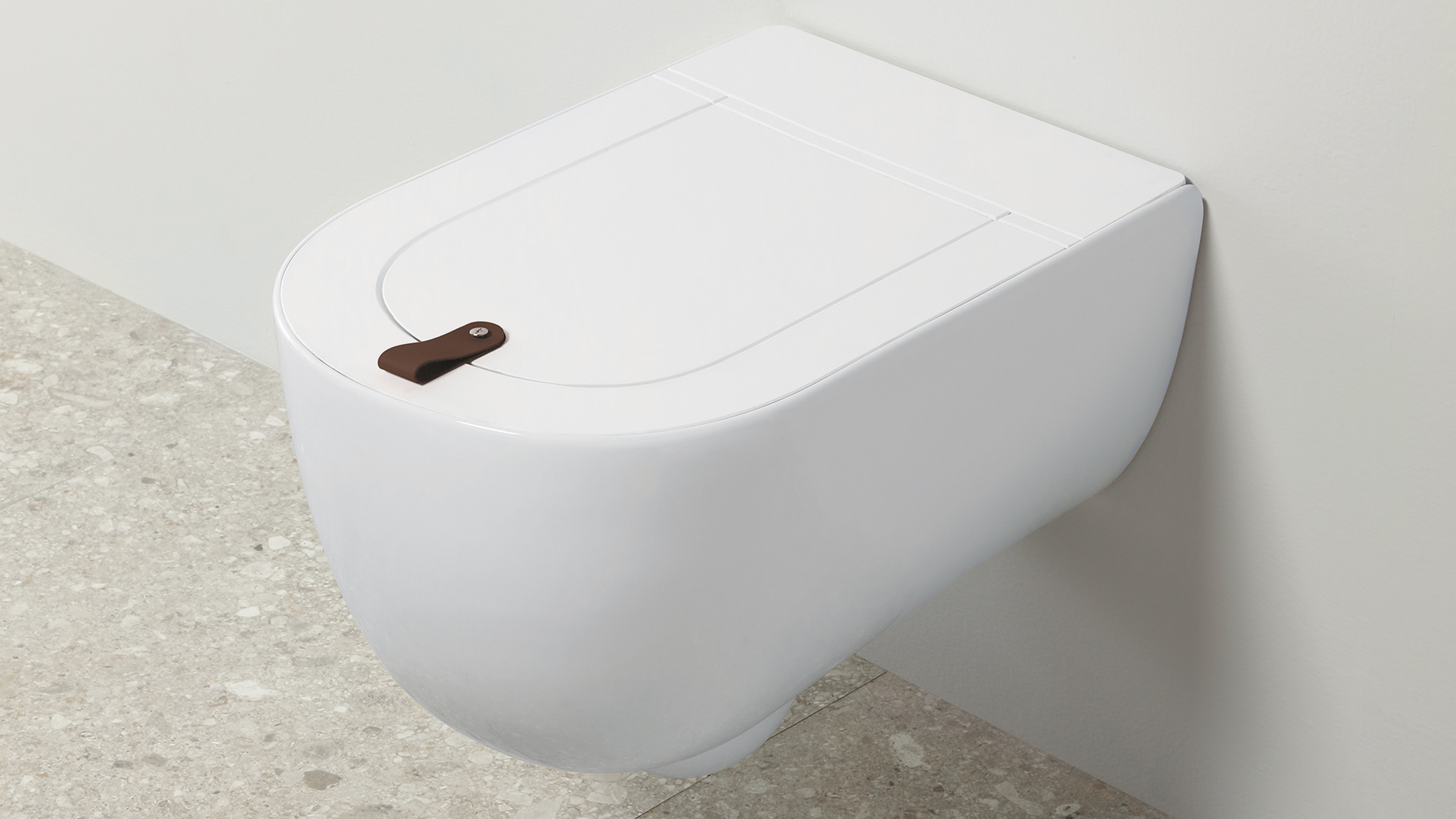 Manufacturer: ARTCERAM SRL

The One offers a surprise with its innovative hingeless lidded WC seat. Both seat and lid are quick and easy to lift and just as easy to clean. An idea that is as aesthetic as it is sensible, which, thanks to its clear design language, not only stands out visually, but also takes hygiene into account.
Bilbao - Infrared panel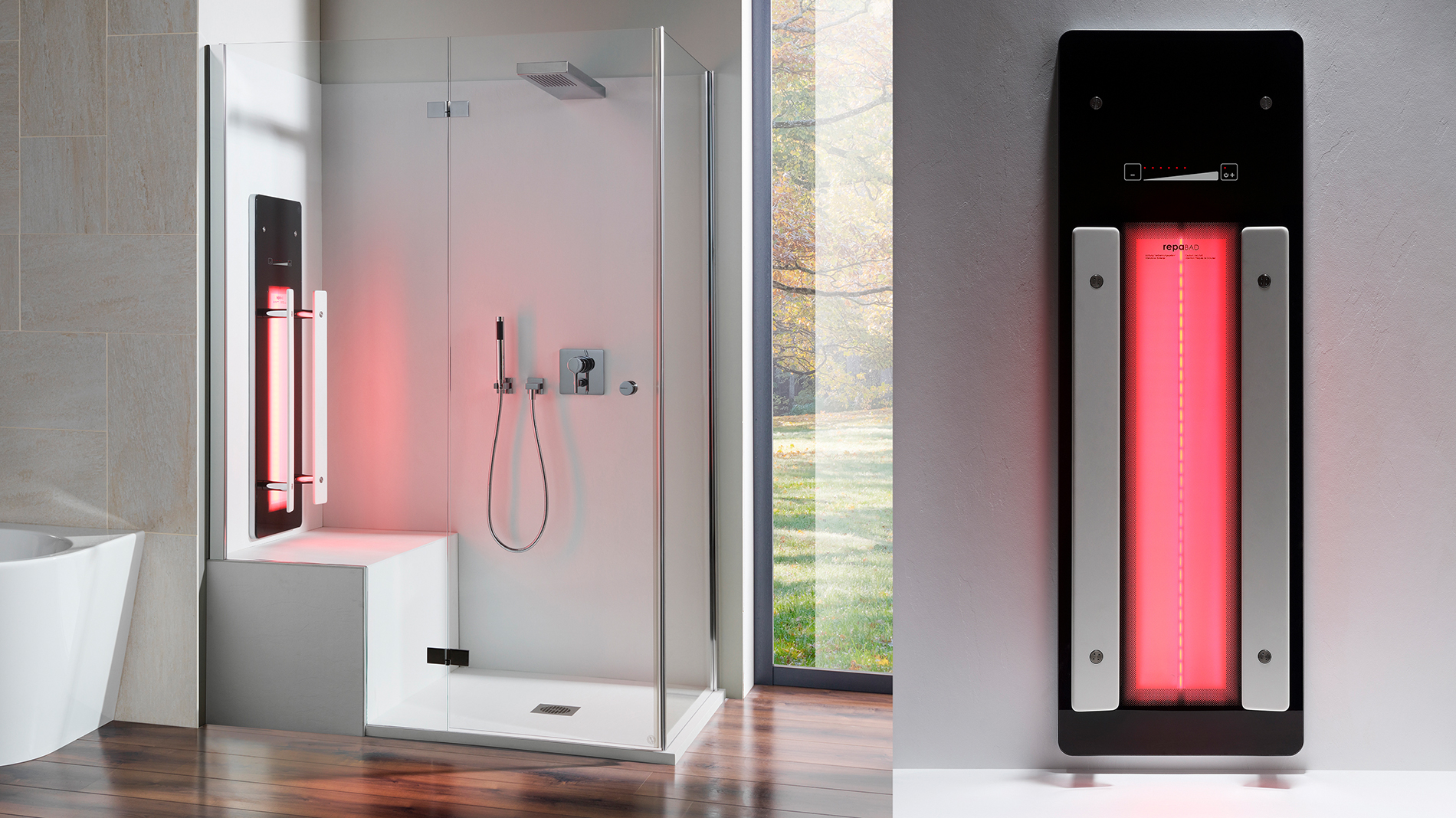 Manufacturer: repaBAD GmbH

Bilbao is an infra-red panel specially developed for wet areas that can also be retrofitted. The pleasingly slim design, with its aluminium frame rounded off at the corners and the glass cover with integrated control panel available in five colours, looks extremely modern and stands only 2.5 cm away from the wall without the comfortable backrests. A successful contribution to the topic of health and well-being in the bathroom.
Baguette - Radiator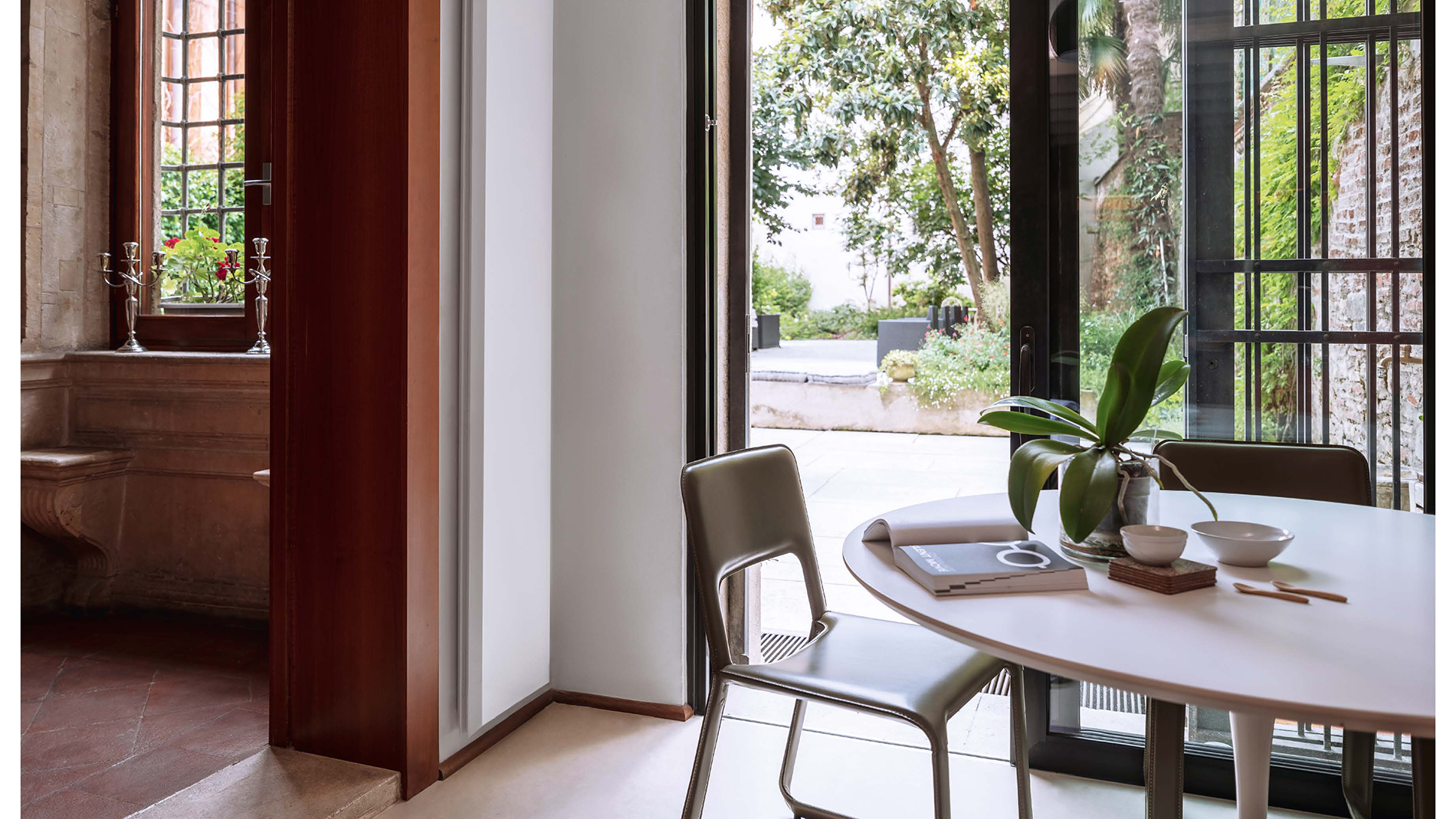 Manufacturer: DL Radiators srl
With this elegant radiator, which has a flawless surface and no visible connections or valves, it is above all the strikingly bevelled sides that catch the eye, recalling the characteristic formal language of a baguette-cut diamond. An interesting and decorative design that is nevertheless visually discreet.
Phyn Plus - Smart Home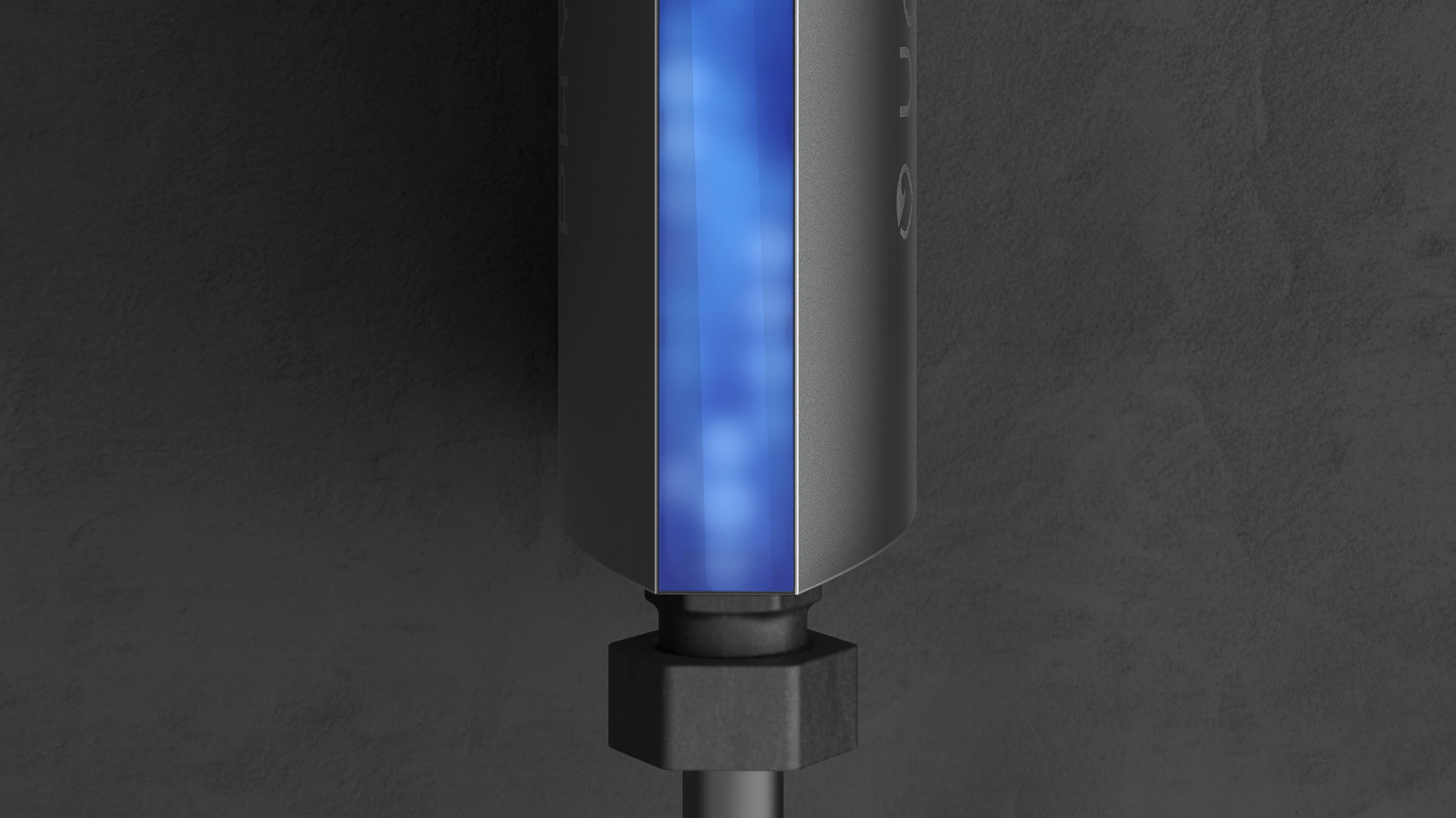 Manufacturer: Phyn
Phyn Plus is a networked and smartphone-controllable water sensor designed to detect problems in water pipes, such as leaks, and thus helps prevent damage. The high-tech in the device is beautifully reflected in the clear design with its modern look. A practical and also very aesthetically designed solution, which requires only little space.
Visign for More 200 - Activation plate
Viega GmbH & Co. KG
The actuator plate for the WC area impresses not only with its particularly elegant design and high-quality appearance, but also with the attractive possibilities it offers for individualisation. The panels are available in glass, stainless steel and even real wood.
GESSI INCISO BY DAVID ROCKWELL - Bathroom faucet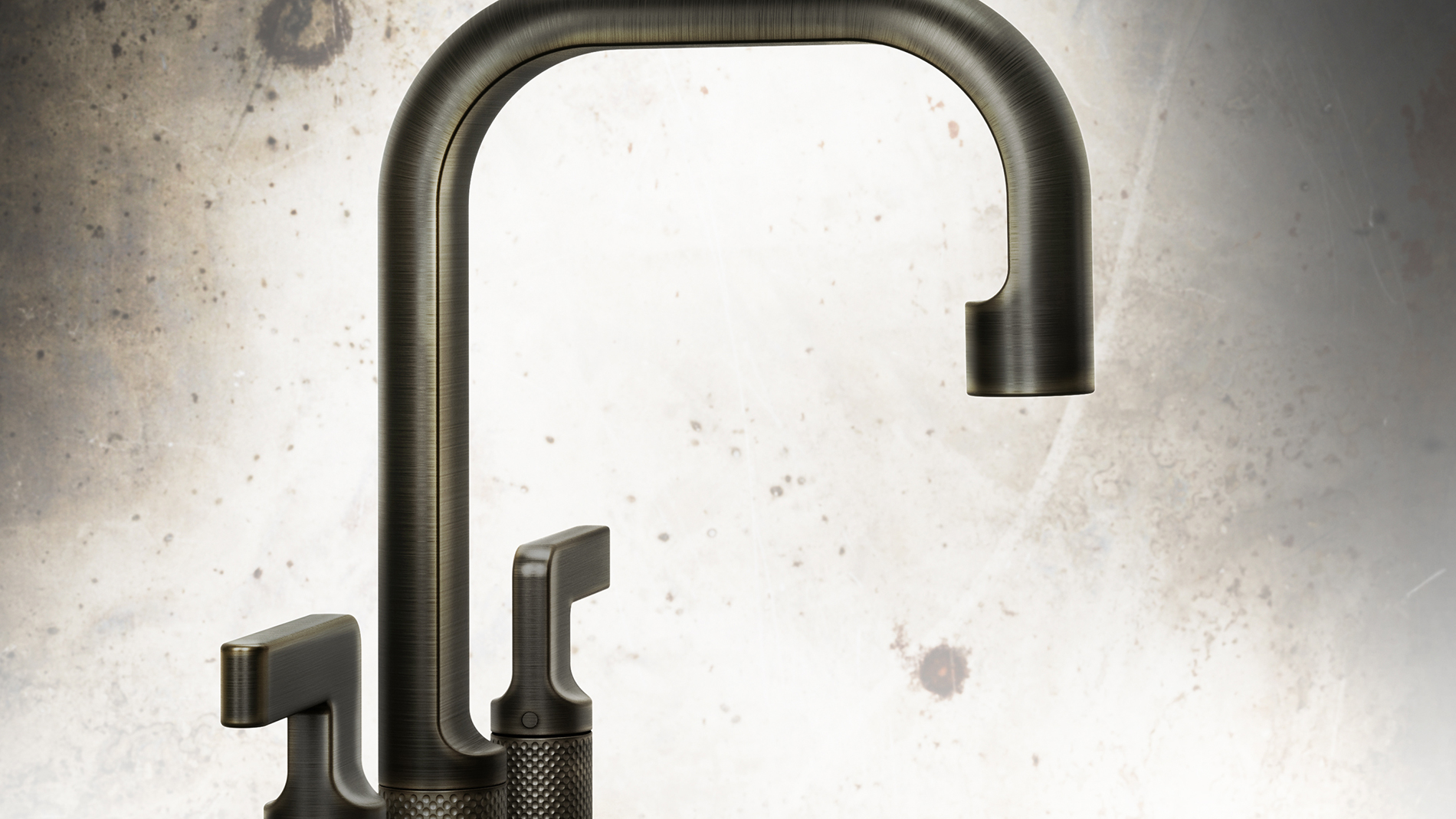 Manufacturer: gessi spa

Inciso masters the difficult balancing act between traditional craftsmanship, technical appeal and purist elegance. A design as timelessly beautiful as it is self-confident, it is consistently thought out down to the last detail, fits with many furnishings despite its distinctive form and is equally convincing on the functional level.
Regumaq X-45 - Fresh water station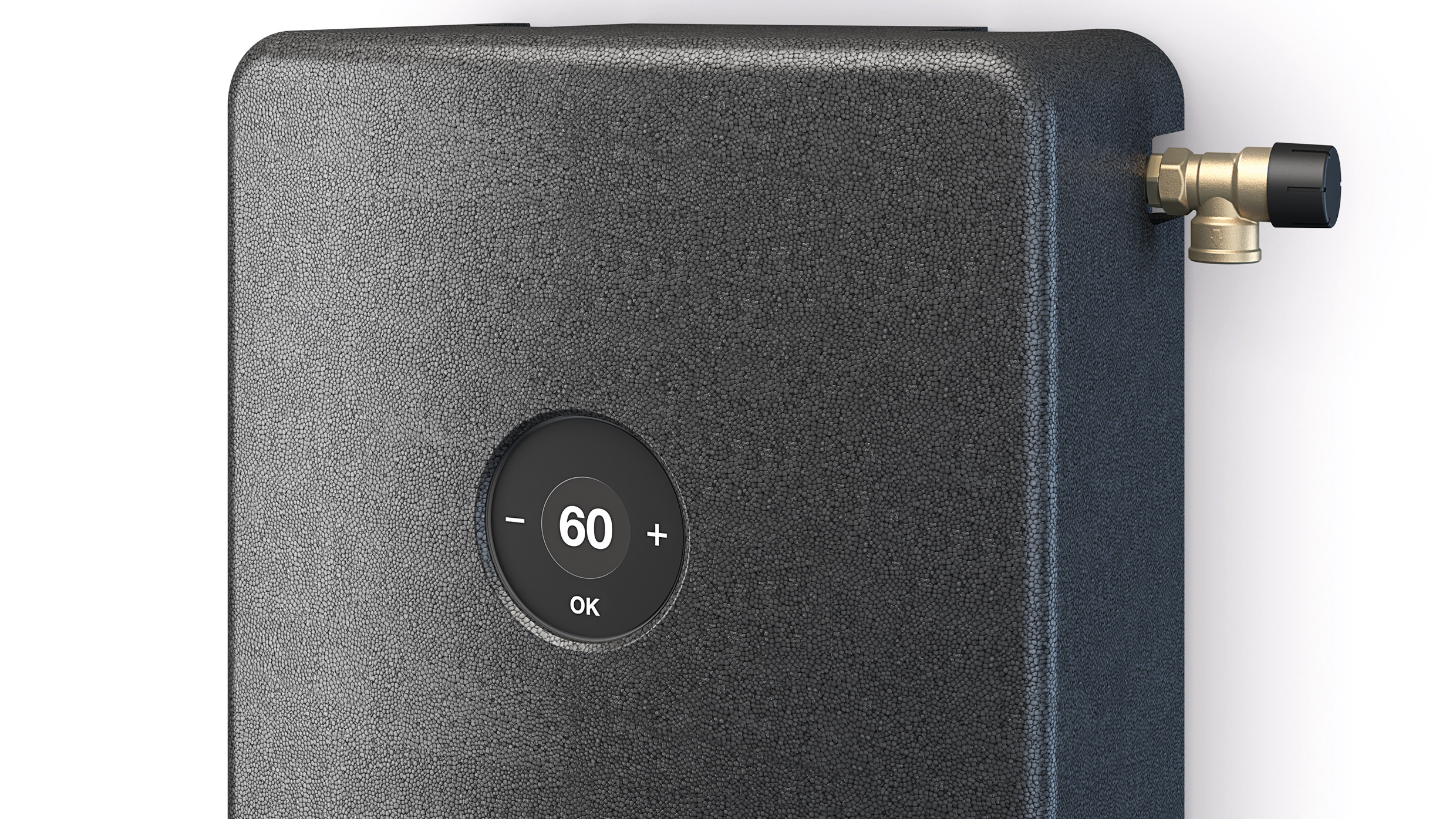 Manufacturer: Oventrop GmbH & Co. KG

The fresh water station instantaneously heats 1 to 45 l of drinking water per minute. With the exception of the round, clearly visible and easy-to-understand control element, the device, which is completely sheathed in thermal insulation, looks pleasantly clean. A puristic design reduced to the essentials, which looks visually appealing and modern thanks to its compact size and gentle radii.
InspirAIR® HOME SC150/240/370 Premium - Heat recovery Ventilation and air purification system
Manufacturer: Aldes Aeraulique S.A.S.
InspirAIR Home is a networked ventilation unit with heat recovery that can be conveniently controlled via an app. The compact device looks modern, with the multifunctional illuminated ring at its centre making a decisive contribution. The ring pulsates according to the performance of the ventilation system, and it changes colour when the concentration of CO2 in the air increases. An interesting solution in a modern housing design.
Pelletofen Agnes - Pellet stove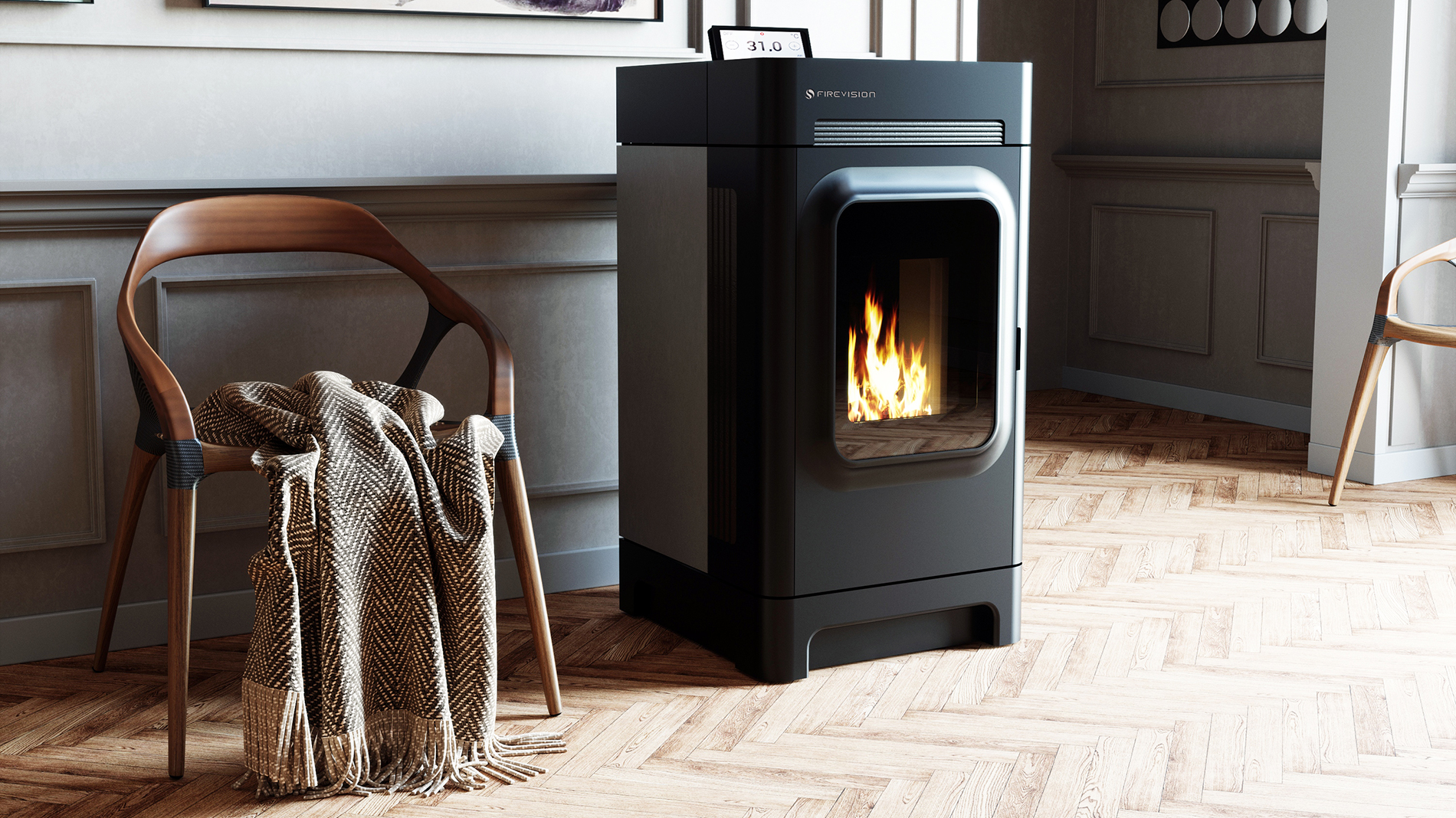 Manufacturer: ThermoFLUX d.o.o.
Agnes makes an attractively compact impression and demonstrates its own unmistakable design language. From its elaborate cast iron door, with its window edge strikingly curving out towards the exterior, through the soft radii, to the striking cladding, available in wood-look ceramic, oxide or – the jury's favourite– concrete. A successful stove in every respect, and one which lends rooms a special atmosphere.
SO - Faucet collection
Manufacturer: FIMA Carlo Frattini S.p.a.
SO surprised the jury with an elegant design that leaves the boundaries of conventional fittings behind. The key feature of the design are two rotary handles of different sizes that allow temperature and flow rate to be adjusted separately. A new and innovative design in every respect, unmistakable despite its clear visual language, lending bathrooms their own unique character.
Zehnder Deseo Verso - Radiator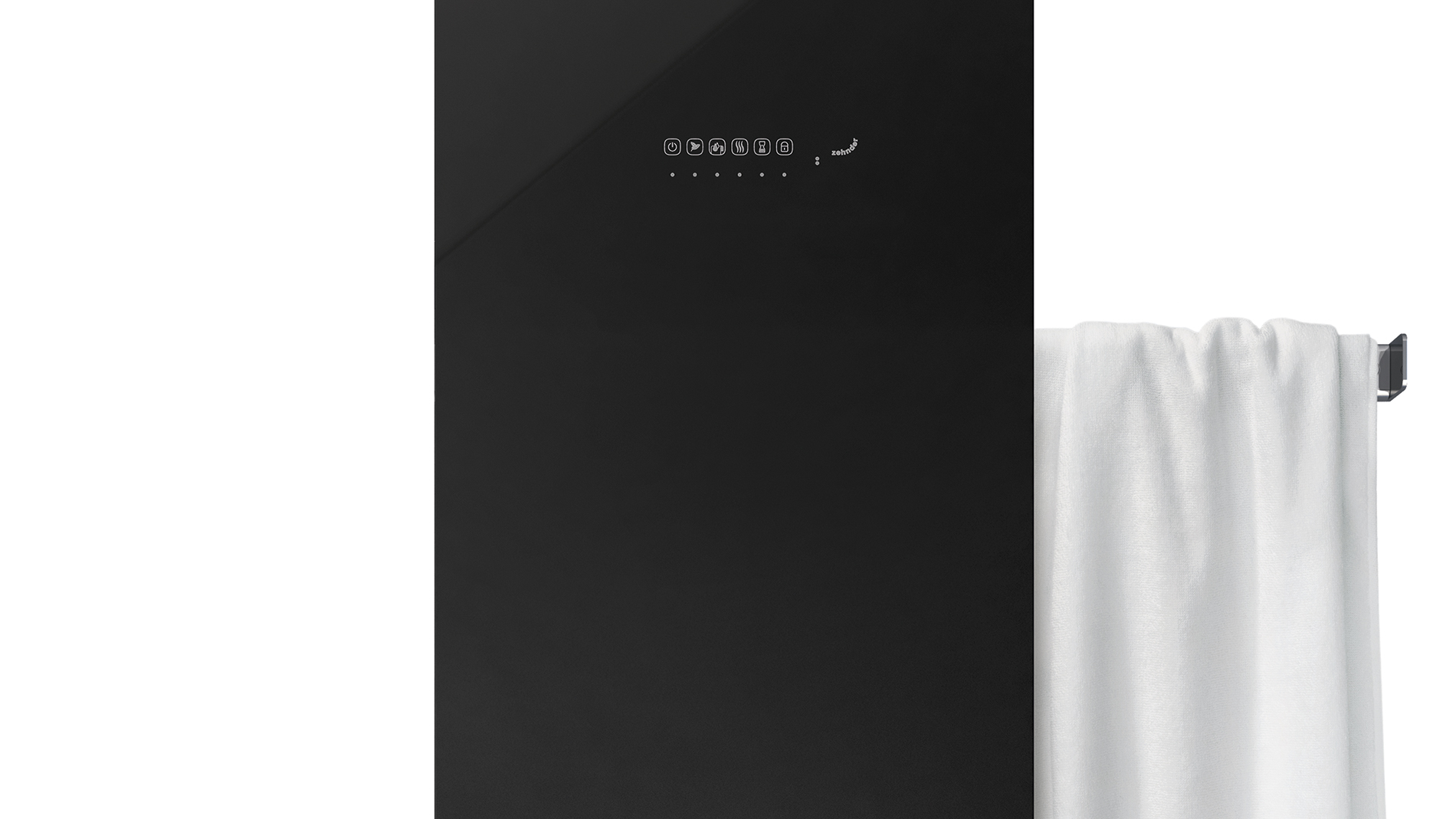 Manufacturer: Zehnder Group International AG
Its glass surface lends the electric radiator an elegant and high-quality appearance. The control panel is discreetly integrated into the panel at eye level for ease of use. Another neat detail is its extendable towel holders, which disappear behind the device when not in use. An interesting product that is easy to install and whose chic design is formally and functionally convincing.
Viessmann Vitodens 300 - Gas condensing boiler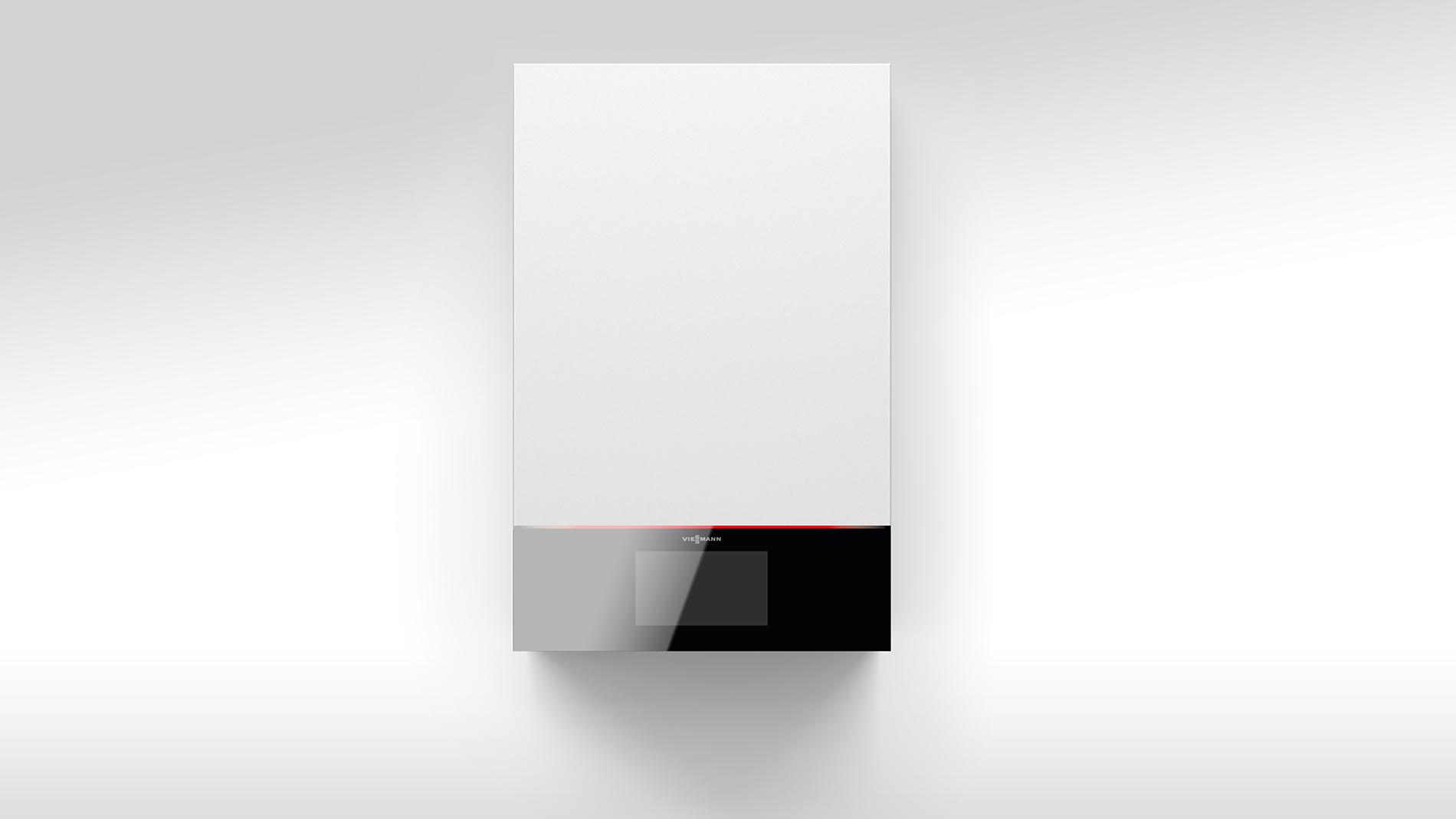 Manufacturer: Viessmann Werke Allendorf GmbH

The purist, strictly linear design of the cuboid gas condensing boiler has a timelessly modern appearance that fits into many environments. A clever detail is the height-adjustable control panel, which promises comfortable use in any installation situation. A simple yet precise design that credibly conveys the demand for quality.
Viessmann Vitovalor PT2 - Fuel cell heating device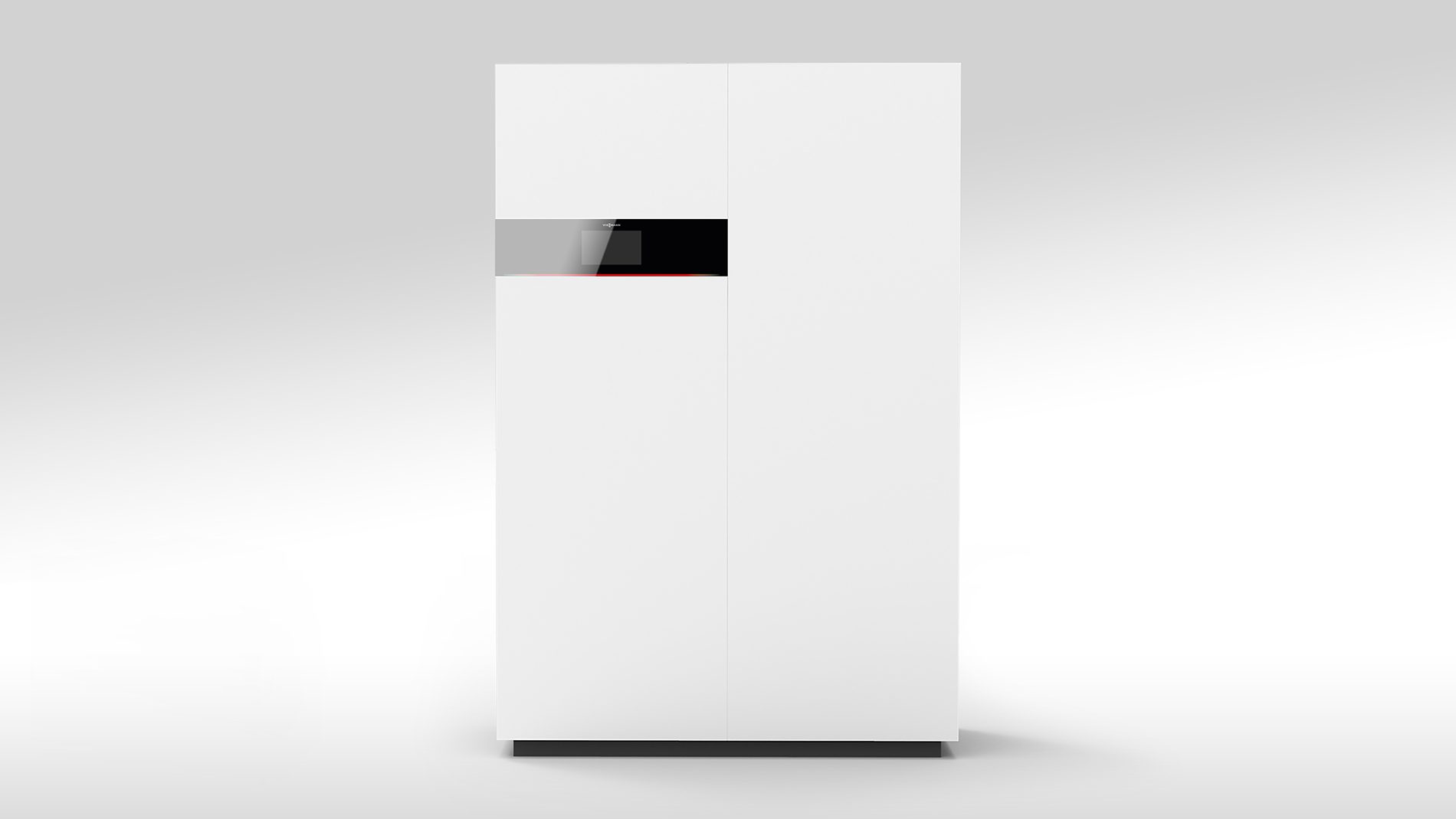 Manufacturer: Viessmann Werke Allendorf GmbH

The modern Viessmann Vitovalor PT2 fuel cell system combines heat and power generation in the smallest of spaces. In addition to its compact dimensions, the two-part design with its clean front and precise joints is almost homely. An elegant design that takes technology out of the cellar and makes it socially respectable in the truest sense of the word.
BetteCraft - Washbasin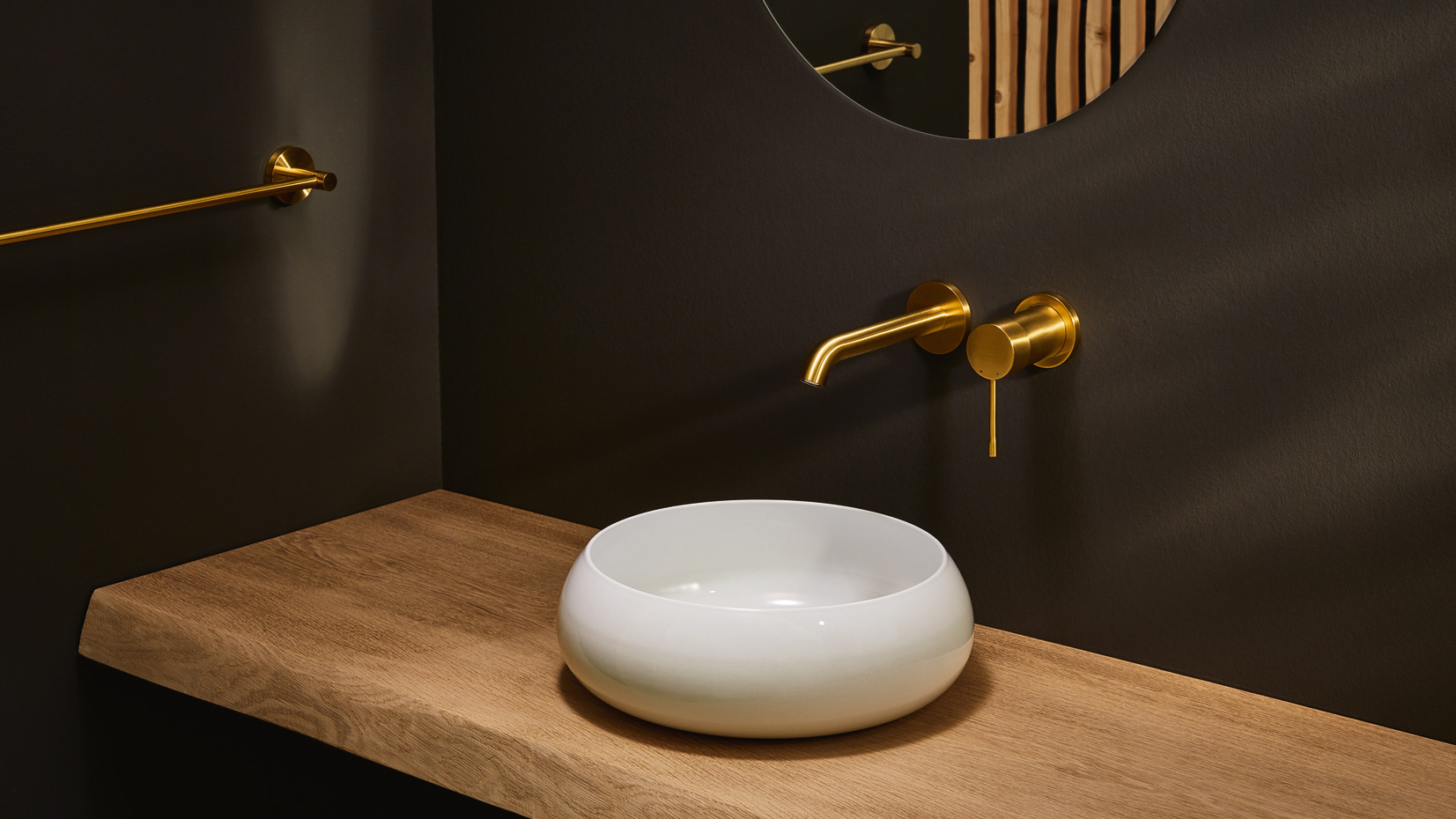 Manufacturer: Bette GmbH & Co. KG
The BetteCraft is a sculptural washbasin bowl made of high-quality glazed titanium steel, with an elegantly curved shape that has, until now, been more often associated with ceramics. A beautiful piece of elaborate craftsmanship and an impressive statement for steel enamel as a material.
ROMAX COMPACT TT - Press machine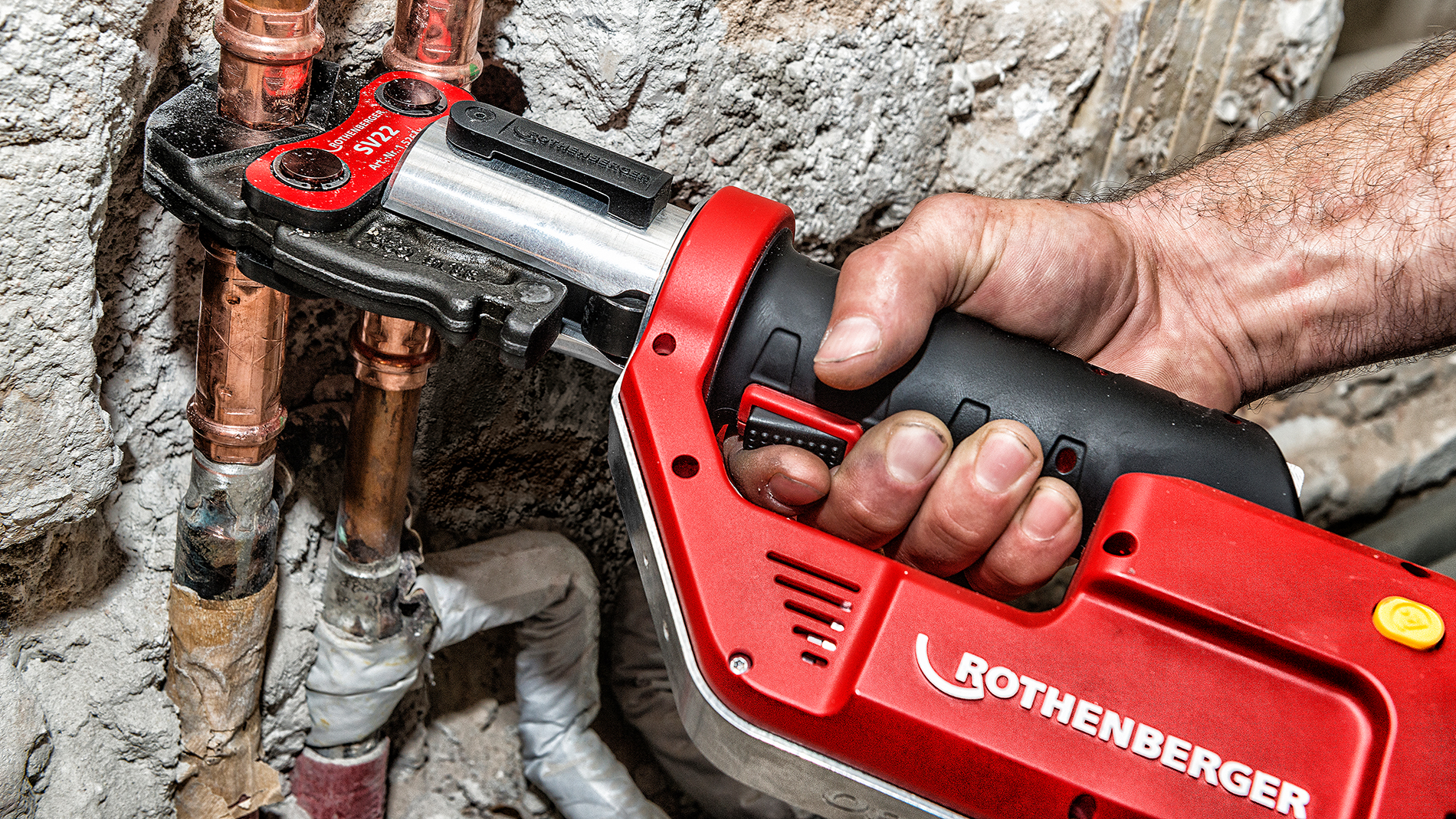 Manufacturer: ROTHENBERGER Werkzeuge GmbH
The ROMAX Compact TT is about 15 per cent shorter than its predecessor, meaning that it can be used where there is no room for larger machines. It is also perfectly balanced and fits comfortably in the hand. A smart design that is not only very compact, but also offers maximum ergonomics. A true innovation in the field of professional pressers.
Moon Black - Activation plate
Manufacturer: OLI - Sistemas Sanitários, SA

The MOON actuating plate is activated by a hand approaching it. No contact is necessary. The clear design with its circular fields is self-explanatory and has an extremely stylish appearance. A beautiful, highly elegant solution that gets by without extra electricity. The electrical energy it requires is obtained by the movement of the water during rinsing. Both formally and functionally very well executed.
Washbasin - Eccentrico
Manufacturer: FALPER S.r.l.

The free-standing Eccentrico washbasin cleverly plays with the geometry of the circle, allowing the basin to protrude boldly beyond the cylindrical base, creating an aesthetic tension that enters into dialogue with the freestanding tap. This dialogue is further supported by the harmonious interplay of different materials and textures. An extraordinary piece of bathroom furniture, of special aesthetic value and great elegance.
Woodio washbasin - Washbasin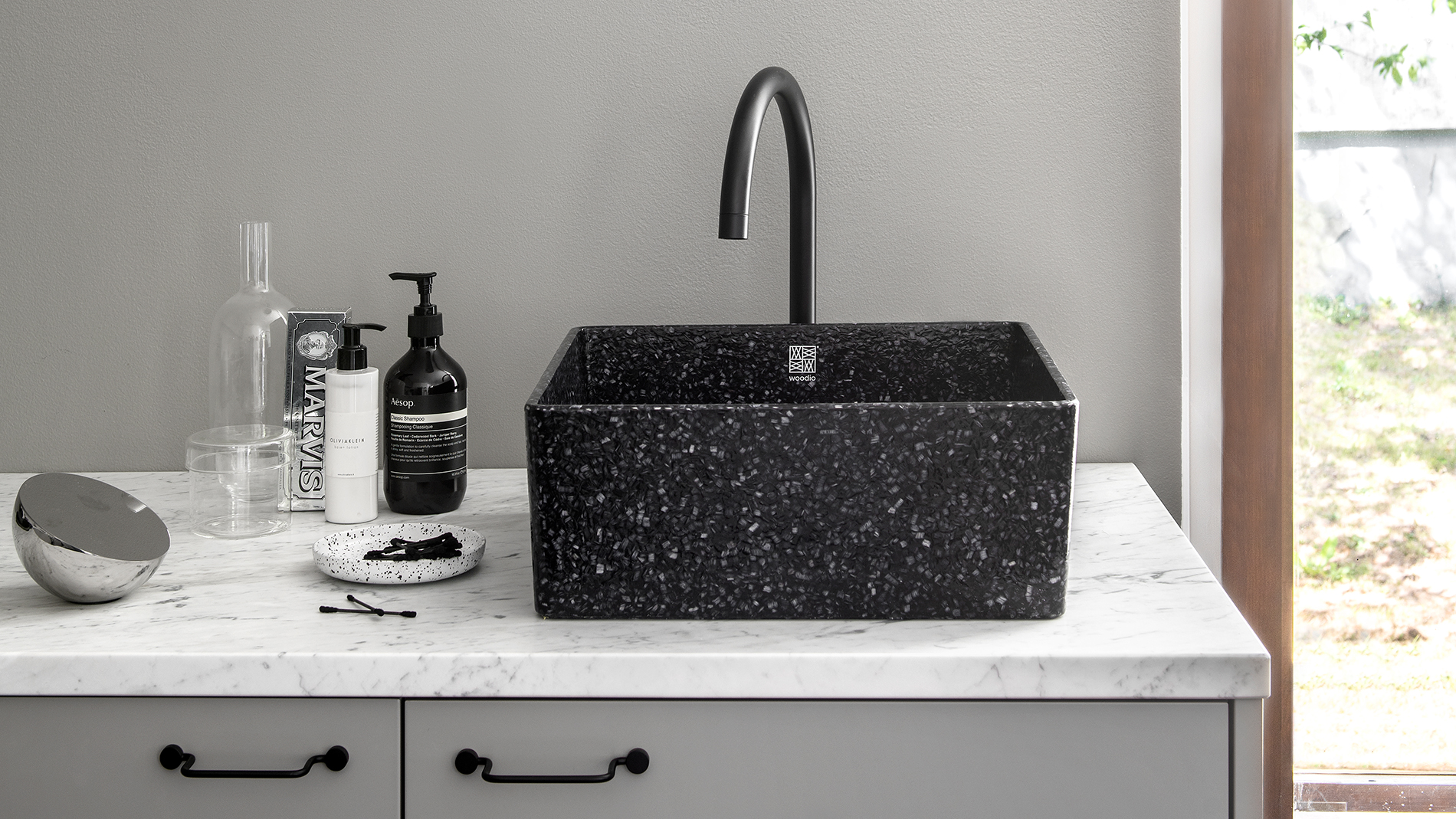 Manufacturer: Woodio Oy
The Woodio Oy washbasin is made of a new material. The innovative wood material is durable, entirely waterproof and therefore suitable for the production of washbasins and similar items. Since the material can be disposed of as energy waste at the end of its life cycle, it is also sustainable. An interesting solution that not only brings a new aesthetic to the field of bathrooms, but also considers an ecological aspect.
Schalenbecken SB.Aqua360 - Washbasin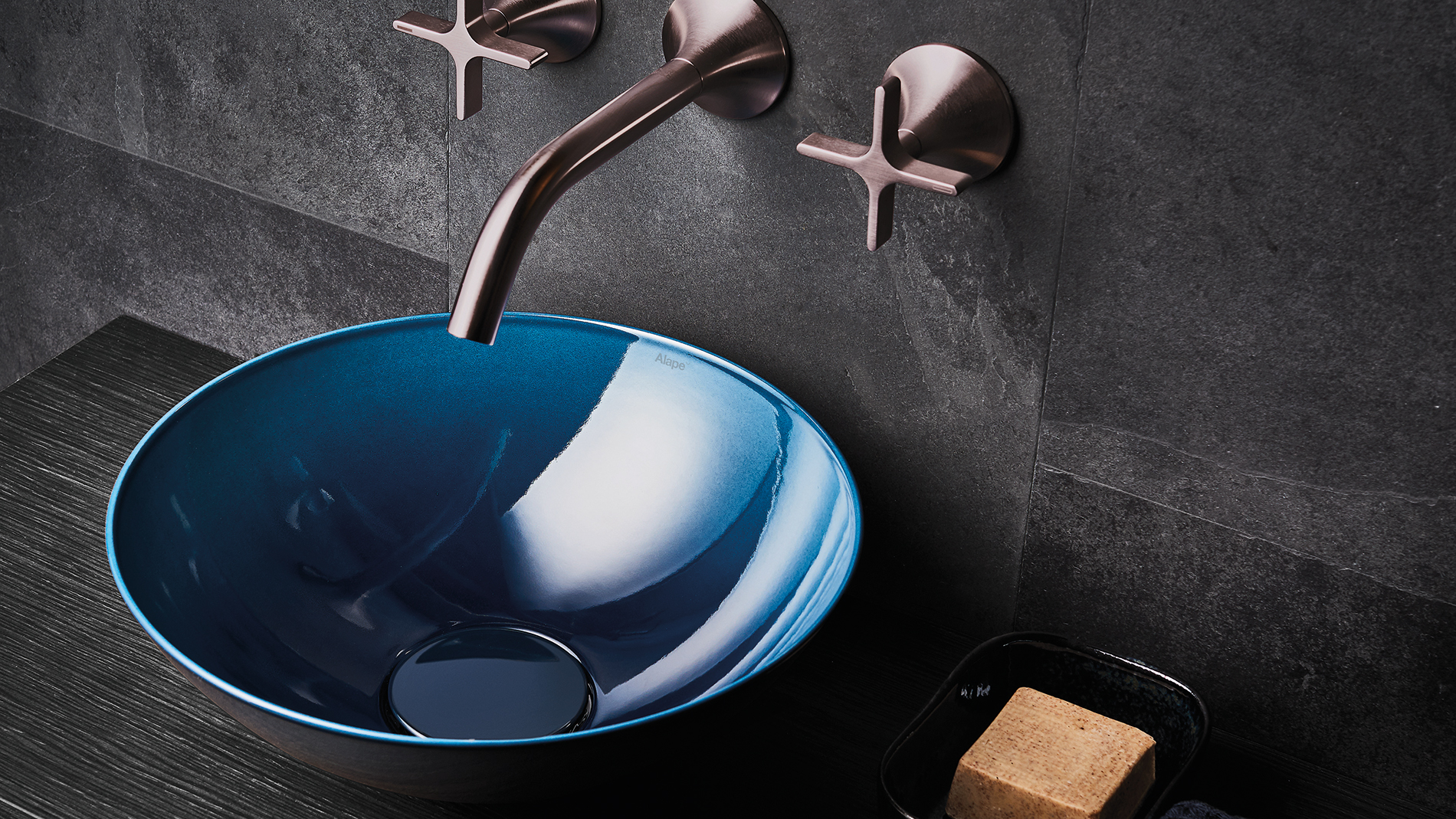 Manufacturer: Alape GmbH
The beautiful Aqua bowl basin demonstrates not only an impressively timeless and elegant shape, but also a fascinating coloured glaze, giving the circular bowl an optical depth more often associated with glass. The three available colour shades are inspired by water, and each is extremely beautiful in its own right. A wonderfully designed handmade product and a highlight in the bathroom.
TermoPlus Hydrotank - Air/Water heat pump
Manufacturer: TermoPlus (Termo Shop D.o.o.)

The TermoPlus Hydrotank forms part of a modern air-water heat pump that promises a high degree of efficiency and savings. This promise is perfectly conveyed by the unit's black, hexagonal design while the ventilation slits' striking triangle texture further enhances its recognisability. A successful design down to the last detail, and one which beautifully expresses the demand for high quality.
PILAR - Wood burning stove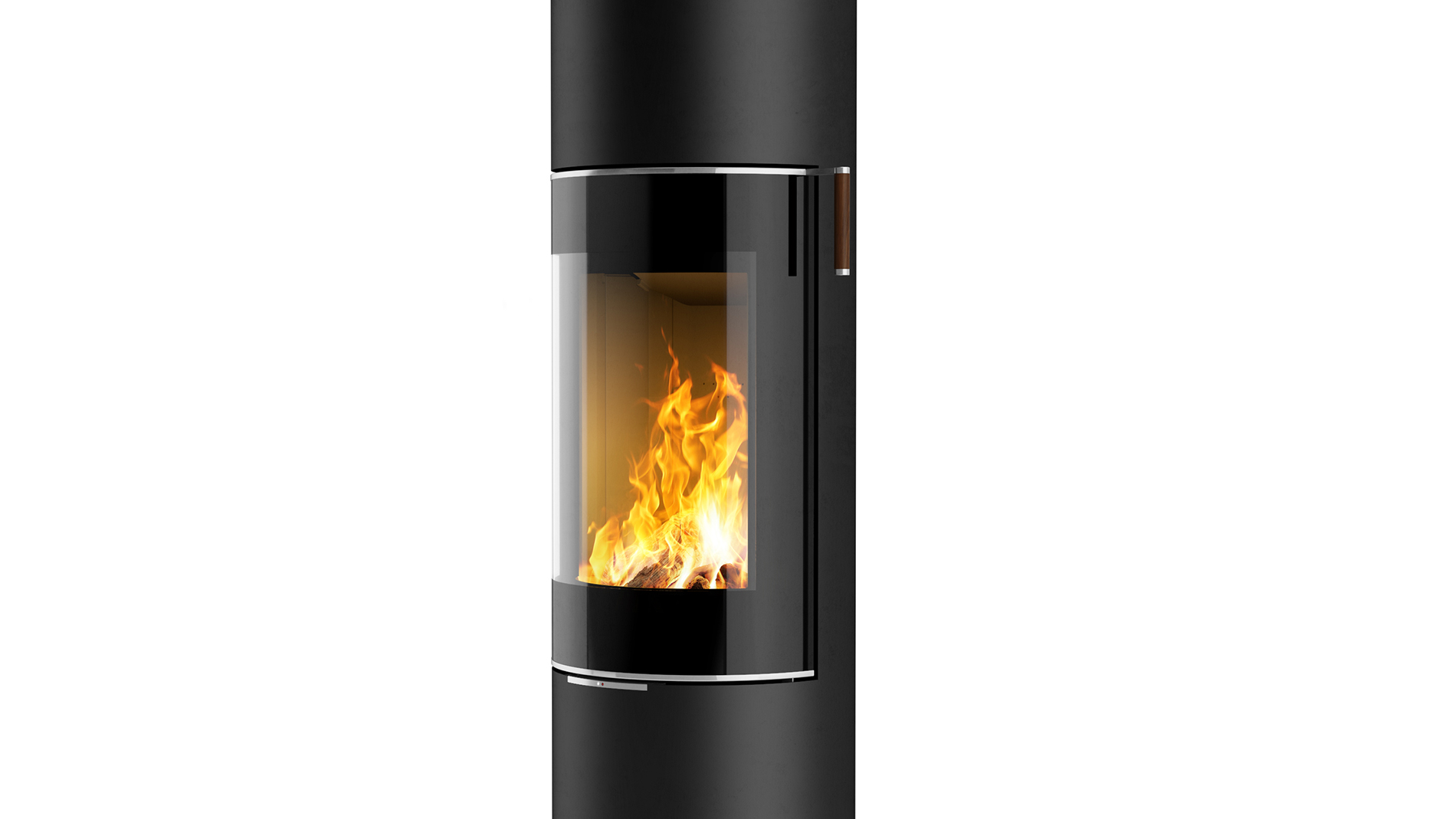 Manufacturer: Attika Feuer AG; RAIS A/S
The free-standing wood-burning stove, with its column-like form made from a single piece of steel, is timelessly elegant. The high combustion chamber with its generously sized, flush glass door offers a beautiful view of the flames. Three options are available for controlling the supply air: "manual", "automatic mechanical" and "automatic electronic". A wonderfully designed product that fits into many living environments.
TUBE - Shower cabinet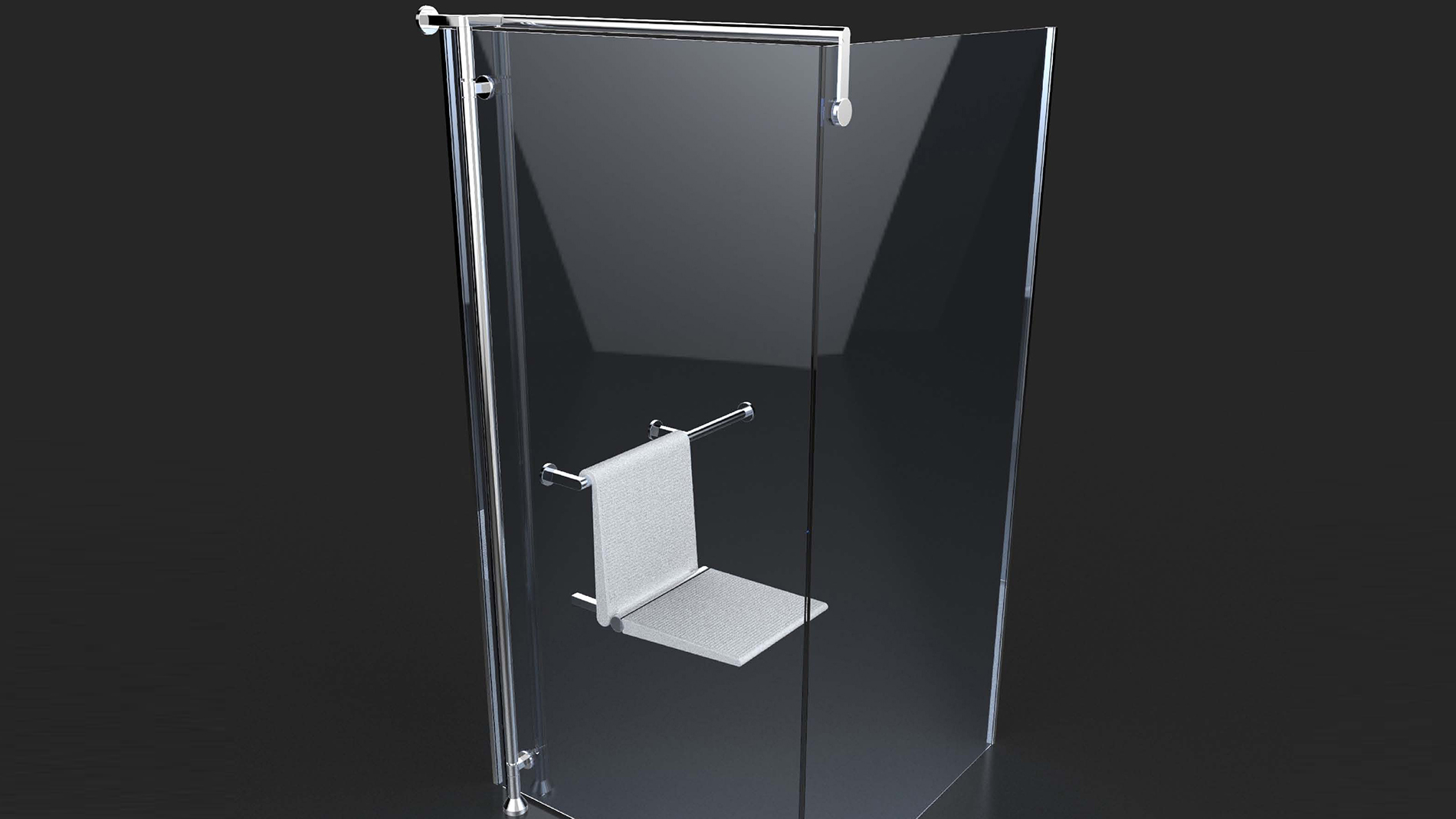 Manufacturer: PALME Sanitär-Vertriebs Gesellschaft m.b.H.
This shower cubicle does not require a frame profile, giving it a highly reduced and elegant appearance. The generously sized door, made entirely of glass, is instead supported by a hinged tube for cushioned closing. The tube can be mounted modularly, either inside, with a railing handrail and mounted folding seat, or outside, e.g. as a towel rail. A fantastic system with cleverly integrated and age-appropriate additional benefits.
Modular furniture system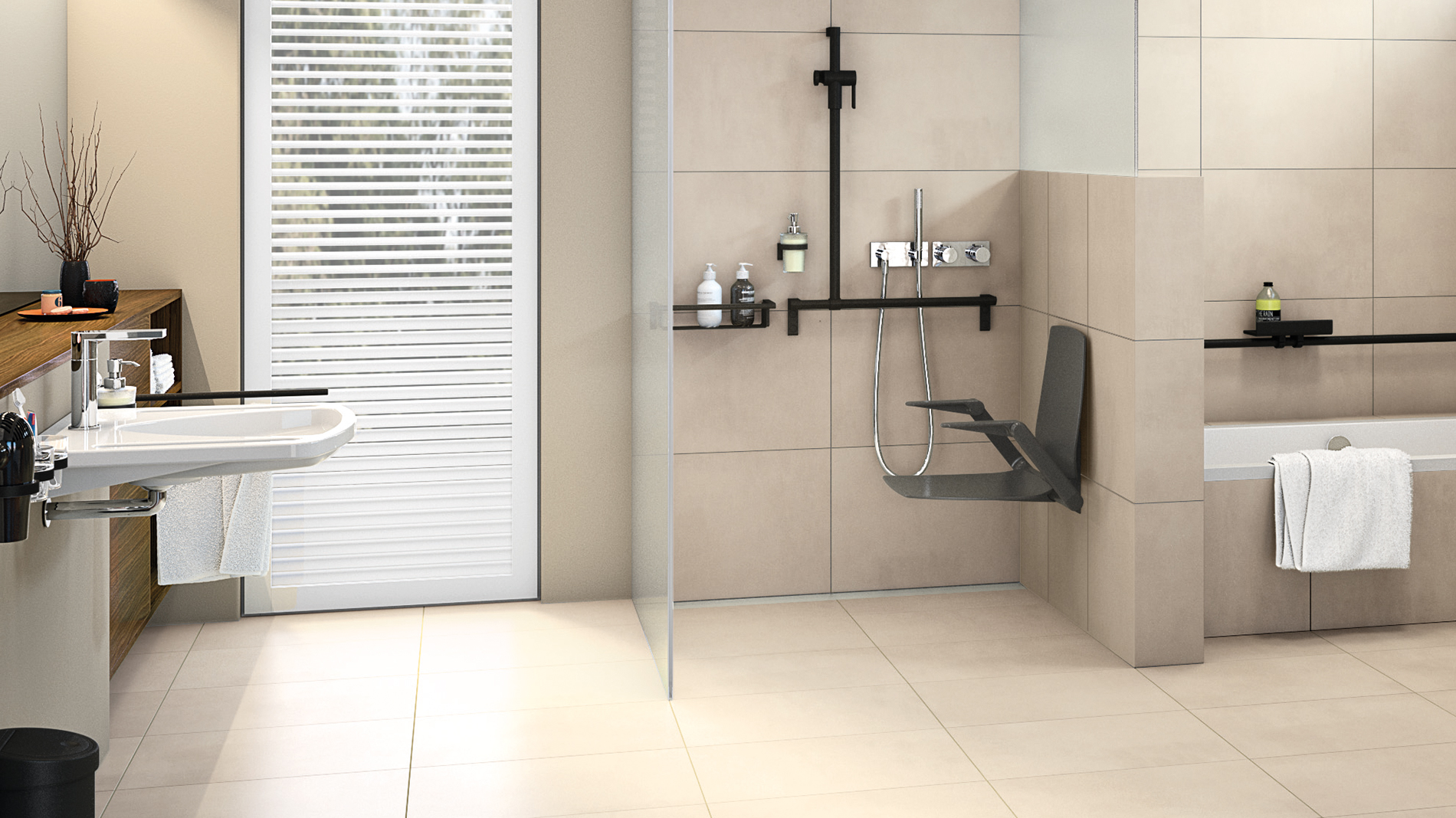 Manufacturer: NORMBAU GmbH

The modular seating system for the shower area is visually discreet. At the same time, it is so carefully thought out that its versatile functions and different height configurations allow it to be optimally adapted to meet the needs of the user. The jury was particularly impressed by the ergonomic seat's attractive appearance when folded up. A product that is both innovative and aesthetic, impressive in form and function down to the last detail.
MVB-301RGSB - Bathroom accessories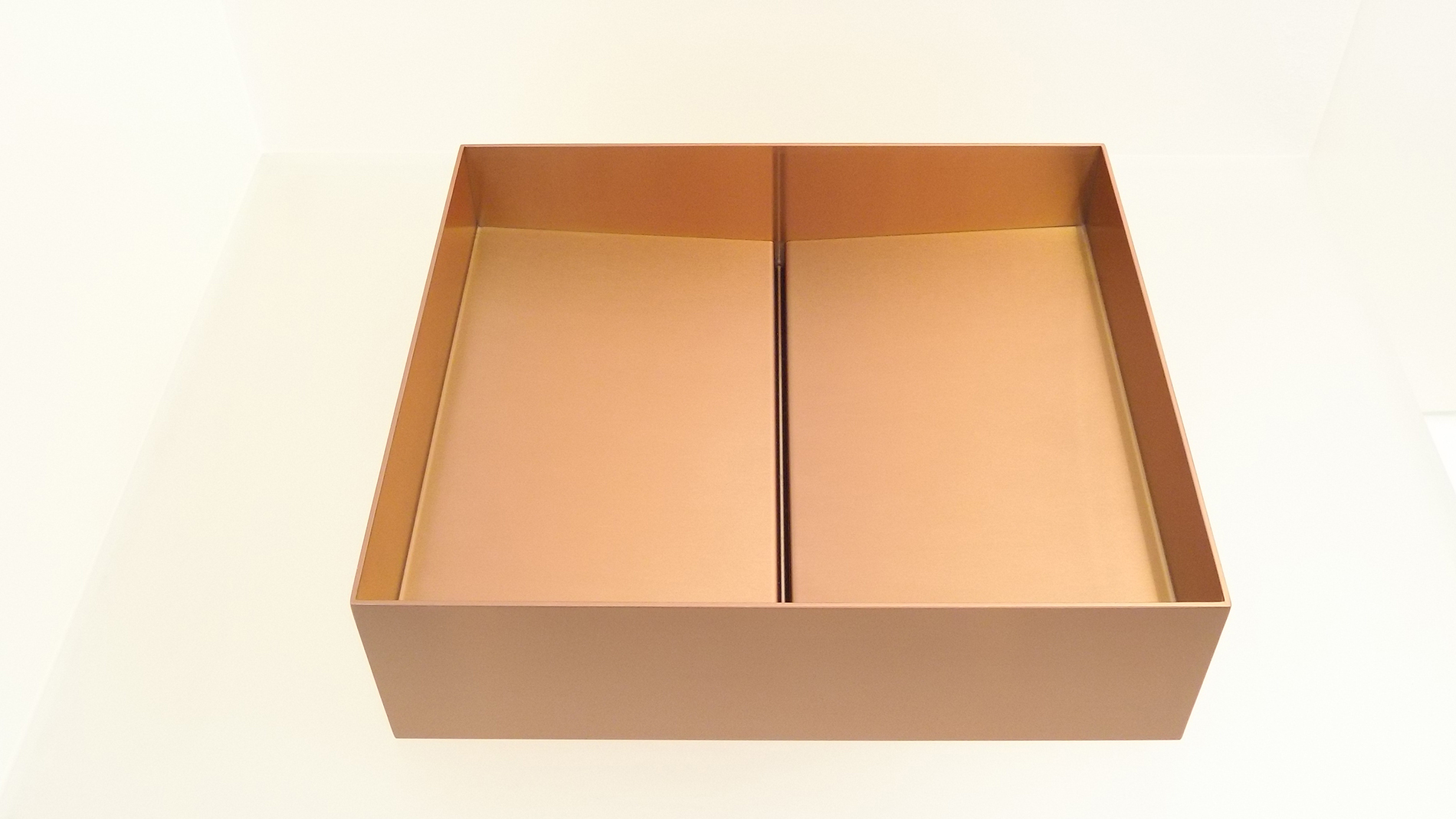 Manufacturer: Mila International

It's not only the form of this exceptional washbasin that's interesting, but its use of colour too. Made of 16-gauge steel, the basin acquires its characteristic pink-gold colour through a special hardening process. Another nice detail is the drain slit extending from edge to edge, succinctly underlining the basin's linear design. An exclusive product that catches the eye in many bathrooms.
Zypho - Shower wastewater heat exchanger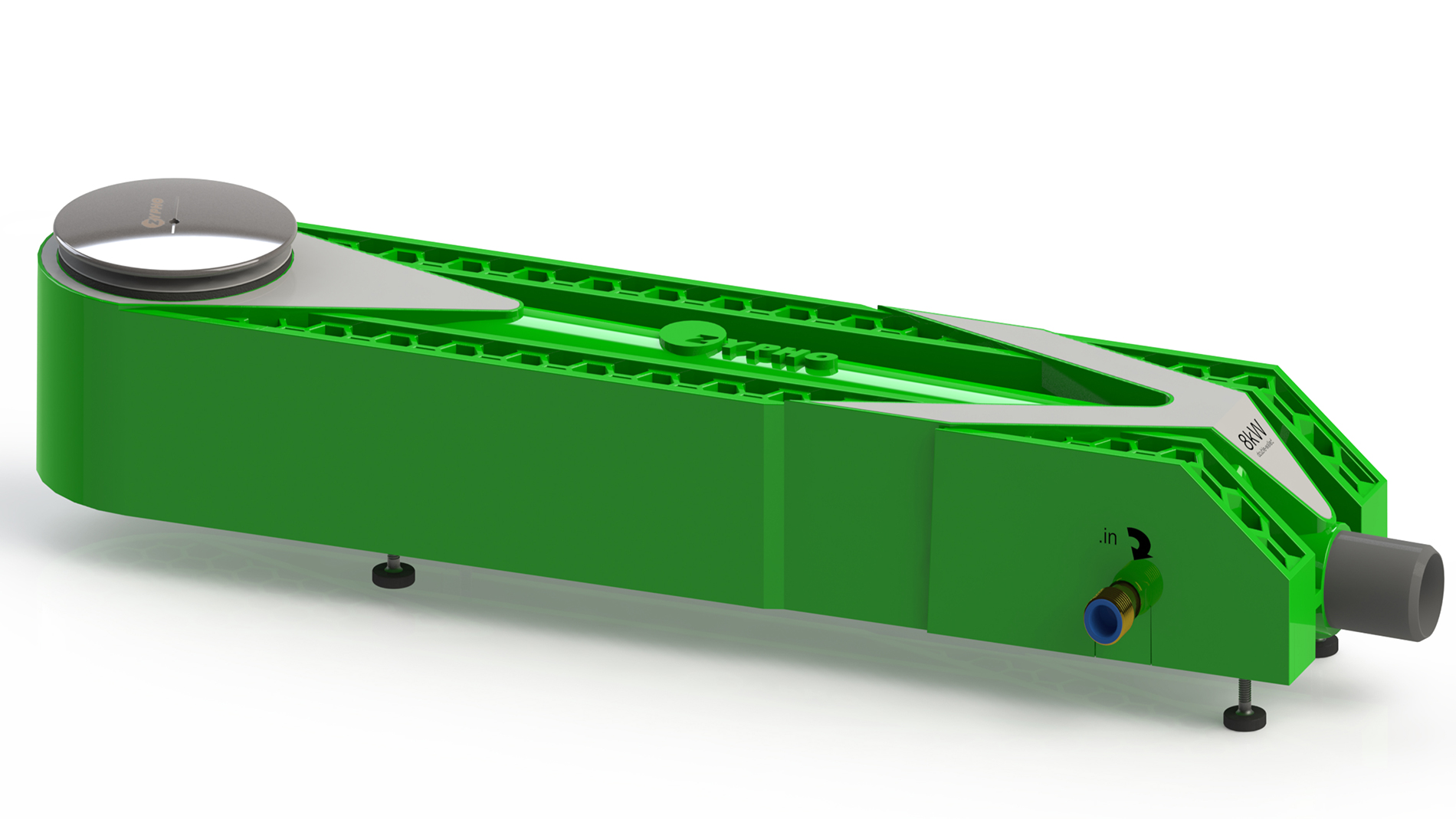 Manufacturer: Zypho (EIDT, SA)
The clever system for recovering heat from draining shower water helps to save up to 30 percent of energy used during showering and is extremely simple to operate. An interesting product that is installed as part of the drainage system under the shower tray and whose use ultimately benefits the environment.
Wunderblau - Toilet brush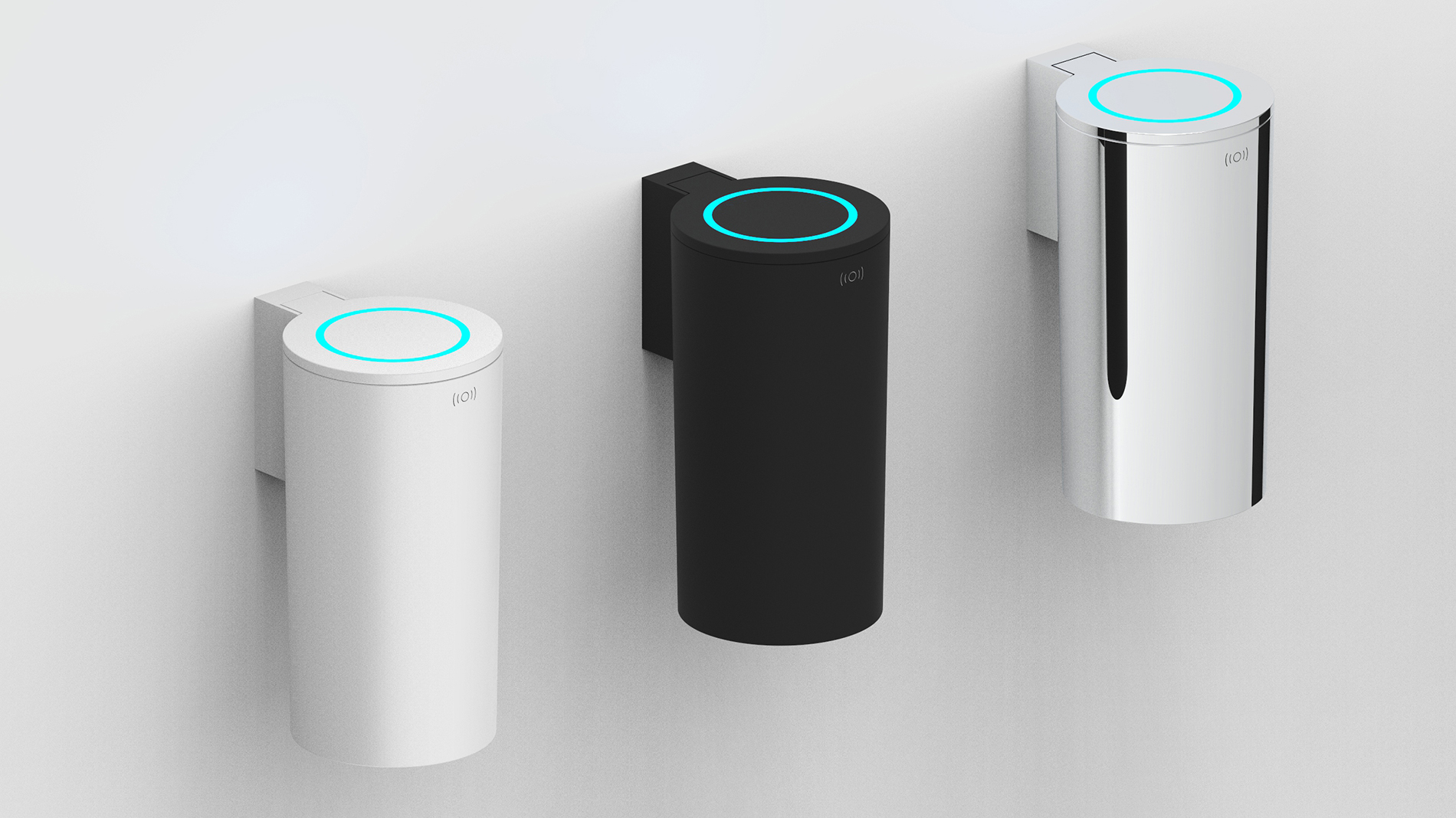 Manufacturer: Wunderblau
The innovative toilet brush is cleaned of practically all germs using UV-C light alone, without the need for chemicals or water — a major contribution to uncompromising hygiene standards. The cylindrical container has an impressively clear and reduced visual language, allowing it to blend into many environments. An intelligent product that combines hygiene and ecology in an aesthetic design that is both formally and functionally clean.
Waschplatz Steel19 - Washbasin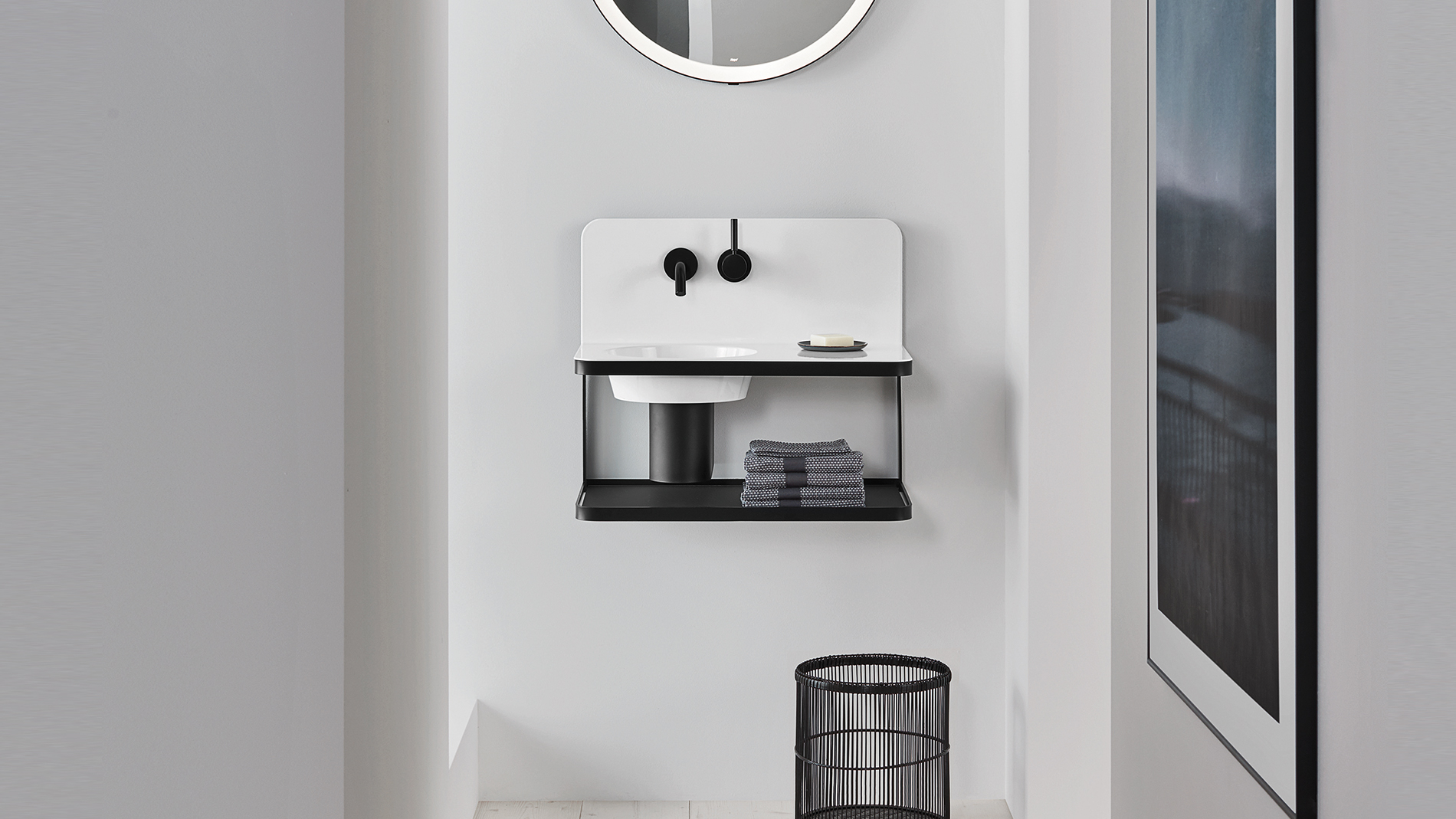 Manufacturer: Alape GmbH

This washbasin made of glazed steel in "splashback style" with tap demonstrates a pleasingly clear design that is reduced to the essentials. Geometric shapes, soft radii and the black-and-white colouring lend the exclusive piece of bathroom furniture an industrial character that perfectly complements purist interiors. A beautiful formal solution.
BWT E1 Einhebelfilter - Protective filter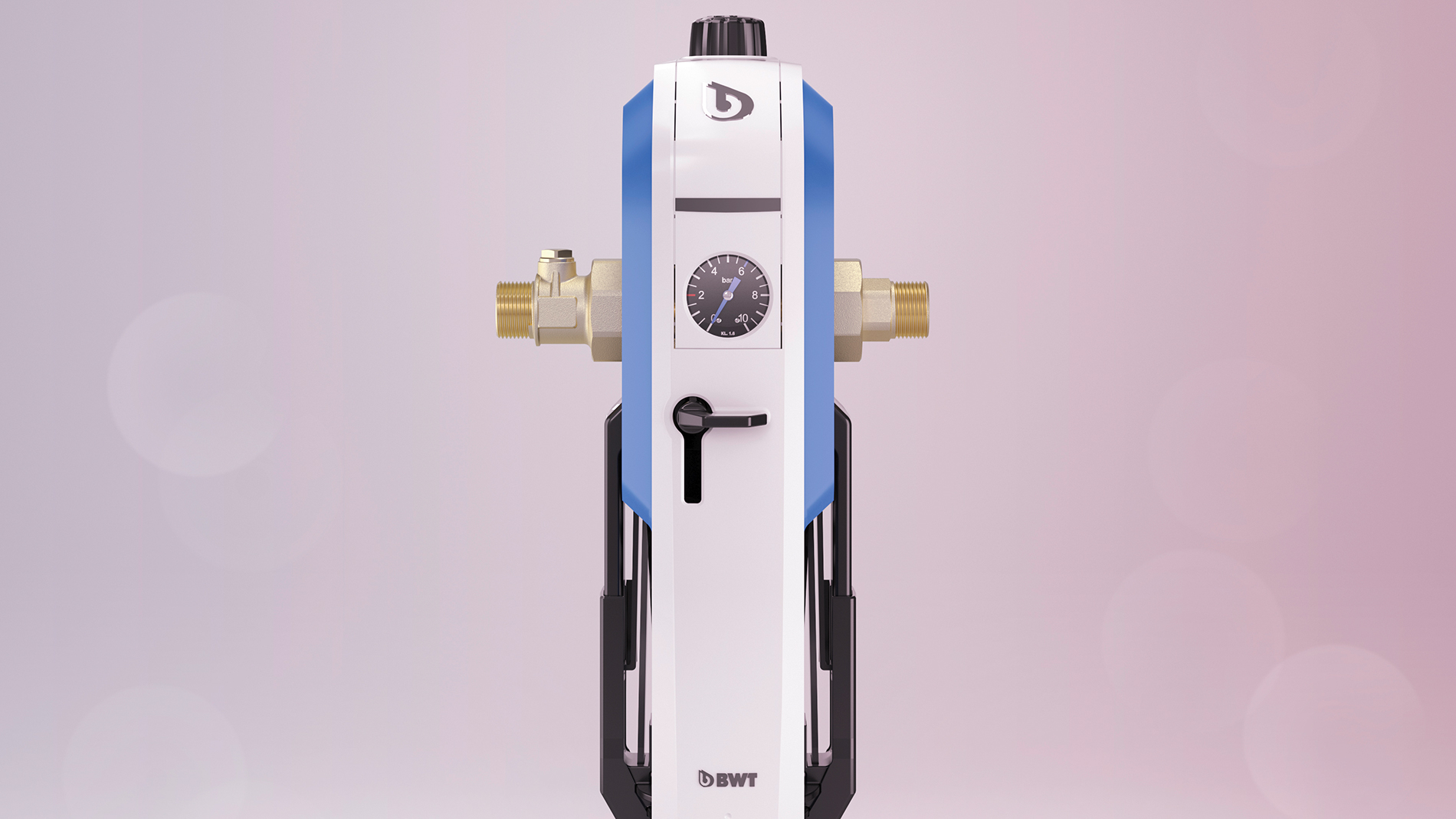 Manufacturer: BWT AG

The E1 single-lever filter is a water filter that is as precise as it is cleverly designed, which promises a high level of hygiene, and is also easy to use and handy. The compact filter is installed where the main water pipe leads into the house. Exchanging the filter element is child's play, does not require tools and can be carried out by practically anyone. A great example of how easy drinking water hygiene can be.
GIRO FREE STANDING BASIN - Bathroom furniture
Manufacturer: INBANI DESIGN S.L

With its marble floor stand and cylindrical shape, the freestanding washbasin appears monolithic but is by no means massive and heavy. The metal towel hook, designed like a rail, was also very nicely executed. An interesting solution that needs space for its full exclusive effect to unfold.
FORMA - Bathroom furniture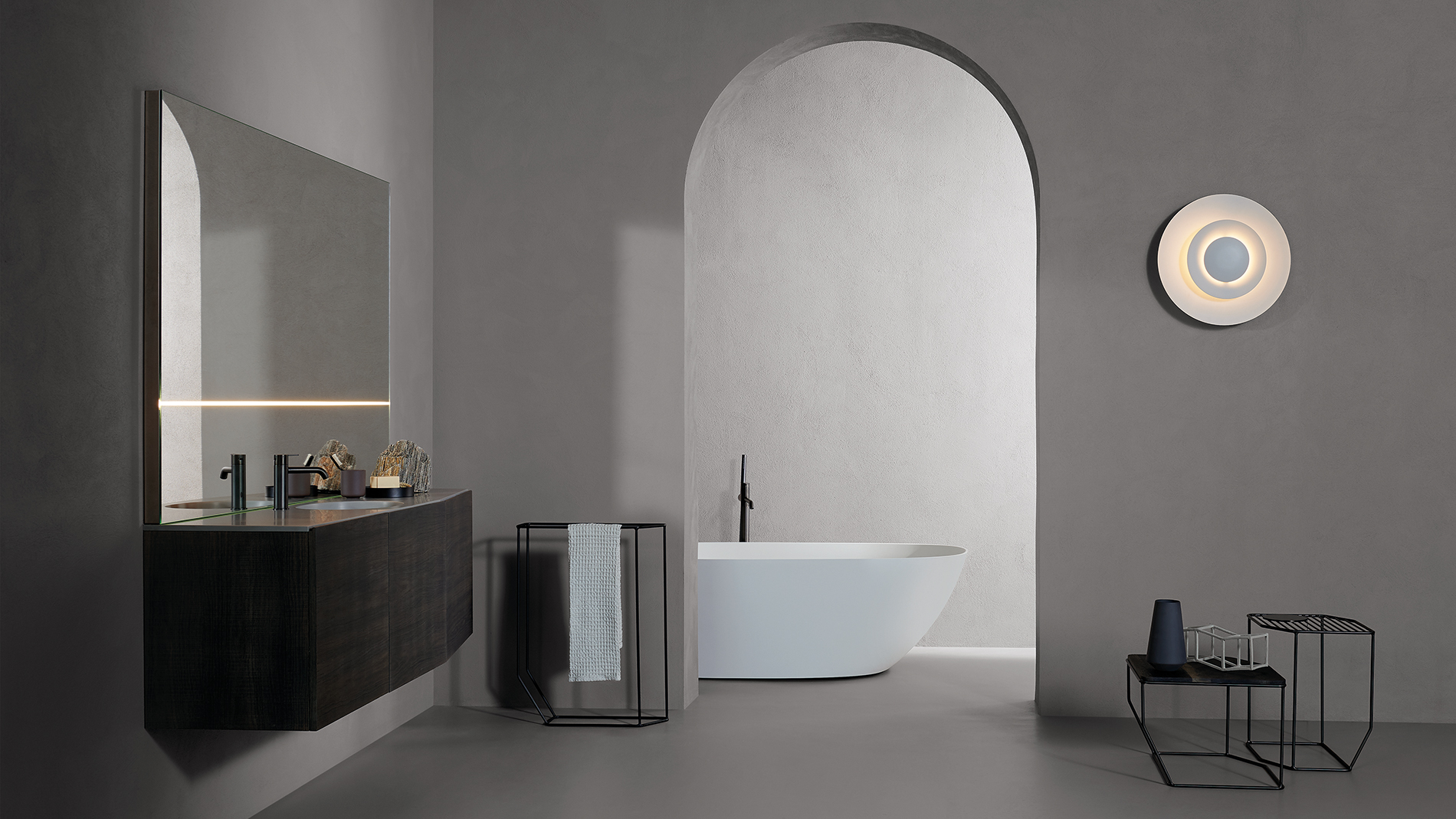 Manufacturer: INBANI DESIGN S.L
The design of this elegant piece of bathroom furniture – consisting of a cupboard, washbasin, tap and mirror – cleverly plays with organic and geometric shapes and contrasts them with each other for exciting results. The integration of the lighting into the mirror was also very nicely executed. An interesting and timelessly beautiful eye-catcher whose full effect is especially clear in open or spacious rooms.
Cartesio - Washbasin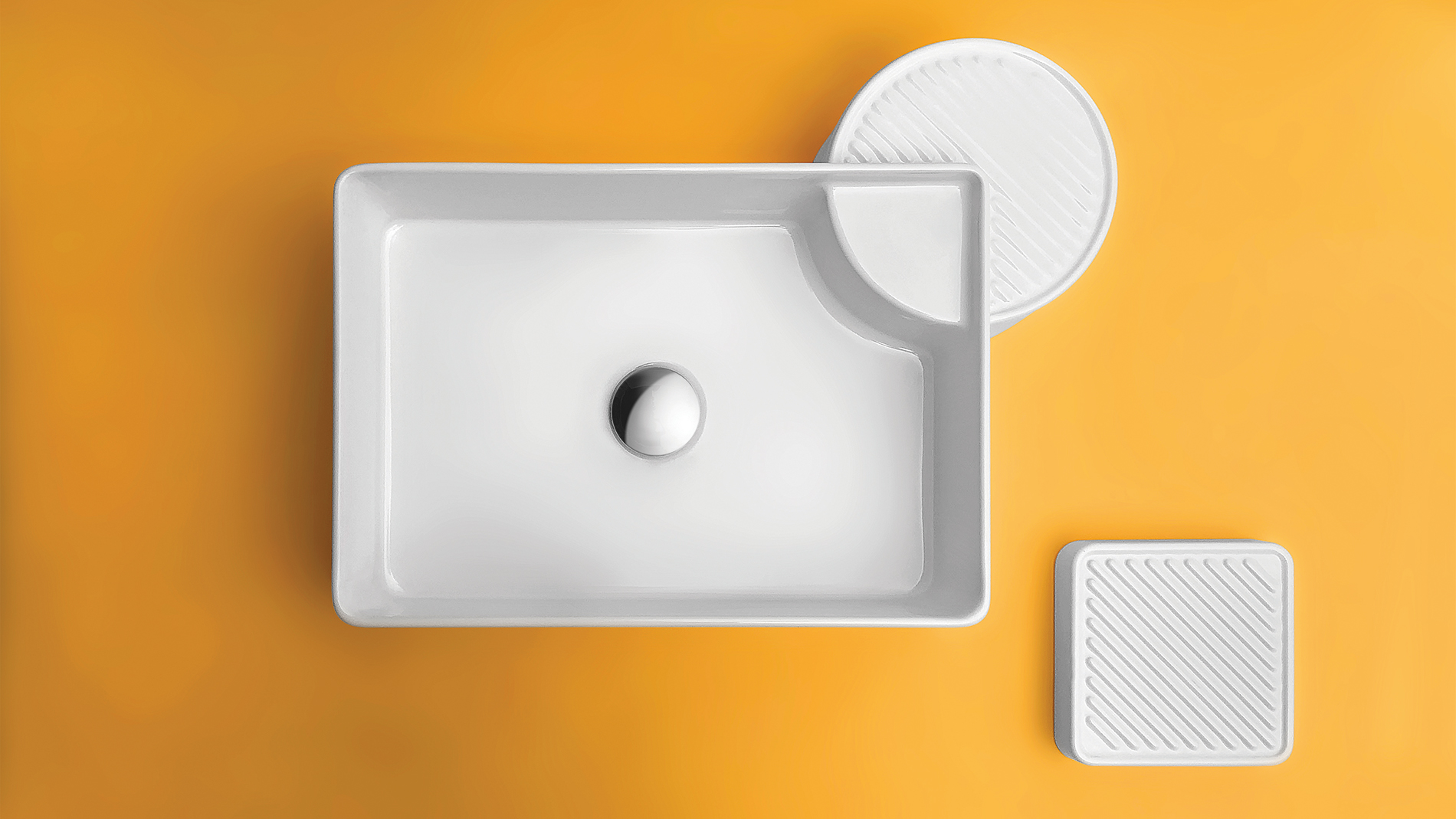 Manufacturer: ARTCERAM SRL
Cartesio combines clear geometric shapes and ergonomics to create an original washstand that appears to pay tribute to the 1980s with its striking, almost graphic design. A wonderful idea that unites a sculptural design vocabulary and functionality in a refreshing way, catching the eye in any bathroom.
PRIMUS – Tankless toilet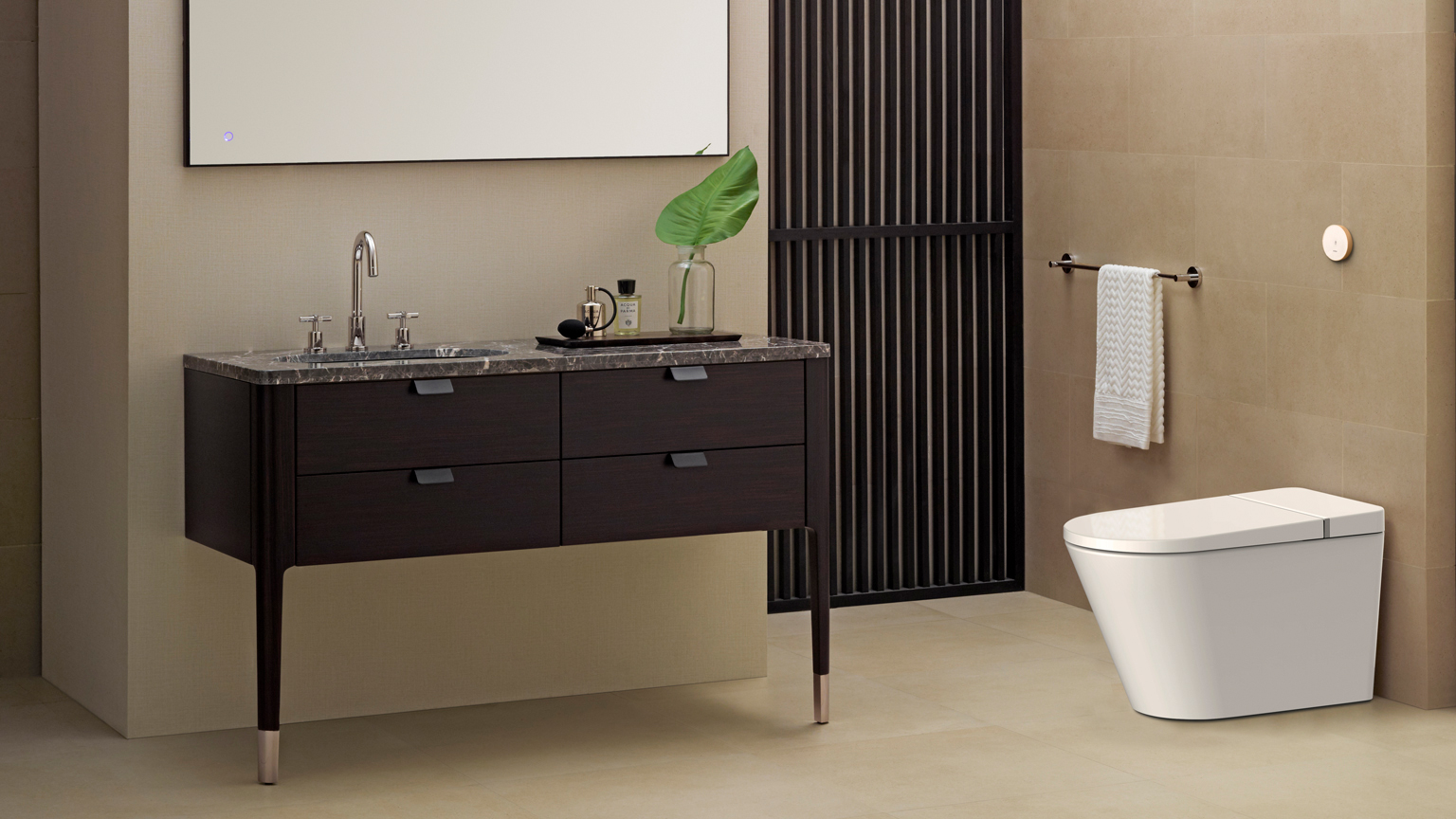 Manufacturer: AXENT Switzerland AG
The PRIMUS WC with its simple, clear lines and pleasantly flat lid combines pure elegance with contemporary technology and thus impressed the jury two-fold. A remarkable feature is the Venturi system with AXENT Airless Siphon technology. It enables a strong flush without the need for a cistern or electric pump. A further plus point setting the product apart from the competition is that it uses 25% less water than conventional siphon toilets and meets tough flushing/water conservation standards.
CeraFloor Select – Shower channel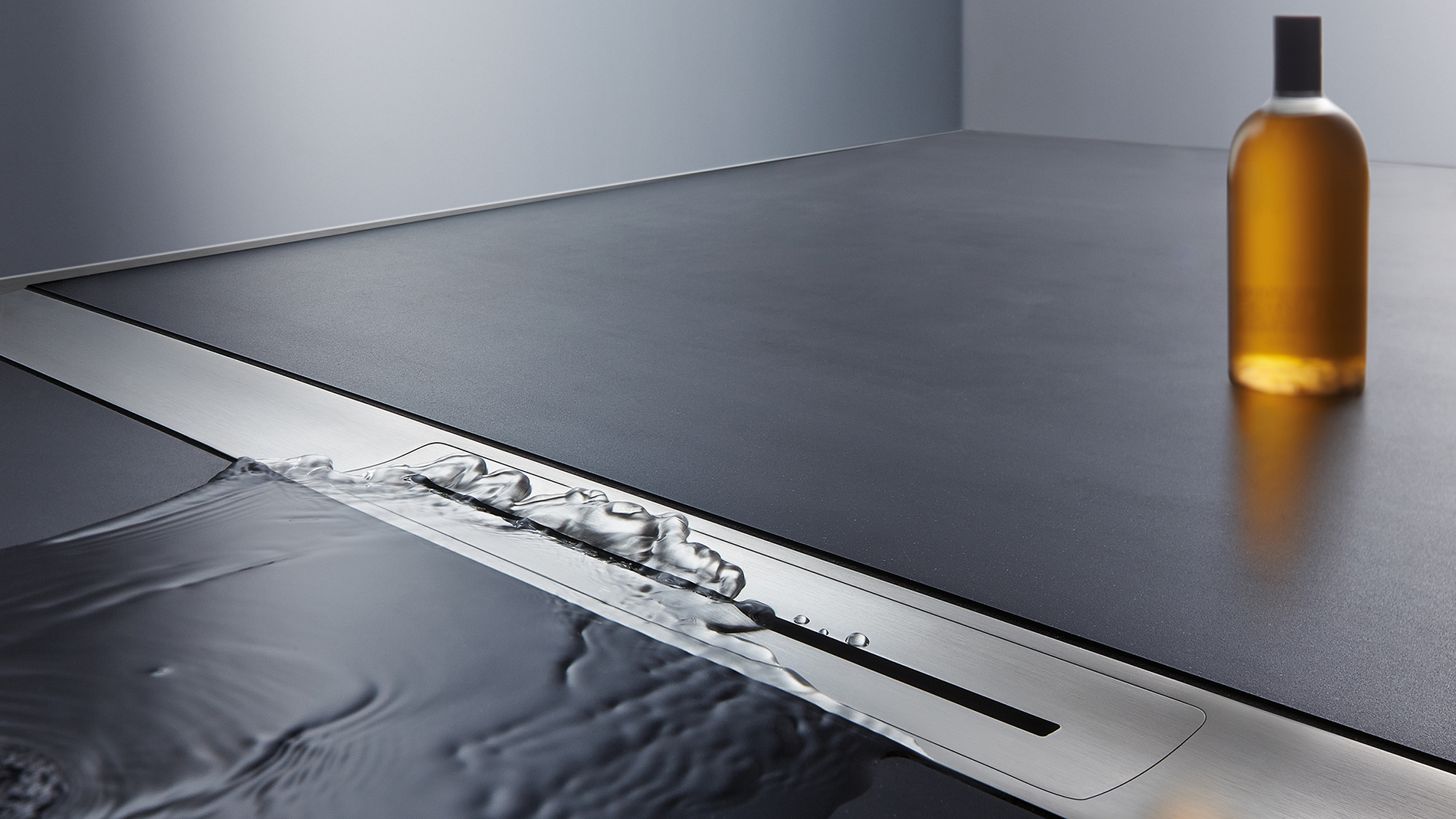 Manufacturer: Dallmer GmbH + Co. KG
The CeraFloor Select shower channel is not flat, but slightly concave and combines the purist elegance of linear drainage with the reliability and functionality of point drainage. With its high-grade finish (in matte or polished stainless steel), integrated precision cross slope for drainage and discreet central inlet, the shower channel possesses excellent formal characteristics. Yet the innovative product not only boasts elegant aesthetics and technical precision; the channel is also comparatively easy to install, permanently and securely sealed, and easy to clean.
NU – Stainless steel showerhead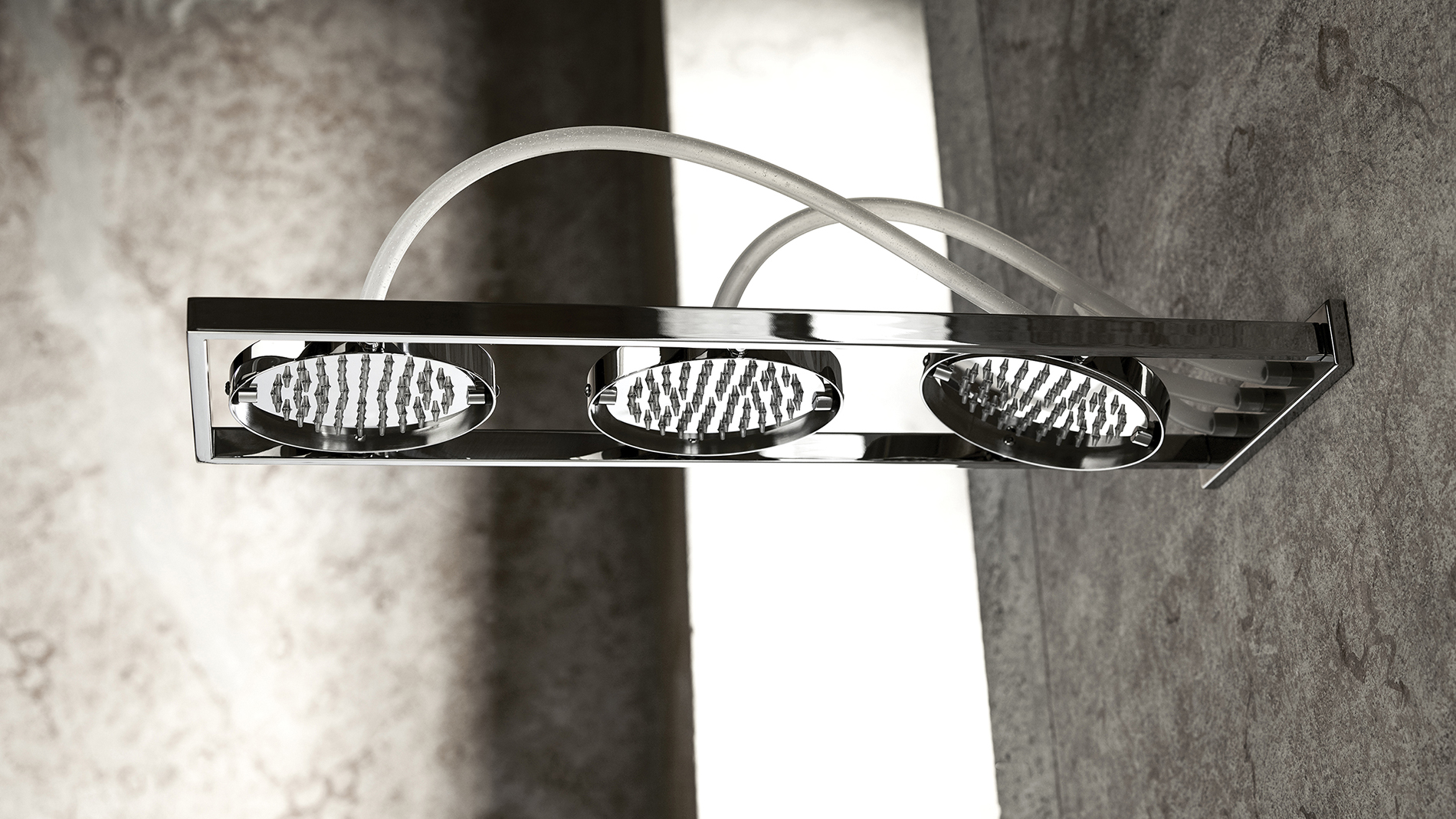 Manufacturer: FIMA CARLO FRATTINI S.P.A.
The NU, which is reminiscent of a luminaire and reinterprets the concept of the showerhead in an exciting way, really is quite out of the ordinary. The design concept features a square stainless steel frame holding three round sprinklers, also made of stainless steel, in a gimballed mount, allowing these to be adjusted independently from each other and at an angle of up to 40 degrees. Three silicon tubes – a further striking design element – transport the water from the wall or ceiling source to the showerhead. The jury praised the boldness of this strong design, which stands out from the crowd in a daring and deliberately provocative way, thereby adding a new approach to design for shower zones.
Essence Professional – Kitchen tap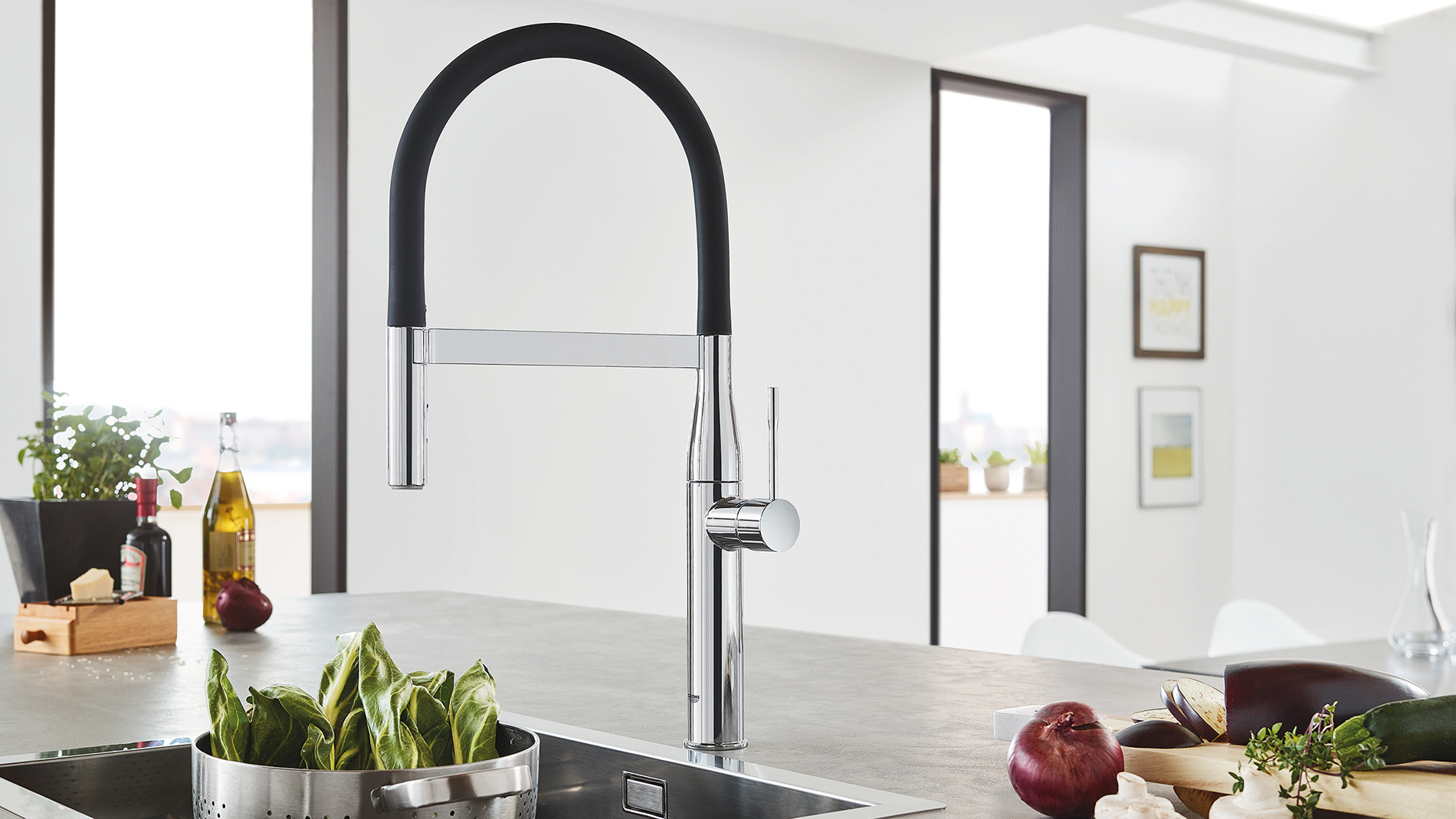 Manufacturer: Grohe AG
The Essence Professional kitchen mixer stands out for its clear and decidedly elegant design, characterised by a concentric geometry that prioritises the human user. Truly persuasive are the seamless, almost organic transitions between the metal tube and the hose, which is made of black silicon and audaciously forms a striking U-shaped arc. The rectangular tube, another elementary design feature, serves as the mounting for the outlet and stabilises the unit. Compared to other products where the hose runs through a spiral to form the typical U-shape, the rectangular tube not only has far cleaner lines, but is simpler to clean. A superb design overall that, with its flowing shape, creates a striking image that is as good as unmistakable and also marks a step into a new dimension of aesthetic expressivity.
Origin – Bathroom collection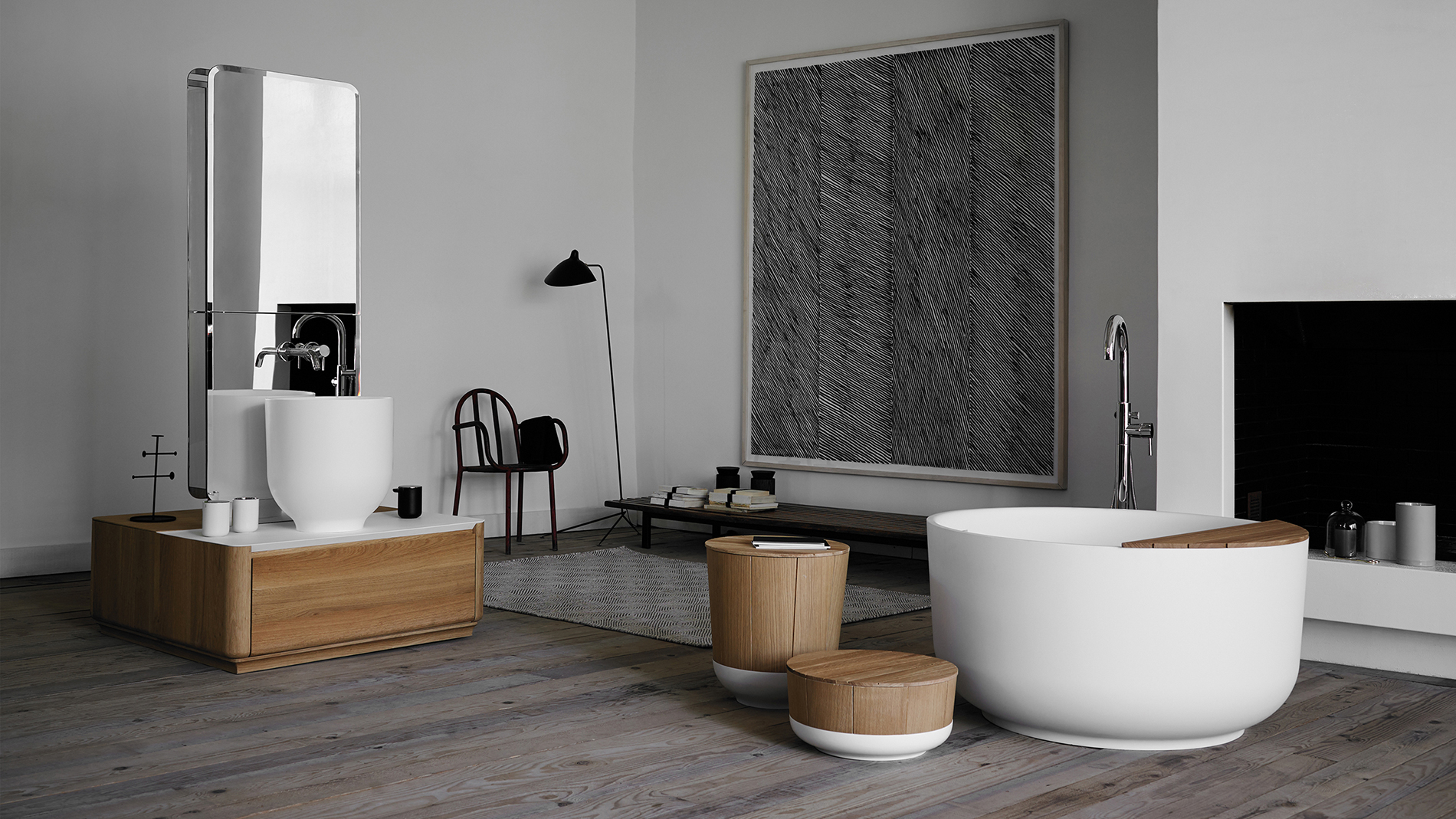 Manufacturer: INBANI DESIGN, S.L.
The Origin bathroom collection masterfully combines traditional craftsmanship and industrial processing methods for wood, metal and glass, thereby achieving the highest possible degree of perfection and precision. The result is aesthetically impressive, pleasantly clear design that engages surprising dimensions, while the well-proportioned, sculptural shapes are reminiscent of a potter's creations. The jury particularly liked how wood was integrated into the bathroom collection as a material, as its rougher look provided an exciting contrast to the Ceramilux elements.
Véo – Fittings series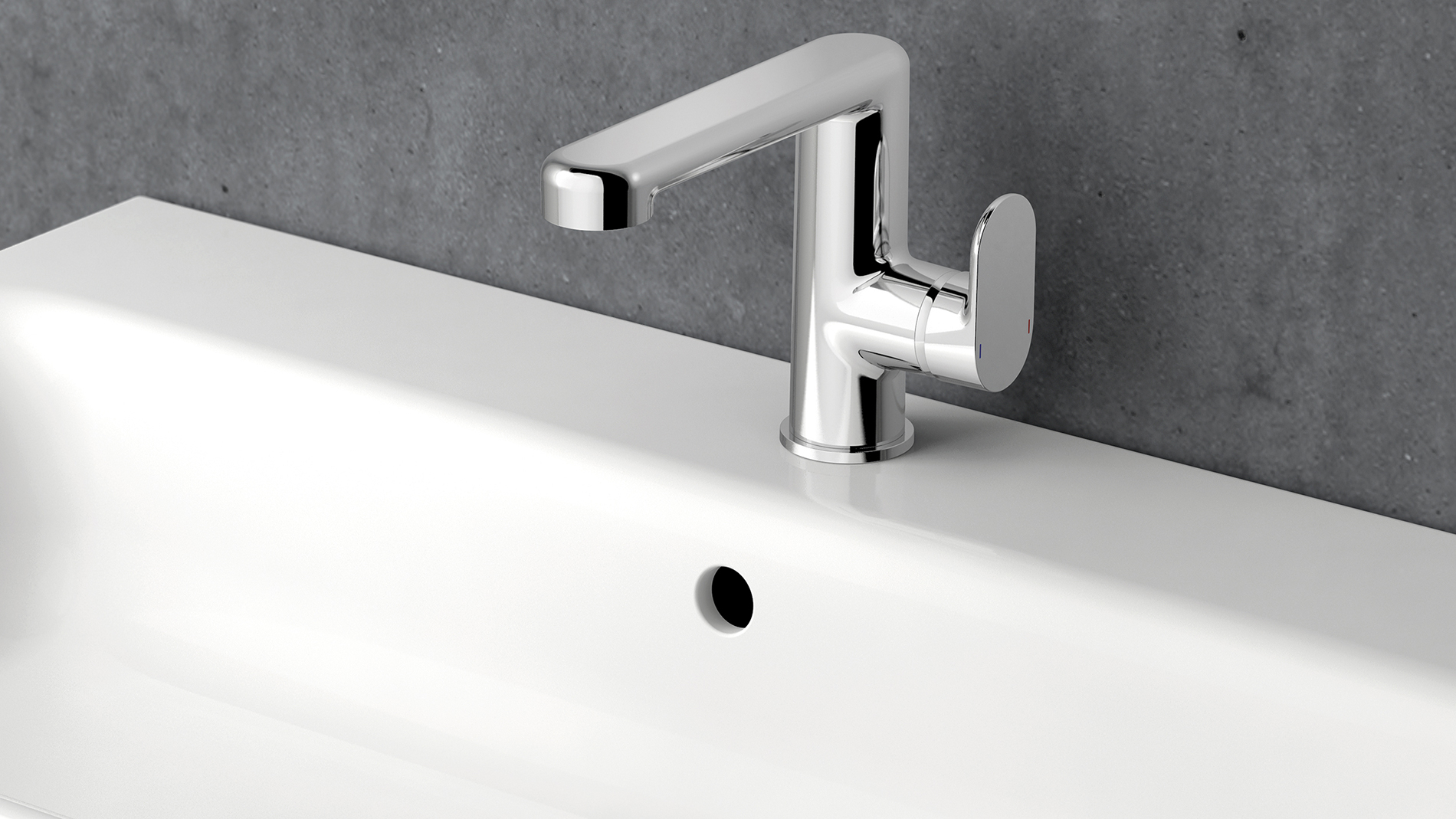 Manufacturer: JADO
The impressive Véo fittings series features a pleasantly purist, clean design resulting from the synthesis of fluid formal transitions and geometric basic shapes and forming a harmonious, sculptural unit. The concise design characteristic of the slender fitting is the formal integration of the regulator, whose rounded ends continue the formal language of the fitting. At the same time the handle, with its precise edges, forms an interesting antipode to the soft geometrical appearance of the rest of the fitting. A sophisticatedly designed, thoroughly elegant product that impresses the user with its distinctive design and recognition value.
IXMO SOLO – Shower mixer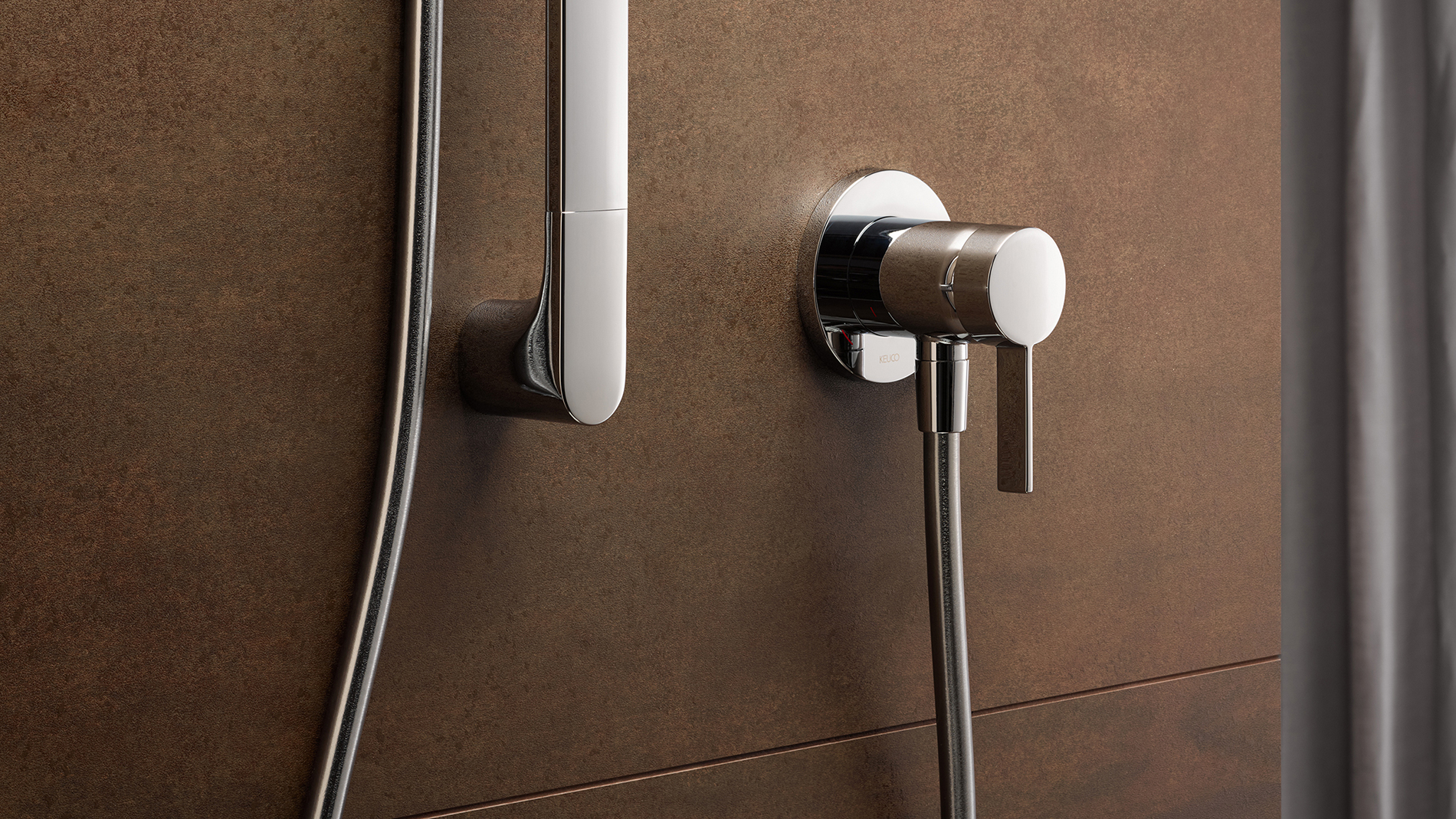 Manufacturer: KEUCO GmbH & Co. KG
With the fantastically designed IXMO SOLO shower mixer, KEUCO presents a unique solution that elegantly combines single-lever mixer and extraction hose connection. This makes a further water-conducting element that is otherwise necessary superfluous and, in so doing, meets the desire for a solution that is as reduced as possible. The jury was no less impressed by the quality of the materials used and the formal language of the entire ensemble. The flat shower rod with its intelligent slide-and-lock technology (optionally available with rounded ends) is an elegant eye-catcher in any shower. All in all, IXMO SOLO is an exquisitely designed product in terms of form, function and material quality.
Cleanet Riva – Shower toilet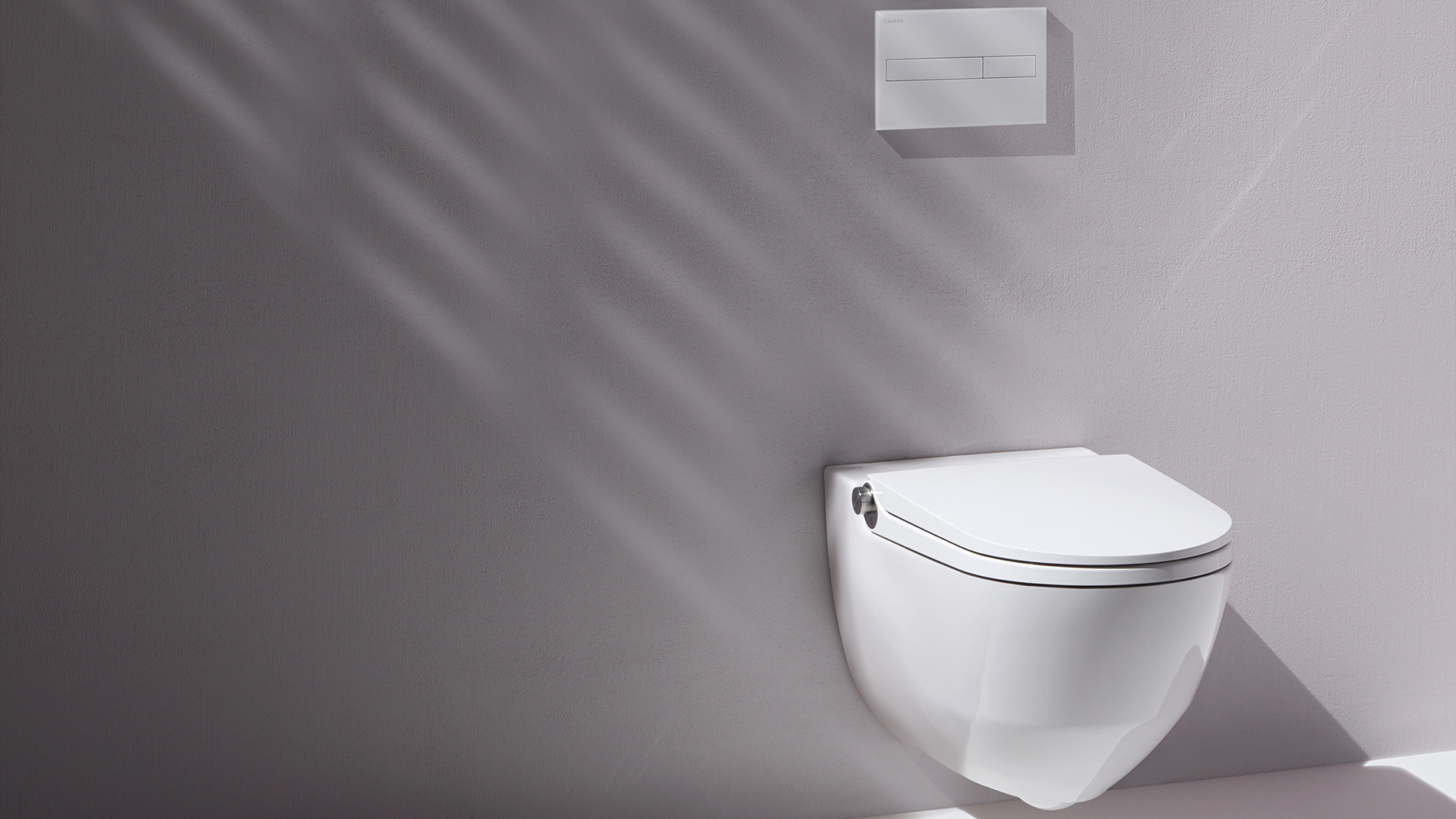 Manufacturer: Laufen Bathrooms AG
The remarkable design of the Cleanet Riva shower toilet integrates extensive user-friendly technology in a sophisticated body. The result is a timeless, elegant aesthetics that may be harmoniously integrated into most refined interior decorating styles. The jury was specifically most impressed by the good features the shower toilet offers; and most notably by the Cleanet Riva's clever operating concept, based on the stainless steel pushbutton on its side, while the practical touchscreen remote control unit allows users to adjust the basic and detailed settings. The automatic cleaning feature is a special highlight: Cleanet Riva is the only shower toilet that thermally cleans its entire water system at regular intervals. Altogether a very well-designed product with attractive and intelligently conceived details.
Andrew – Bathroom tap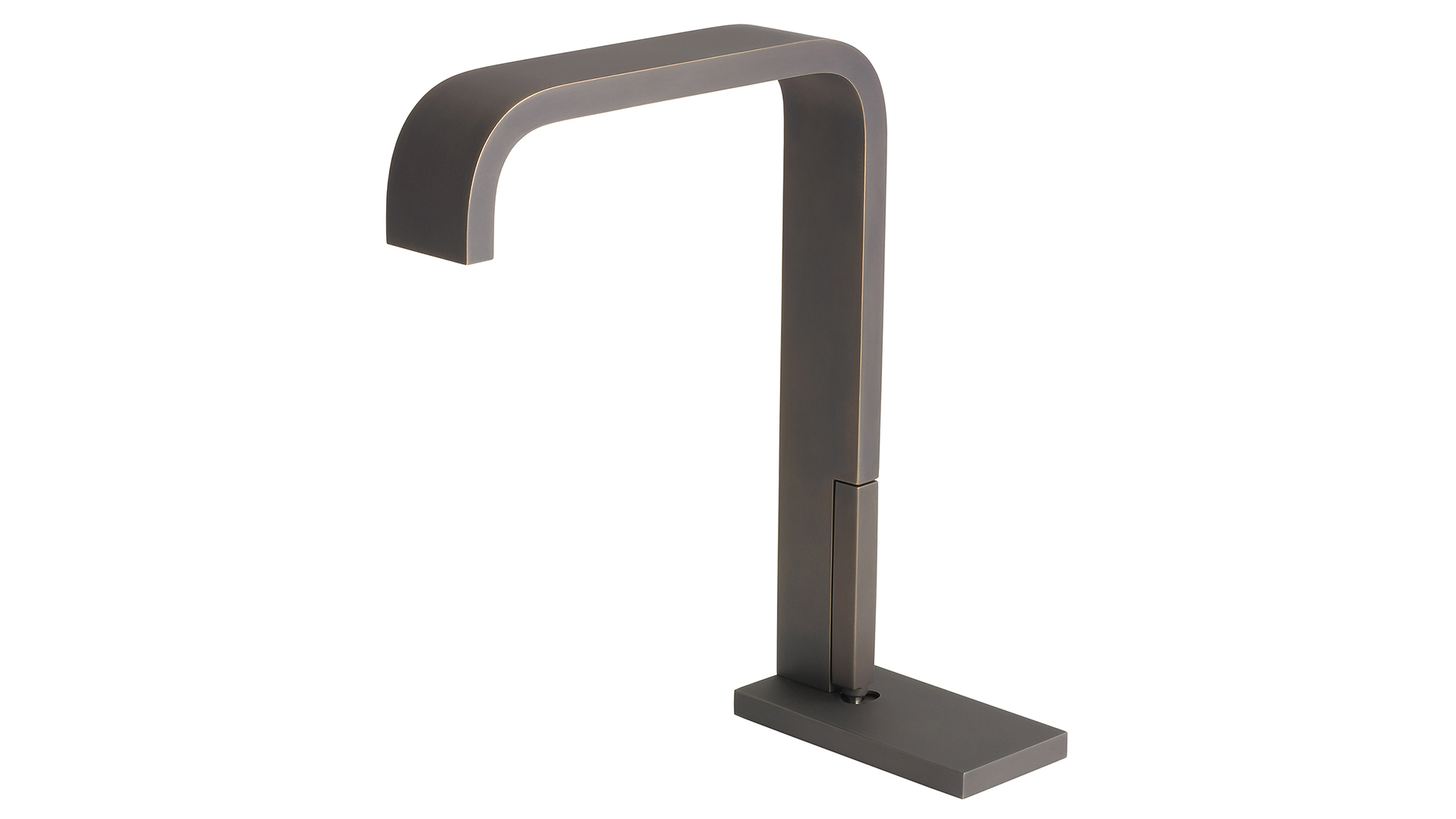 Manufacturer: rvb®
The tap collection Andrew surprises users with an innovative idea whereby the regulator is integrated flush into the body of the fitting, which leads to an impressive clarity of form. Where necessary, the regulator, which otherwise functions like a conventional mixer and has the appearance of a joystick, is simply swung out. As such, the tap, boasting precise and quality manufacturing, not only looks exceptionally chic, but also features a clever detail that makes the series highly distinctive. An inspiring approach that is as innovative as it is elegant.
UNIQ BATHROOM UB1 – Bathroom furniture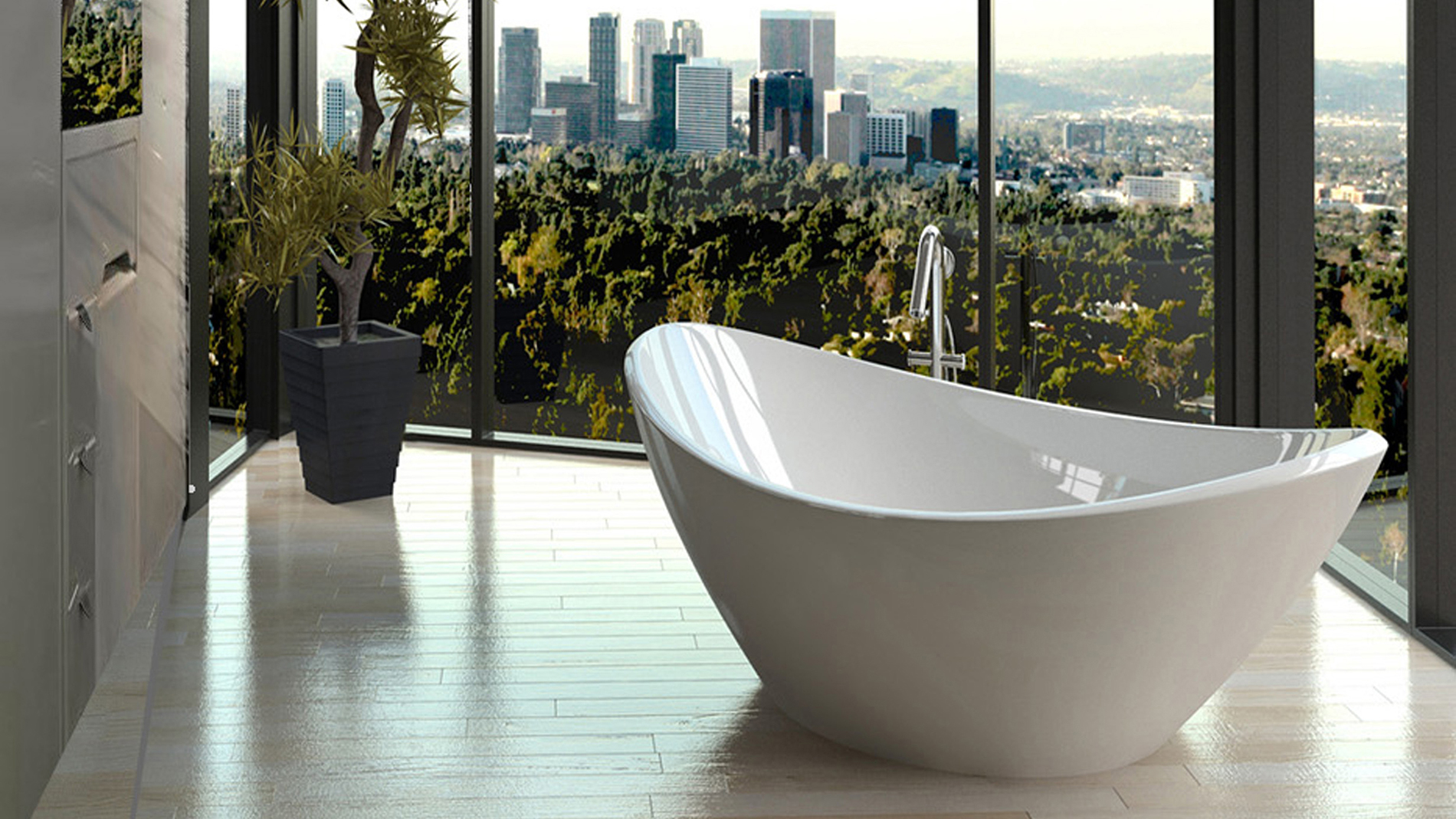 Manufacturer: UUBEE Pty Ltd.
The increasing densities expected of homes, particularly in conurbations, is already making space a valuable resource in many areas today. UNIQ is an innovative, intelligently conceived solution that compactly combines toilet, sink, shower and storage space in a very small area, similarly to a caravan, and thus requires up to 50% less space compared to conventional interiors. The jury was not only fascinated by the design, consistently reduced to the essentials in both form and function and which makes UNIQ a real eye-catcher, but also and above all praised the conceptual approach. Indeed, this new way of thinking anticipates a thoroughly revolutionary paradigm shift in the design of future bathroom furnishings.
Visign for Style sensitive – Electronic push plate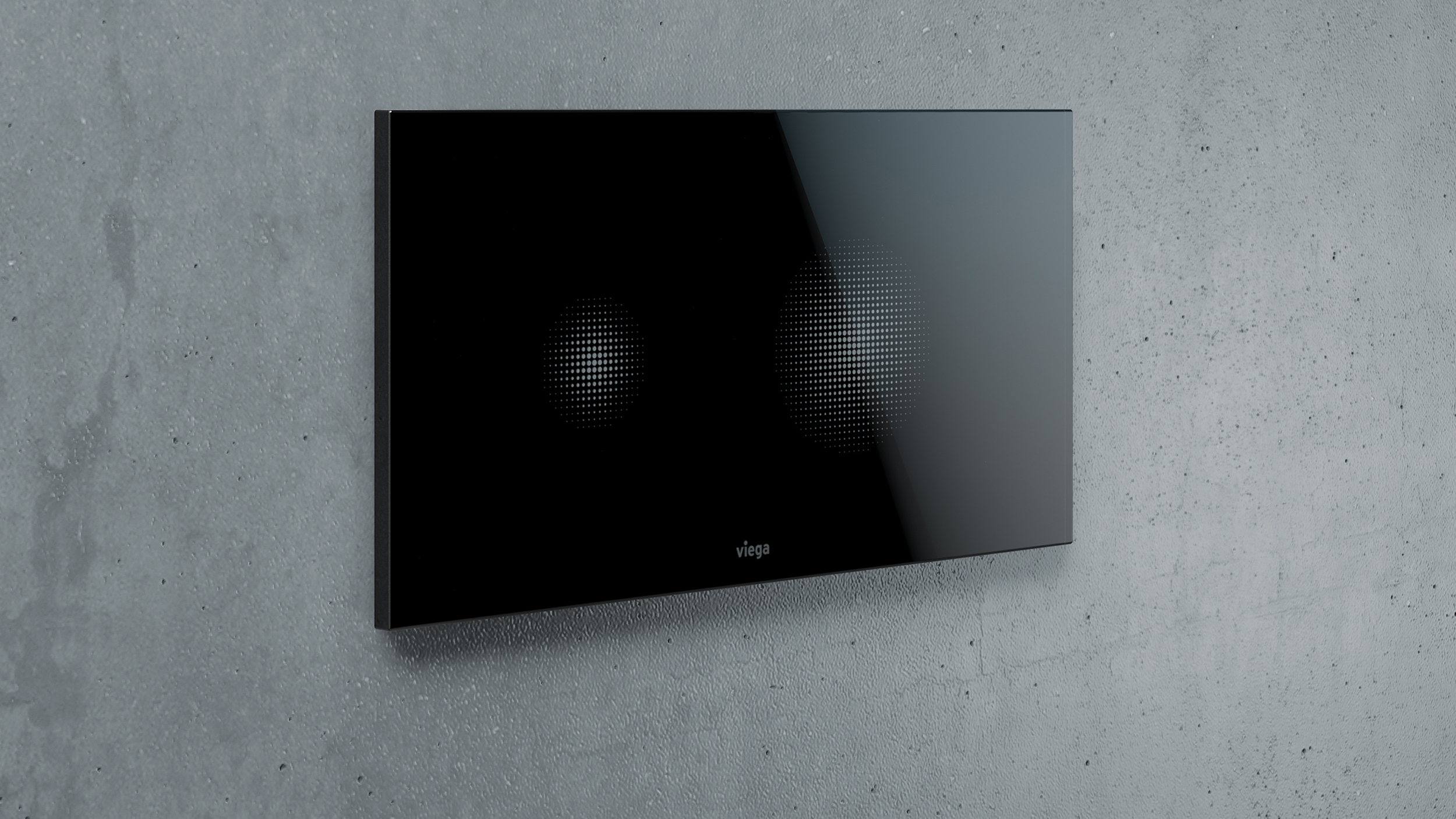 Manufacturer: Viega GmbH & Co. KG
The Visign for Style sensitive electronic push plate is especially suitable for use in public and semi-public locations as the sensor electronics mean it is operated touch-free. The jury was particularly taken with the phosphorescent Op-Art print that charges in daylight or artificial light and therefore in the dark functions, for example, as a night light, providing orientation and a sense of safety. The intuitive graphic distinguishes the resource-saving Eco setting from the strong Power flush. Visign for Style sensitive is a unique combination of technology and design, and not only meets exacting quality standards, but with its smooth surface also fulfils users' expectations as regards hygiene.
Visign for More 105 – Push plate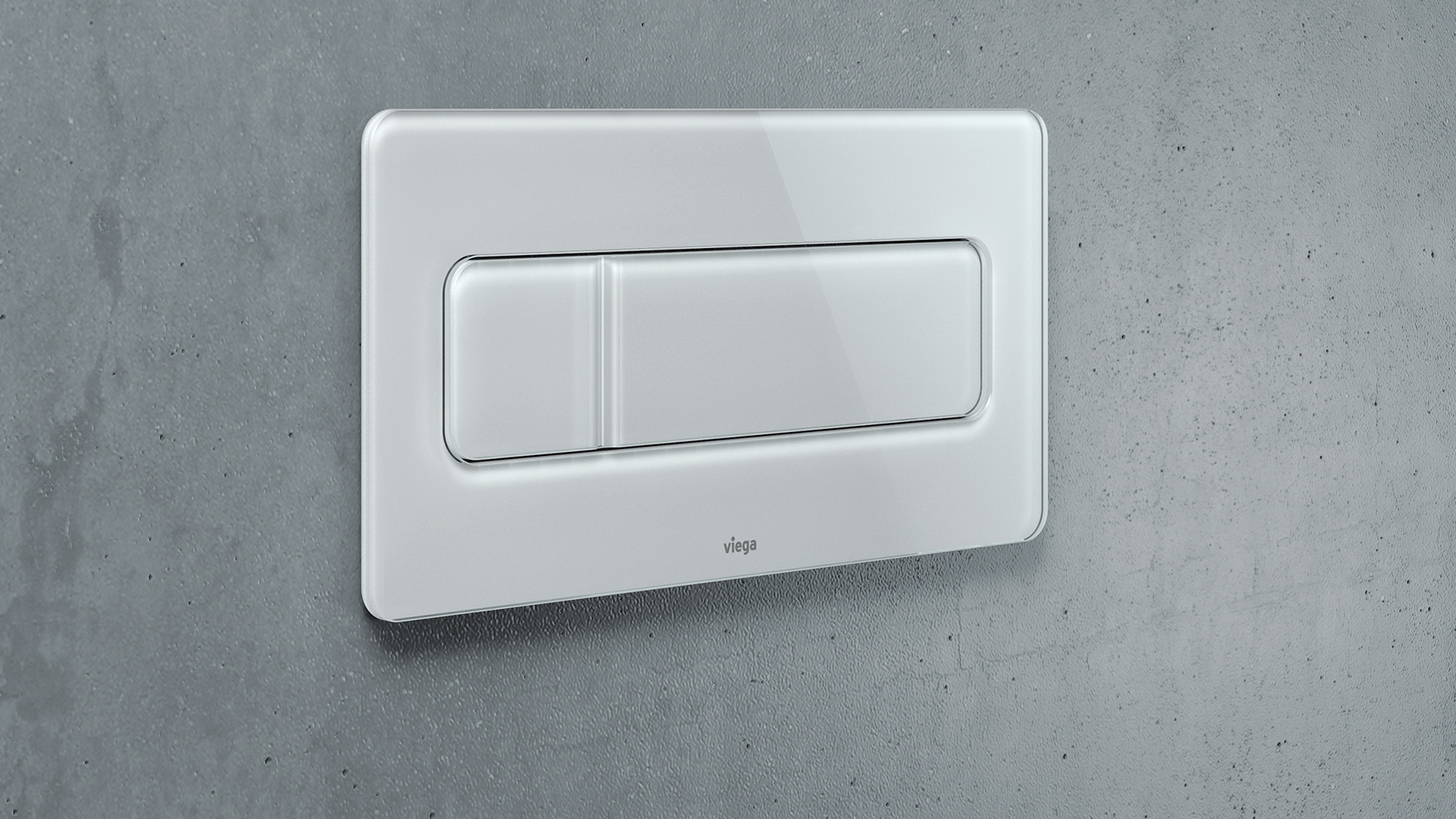 Manufacturer: Viega GmbH & Co. KG
The formally elegant Visign for More 105 push plate combines flat-mounted functional elements and flowing surfaces in an integrative product aesthetics and thus perfectly complements a contemporary architectural idiom. The solid structure of metal with a refined surface and white or black glass ensures prime hygienic conditions and real durability, meaning that the high-grade finishing not only pleases the eye, but the touch, too. The subdivision into large and small flush volumes is intuitive. A beautifully designed product that does justice to the ultimate aesthetic and functional criteria in private, public or semipublic settings.
HIM – Single-lever mixers collection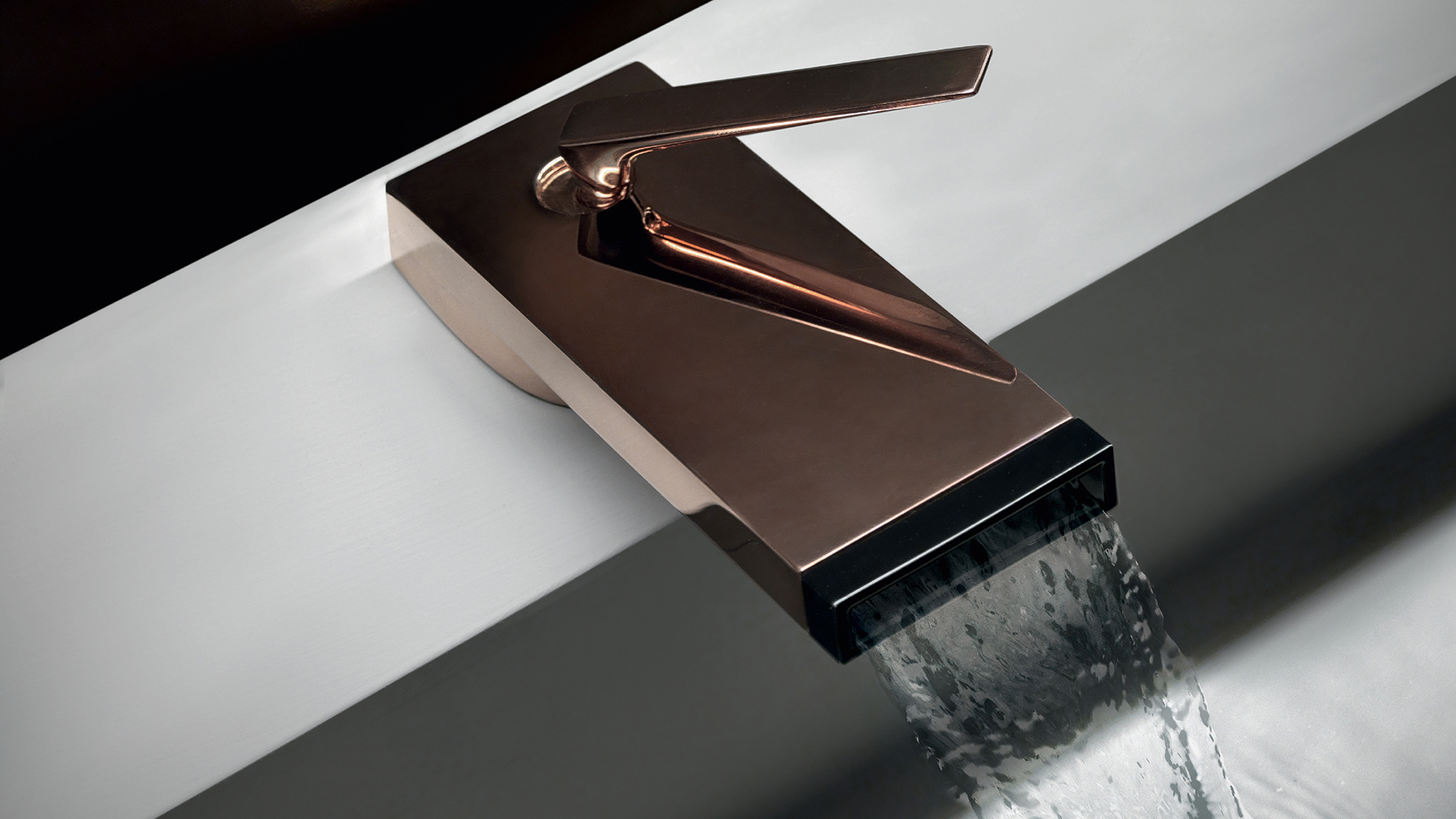 Manufacturer: Zucchetti Rubinetteria S.p.A.
The HIM single-lever mixers collection impressed the jury with its architectural formal language, whereby the sculptural fitting and the ergonomic controls, which are reminiscent of a joystick, form an exciting contrast. A further characteristic of the HIM is the flat and compact design of the outlet, which emits water in a pleasant cascade. The fitting, which slopes softly upward, has a very dynamic feel to it and perfectly complements timelessly elegant interior decorating styles with its purist and clear lines.
Plawa Purline – Design plan heating wall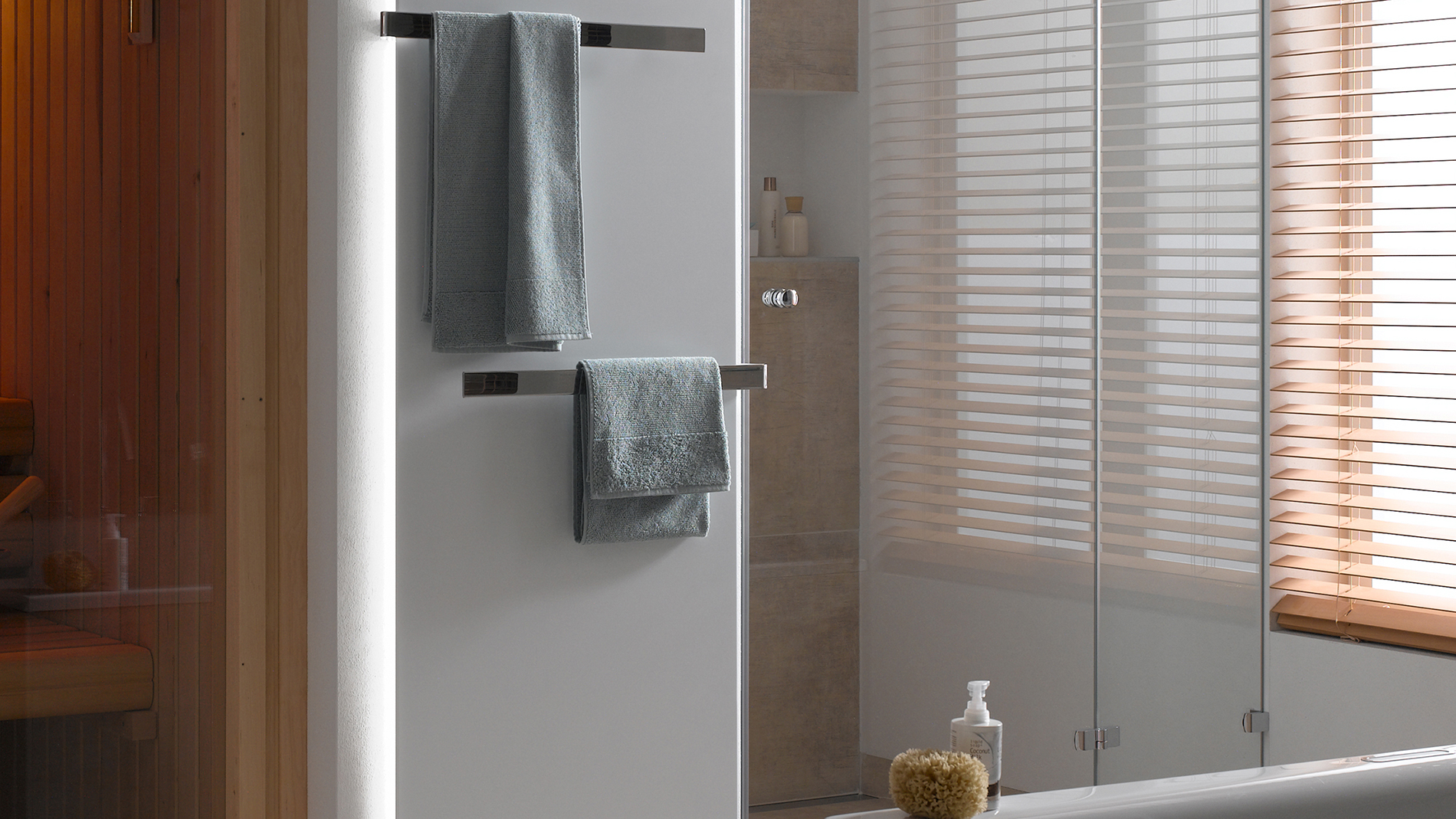 Manufacturer: BEMM GmbH
The heating panel with its fine edge lines and light and shadow gaps lends rooms a real touch of elegance. The flat, unembellished front (the valve set and connecting unit are cleverly concealed behind it) has a clear, purist appearance; the heating panel is available in various surfaces and designs. The features offered include LED backlighting, providing orientation or mood lighting, and elegant towel rails. A formally excellently designed product with a very high-quality look and feel that, particularly owing to the indirect lighting, is a real highlight in the bathroom in the truest sense of the word.
ROCK 500 WB – Wood stove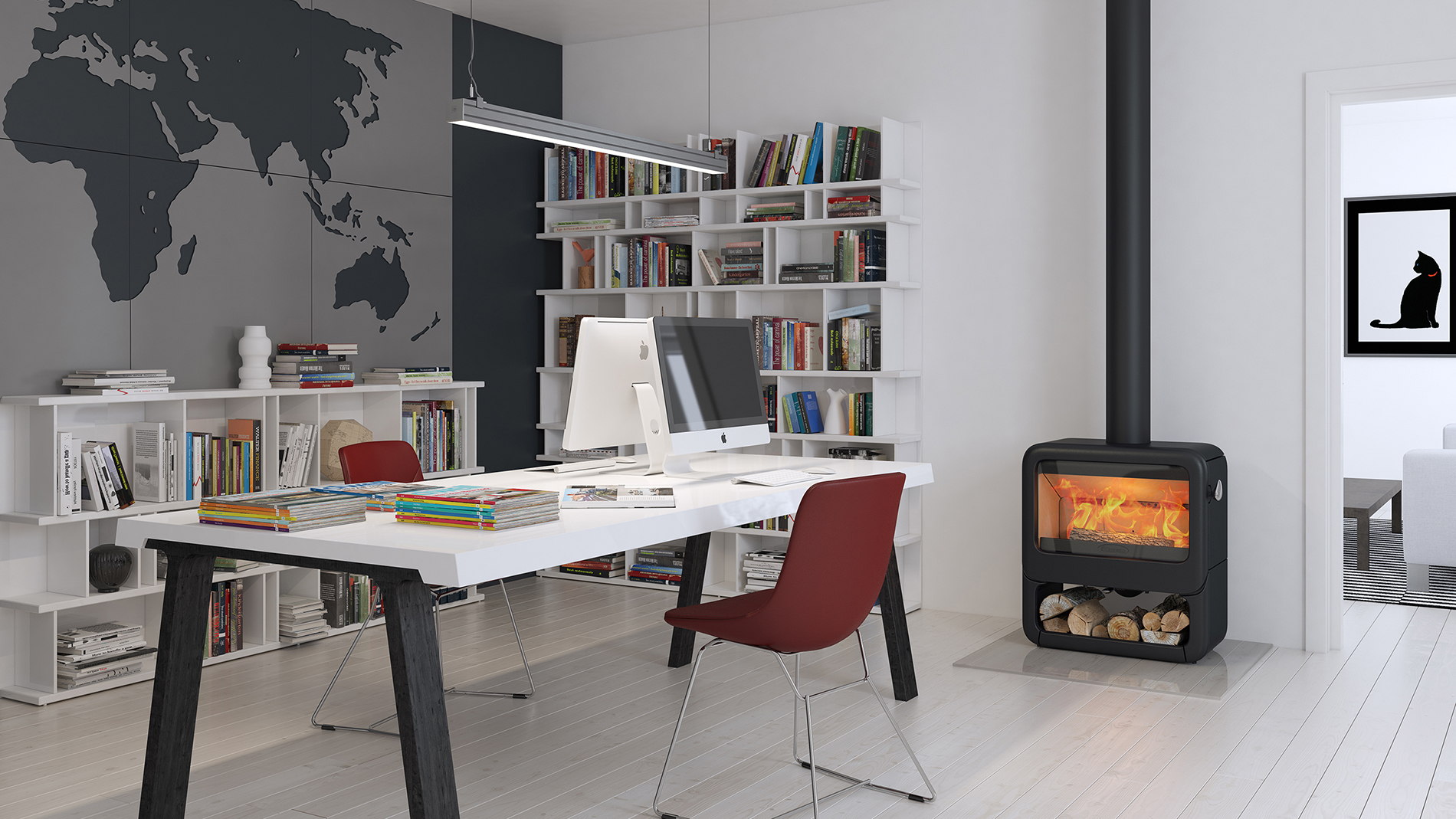 Manufacturer: Dovre NV
The ROCK 500 WB is a comparatively small wood oven made of robust cast iron, which for its compact size provides a surprisingly large view of the fire burning inside it, as well as impressively demonstrating its talents with a nominal heat output of 9.0 kW. Logs of 50 cm in length fit into it easily. Yet the oven is confidently full of character with its succinct rounded edges that provide a soft frame for the dancing flames. The slam-lock mechanism, which automatically closes the large glass door, makes closing the oven easy as pie. It is a sympathetically cuddly looking housemate who requires only minimal space while generating considerable amounts of heat.
Dynacon Eclipse – Floor heating manifold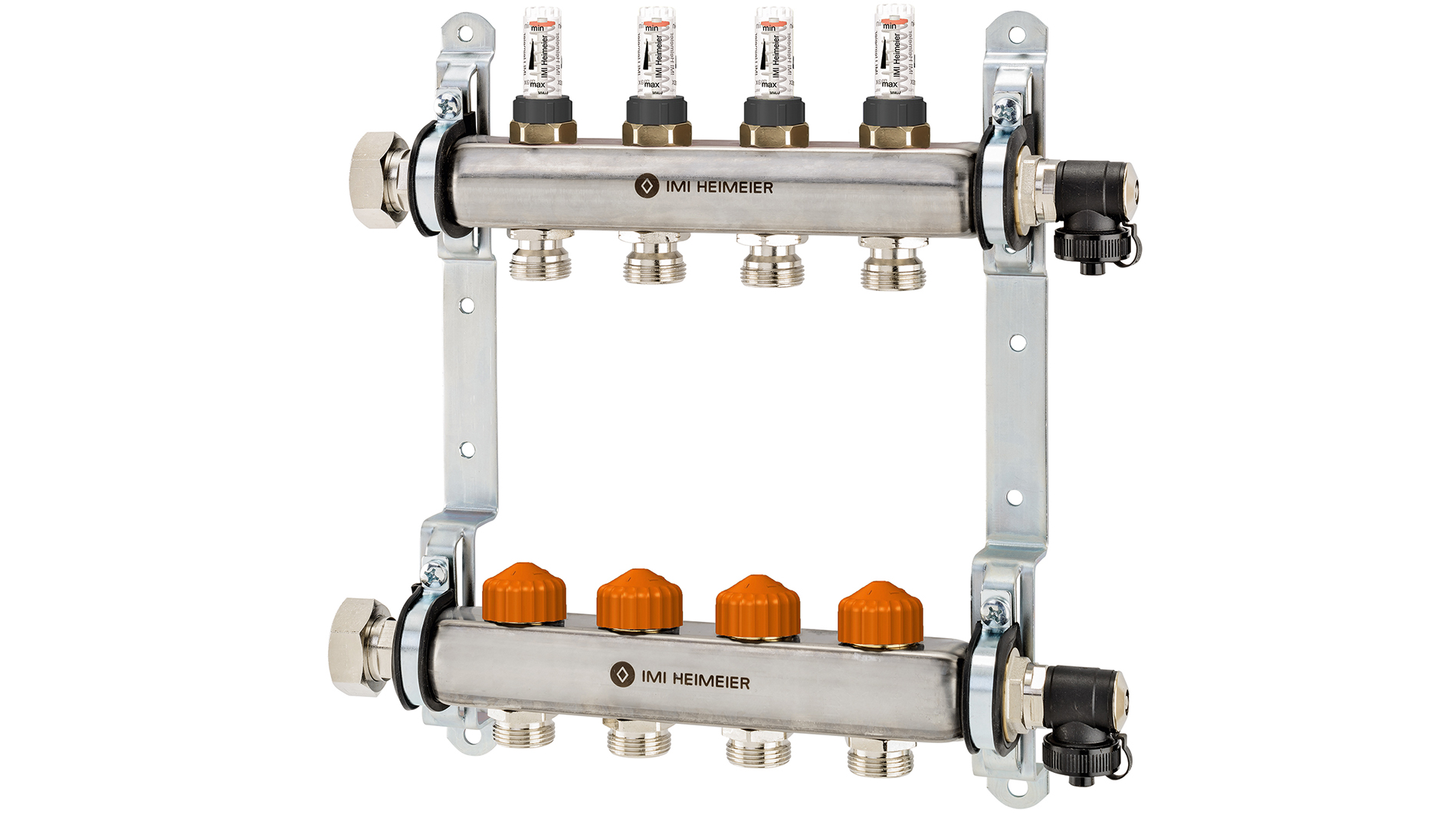 Manufacturer: IMI Hydronic Engineering Deutschland GmbH
With the Dynacon Eclipse floor heating manifold, complex calculations and time-consuming, repeated flow settings are a thing of the past. Suitable for volume flows of 30 to 300 l/h per heating circuit, it features automatic hydraulic flow control and thus ensures optimum temperature distribution. This not only increases home comfort and well-being, but also helps lower energy consumption. Upon installation, the flow rate is established for each heating circuit once, which is done by turning a knob. Subsequently the innovative valve technology regulates the flow itself. It is not possible for the neighbouring circuits to be oversupplied. A cleanly designed product made of high-grade, corrosion-resistant stainless steel that, thanks to compact dimensions and unit sizes, can be easily installed even in small spaces. Industrial design that leaves nothing to be desired in such a field as this.
MultiBloc® MBE – Multifunctional gas control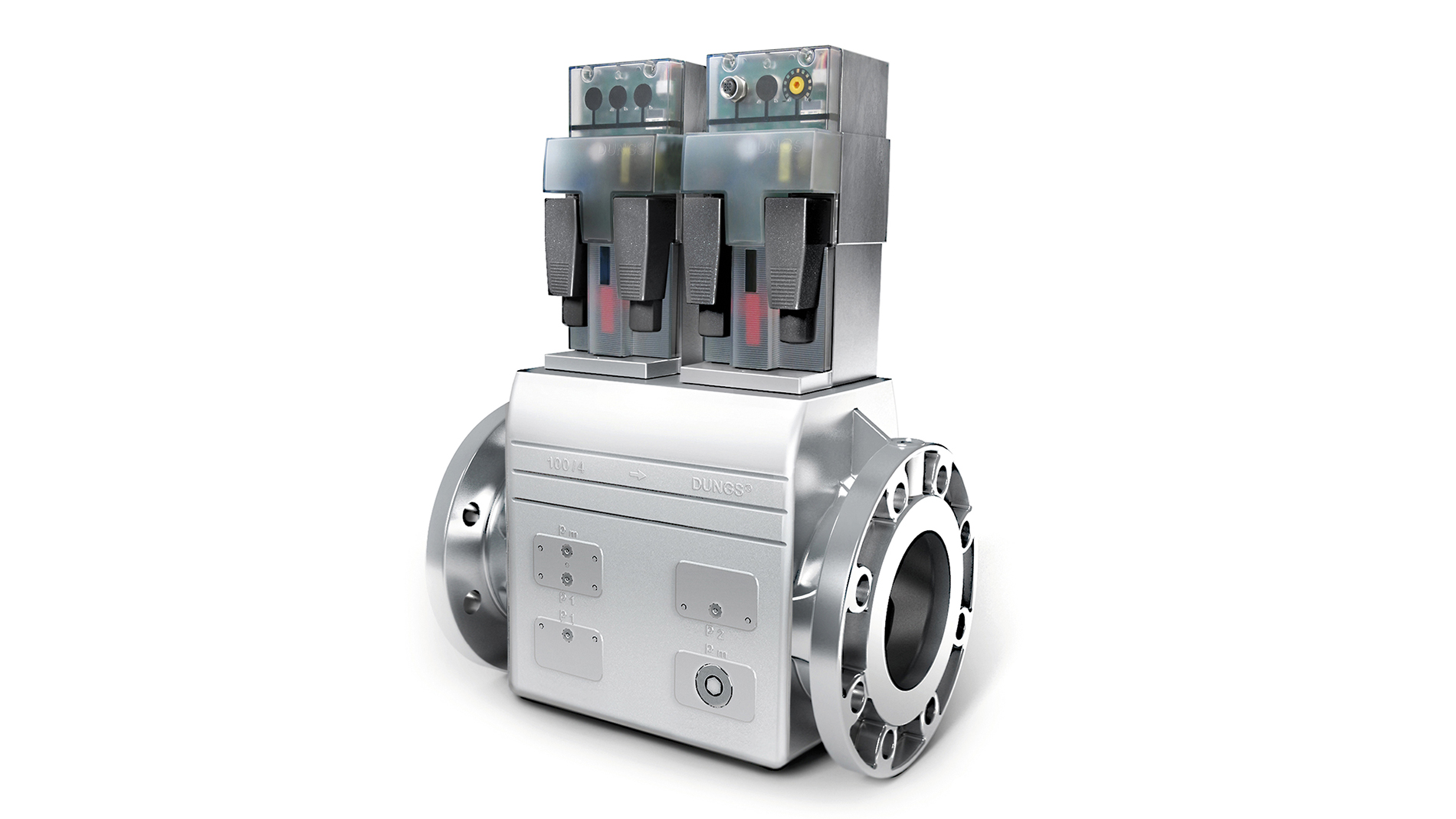 Manufacturer: Karl Dungs GmbH & Co. KG
The multifunctional gas control MBE by DUNGS features an impressively clear design that is well thought out in terms of function, while the manufacturer remains identifiable through consistent labelling on the product. The appliance consists of a "ValveBody" and two step-motor drives, the "ValveDrive". Functionally distinct ValveDrives provide great flexibility, intelligent controls and tangible benefits for logistics. An exemplary product in terms of functionality as well as in its neatly integrated corporate design.
Signo® – Radiator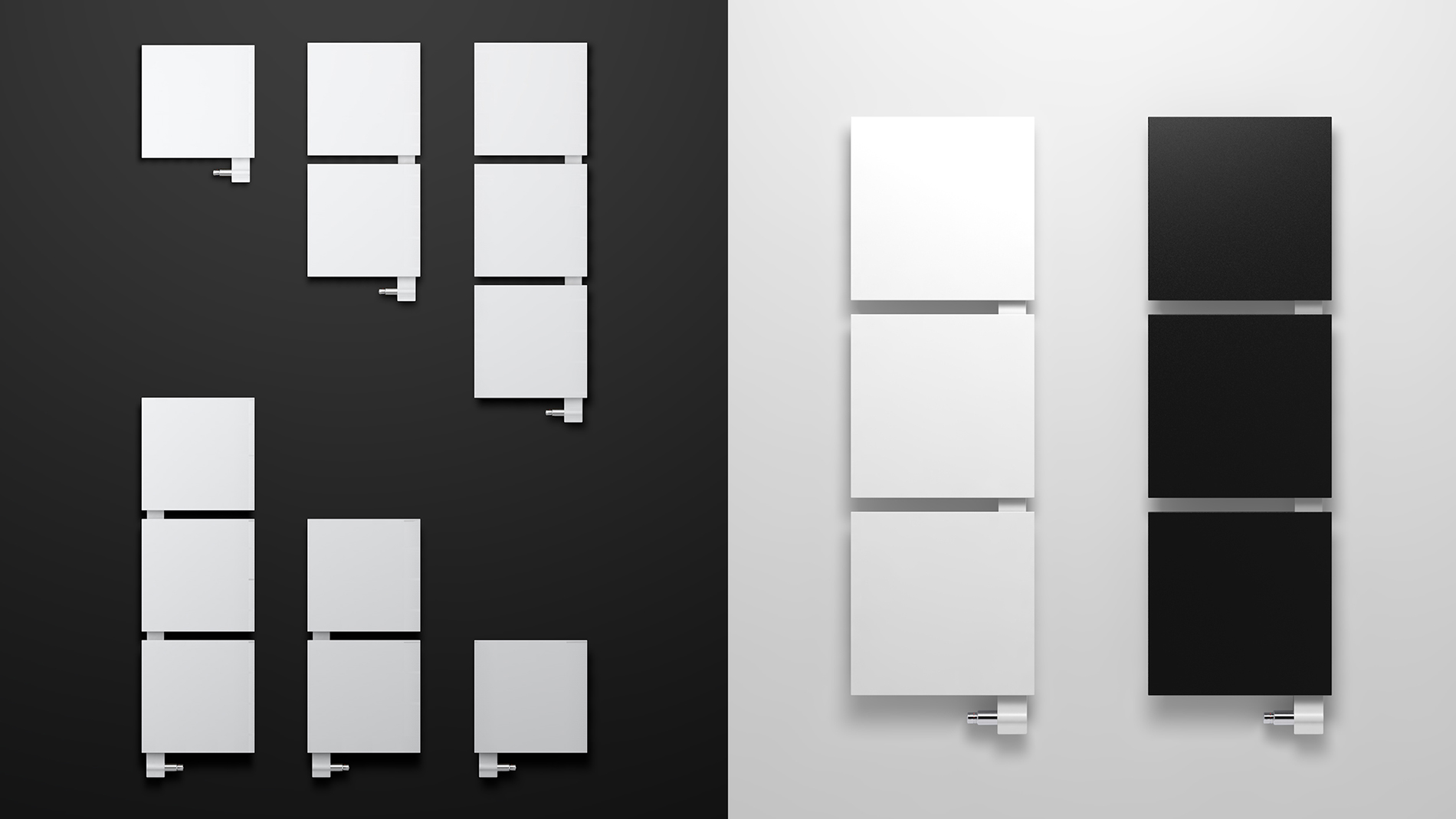 Manufacturer: Kermi GmbH
Kermi Signo is a bathroom radiator based on a modular design system that makes various configurations possible through the addition of individual heating surface elements. The modules are available both as squares and rectangles, in six sizes and numerous surface finishes, making intriguing and individual solutions possible. The Signo is also a great towel warmer, as towels may be easily and comfortably slid into the gap between the elements. An elegant system that can be individually configured and boasts a clean, flat and modern look.
SMART 120 BT – Pellet boiler cooker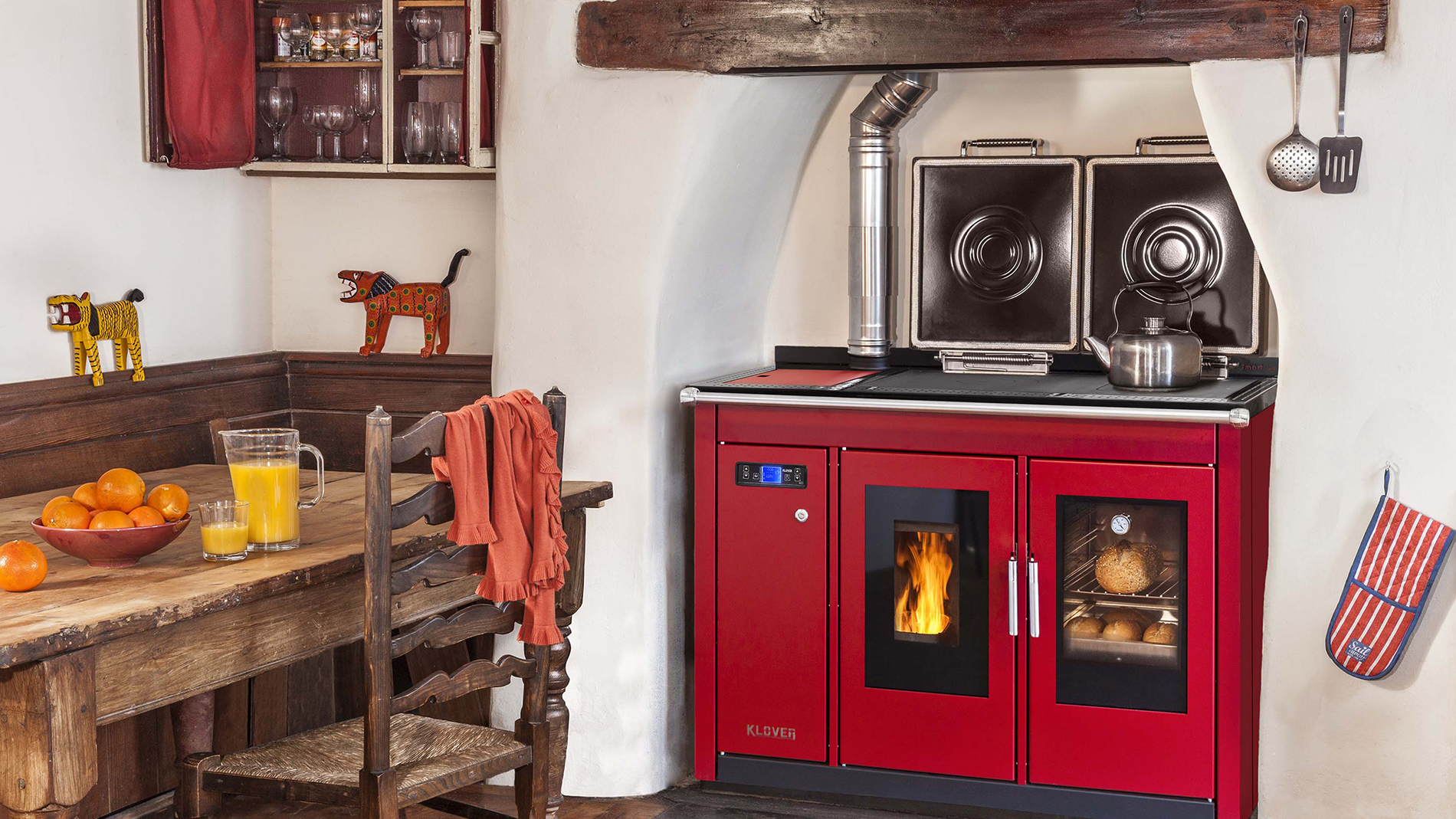 Manufacturer: KLOVER s.r.l.
The SMART 120 pellet boiler cooker by KLOVER skillfully combines oven and heater in an appliance with state-of-theart technology that, with its rustic country-house aesthetics, evokes comforting memories of the "good old days". The stove is able to independently heat the living space, produce hot water for the whole family and is suitable for cooking on the large, high-grade cast stovetop or bake in the stainless-steel oven. At the same time the SMART 120 boasts good efficiency and low emissions.
Origami – Radiator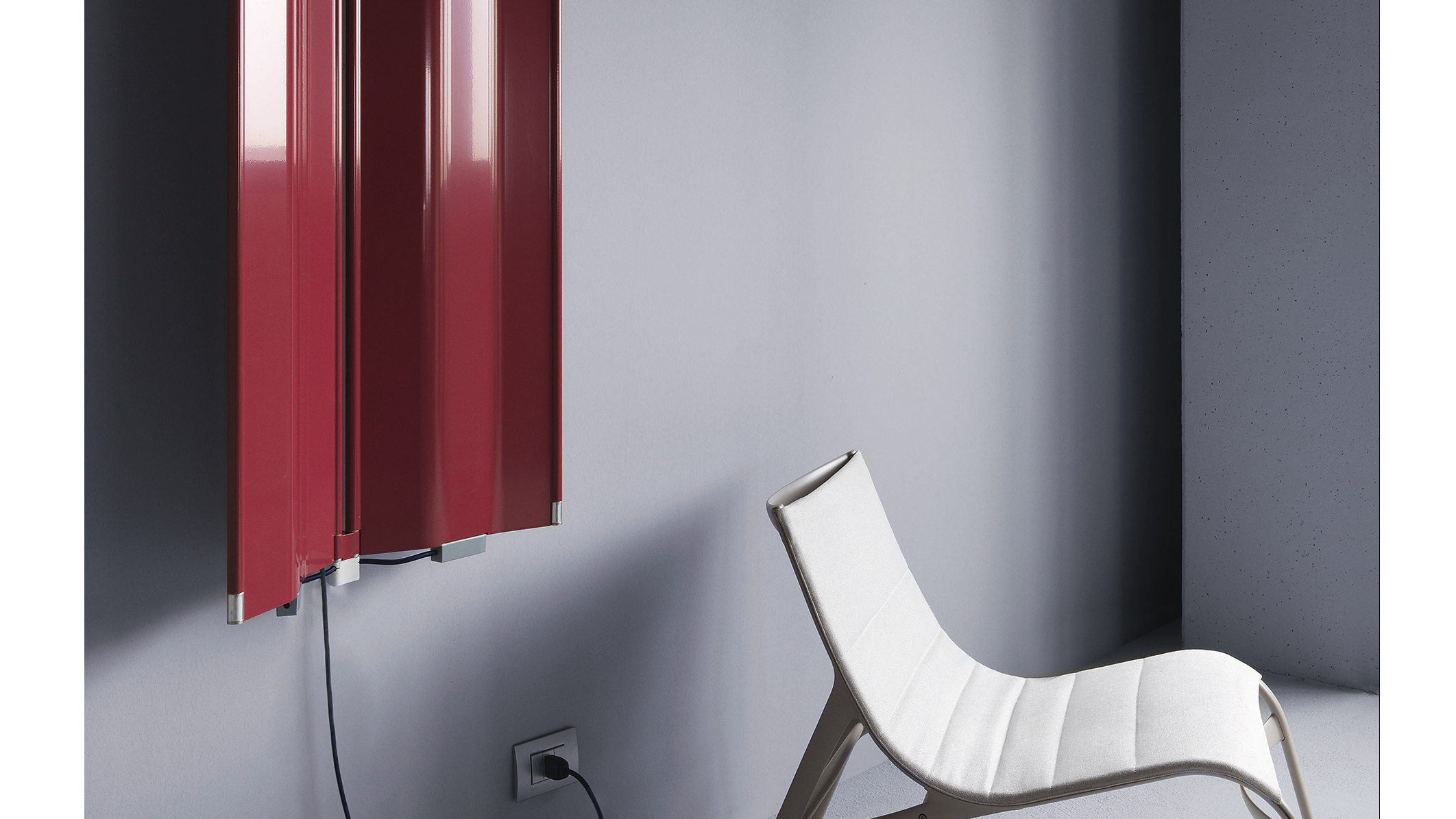 Manufacturer: TUBES RADIATORI SRL
The Origami radiator combines a visually appealing casing and heat provision in an aesthetically highly attractive manner. It can be folded like a screen, making it possible to quickly divide rooms or create a feeling of privacy, and it can be used as a standalone or hung on a wall. As the Origami is electrically powered, it is ready for action at the drop of a hat and very easy to use. It is a very practical heating element with a design that satisfies high expectations as regards both form and function. Its catching design creates an interesting presence in a room and interacts sweetly with the space around it. The Origami further won over the jury with its high effectiveness in providing the necessary warmth and comfort.
uniSTOR plus / exclusive – Domestic hot water cylinder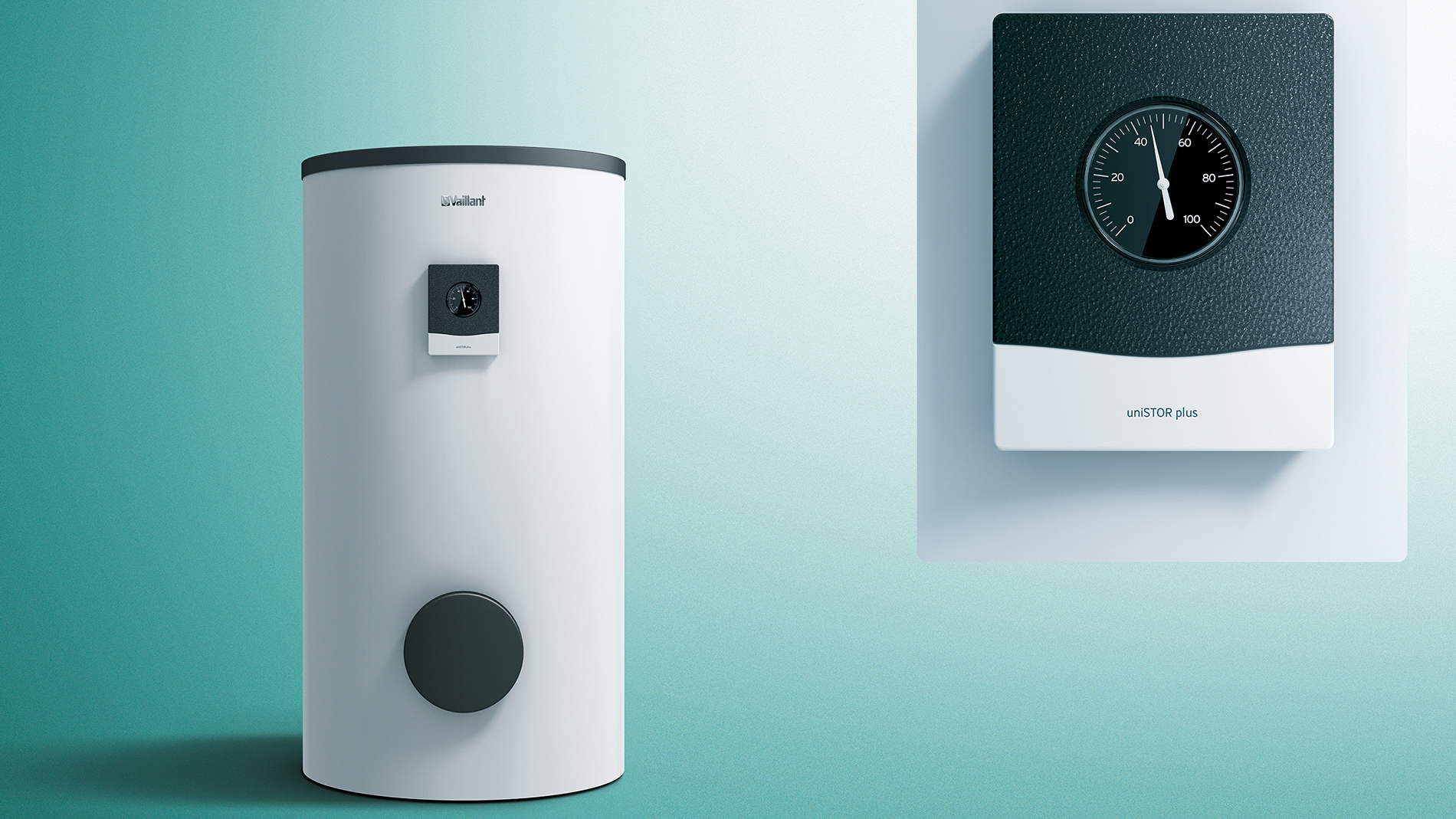 Manufacturer: Vaillant GmbH
The uniSTOR plus/uniSTOR exclusive hot water tank, with its clear geometric and formal language pared down to the essentials, not only makes a highly modern impression, but also impresses users with good handling and, above all, economic efficiency (energy label A-B), given that as system components, the devices store superfluous energy, e.g. from heat pumps. The clearly and attractively designed user interfaces are a striking element in the consistent further development of the Vaillant design language and provide information on the current water temperature at a glance. In the LED version, they additionally display system connectivity.
ONI Radiator – Heating radiator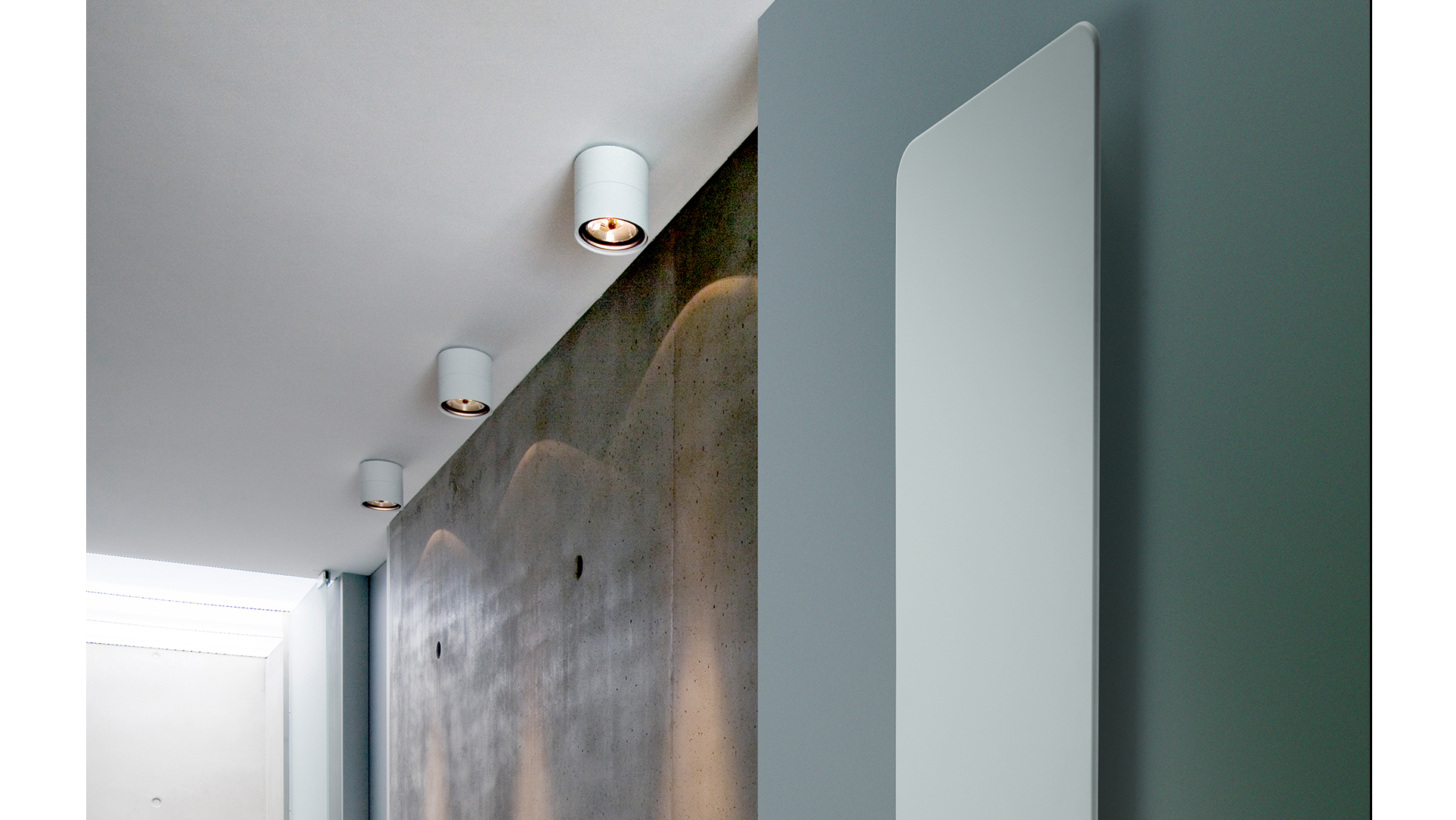 Manufacturer: Vasco Group AG
The ONI Radiator is an innovative radiator that the jury found truly persuasive thanks, above all, to its purist design. A copper heating pipe is integrated into the ultrathin front panel and requires only a minimum amount of water. The flat unit seems almost to float on the wall and is therefore not only an aesthetic highlight in any room, but also highly efficient and thus saves a lot of energy, which is why it is ideal for low-temperature systems. Optionally, the radiator comes with indentations for towels; a feature the jury really liked was the clear flawless surface that makes the ONI seem marvellously geometrical, clean and elegant.
Wilo-Stratos MAXO 80/0,5-12 – High-Efficiency Circulation Pump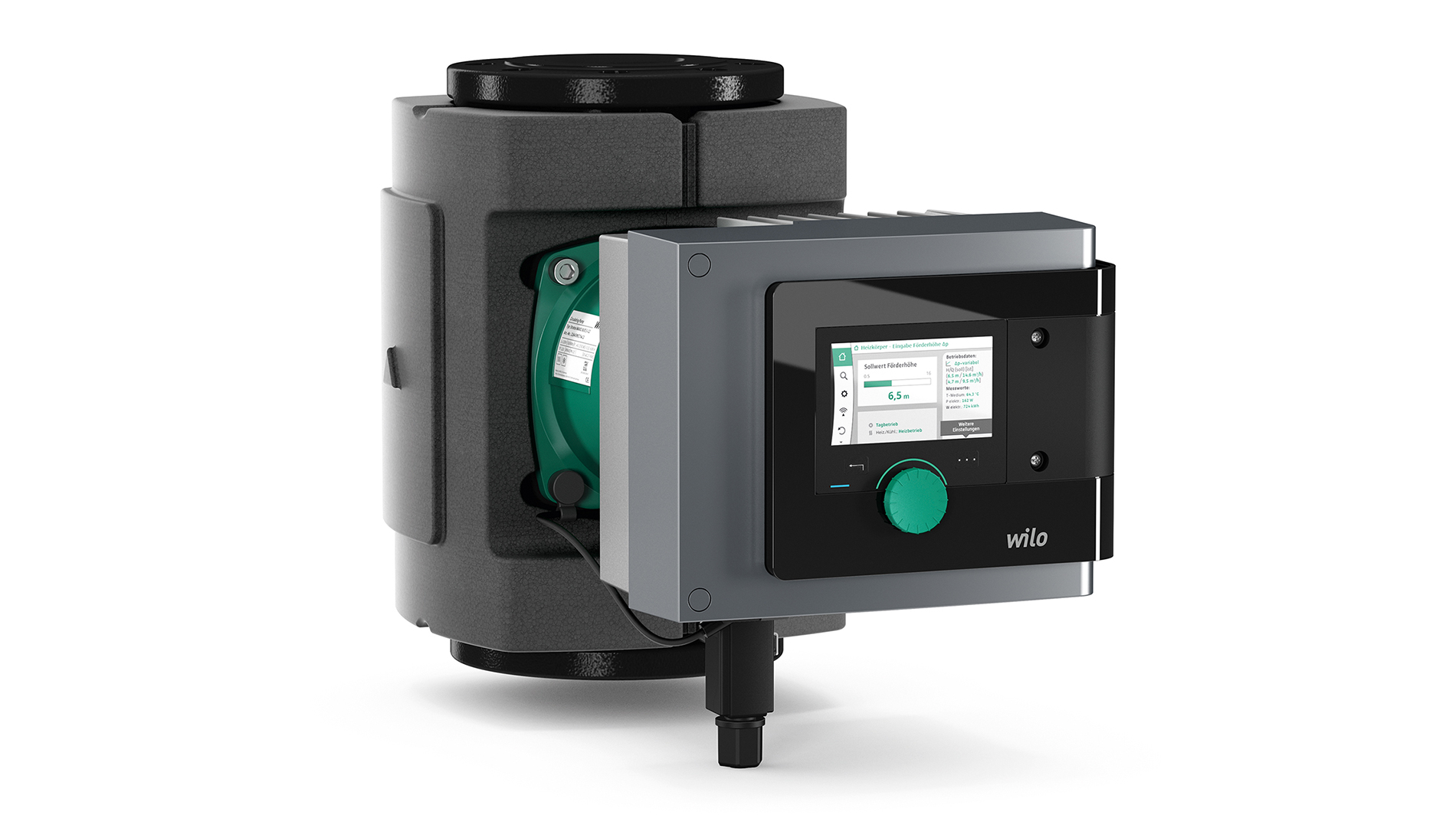 Manufacturer: WILO SE
With innovative energy-saving functions, the high-efficiency Wilo-Stratos MAXO 80/0.5-12 circulation pump sets new standards for commercial HVAC applications in the area of energy efficiency. At the same time the pump impressed the jury with its outstanding user-friendliness. The intuitive user interface with its pleasantly clear design and default settings that perfectly suit the respective applications enables a previously unseen simplicity. All settings are made via a single, central button, which is moreover clearly visible owing to its colour. Thanks to the communication interfaces, the pump can be integrated into all relevant systems. An outstandingly well-conceived product as regards form and function and impressive proof of good design in an application area that is still far too often neglected in this regard.
wodtke ivo.smart – Pellet stove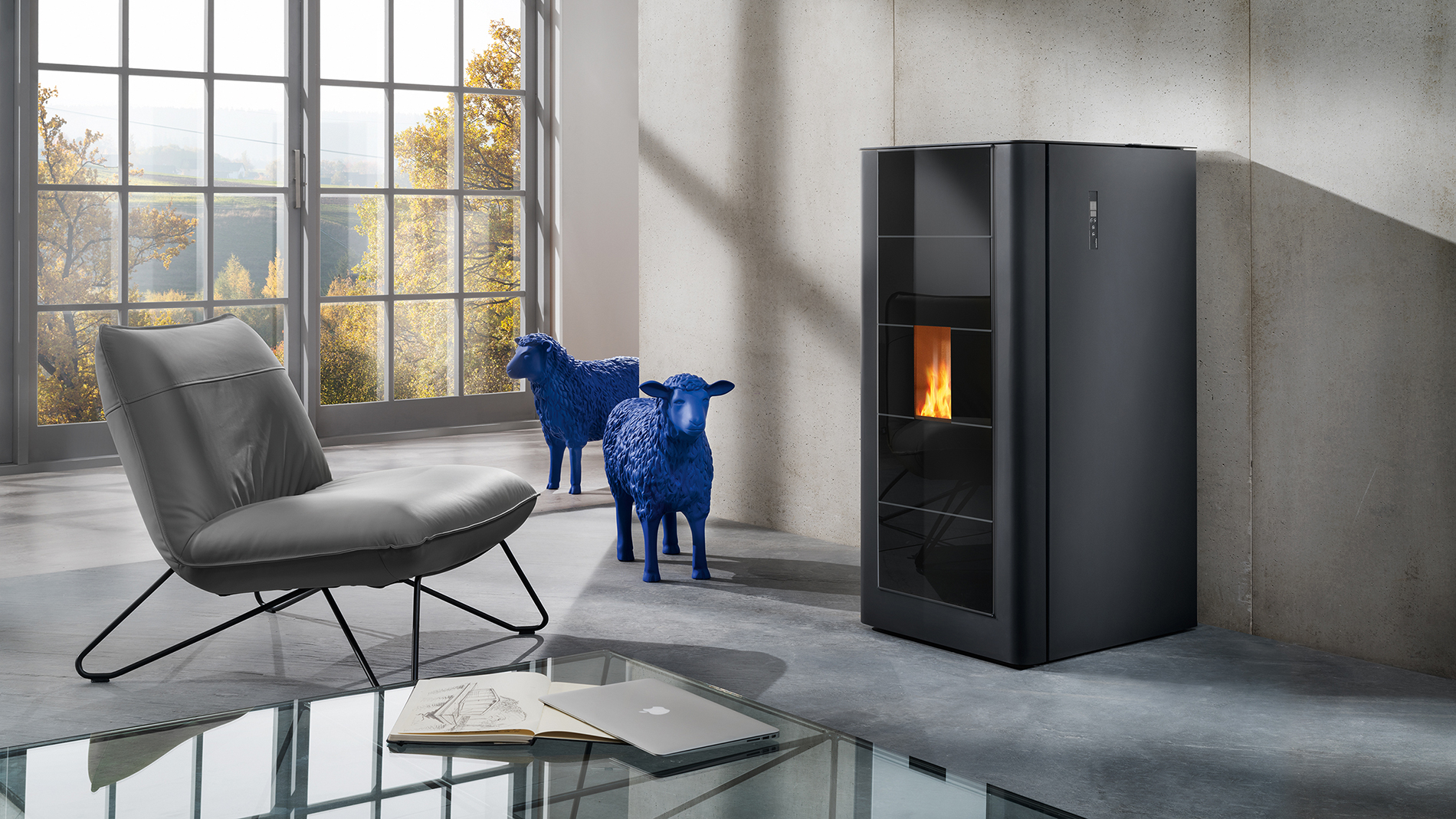 Manufacturer: wodtke GmbH
The wodtke ivo.smart is a state-of-the art pellet stove. Its elegant design reflects the company's high standards in terms of technology, functionality and up-to-date aesthetics down to the last detail. With its automatic ash removal, a high efficiency rating of about 90% for its water heating function and extremely quiet operation, it fully satisfies even very discerning standards when it comes to private residences. The fuel quantity detection feature ensures further optimisation of the combustion, making it even more effective while keeping emission levels low. The design is handsome, clear-cut and pleasantly reduced; thanks to the high quality glass panel, it cuts a very elegant figure and suits a range of interior styles.
Zehnder Zenia – Multifunctional bathroom heater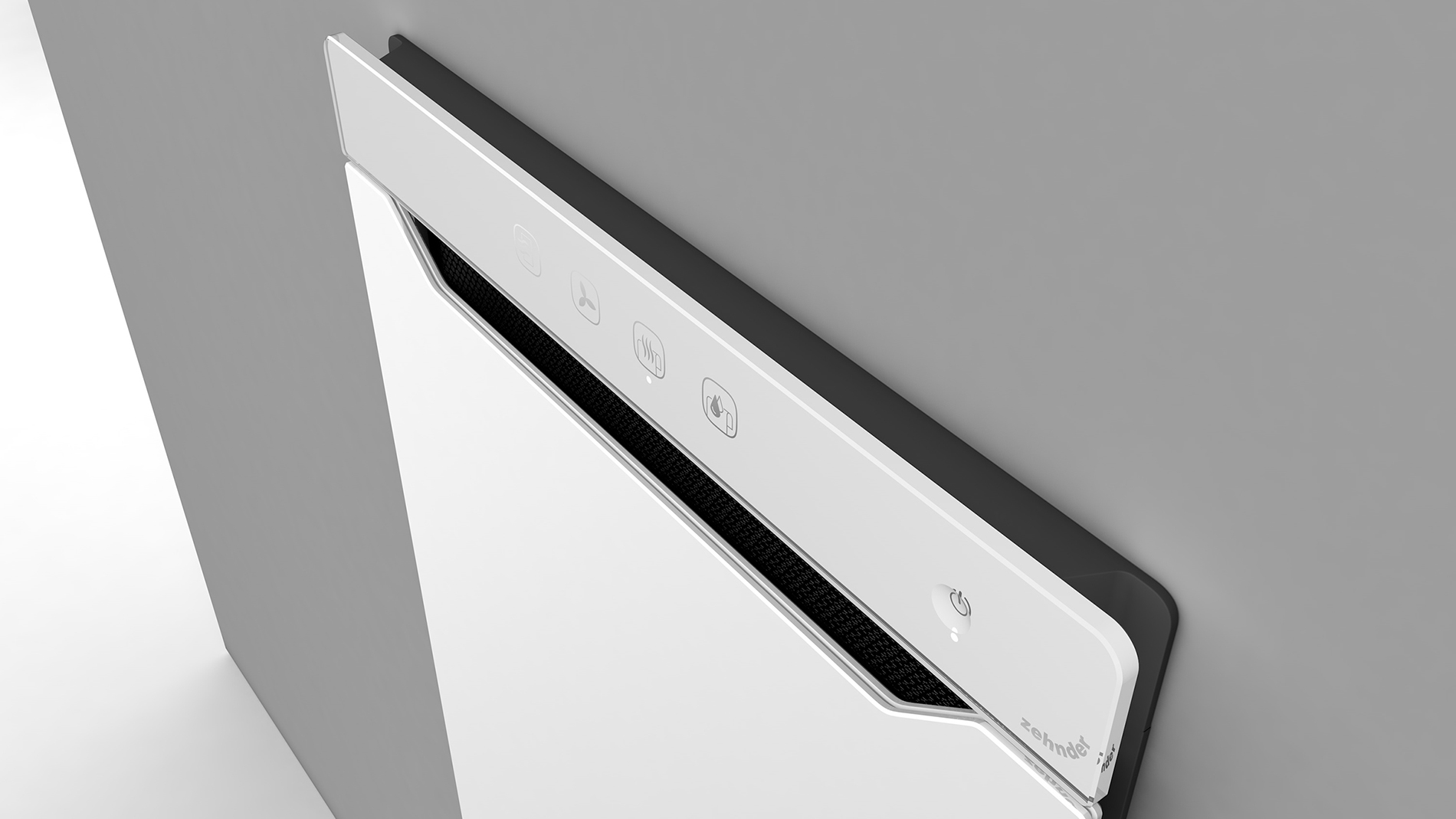 Manufacturer: Zehnder Group International AG
Zehnder Zenia combines towel warmer and convector heater to create an aesthetically outstanding item of bathroom furniture that is pleasantly visually restrained and thus blends harmoniously with almost any modern bathroom setting. The idea of concealing wet towels in a flat cupboard behind an infrared glass heating surface, where they are at the same time dried in a hygienic way, has been realised in a manner that boasts a superb formal and functional design. This innovative piece of bathroom furniture also provides different heating and comfort worlds independent of the central heating system – they can be individually configured by app in keeping with today's world. A modular installation concept means the heater can be fitted in almost any planning scenario. Practical and chic.