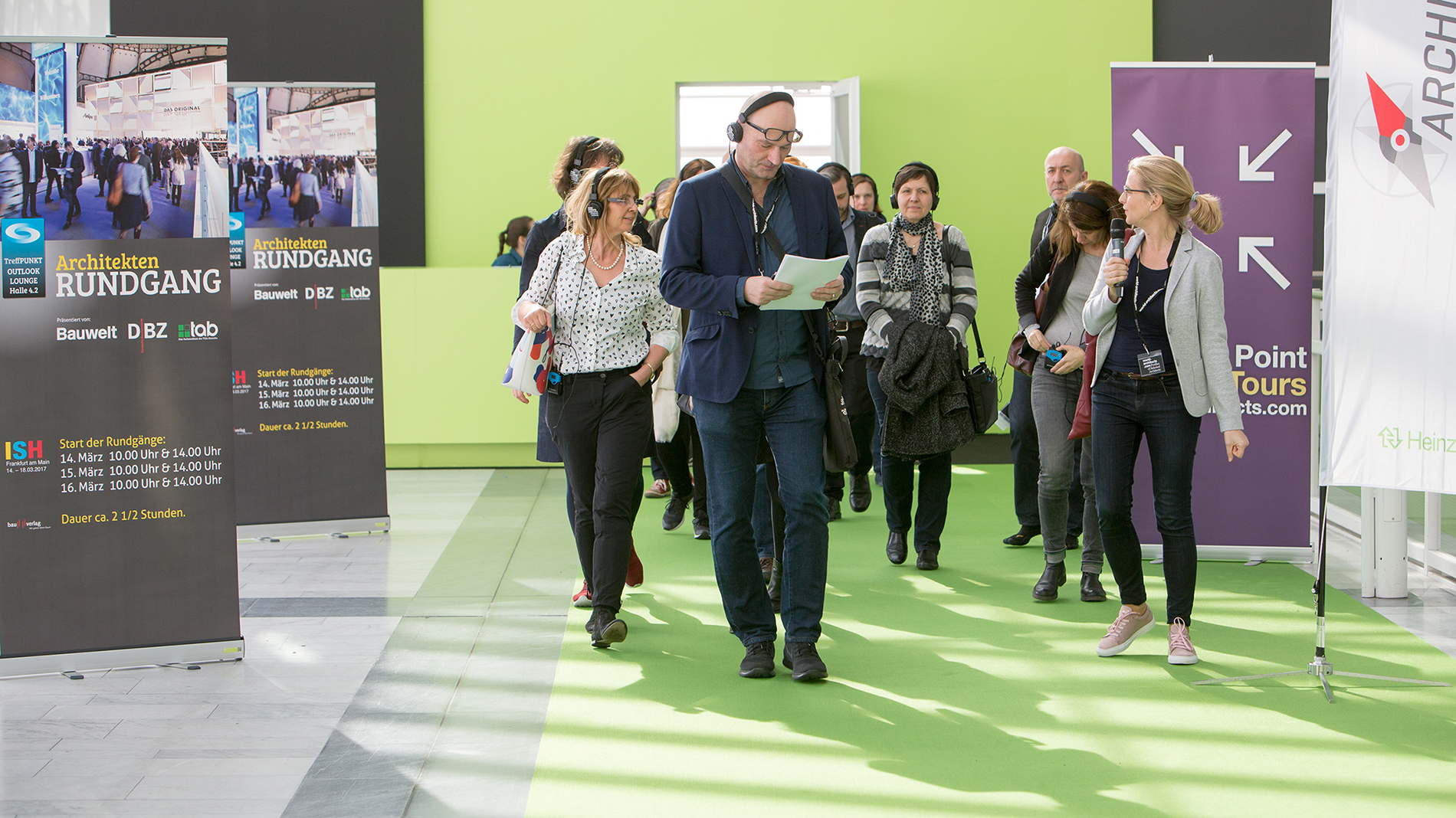 Free guided tours offer an excellent opportunity to find one's way around the products on display and to enter into conversation with colleagues in one's own field.

Tours specifically for the skilled trades
Thematic tours specifically aimed at visitors in the skilled installation trades. The Gentner Verlag publishing house (www.gentner.de) is offering several guided tours every day on subjects such as sanitation and plumbing (both surface mounted and concealed), ventilation, air-conditioning & refrigeration, as well as heat generation and distribution.
These German-speaking guided tours will start and end in Galleria 0.
Tours for planners, architects and other groups
In addition, there will again be guided tours of the show for architects and planners (both in German and English), as well as for builders, operators, representatives of local and municipal authorities, including the staff of building and planning departments. For more in­for­ma­tion and reg­is­tra­tion please contact our part­ners:
Thematic tours for ar­chi­tects, de­sign­ers and plan­ners, Eng­lish-speaking, organized by world-architects (www.world-architects.com)
Start + end: Meeting Point Guided Tours, hall 4.0 foyer
Registration


Tours for ar­chi­tects and plan­ners, German-speaking, organized by Bauverlag BV GmbH (www.bauverlag.de)
Start + end: Meeting Point Guided Tours, hall 4.0 foyer
Registration  

Tours for ar­chi­tects and plan­ners, German-speaking, organized by Heinze GmbH (www.heinze.de)
Start + end: Meeting Point Guided Tours, hall 4.0 foyer
Registration

Tours for tech­ni­cal plan­ners, en­gi­neers and build­ing op­er­a­tors, Ger­man-speak­ing, organized by Deutsche Gesellschaft für wirtschaftliche Zusammenarbeit mbH (www.dgwz.de)
Start + end: Building forum in hall 10.3
Registration  

Tours, German-speaking, organized by Deutsche Gesellschaft für Nachhaltiges Bauen – DGNB e.V. (www.dgnb.de)
Further information will follow shortly.
Registration

Interior architects and architects can join the German-speaking tours organized by BDIA Hessen (www.bdia.de)
Start + end: Meeting Point Guided Tours, hall 4.0 foyer
Registration