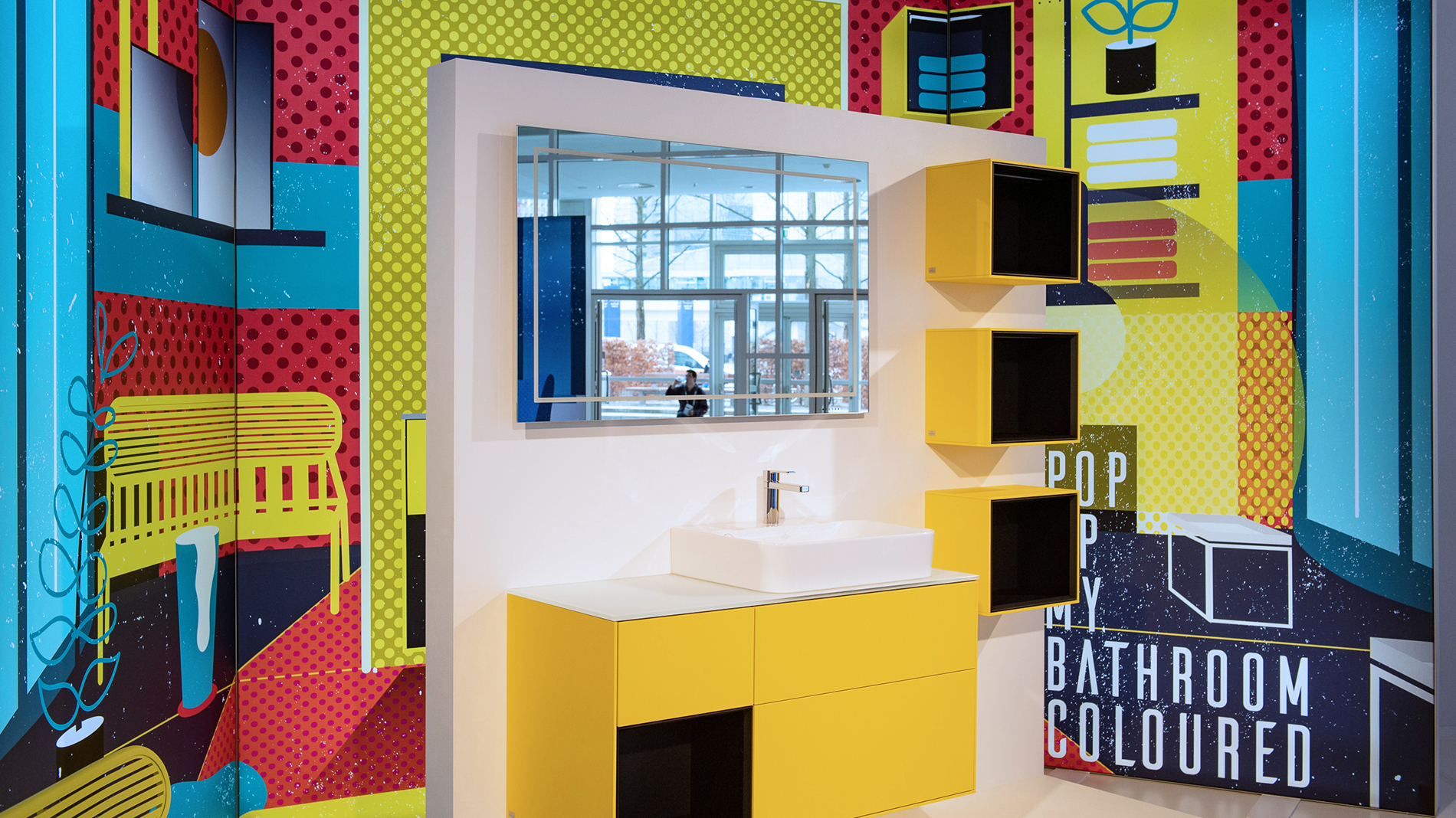 Organiser: Messe Frankfurt with the collaboration of The Association of the German Sanitation Industry (VDS)
Location: Foyer Hall 4.0, Room Europa
During the leading international trade show for the sanitary industry, the ISH in Frankfurt in 2019, things at the Pop up my Bathroom trend platform were pretty colourful. Tiles, bathroom furniture, washbasins and bathtubs all get a new colourful expressiveness – sometimes a restrained tone-in-tone, sometimes overtly self-confident with reds and even multi-coloured effects. In 2019, the bathroom will undergo another upgrade as a multi-purpose, brightly coloured and life-affirming place of personal retreat and will again be driving forward lifestyle trends. A 'mix and match' approach with painted vintage pieces, Boho rugs and cushions has long been finding its way into other living spaces like living rooms and kitchens – now, this new colourfulness is working its magic on the bathroom, with a variety of stylish accents.
The special show 'Pop up my Bathroom' has been organised by Messe Frankfurt and the Association of the German Sanitation Industry (Vereinigung der Deutschen Sanitärwirtschaft - VDS).
Held in the room 'Europa' in the Foyer of Hall 4.0, it showcased the varied possibilities for using state-of-the-art bathroom design features in a number of selected combinations.
Textiles are ideal for bringing colour into the bathroom; but we now find that there is a revolutionary new trend for colour in integrated products such as vanity units and basins, mineral cast and ceramic items, taps and mixers, shower cubicles and bathtubs. Particularly popular are both powerful, eye-catching colours in the yellow-orange-red spectrum and a palette of blues that bring with them a Nordic freshness. For interior design in the bathroom, green is the colour of the moment. The different greens range from a delicate pastel green and several fresh greens to a dark elegance. It is a trend that can be attributed to an increased environmental awareness amongst customers, symbolising, also, as the colours do, the health-giving aspects of the bathroom. Warm, powdery pastel tones from a subdued colour palette create a comfortable, easy-to-live-in feel in the bathroom. Lining up in the background are white and black, as well as all shades of grey. Black is used on its own as the dominant colour and combined with materials such as marble and brass. And there is a fundamental demand for individually designed bathrooms, with colour co-ordinated combinations of products and materials.
On the whole, strong colours and patterns previously appeared only on waterproof wall coverings on the bathroom walls. But the bathtub, lavatory pan, wash basin and tiles remained white. Now, however, a wide variety of colours and shades have reached key aspects of sanitary equipment and are re-interpreting afresh the one- time shiny, coloured bathrooms of the 1980s.
Trend Forum to discuss the potential of the use of colour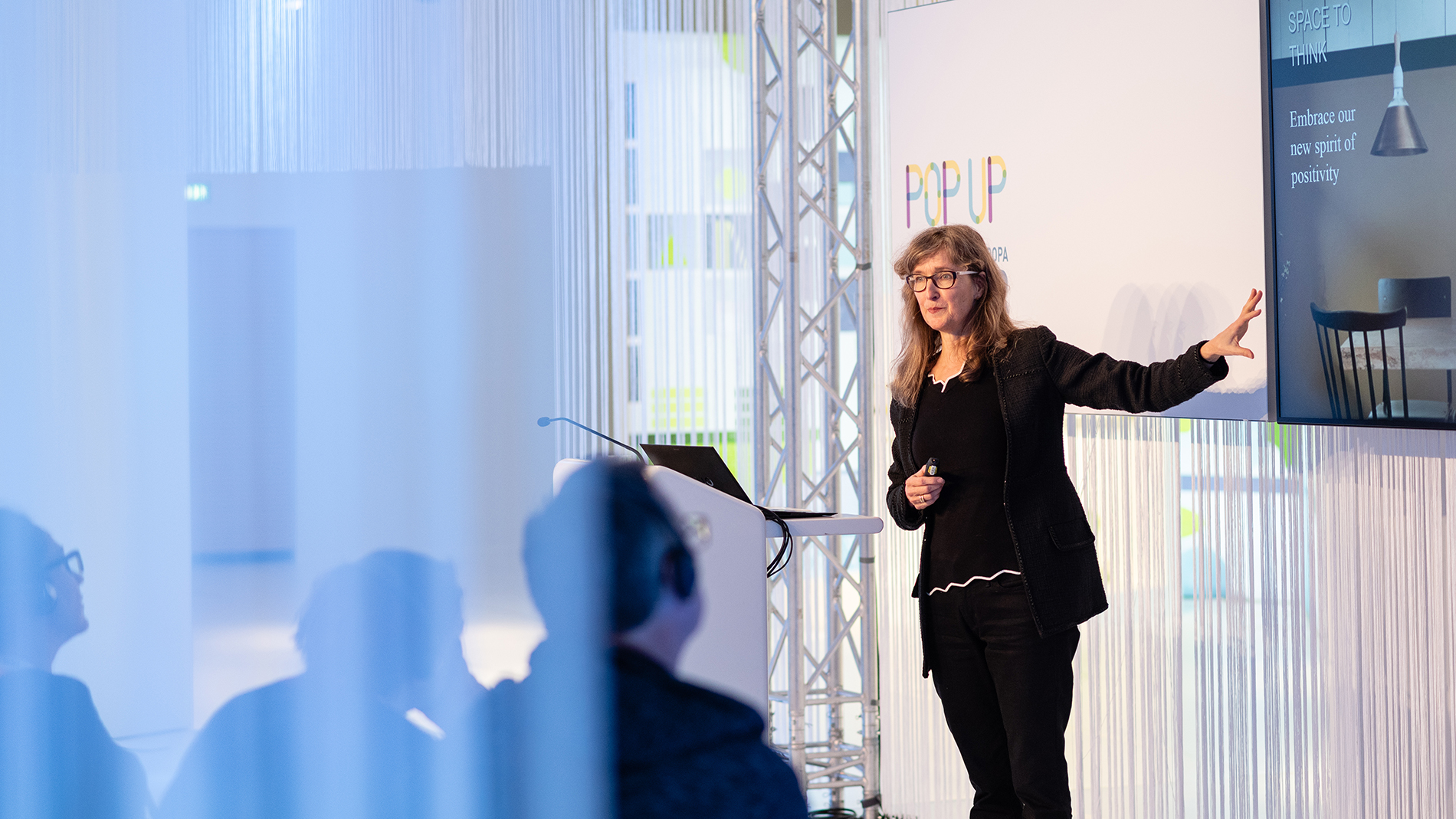 Visual and cultural research into trends in bathroom design, including current colour trends, were not only be showcased in the extensive exhibition at ISH 2019; it was also be the subject of various lectures in the adjoining Trend Forum.
'Pop up my Bathroom' is held as part of the leading international trade fair every two years and embodies the findings of a study, which provides an overview of trends in the bathroom for both professionals and consumers.
Find out more at: http://www.pop-up-my-bathroom.de/en/home
Pop up my Bathroom 2017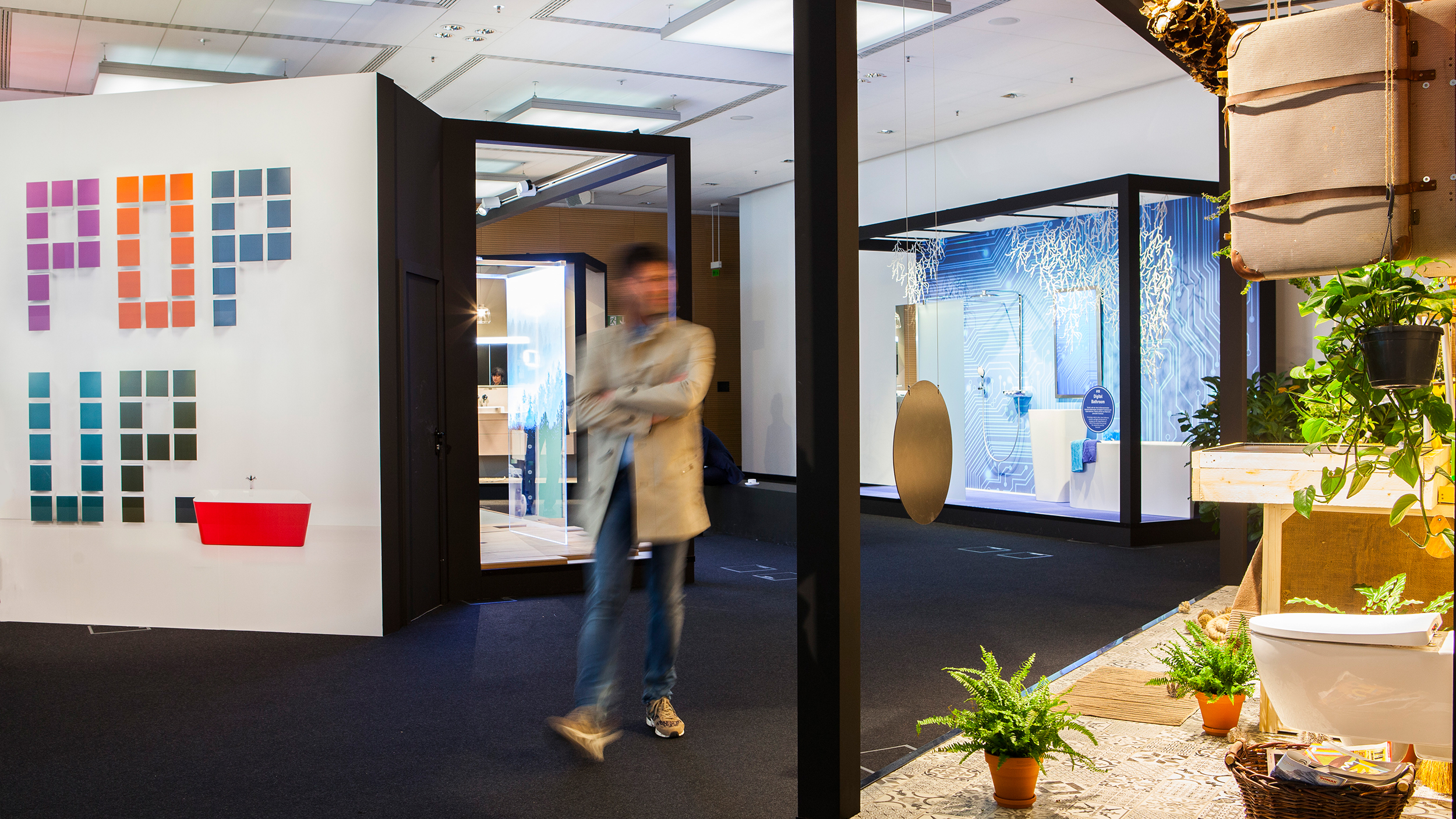 "What is typically individual?" and "What types of individual bathrooms are there?" – those questions were asked at the Pop up my Bathroom trend forum during ISH 2017. No fewer than eight answers showed where things are heading. That's because the bathroom will look completely different depending on which trend most influences the user and what his priorities are. So what exactly are those trends and what options for customisation are already available to consumers, or will be in the near future? Pop up my Bathroom explored the entire spectrum in the form of eight 3D collages – in photographs and "in the flesh" at ISH 2017.