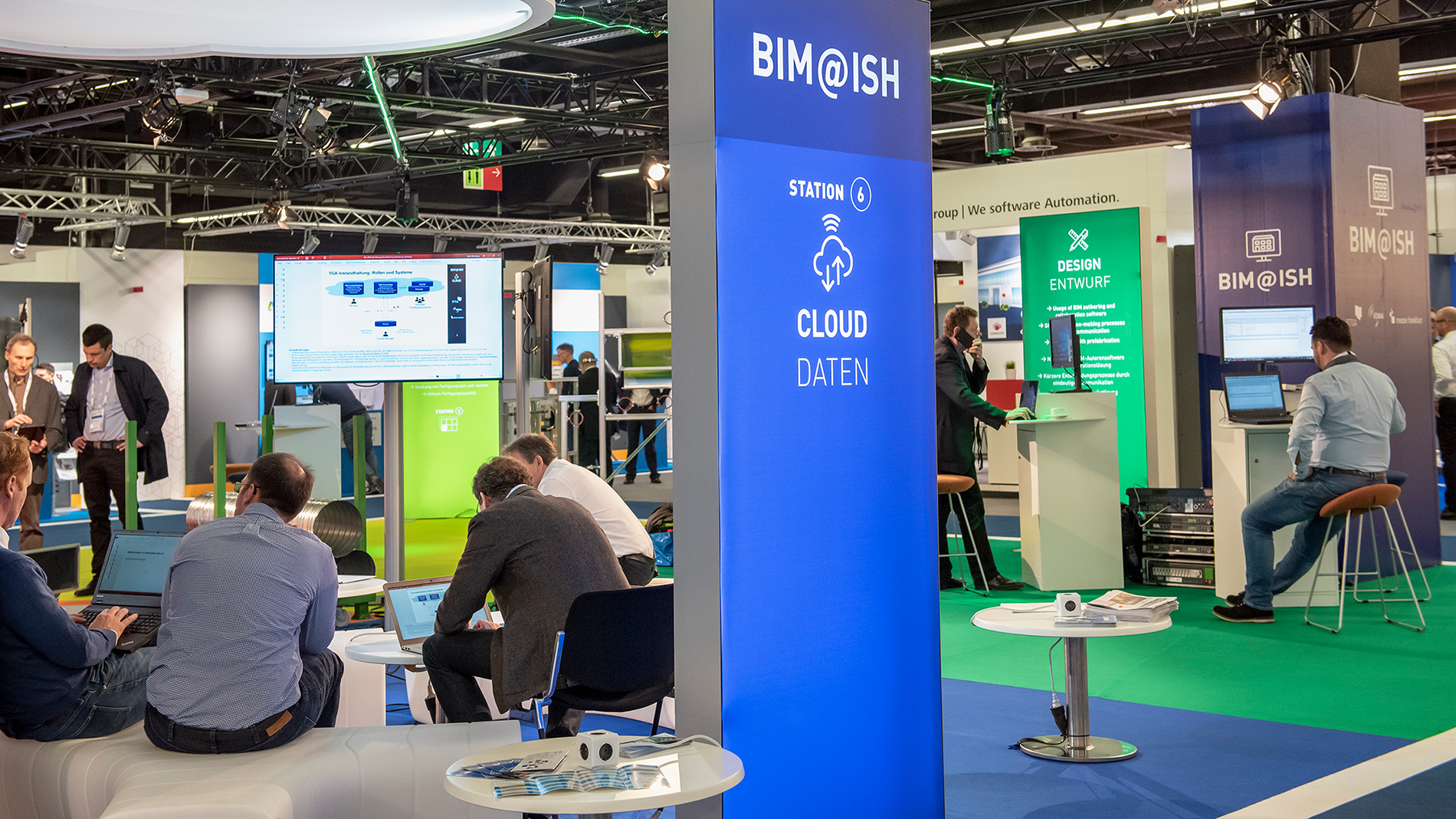 Oraganiser: Messe Frankfurt
Location: Hall 10.3 C11 und C10/C14/C16/C18
Building Information Modelling is a topic of major interest in the sector and also played its part in various areas at ISH 2019 - BIM@ISH offered a comprehensive overview:
Valuable information from practical examples – by experts for experts.
Current trends and developments in lectures, workshops and discussions
Hands-on experience of BIM – from inside, not outside – with practical insights.
Presentation of manufacturers to find out about the latest products – and gain the advantage that knowledge can bring.
Meeting of players from all disciplines – sharing of the knowledge of the specialists.
BIM@ISH: offered exactly what visitors with an interest in the area need to know – visitors were able to find just the event they were looking for, tailored to their existing knowledge and their individual requirements.
BIM@ISH – BIM along the value-added chain – planning, building, operating
The special show BIM@ISH was showcasing a holistic approach to the possibilities created through building information modelling (BIM) and demonstrated them along the entire value-added chain: planning – building – operating: from planning or initial management, to prefabrication, to the site depot, the construction site and actual operation, cases of BIM application were presented, which visitors could experience and in which they could participate.    
The basis of the exhibition was a 3D and information model – this served as a basis for all cases of BIM application presented in the exhibition. Using this prepared model, the individual working stages of the process were demonstrated in a clearly comprehensible way.
BIM is not just 3D, though! It is the "I" which is important: it is a treasure store of information – information which is there to be used. All participants augment the data, in order to be constantly at the latest status. No BIM author software will be used any longer at the construction site. The aim is to provide tailor-made solutions for augmenting the information, in order that all parties involved in realisation – from prefabrication to site store – may be brought completely on board. Updates of status, augmentation with additional documents, and the capture of construction times are vital data which carry the overall data model forward, thus helping all those involved in the project to achieve a better complete overview.  
The start of the show was at the "Design and Planning" section, which presented, as a typical example, how to work with a BIM author software and a collaboration solution. This section also served as project management, in order to provide a coloured visualisation of the project's progress. The reduced sub-models for all following sections were provided at this point.  
The process was continued in the "Prefabrication" section. Excerpts from the overall model were used for prefabrication. Visitors were shown which possibilities already exist today and what can be usefully obtained in future from this model for the next stage.
At the "Store" section individual building parts were checked in using a QR code, managed and removed again with the support of the model. All status changes were traced centrally.
All these sections leaded finally to the next stage, the "Construction Site." Here the visitor was able to see building parts as they relate to a design construction both in real terms and as a virtual supplement. The information model is augmented with further data: items of documentation, assembly times and status changes – for example, "assembled" or "does not fit."
In conclusion the "Operations" section demonstrated the possibilities opened up by BIM in maintenance, in computer-assisted facility management (CAFM) and in operation. The solutions so presented could be discussed with experts on the spot.
A central cloud or data cloud transferred the data so obtained "live" along the value-added chain from A to B and linked all sections as a communicative centre. It was possible to experience a joint collaborative effort at close quarters in and between the process stages.
BIM@ISH offered its visitors an opportunity to experience ongoing information exchange and the augmentation of information "live." This also applied to the work which comes downstream after design and planning and which is not model-based. Integration of this information into the central building data is absolutely necessary for BIM to function in the overall workflow.
At all sections of the value-added chain visitors were able to try out and discuss building information modelling "live": it was BIM you can get to grips with. Using smartphones or tablets, the individual working stages could be jointly experienced by all interested parties in an essentially active way. Experienced personal contacts were available for information and discussion.   
BIM@ISH – discussions with the experts
Alongside 'BIM hands-on', ISH offered visitors, who have an interest in this area, various opportunities to acquire practical information about Building Information Modelling.
BIM@ISH – Dialogue 'beneath the Cloud'
Location: Hall 10.3 C11
We invited visitors to discuss some of the many fascinating topics face-to-face with colleagues and other experts in their fields, to get information, exchange ideas and experiences.