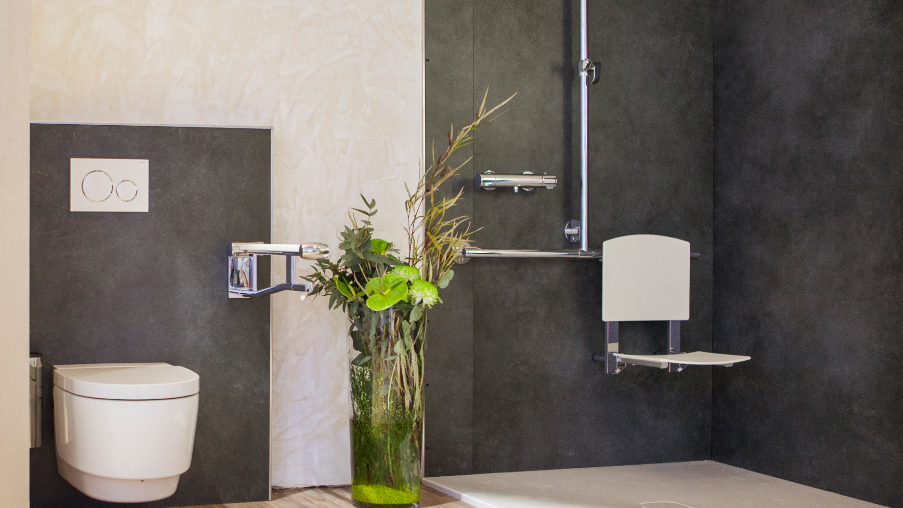 Organiser: The German Sanitation, Heating and Air Conditioning Association (ZVSHK) and the Association of the German Sanitation Industry (VDS)
Location: Hall 3.1 A96
Background:
At the end of 2015, 1.97 million of the over 2.9 million people reliant on care were being looked after in their own homes. The health-policy principle of 'out-patient before in-patient care' can only succeed if private households are converted into health locations. The key to success in this case is the development of the bathroom into a care setting for older people, as well as people in need of support and nursing. However, neither the existing building nor technical standards are enough for this. This calls for new constructional solutions, e.g., the design of comfortable bathrooms in confined spaces, as well as technical assistance systems that make it easier for relatives and out-patient nursing staff to look after people in their own homes.
Against this background, the German Sanitation, Heating and Air-Conditioning Association (ZVSHK) in cooperation with the Association of the German Sanitation Industry (VDS), the German Association of Nurses (DBfK), the German National Association of Senior Citizens' Organisations (BAGSO), the VDK social and political interest group and the German Home Advisory Service Working Group conducted a study entitled 'Therapeutic Bathroom 2030' (Pflegebad 2030). The focus of this project was on standard bathrooms in residential buildings and very small bathrooms (4 to 6 m²), which are the most common to be found in dwellings. The results give the installation trade the wherewithal to advise customers comprehensively in their homes and to plan, install and maintain the relevant technical systems in confined spaces. Moreover, the study generates new impulses for product development and product adaptations in the interests of those affected.
Presentation at ISH 2019:
A 'Therapeutic Bathroom' that trade visitors can test will be installed in Hall 3.1 at ISH 2019.

The Therapeutic Bathroom 2030 is also a workplace for nursing staff and, in the future, will have to meet two requirements:
1. Private and intimate (living) space for people in need of care
2. Semi-public (work) place for nursing staff
Future therapeutic bathrooms must strike this balance between functionality (at least two people in a confirmed space) and aesthetics (homely and private atmosphere, sensuousness). The biggest challenges facing tomorrow's therapeutic bathroom are accessibility, e.g., handles, cupboards, shelves, physical contact, and organisation, e.g., activity and storage, in a confined space. Thus, planners and artisans must work together with suitable industrially made products to come up with new solutions. This applies to both the practical side, e.g., suitability of furniture for wheelchair users and colour contrasts, and aesthetic aspects, e.g., materials, surfaces, colours, structures, haptics, proportions, etc.