The world's leading trade fair for HVAC + Water is at the same time, the sector's international meeting place and impulse generator. It promotes dialogue between the various skilled trades and sets new benchmarks. The major themes at ISH reflect the latest trends and developments in the sector.
Top Themes ISH Energy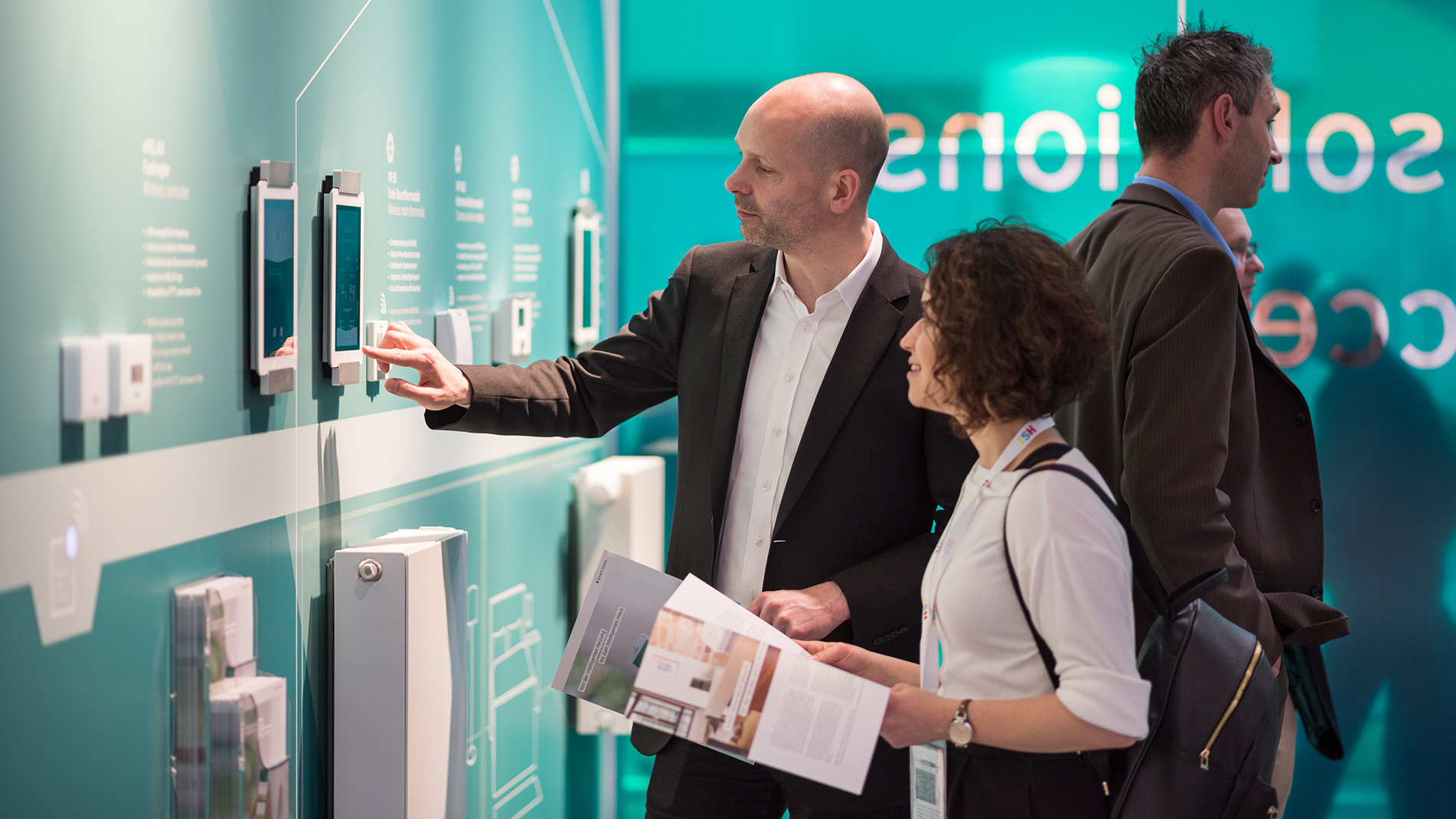 The ISH Energy zone presents the ground-breaking technologies for tomorrow's 'smart' building services engineering sector and thus offer solutions to the challenges we face in protecting the climate and our natural resources. In 2019, ISH Energy will focus on, amongst other things, digital heating technologies, indoor air quality, the IoT in building automation and heating with wood.
Top Themes ISH Energy overview
Modern heating systems: high-tech solutions for the heating transition
Ambitious targets for the protection of natural resources and climate are pivotal for the discussions that have been held on energy and economic policy over the past few years. A major key to achieving these targets lies in the largest sector of energy use, the heating market. The heating industry has an extensive portfolio of high-efficiency solutions both for renovation work and for new builds.
To the Top Theme
Digital heating technology: comfortable, convenient, efficient and future-proof
Digitalisation is one of the key issues currently facing the heating industry. At ISH 2019, manufacturers will be exhibiting a host of 'digital solutions' and 'digital systems'. These all offer operators of heating systems not only more comfort and convenience, they also make possible additional potential savings in energy consumption. And this means new possibilities and opportunities for the HVAC and plumbing trades. Above all, however, digitalisation of heating technology will be a major contributor to the success of the energy and heating revolution.
To the Top Theme
The importance of air at ISH: good air quality pays off
People spend more than 80 percent of their time in closed rooms – at home, in the workplace, fitness studio, cinema, restaurant or other institutions. In all these places, good quality air is important for health and well-being. What, however, makes indoor air quality good? What does it depend on? And how can it be guaranteed?
To the Top Theme
Heating with wood: solutions with a future for existing houses and new builds alike
People have been heating with wood since time immemorial. Yet, in spite of this, it is a fuel that is very much of the future and is even CO2 neutral – at least, provided that its use goes hand in hand with sustainable reforestation. But, of course, the right technology is a must. Individual stoves can today be integrated into the 'smart' infrastructure of an existing or new heating system – and with clear, perceptible additional value in terms of energy consumption. Alongside this, local availability, security of supply and a cosy flame in the living room are all strong arguments for wood burners and their ilk.  
To the Top Theme
Smart Buildings & Spaces, IoT: new pathways in building automation
High-efficiency buildings – both new and old – are the future. The Internet of Things (IoT) has arrived in our everyday lives and, with it, in our buildings, too. Integrating elements in buildings into a universal, digital network can save a great deal of energy. Everyday processes inside and outside buildings can thus be efficiently linked together via a central control unit. Intelligent scheduling of the underground in Tokyo, for instance, balances the rush hour, so that pedestrians and vehicles do not cross each other's paths unnecessarily, thus helping people get to the relevant transport in a relaxed manner.
To the Top Theme
Top Themes ISH Water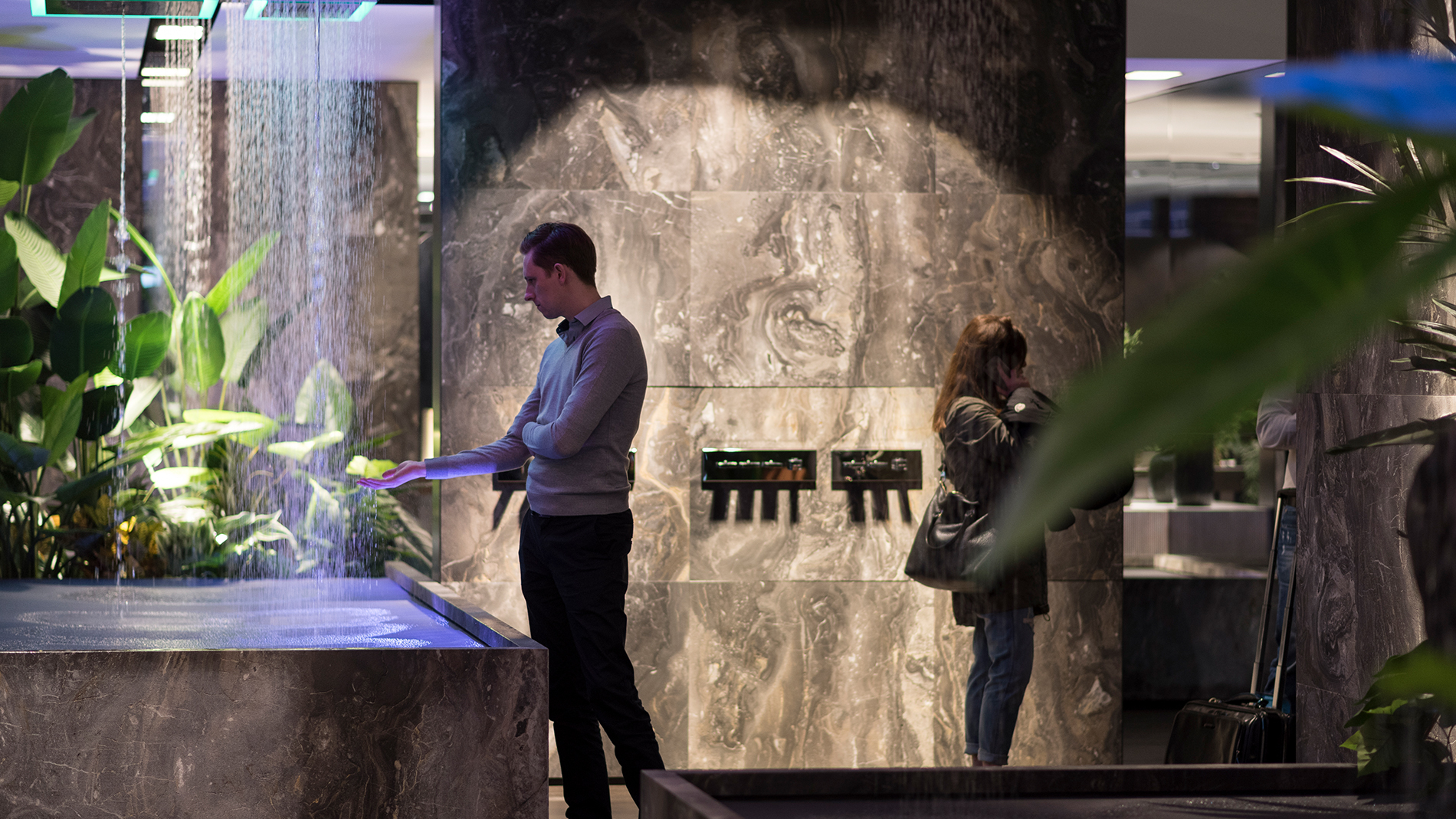 Functionality and design go hand in hand in the ISH Water zone. In this, the world's largest showroom for modern bathroom concepts, the industry will be presenting the latest developments and trends in sustainable, long-term solutions in the sanitation business as well as in innovative bathroom design. Centre stage, in 2019, will be issues such as colour in the bathroom, intelligent water-management systems and relaxing, therapeutic baths.
Top Themes ISH Water overview
Intelligent water-management systems for hygiene and safety
A smart home where all sanitation devices can be controlled via a smartphone or computer is no longer in the realm of fiction. With innovative systems, operational sequences can be triggered, monitored and controlled independently of location via a smartphone or computer.
To the Top Theme
Using regenerative energies for heating (potable) domestic hot water
The increasing scarcity of fossil fuels and an increasing will in society for greater sustainability have paved the way, over the last few years, for the spread of regenerative energy sources. And solar energy can, amongst other things, be used for the preparation of hot water in a domestic dwelling. However, fluctuating temperatures in the hot-water storage unit put at risk the hygiene of the domestic hot water. It is, therefore, important to know what needs to be attended to when installing solar heating systems.
To the Top Theme
12 colour trends win the race in the bathroom
Lifestyle is still the dominant notion behind the trends for the bathroom – and ISH 2019 will be exhibiting more shades of colour than ever before. This is how planners and industry alike are responding to the desire for individually designed, ultra-modern bathrooms, with an ever increasing variety of finishes and surprising effects. And the demand for variety is equally in evidence when it comes to materials, too: along with wood, it is marble and new kinds of metallic finishes that now play the major role. This trend applies equally to taps and mixers, furniture, surfaces and accessories.
To the Top Theme
Therapeutic bathroom with wellness factor – bathroom and workplace at one and the same time
A large proportion of people needing care in Germany are looked after in their home. From the total of over 2.9 million people in need of support, a good two thirds live in their own homes. The consequence of this is that the home must be appropriately designed and equipped to provide a suitably supportive environment. When it comes to care in the home, the bathroom needs especial consideration. It is here that the extent of the need for care and support can be seen most clearly – if the room is inappropriately or inadequately equipped, then both carers and patients are subject to excessive physical strain.
To the Top Theme