Building New Energy
House and building-services technology represents an economically potent sector with a large and unbroken potential for innovativeness and sustainability. With annual sales of € 66.4 billion in 2021 and a forecast € 70 billion in 2022, the sector not only remains on an upwards course but is also a driving force for the entire German economy.
Building New Energy: firmly focuses on trends and future-oriented subjects
With its products and services, the sanitation, heating and air-conditioning sector understands economics and ecology as two sides of the same coin with the focus turning ever more towards practical sustainability for property owners. Thus, the installation of modern, energy-efficient heating and ventilation technology has advanced from being a neglected topic to one of outstanding interest. Accordingly, environmentally-friendly products that can be combined purposefully with other energy-producing, technical components, such as a photovoltaic installation, are booming.
Today, buildings and the technology installed therein are linked digitally and perfectly matched. Nationwide, almost 400,000 specialist retailers ensure that smart networking components can interact without a hitch. Thanks to digitalisation in buildings, users can see and optimise their energy consumption.
The increased use of climate-friendly heating and ventilation technology in buildings, especially in the residential sector, makes living in them an absolute pleasure. However, users enjoy using not only ultra-modern technology. Supplementary installations, such as a fireplace, generate a cosy atmosphere in the home.
Building New Energy: strong players who shape the future
Manufacturers, wholesalers and specialist retailers are the main pillars of our sector, and each makes an important contribution to ensuring that the entire sector can consolidate its position as a key player in the energy revolution. With their concepts and ideas on the future of building-services technology, all three segments cooperate on ensuring that the ideas of Building New Energy shape the future in a positive way. The Building New Energy concept will be launched at ISH 2023. There, at the world's leading trade fair for HVAC + Water, visitors will have the opportunity to discover the latest technological innovations in the fields of absolute living pleasure, smart networking and sustainable reality.
Startup@ISH 2023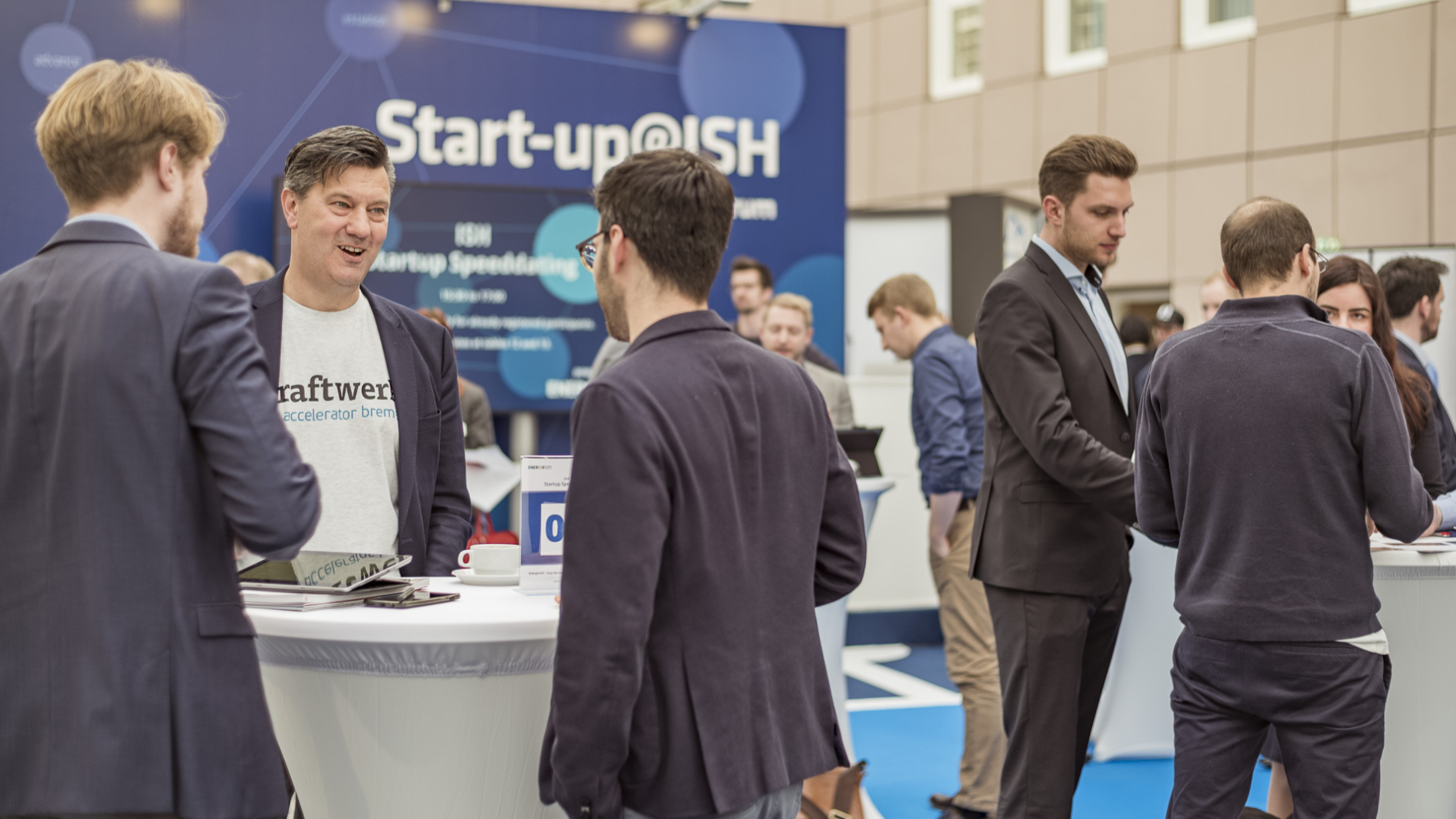 Our sector thrives on the exchange, taking up and development of innovative ideas. To release previously untapped potential, the German Association for Energy Efficiency in Building Services (VdZ) has set itself the goal of bringing together up-and-coming founders and established companies with the aim of further boosting innovation in the field of house and building-services technology.
As in the past, visitors to ISH 2023 can look forward to 'start-up area' with a wide range of international start-ups from the sanitation, heating and air-conditioning sector, as well as an appealing and interesting programme of events.
Discover the latest technological innovations in the building sector at ISH in Frankfurt am Main from 13 to 17 March 2023.
Electromobility and building automation: pure efficiency!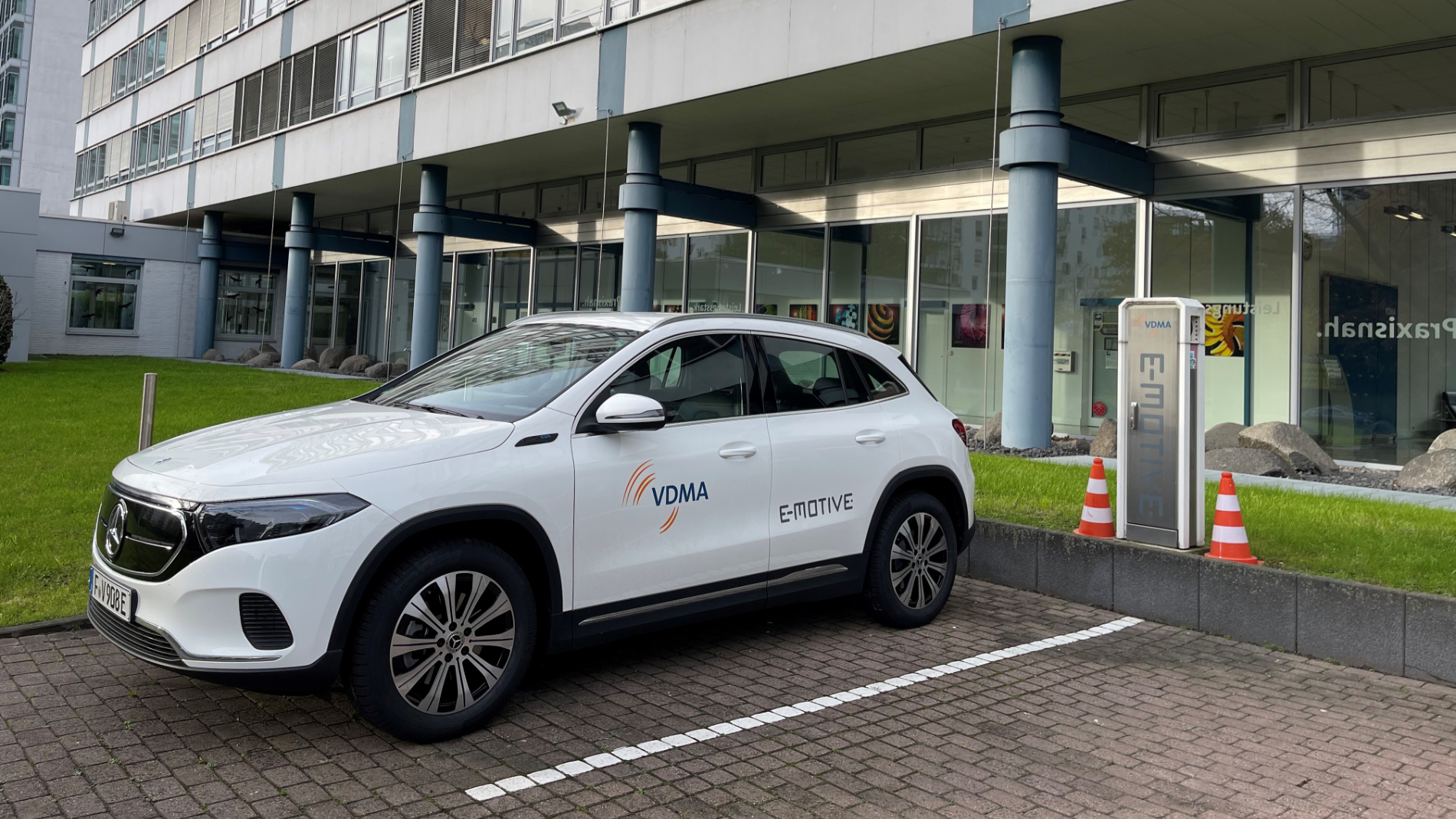 Electromobility continues to grow in popularity compared to vehicles powered by internal-combustion engines thanks to political support and despite the gaps still existing in the charging infrastructure. With the expiry of tax benefits for hybrid company cars, it is likely that sales of this vehicle category will decline while the number of purely electric vehicles will grow in terms of both private and fleet usage. Accordingly, anyone who can, i.e., someone who owns their own home and, even better, is able to generate solar electricity, will ensure their independence of the public charging network by installing a private charging station before buying a full electric vehicle. In Germany, however, around half of all households do not own their own homes and thus have no choice but to rely on the facilities available at work, supermarkets, carparks and other properties. Therefore, for a variety of reasons, non-residential buildings are set to become sources of energy for power-hungry vehicles.
For reasons of efficiency, especially at company carparks or in underground carparks with numerous charging stations, this is not possible without an intelligent energy-management system. In view of the high power consumption and high load volatility in conjunction with other users, e.g., in an office building or a manufacturing company, this calls for a sophisticated system to smooth peak loads and guarantee efficient usage, especially when renewable energies are in play.
Specifically, such systems permit, for instance, fast charging, if required, or a weaker charging current or delayed charging in the case of vehicles not requiring immediate recharging. Coordinating the needs of all users, whether in the buildings concerned or with the manufacturing side, as well as the resulting overall optimisation of energy usages, ranks among the typical day-to-day tasks facing companies in the building-automation sector. Many of these companies will be exhibiting in Hall 10.3 at ISH 2023 in Frankfurt and look forward to seeing you there.
Ventilation with heat recovery – using heat energy efficiently
Demand-controlled ventilation systems with heat recovery can make a substantial contribution to efficient energy use. They cut ventilation heat losses by transferring a large proportion of the heat from the extraction side to the intake side. At ISH, manufacturers offer ventilation systems for all requirements.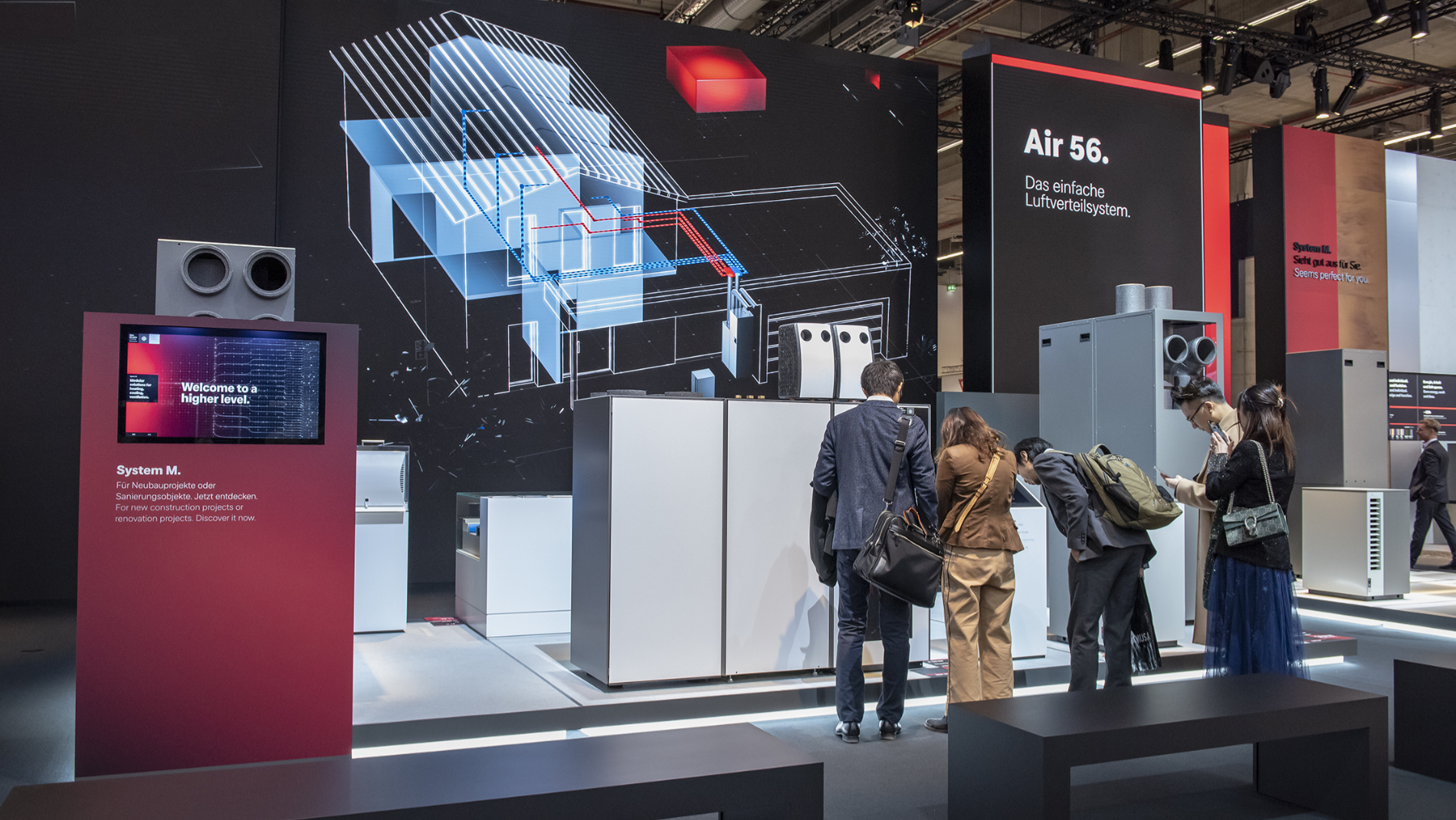 One of the top themes of ISH 2023, the world's leading trade fair for HVAC and water, is energy efficiency and sustainability in buildings. In the heating sector, all existing options must be used to achieve the reduction in CO2 emissions in buildings called for by the climate-protection law. An important lever in this connection is the efficient use of heating energy via heat recovery. At ISH in Frankfurt am Main from 13 to 17 March 2023, manufacturers present a wide range of central and decentral ventilation systems for rooms of all kinds in residential and non-residential buildings.
The current energy situation has led to a sharp increase in energy-saving measures. Besides the shift to renewable energies, the more efficient use of energy is a decisive factor in ensuring, inter alia, a reliable and affordable supply of heat for buildings. Demand-controlled ventilation systems with heat recovery can make a very substantial contribution to the efficient use of heating energy. They keep ventilation heat losses down by transferring a large part of the extracted-air heat to the intake side. Thanks to a coefficient of performance (COP) of 10 to 20, heat recovery means that 10 to 20 kW of heat can be recovered using only one kilowatt (kW) of energy.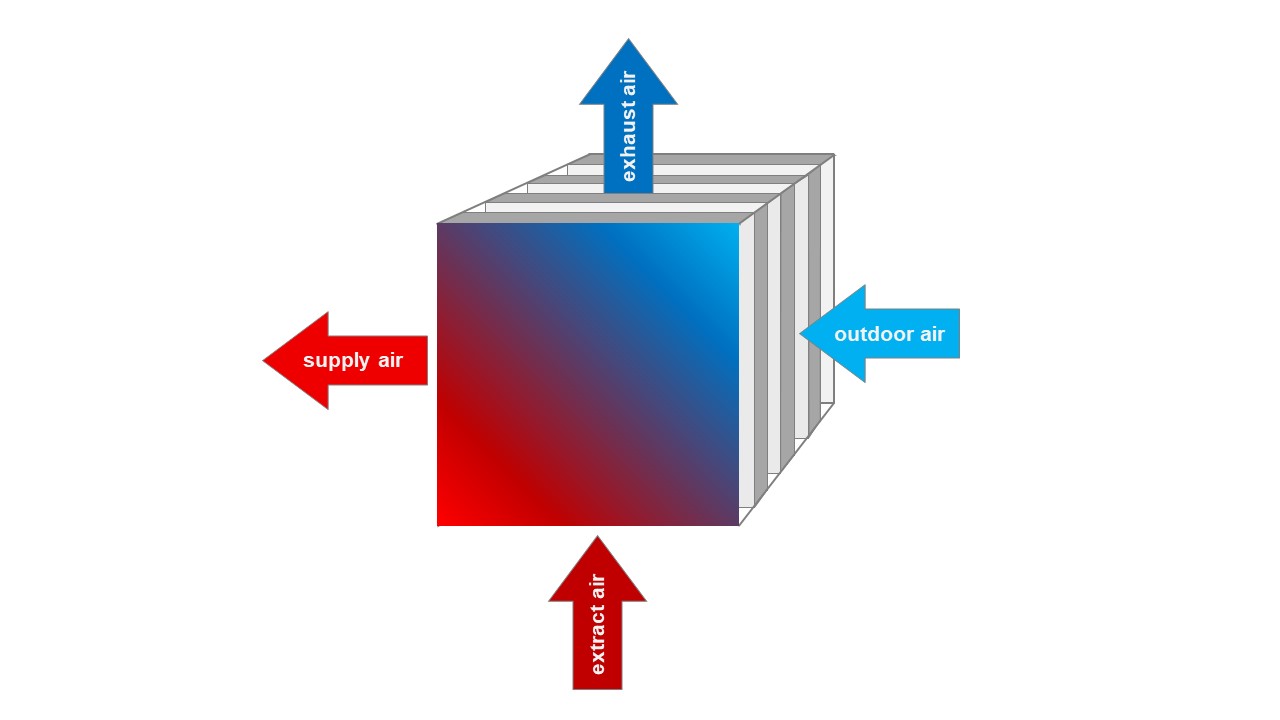 A study by the Environmental Campus Birkenfeld of the Trier University of Applied Sciences revealed the enormous potential of this technology. The analysis of the impact of heat recovery on the energy savings of central ventilation systems in non-residential buildings showed that, in 2021, the heat thus recovered amounted to a primary-energy saving of over 30 terawatt hours per year (TWh/a), a two-fold increase over 2011. It is safe to assume that this development will continue in the coming years as old installations are replaced by new, more efficient systems. In addition to greater energy efficiency, the continuous air circulation created by ventilation systems not only improves indoor-air quality by limiting CO2 levels, but also causes pollutants and germs to be removed with the 'used' air. But that's not all: allergy sufferers benefit from air filtration while fitting humidification systems to the ventilation systems ensures the recommended minimum level of room humidity level (40 percent) can be reached even in winter.
In residential buildings, ventilation with heat recovery can also generate significant energy savings and this holds particularly true when it comes to low-energy houses. In this case, the heat loss through the building envelope is very low so that ventilation heat losses play a more important role. Such buildings are only energy efficient if they are equipped with a fan-aided ventilation system. Thus, demand-controlled ventilation with heat recovery can produce savings of 25 to 50 percent in terms of heating energy and a similar reduction in the level of CO2 levels. At the same time, ventilation systems with heat recovery are a prerequisite for healthy air in energy-efficient buildings.
In Germany, the Building Energy Act is expected to call for newly installed heating systems to be operated with a minimum share of 65 percent renewable energies from 2024. Heat recovery can contribute to achieving this share in both residential and non-residential buildings.

The market offers the right solution for all needs and all applications. At ISH, manufacturers present a wide range of central and decentral ventilation systems for rooms of all kinds in residential and non-residential buildings.
Digitalisation, the key to ESG conformity
ESG criteria are becoming an increasingly significant part of business strategies in the real-estate sector. Together with social pressure, European and national legislative measures are changing the sector rapidly and it is now important that all players act with maximum agility. Those who do not dare to take the step towards sustainability risk a great loss in the value of their property. The digital transformation via intelligent building-services technology is the key to future-oriented growth and success.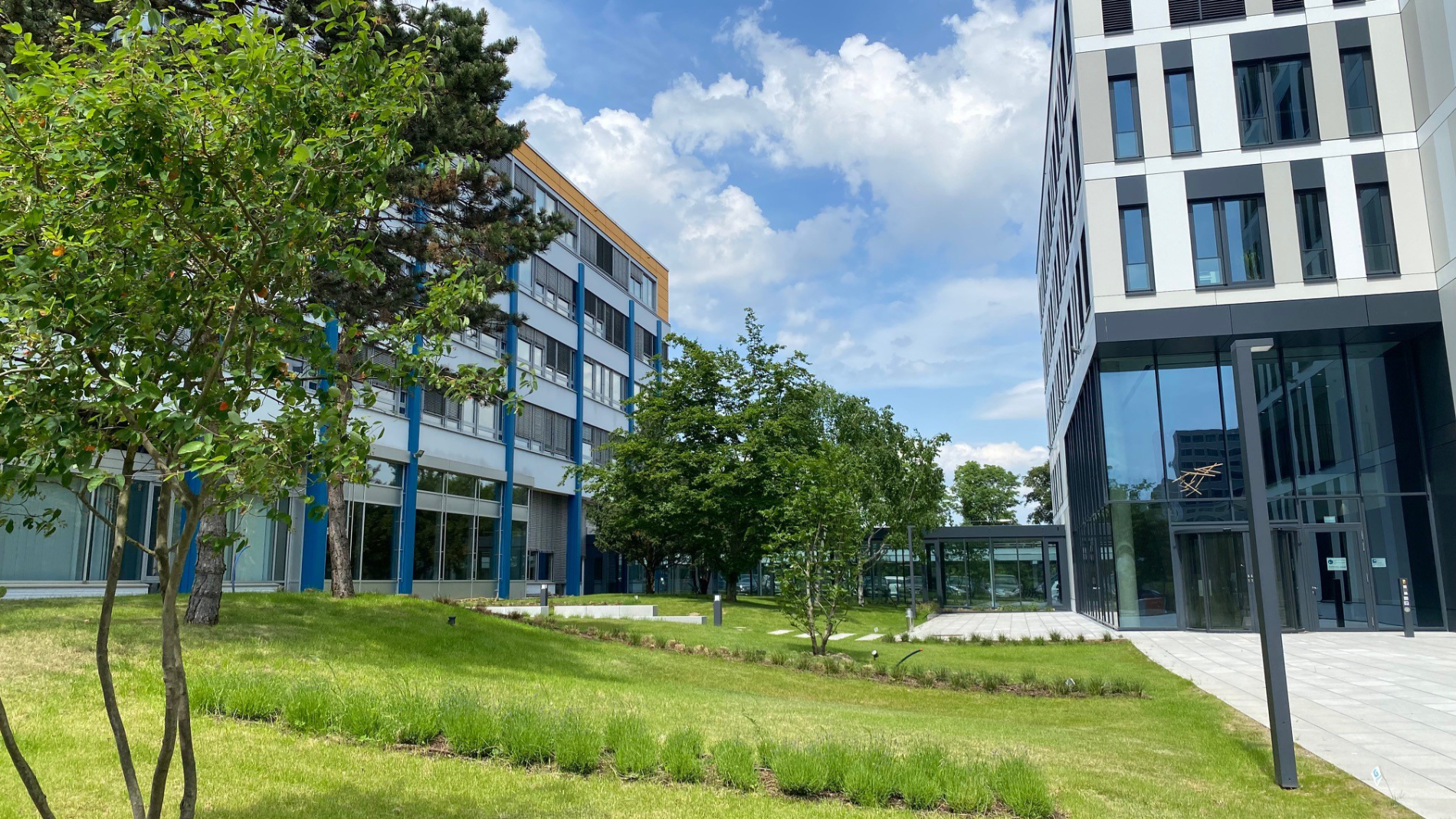 The building-automation industry stands for methods and processes that permit the precise monitoring, control and regulation of building-services technology in the interests of comfort, energy efficiency and the reduction of CO2 emissions. Automatic control refers, in particular, to systems, such as heating, ventilation and lighting, as well as to rooms and zones with respect to temperature, shade, etc. On the customer side, these themes are primarily of concern to facility managers or other personnel responsible for building-services technology. In the planning phase of buildings, it is generally planning engineers who are involved.
Subjects such as energy saving and climate protection are becoming increasingly important for top managers, in line with the growing reporting obligations regarding sustainability, as imposed by, for example, Local Law 97 in New York and the so-called ESG targets concerning environmental, social and corporate governance.
Given that buildings are major sources of CO2 emissions, the subject of building energy has moved towards the top of the political agenda. Building automation and, in particular, monitoring and benchmarking functions can help to understand and efficiently regulate energy flows. Moreover, the data and information thus gleaned can show ways of achieving a significant reduction in the energy consumption of buildings and its integration in a 'climate-energy strategy'.
Against this background, the building-automation industry can distinguish itself as a key technology for meeting building ESG targets, and support companies when it comes to specific energy-saving actions. This is even more important if alternative measures, such as reforestation or certificate purchases, decline in significance for legal or practical reasons.
Digital tools can gather and analyse measured values, i.e., raw data, in such a way that the energy consumption and CO2 emissions of buildings and property portfolios are made available on a dashboard via a few key-performance indicators. Supplementary parameters can be added individually to present the ecological footprint as precisely and comprehensively as possible.
This generates value added for senior corporate managers, fund managers and the portfolio managers of major real-estate operators and owners. In this way, building automation and the information derived therefrom comes to the notice of investment decision makers and is expected to lead to increased demand for the industry's systems and services. Moreover, in addition to providing data, these systems help identify maintenance needs, mistakes, operator errors and damage to plant and components.