The efficient use of energy is one of the most important topics of our times. ISH is the most important source of inspiration for future-oriented building services technology. Offering solutions for heating, air-conditioning and system, room and building automation, the importance of the ISH Energy area continues to grow.
Modern heating systems: high-tech solutions for the heating transition
In Europe, and particularly in Germany, the existing installed equipment is dramatically out of date. Of roughly 21 million central heating installations in German boiler rooms, some two thirds do not meet the standards that technology can now provide and consume far too much energy. The heating industry has an extensive portfolio of high-efficiency solutions both for renovation work and for new builds.
Hybrid systems enable us to achieve high levels of efficiency and to include renewable energies. A heat pump used in combination with a condensing boiler is one form of hybrid system. The heat pump takes over the partial load at times when there is limited need for heat.  When more heat is required, then the condensing boiler absorbs the peaks in demand. Similarly, a heat pump can be combined with a solid-fuel boiler, on the same principle. The combination of a condensing unit with a solar thermal installation is another example of a hybrid system and can be fitted both in existing buildings and in new builds. New builds are where heat pumps come into their own as the only form of heating, because of the limited heat required. If the operator wants a high degree of independence in terms of energy sources, the heat pump can be combined with a PV (photovoltaic) installation and thus use self-generated electricity for heating purposes.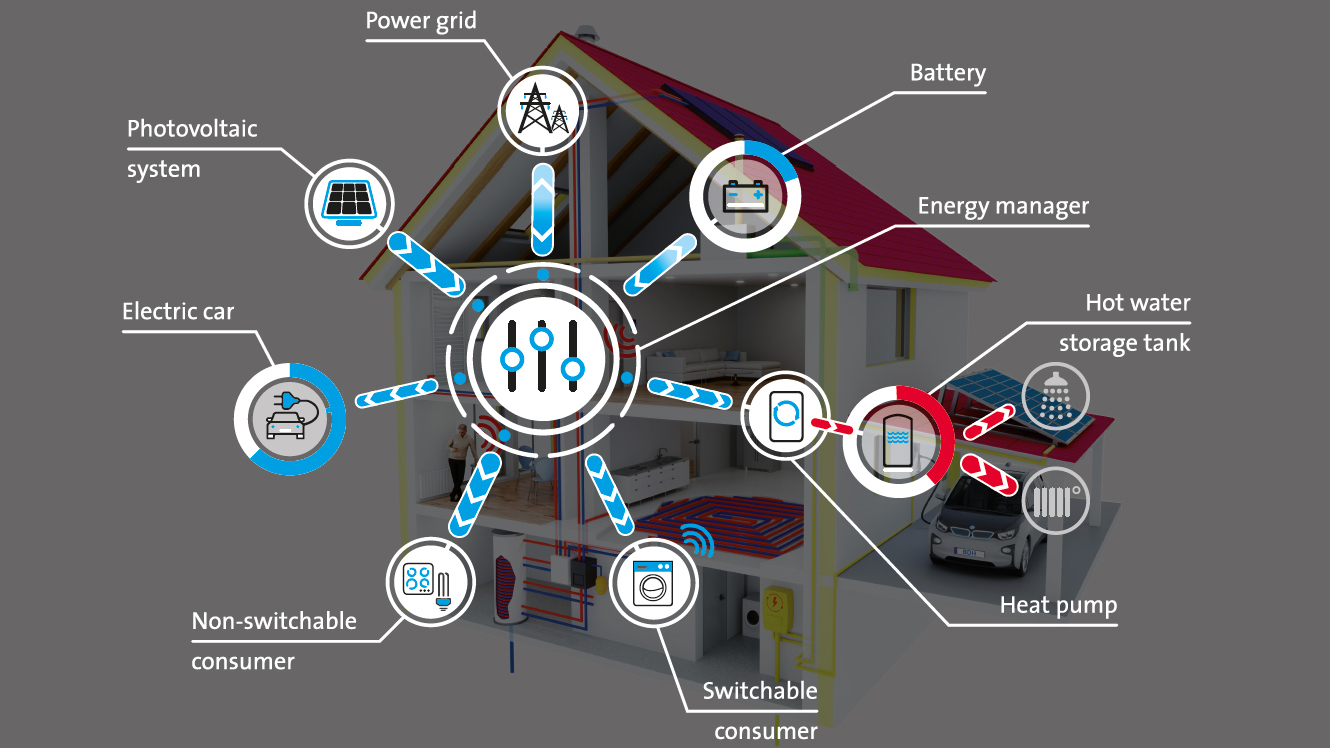 In future, heat pumps will be able to be used in combination with a PV (photovoltaic) system and electrical storage as the heart of a Home Energy Management System (HEMS). The energy manager coordinates the balance between production and use. The PV installation provides cheap electricity to power the electric heat pump. The combination of heat pump and PV installation increases the efficiency and cost-effectiveness of the whole system. Excess solar-generated electricity that is not used immediately in the building is used to charge the battery storage.
And finally, fuel-cell heating technology represents a particularly efficient solution for providing heat. This technology uses the chemical energy in the fuel − natural gas, for example − and transforms this into electric current and heat. Gas-fuelled cells are extremely efficient and cut CO2 emissions. Because of this, there are some particularly attractive subsidies for fuel-cell technology.
All modern heat generators now include an internet interface and can, therefore, be controlled via an app on your tablet or smartphone. That not only increases the degree of comfort and convenience, it also means additional potential energy savings.
Modern state-of-the-art heating technologies – ranging from efficient heat generation to heat transfer – will be on display from 11 to 15 March 2019 at ISH. In Halls 11 and 12, the heating industry will be presenting the latest solutions and heating systems, which combine high efficiency with increased use of renewable energies. In conjunction with the Association of the German Heating Industry (BDH), ISH will be providing information about these technologies and other topics relating to the heating market in the ISH Technology and Energy Forum. In 2019, this will take place for the first time in Hall 11.1.
Digital heating technology: comfortable, convenient, efficient and future-proof
Digitalisation is one of the key issues currently facing the heating industry. At ISH 2019, manufacturers will be exhibiting a host of 'digital solutions' and 'digital systems'. These all offer operators of heating systems not only more comfort and convenience, they also make possible additional potential savings in energy consumption. And this means new possibilities and opportunities for the HVAC and plumbing trades. Above all, however, digitalisation of heating technology will be a major contributor to the success of the energy and heating revolution.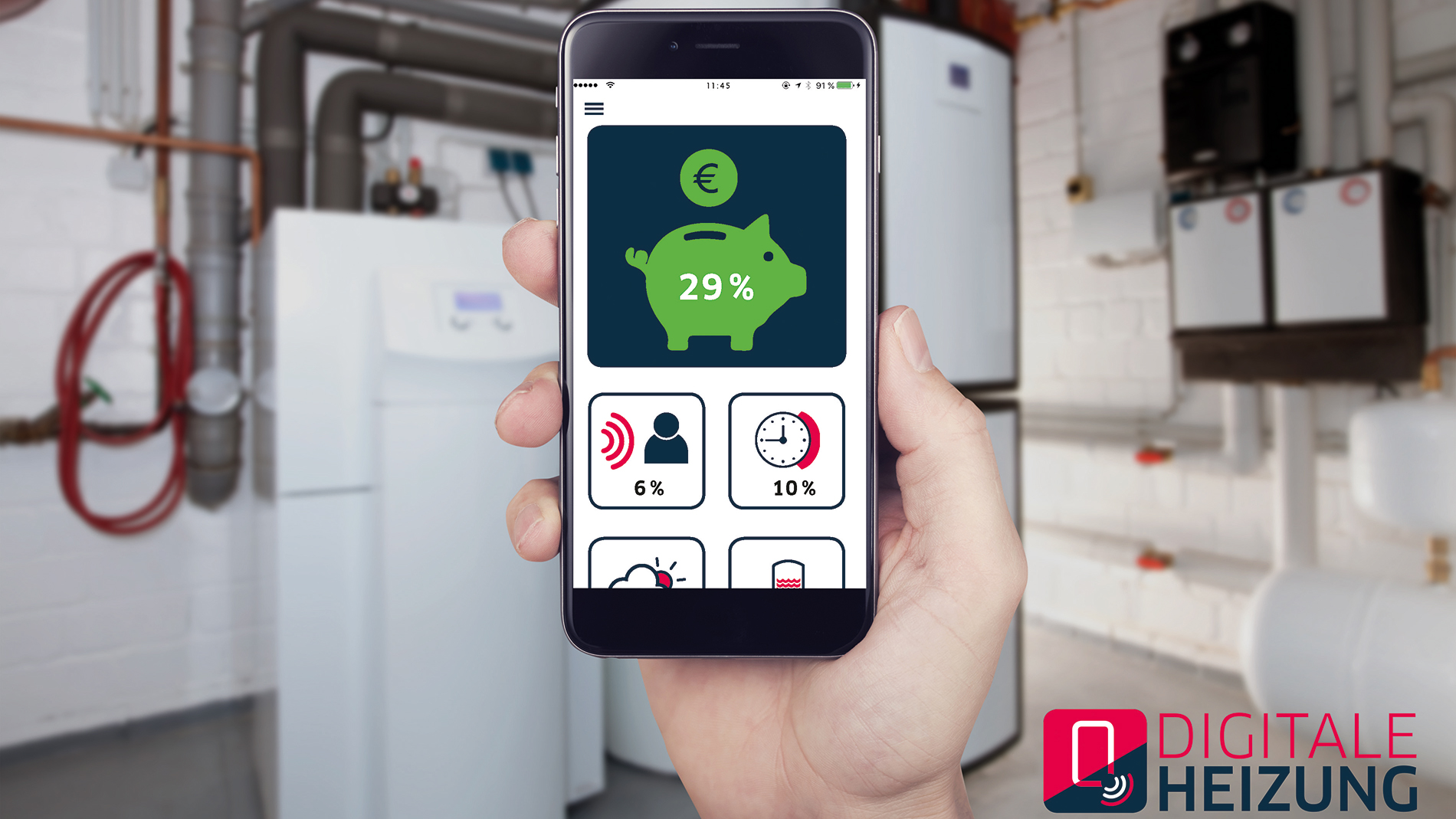 Modern heating units, today, all have internet connectivity. Some of those on the market can also be retro-fitted. So, operators of heating systems now pick up their smartphones and activate a heating app, instead of having to battle with a complicated programming and control system. The heating can be easily and conveniently regulated via the smartphone, whether from inside the home or from a distance. Moreover, it also helps to save energy. The status of all the systems of a heating installation can be monitored at all times. Contributions from a solar-thermal installation for instance, can be displayed along with, say, the annual figures for a heat pump or the contribution of earth and environmental heat – and all this in digital form via an IT solution. Moreover, data on the presence and absence of the inhabitants can be collected and the operation of the heating adapted to fit in with that data. Today's extremely accurate local weather information can be fed into the digital heating control system by internet-based weather services and the operation of the heating optimised to the changing weather conditions. According to a study by the Institute for Technical Building Services Equipment in Dresden (Institut für technische Gebäudeausstattung - ITG Dresden) commissioned by the Association of the German Heating Industry (Bundesverband der Deutschen Heizungsindustrie – BDH), digitalisation of heating technology could potentially realise savings of up to 15 per cent.
Equally, there are new opportunities emerging for the HVAC and plumbing trades. If the system operator so desires, installers can arrange access to the manufacturer's server. Then there is an extensive range of additional applications available, which make it possible to monitor and check the heating system closely. Accordingly, in rare cases of breakdown, the specialist tradesman or woman can call upon a remote diagnosis of the problem. The management of replacement parts, as well as internal procedures, can all be optimised accordingly. This has advantages in terms of winning and keeping customers.
Internet capabilities for heating: a necessary element in cross-sector linking
Digital heating technology also has an important role to play when it comes to the upgrading of energy systems with a view to making them more efficient and to including and integrating renewable energies. In terms of inter-sectoral collaboration, in other words the interlinking of the electrical, traffic and heating sectors of the market, electricity from renewable energies will, in future, be increasingly used as a source of heat in the heating market. At all events, the electricity that is generated from wind and sun is volatile, i.e. not always available in the same amounts. And this is where the heating industry offers intelligent and digital technical solutions.
The manufacturers at ISH will be showcasing a range of systems, which link various different components and energy sources together in an intelligent, digital network. That way, for example, electricity and natural gas or oil can be used to create a dual provision within a hybrid system. The heat pump supplies the partial load required in summer, whilst peak demand is absorbed by the condensing boiler. An intelligent control system regulates the optimum interplay of the components. And a PV installation, which is also linked in via an intelligent control unit, can be added to complete the system.
Home Energy Management Systems (HEMS) go one step further in the 'smart home' of the future. At the heart of this system there is also a heat pump, combined with a PV installation. Other components can include a charging station for an electric car, a thermal or electric store, as well as other appliances. A central energy manager regulates the networked energy sources and areas of consumption, optimising both costs and CO2 footprint. This all makes for a building with a high degree of autonomy.
The Association of the German Heating Industry (BDH: www.bdh-koeln.de) will, in conjunction with its partners, be providing information on all these topics at ISH, as part of the ISH Technology and Energy Forum in Hall 11.1, Stand Nos. A06 and C06.
The importance of air at ISH: good air quality pays off
People spend more than 80 percent of their time in closed rooms – at home, in the workplace, fitness studio, cinema, restaurant or other institutions. In all these places, good quality air is important for health and well-being. What, however, makes indoor air quality good? What does it depend on? And how can it be guaranteed?
If inhabited spaces do not have any particular pollutants with high concentrations of hazardous substances, such as are, for instance, given off in manufacturing processes, then the crucial contaminant to take into account, when determining air quality, is the CO2 content. Many studies have shown that from concentrations in the ambient air of around 1,500 ppm of CO2 upwards, people's ability to concentrate diminishes significantly. Since people expel around 20 litres of CO2 into the ambient atmosphere every hour, simply by breathing, significantly higher values are soon reached in living rooms, workplaces and classrooms. In workplace regulation ASR 3.6, the German employers' insurance associations recommend, therefore, that, in order to exclude any possibility of damage to health, the CO2 concentration levels should be kept permanently below 1,000 ppm. This is also recommended in many other standards and guidelines.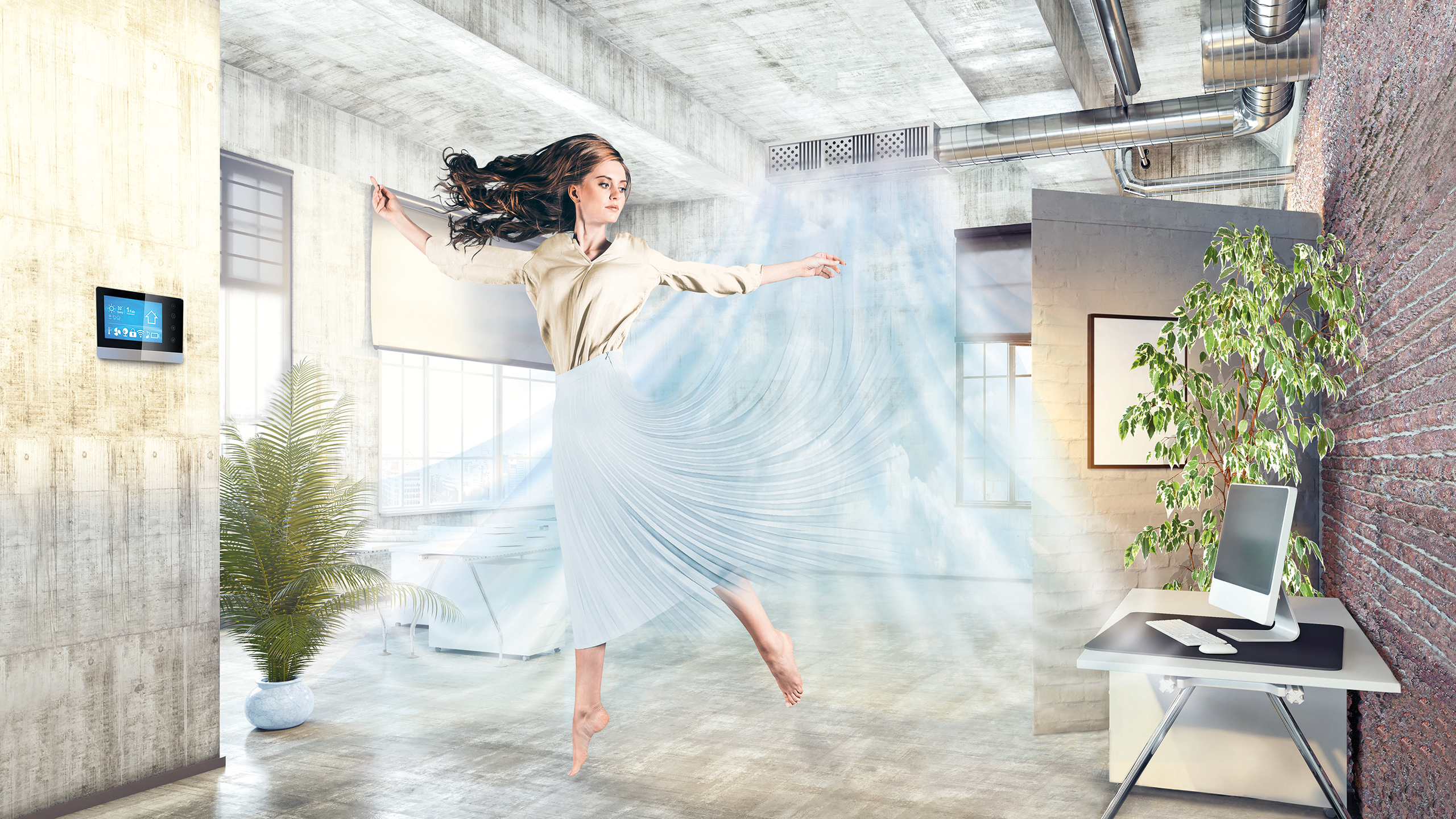 As well as CO2, there are other substances that also pollute the indoor air and thus the air we breathe: for example, the emanations from building materials and interior furnishings, such as adhesives and fitted carpets. These and other substances should, therefore, also be removed from interior areas.
Indoor air quality equipment and installations: goodbye to pollutants
No doubt, in many cases, a satisfactory indoor air quality can be achieved by just opening a window or two; but this is never a permanent solution. The influx of cold air in winter or hot air in summer ruins the energy balance of the building. In addition, opening the window in many inner-city locations is not a good option, because of the noise or poor- quality external air. A permanent solution for ensuring good air quality is offered only by sophisticated air-quality technology – in other words, ventilation systems appropriate for domestic dwellings and workplaces. For such systems, the necessary volume of external air that is required for the appropriate level of indoor air quality is calculated exactly, taking into account the number of people and the surface area. This air is then processed in the ventilation unit to remove particulates, dust, pollen and other pollutants. It is filtered and then distributed to the rooms in the building via ventilation ducts. At the same time, stale air is removed from the rooms. The constant renewal of air leads to permanently good-quality, impeccably clean air – and without the need for the disruption involved in opening windows.
Such technological solutions to indoor air quality offer other positive benefits over and above ensuring appropriate air quality: depending on the demand for heating or cooling, the external air that is sucked into the ventilation unit through the fan can be cooled, warmed, humidified or de-humidified, so as to provide a comfortable temperature and environment for the people inside the building. All ventilation units are equipped with heat-recovery systems, that are capable of removing up to 90 per cent of thermal energy from the stale, exhaust air. With that, they warm or cool the intake air. This heat-recovery system saves significant amounts of energy for heating and cooling.
These ground-breaking advances in the refrigeration, air-conditioning and ventilation technologies can be experienced first-hand at ISH and are a central feature of the Energy area. With over 2,400 exhibitions, ISH is the world's largest show for the combination of water and energy. It will take place from 11 to 15 March 2019 in Frankfurt am Main with a new sequence of days (Monday to Friday). Both German and international market leaders and leading technology companies will be concentrating on topics such as indoor air quality, digital heating technology and the IoT in relation to building automation. At the same time, there will be a focus on numerous innovations for helping to conserve natural resources. ISH is, moreover, the world's largest showroom for modern bathroom concepts and sustainable, long-term solutions in the sanitation business.