The bathroom is developing more and more into a health-promoting oasis, which is oriented to the wishes and needs of the user. At the same time, clean, safe drinking water and intelligent water management are becoming ever more important in the wake of current environmental concerns. The world's largest showroom for modern bathroom concepts covers both of these topics.
Intelligent water-management systems for hygiene and safety
A smart home where all sanitation devices can be controlled via a smartphone or computer is no longer in the realm of fiction. Commercial buildings, such as hotels or office blocks, are also fitted with intelligent drinking-water systems nowadays. Automatic water management guarantees perfect drinking-water hygiene at the same time as providing for greater convenience and safety.
Digital technology is an aid for controlling water and using drinking water efficiently and safely. With innovative systems, operational sequences can be triggered, monitored and controlled independently of location via a smartphone or computer.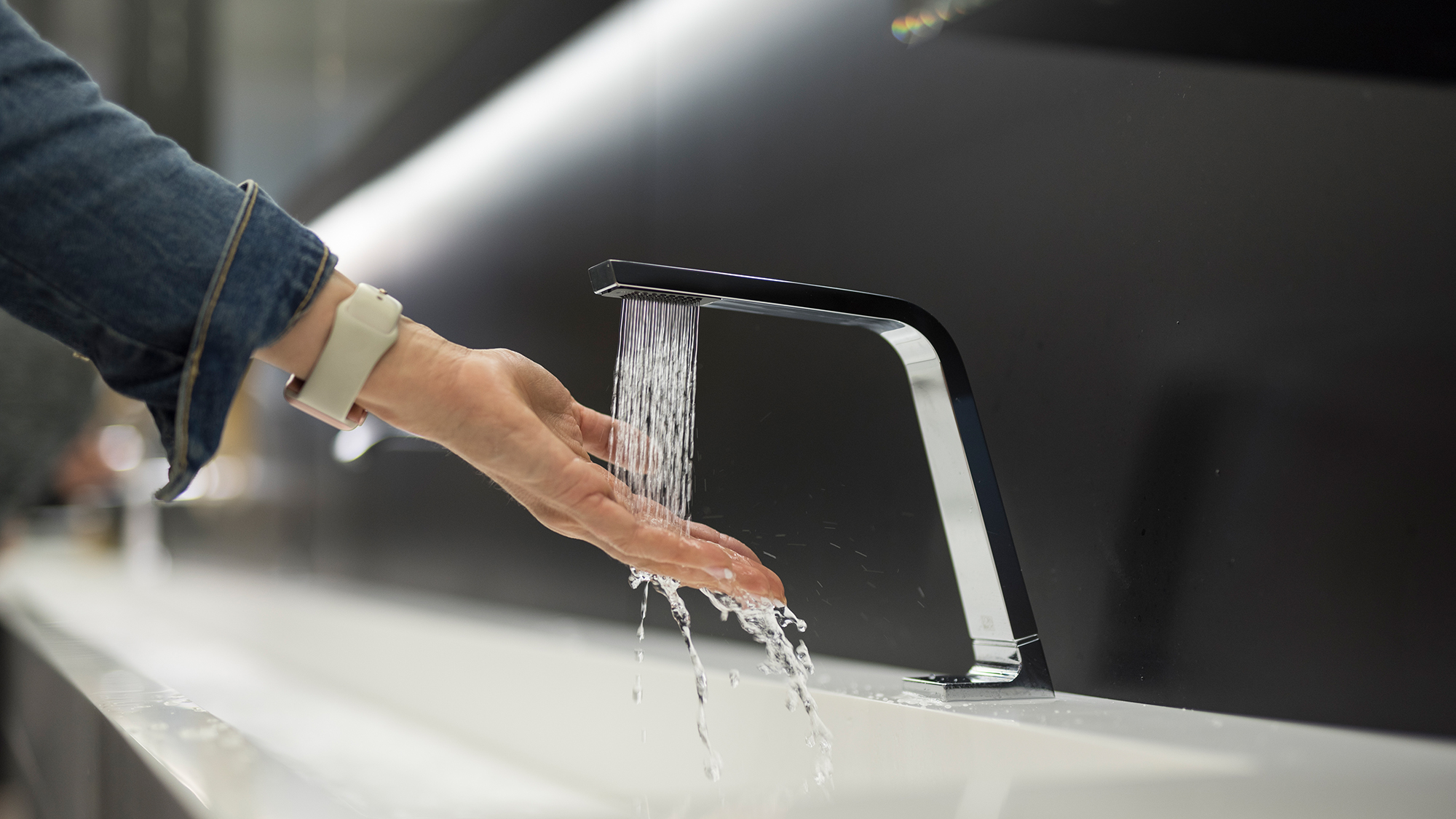 Clean water must flow
Pathogens and legionella that affect drinking-water hygiene can form as soon as water stagnates over a longer period of time. Legionella multiply primarily in the temperature range between 30 and 45° C and the water must be kept moving to ensure that the temperature does not fall below 60° C. To this end, automation stations are used to ensure a high enough circulation temperature and thus stop legionella multiplying. In public buildings, e.g., schools and event halls, sanitation facilities are subject to fluctuations in usage intensity and duration, which could lead to the formation of pathogens. Hygienic flushing helps maintain water quality in household installations.
When planning a building, a static operational status is assumed. However, user behaviour is highly dynamic. With the parameters of time, temperature and volume, a controlled exchange of water is carried out. The aim of this is to prevent pathogens forming and the process can be remote controlled via smartphone, tablet or laptop. Malfunctions are reported by email, if required. With sophisticated control and regulation technology, the settings for flushing volume and intervals can be carried out independently of location using an app.
Whether for the entire drinking-water system or as an individual solution for sink, WC or urinal, internet-aided flushing devices enable home owners to save costs because building technicians can carry out control, diagnosis and adjustment work from the office.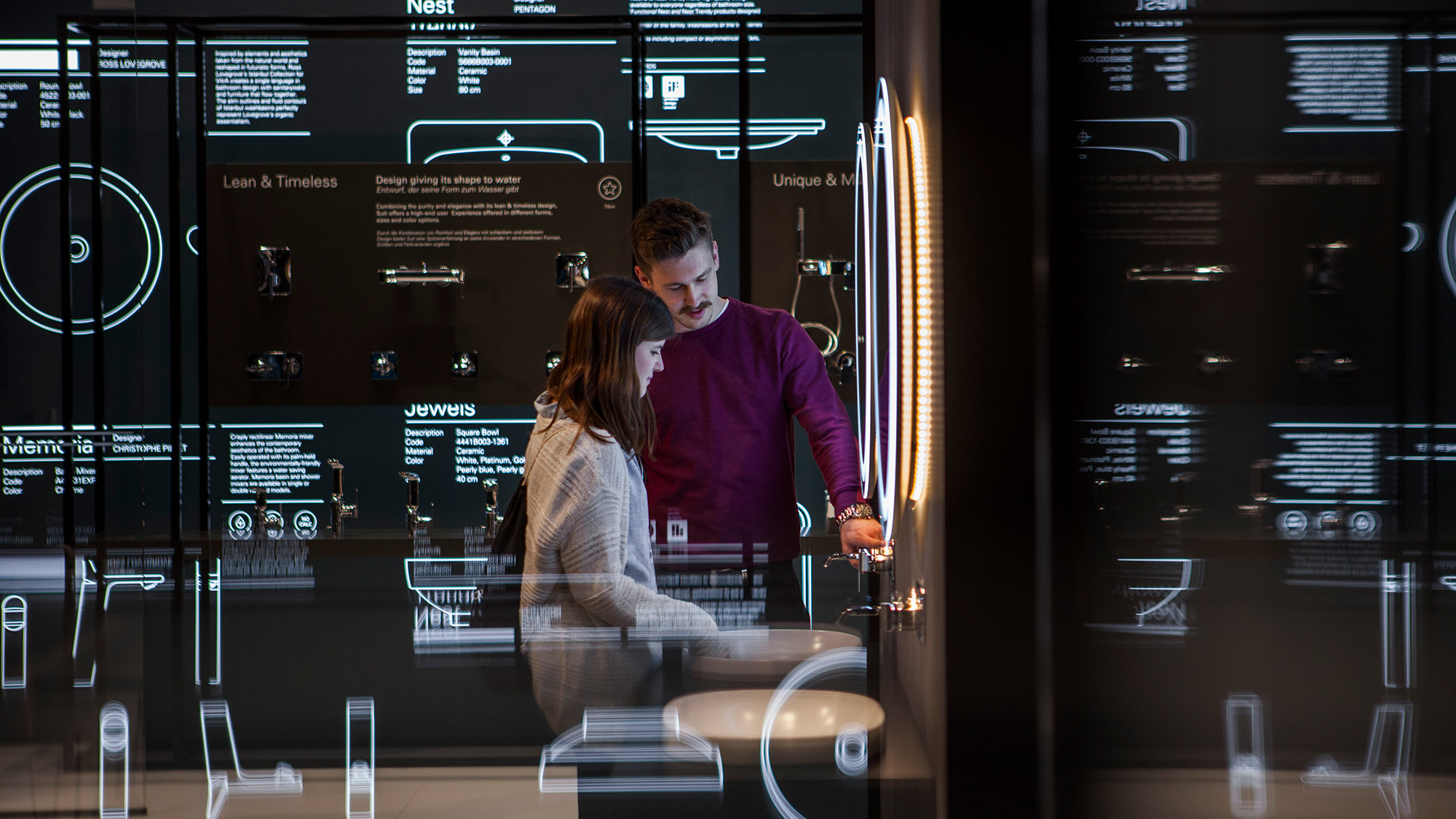 Intelligent water-management control
Today, water-management systems can interconnect all fittings in public sanitary rooms via radio or cable. Some systems can link up to 64 sink, shower, WC and urinal fittings with the heart of the system, the water-management server.
Thanks to the graphic display, analysis and logging, the user can adjust the parameters of the hygiene programme and fittings at any time. Another concept of intelligent fitting control is 'peak-load optimisation'. During peak-load periods in stadiums, hotels, etc., the system in the WCs or bathrooms registers an increasing number of users and minimises, for example, the quantity used for flushing the urinals. When the frequency declines, the system triggers a thorough general flushing.
Smart early leak detection
An intelligent water-management system ensures not only optimum drinking-water hygiene but also safety. In Germany, there are around 3,000 water leaks a day, which result in high repair costs. An intelligent household installation guards against leaky pipes, overflowing bathtubs and broken pipes. Leak-protection systems monitor water consumption continuously and compare the values measured with pre-set parameters. If the latter are exceeded, the entire system is immediately turned off and the owner informed via the app.
These and other subjects will be discussed in Halls 4.0, 4.2 and 5 at ISH 2019 from 11 to 15 March. In the ISH Water section, manufacturers present state-of-the-art solutions for drinking-water hygiene, materials, future-oriented systems, tools and fastenings.
Using regenerative energies for heating (potable) domestic hot water
The increasing scarcity of fossil fuels and an increasing will in society for greater sustainability have paved the way, over the last few years, for the spread of regenerative energy sources. And solar energy can, amongst other things, be used for the preparation of hot water in a domestic dwelling. However, fluctuating temperatures in the hot-water storage unit put at risk the hygiene of the domestic hot water. It is, therefore, important to know what needs to be attended to when installing solar heating systems.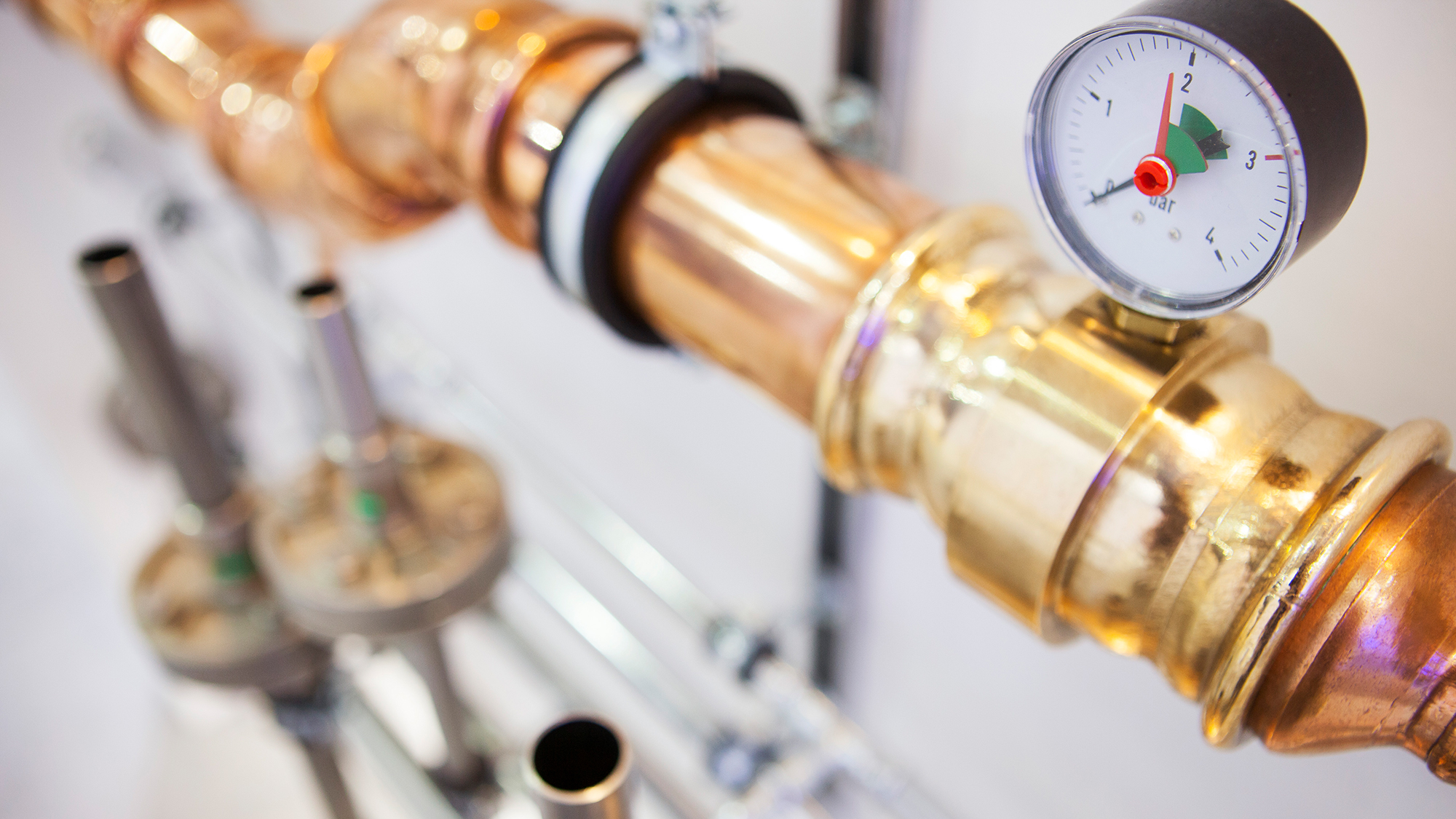 Solar heating systems for domestic hot water present a particular challenge, because they can fail to heat the hot water to the required minimum temperature, depending on seasonal and meteorological factors. According to Working Guidelines W551 of the German Gas and Water Association (DVGW), in larger-scale installations, the temperature of the water exiting the domestic hot water heater must be maintained at 60 degrees centigrade. If the solar heating system for a given domestic hot water system cannot guarantee this, then the safety of the (potable) water is jeopardised. If the required minimum temperature is not reached, then this can cause massive multiplication of Legionella bacteria. These bacteria are at their most comfortable in temperatures between 25 to 55 degrees centigrade. There are various different systems for heating domestic hot water in general use, but not all are equally suited to be combined with a solar installation.
Difficult combination: storage and domestic hot water charging system together with a solar-thermal installation
Commonly used systems for providing domestic hot water in buildings include, for instance, storage, flow-through and charging systems. These systems differ significantly, not least with regard to the safety and hygiene of the (potable) hot water produced: storage systems heat the water up and store it until it is used, whilst flow-through water heaters heat the water only when it is drawn off. Domestic hot water charging systems represent a combination of the two types and have at least one storage unit without an integral heat exchanger. The rule of thumb for all domestic hot water systems is that they should be designed to be as small as possible and as large as required. One of the advantages of storage systems is that they can provide large quantities of readily available hot water with relatively small heat inputs.
Experts in hygiene and domestic hot water supply generally advise against them, however, since they often result in long periods in which water stagnates in the tank. Solar systems should, under no circumstances, be connected into one of these systems, since they increase the risk of microbial contamination still further. This is also regulated by the German DIN 1988-200 standard. Charging systems with a hot water tank are principally deployed in larger premises. Even though the stored volumes are smaller than with straight storage-tank systems, combination with solar units is not recommended.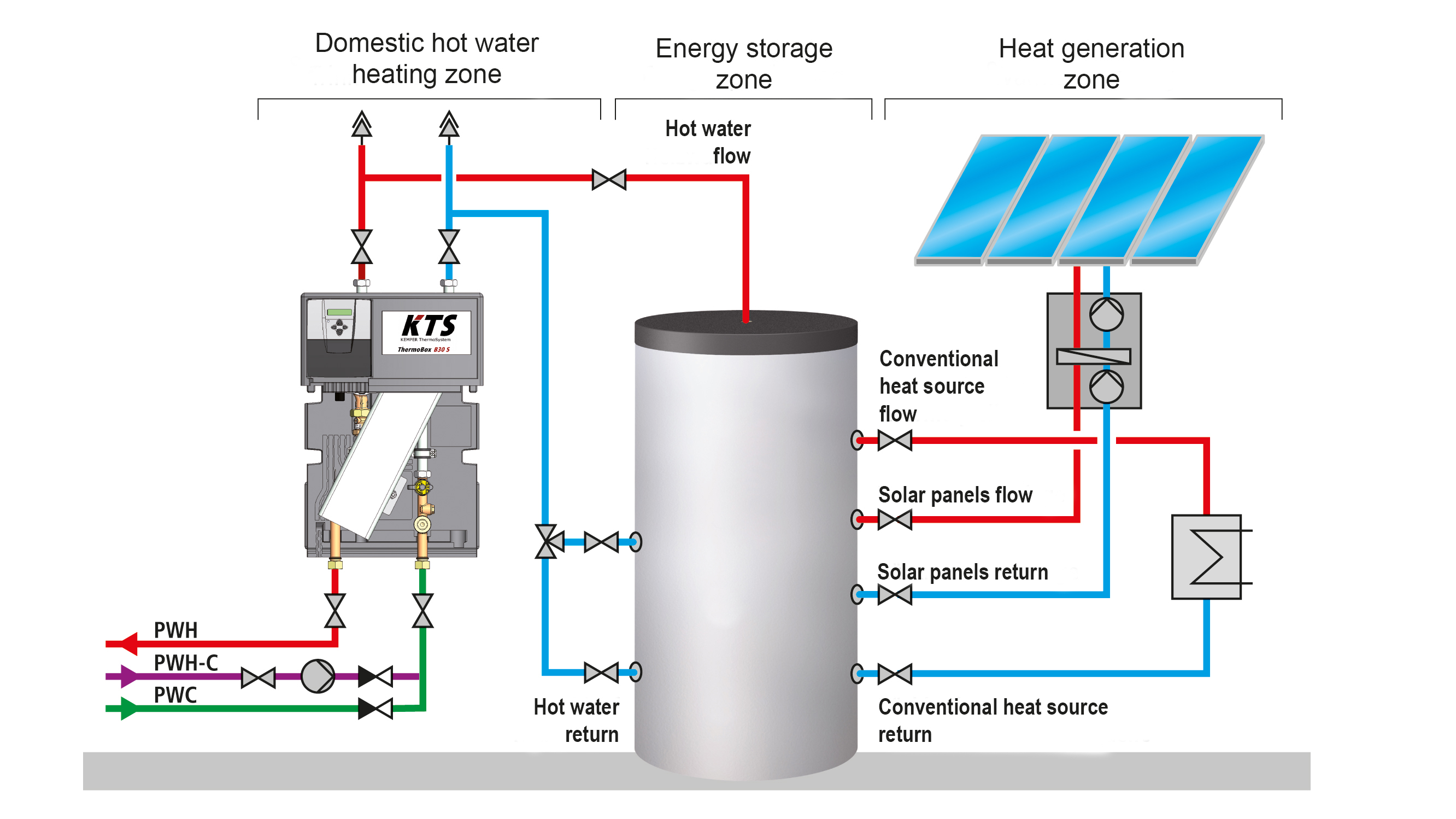 A good team: solar installations and flow-through systems
From the hygiene point of view, solutions with flow-through hot water heaters, which heat the domestic hot water only when it is drawn off, are to be preferred. The energy required to heat the water is provided in a buffer storage unit on the heating side of the system. And regenerative energy sources such as solar-thermal units can be connected in. To do this in accordance with the German standard DIN 1988-100 Table 2, the installation must include an interim isolation medium. This involves, for instance, a solar separation unit, which is connected between the solar installation and the buffer storage unit. This usually consists of an isolating heat exchanger, pumps and a regulatory mechanism. The solar separation unit prevents the water from the solar installation, which contains anti-freeze, from coming into contact with the water in the heating system.
Professional planning and consultation ensure safe, potable domestic hot water.
Sustainable planning for hot water provision should, as a general rule, always be done in conjunction with competent professional planners. When solar-thermal circuits are connected into the system, it is essential to ensure that the necessary hot water temperature is maintained even in adverse weather conditions. This can, for example, be done by including a conventional heating unit as support backup. Another important factor for hot water tanks that store solar-generated energy is the inclusion of built-in protection against scalding. DIN EN 805 Part 5, moreover, specifies the requirement for regular maintenance of domestic hot water systems – on the one hand, on grounds of hygiene and, on the other, in order to ensure that the system functions correctly and efficiently.
You will find a range of ground-breaking technology, together with coverage of the latest issues in the field of plumbing and heating technology, at ISH in Halls 4.0, 5.0 and 5.1.
12 colour trends win the race in the bathroom
Lifestyle is still the dominant notion behind the trends for the bathroom – and ISH 2019 will be exhibiting more shades of colour than ever before. This is how planners and industry alike are responding to the desire for individually designed, ultra-modern bathrooms, with an ever increasing variety of finishes and surprising effects. And the demand for variety is equally in evidence when it comes to materials, too: along with wood, it is marble and new kinds of metallic finishes that now play the major role. This trend applies equally to taps and mixers, furniture, surfaces and accessories.
From 2019 onwards, individually designed bathrooms will include more colour. The 'Pop up my Bathroom' trend show at the heart of ISH demonstrates this in a close-knit and, at the same time, multifaceted display. The multicoloured approach is one that is being used deliberately as a design element for 'lifestyle bathrooms'. Traditional ways of looking at things are turned on their head and worked in with various dominant stronger colours, including splashes of paint.
At ISH 2019 there will be some colourfully challenging bathrooms to be seen – from brightly coloured sanitary ceramics to transparent bathroom furniture in blue and green.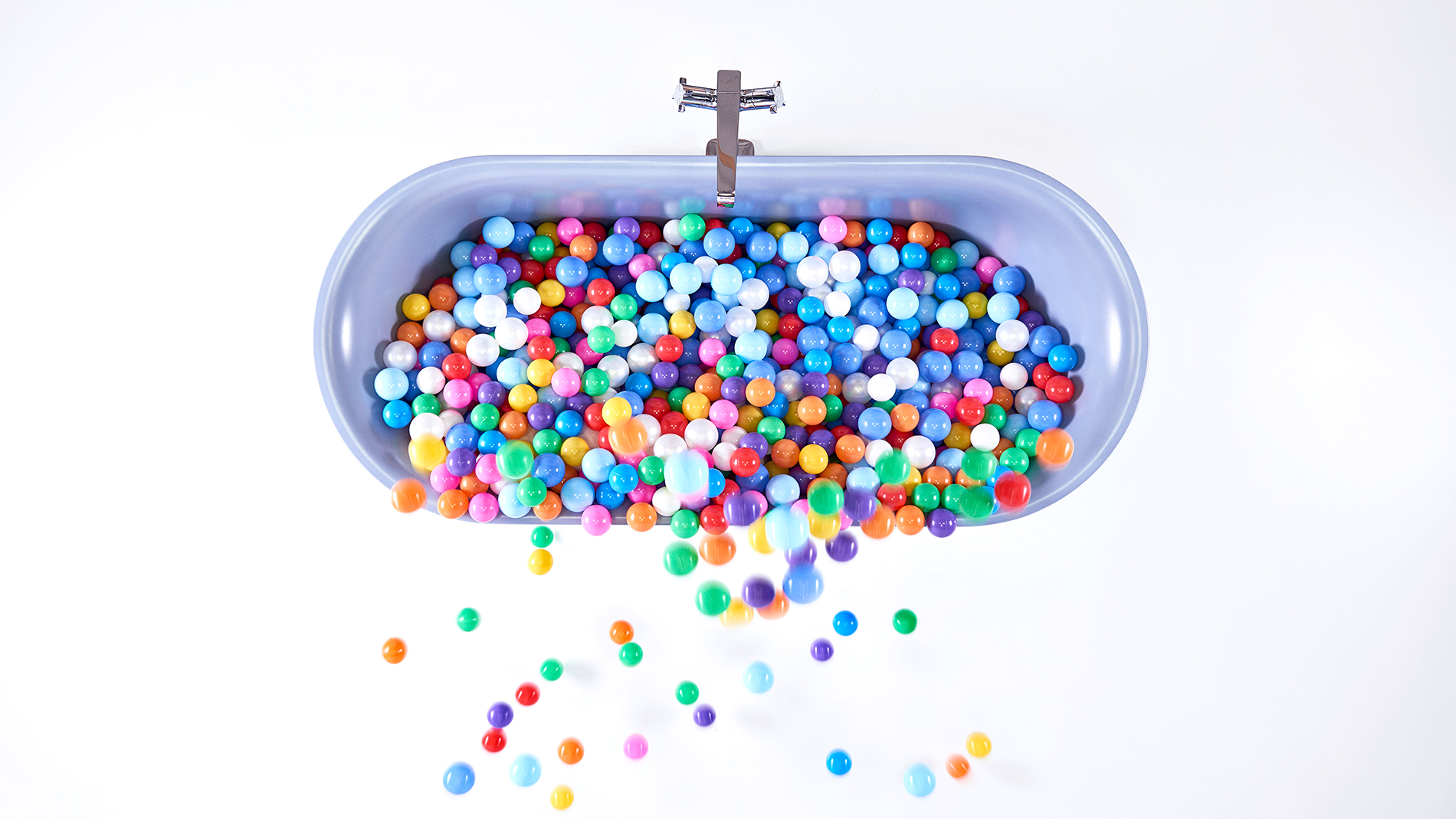 Whilst, in recent decades, minimalist restraint in the colours used signalled elegance and an awareness of design, today it is the courageous use of colour that counts. At the same time, colour in the bathroom does not necessarily mean exorbitant colourfulness – the shift from the dominance of white to a neutral spectrum of browns and greens, of mixed shades, or strong tone-on-tone colour concepts also represent an evolutionary step in the direction of the 'lifestyle bathroom'.
Grey provides a contrast to richer colour tones. The trend towards a modern bathroom with long-term durability is encouraging the use of this gentler shade. Grey is, after all, an ideal starting point for a neutral interior décor. This mid-shade is no newcomer to the bathroom. But, in the upcoming season, it is precisely the greys that will find their place in the timeless modern bathroom. Grey – a mix of white, black with a touch of secrecy - proves itself a multi-talented shade that can complement practically any and every colour family.
And the colour palette of modern architectural and interior design would be unthinkable without the inclusion of greige; it reminds us of the natural surroundings, the country house and is also a little reminiscent of the flooring in a New York loft. It goes equally well with a light-hearted vintage look as it does with a minimalist industrial style. The word greige is a neologism that derives from its two components: grey and beige. It is, therefore, typical of the colour principle that is setting the tone in this current trend in bathroom colours: a colour mix that provides a modern, neutral base shade and has a strongly harmonising effect. Greige is a good example of a whole category of bathroom colours, which have established a long-lasting connection to a second colour and created something new.
At the same time, we are seeing the comeback of various shades of brown. Increasingly, interior designers are choosing neutral and warm natural colours, in order to make the bathroom cosier. Rather like the use of grey, the rule is: don't just choose a boring plain colour. The secret lies in the underlying tones – be it mud, clay or terracotta; bronze or rust; olive, pine forest or cedarwood; powder or taupe. Brown can be interpreted in two ways: either as an organically inspired spectrum, that is frequently combined with natural materials to create a harmonious colour palette or as an allusion to past styles, that is used to artistic effect.
As befits a warm colourway, gold creates optical highlights in the bathroom. Along with platinum and copper, this precious metal has become a ready highlight of bathroom design. Thus, for instance, wash basins are plated with genuine gold leaf and walls, too, are painted in shades of gold.
Black continues to constitute a clear statement of individuality. This trend, which originated in furnishings, is finding more and more enthusiasts in the bathroom. Black is noble, elegant and modern at one and the same time. In a mix of materials with marble – black-and-white, or green stone, which is particularly popular at the moment – and leather, black has turned into an extravagant classic. In a more rustic combination with lacquered metal furniture, wood and concrete, on the other hand, black is a fitting accompaniment for an industrial style. Even the tap manufacturers are going with this trend. New manufacturing techniques make it possible to offer darker colour gradients down to deep black.
Those seeking exciting colour combinations without any hint of garishness are venturing onto the supreme heights of the art of bathroom design: putting together several colours to create a harmonious overall effect. Colourways that represent a combination of several colours of the same brightness and quality are the most demanding and, at the same time, most individual in this context. But it can be done in all areas of colour. The important thing is that one colour should set the tone and three or four others then work together to help create the harmony of the overall impression.
With boldly chosen colours, tone-on-tone colour concepts can indeed create a calm aura. With this arrangement, one colour in the mix takes on the dominant role in the design. At all events, for interior design purposes, the use of monochrome effects rarely means the creation of surfaces with only one colour; rather it involves a gradation of surfaces with various shadings and nuances of a single colour. With the absence of contrast, this results in an understated sense of depth, whereby the monochrome technique develops a hugely expressive impact.
A parallel trend is the bathroom bathed in green. This trend felicitously reflects our longing for a natural environment, in which nature is felt to be mankind's original home. On the other hand, green is, in any case, a popular colour that is very much on trend at the moment and which creates an interesting mood, particularly when combined with plants. And, by using individual products like, for instance, a free-standing bathtub, the bathroom designer can make an unmistakeable statement.
Pastel shades, too, are on trend in the furnishings sector. Mint, rose-pink and light blue create a friendly, welcoming effect and provide colourful accents. Pastel bathrooms evoke a beautiful new world – sometimes overtly trendy, sometimes dreamy, but always with a hint of escapism. If pink is combined with brown fittings – perhaps a light wood floor or corresponding tiles – this emphasises cosiness.
Blue is becoming increasingly popular in European countries. It is a colour that has a relaxing effect, reminding us of the expanse of sky and stretches of water. Paint manufacturers have modernised the palette of blues considerable in recent years. What have emerged are not only innovative paints for the walls; there are new kinds of paint for tiles that make for a cosy feel. And the rediscovery of marble in interior design is encouraging the use of blue sanitaryware.
White is the traditional bathroom colour. White stands for cleanliness and has been dominant for decades, sometimes, too, as the starting point for a whole host of design approaches. 45 percent of the German population opt for this timeless basic colour – a colour that goes with anything. One can easily understand the thinking behind it: products for the bathroom must sparkle for as long as possible – sparkling clean and in a gleaming colour. Over 80 percent of ceramic products sold in Germany are white. More recently, sanitaryware manufacturers have even been offering a range of different shades of white.
The Pop up my Bathroom trend show will showcase, in its 'Colour Selection', the wide variety of possible applications of current trends in the use of colour for interior design in the sanitation sector. The special show is being organised as part of ISH 2019 by Messe Frankfurt and the Association of the German Sanitation Industry (Vereinigung der Deutschen Sanitärwirtschaft - VDS) and will be held in the Saal Europa, Hall 4.0, from 11 to 15 March 2019. In addition, ISH will be exhibiting an extensive range of products and services covering a variety of current issues in the sanitation industry and will be presenting innovative technical solutions for some of the key challenges in the sector. Amongst a host of other things scheduled for 2019, there will be a dedicated area in Hall 3.1 devoted to the question of demographic change and entitled 'The therapeutic bathroom 2030', where the trade and professional visitors to the show can gain hands-on experience and check out the exhibits for themselves.
Therapeutic bathroom with wellness factor – bathroom and workplace at one and the same time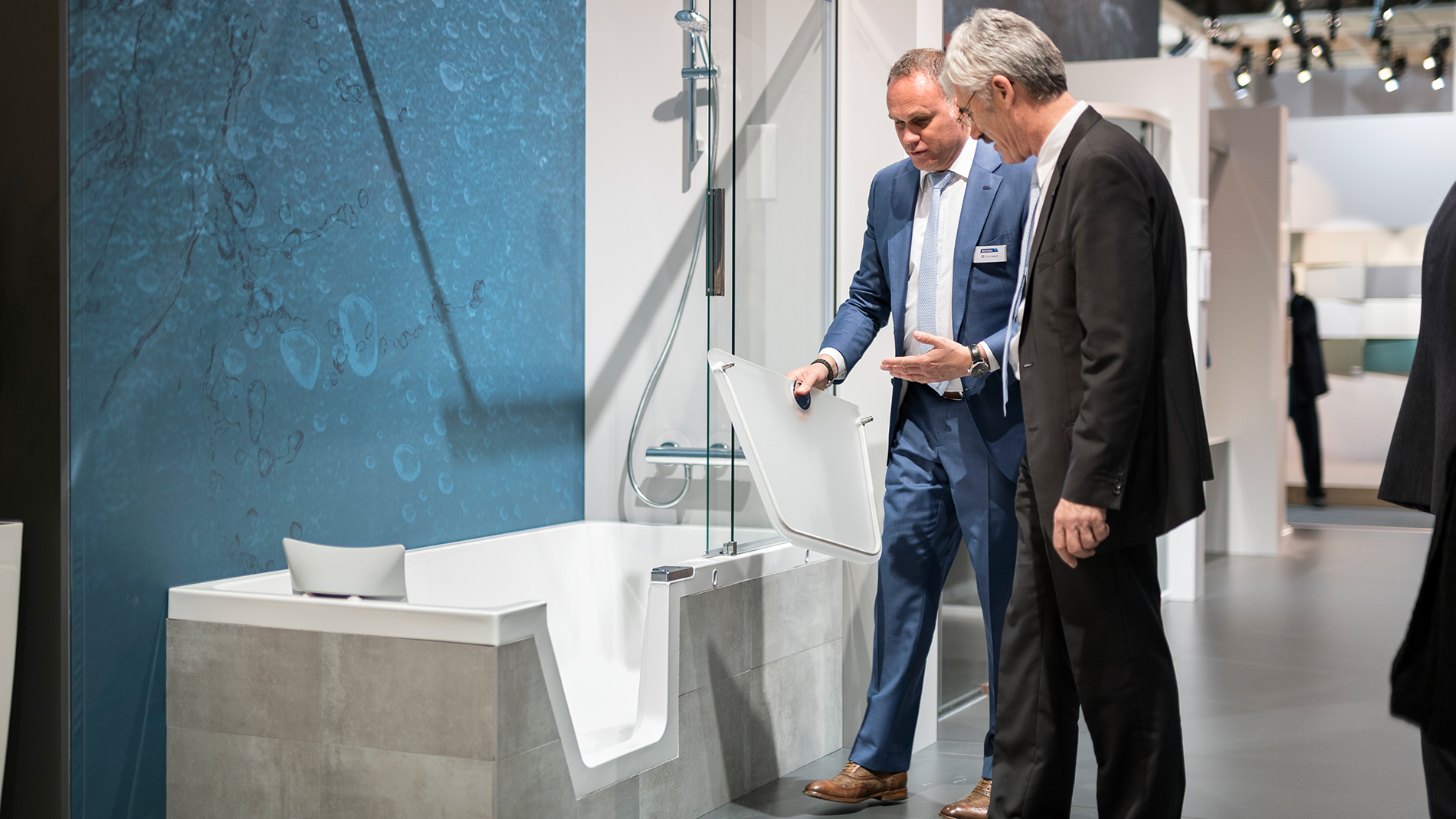 A large proportion of people needing care in Germany are looked after in their home. From the total of over 2.9 million people in need of support, a good two thirds live in their own homes. The consequence of this is that the home must be appropriately designed and equipped to provide a suitably supportive environment. When it comes to care in the home, the bathroom needs especial consideration. It is here that the extent of the need for care and support can be seen most clearly – if the room is inappropriately or inadequately equipped, then both carers and patients are subject to excessive physical strain.
Therapeutic bathrooms in the home must therefore meet a number of demands. The major difficulty is getting the right balance between a suitably homely, aesthetically pleasing, cosy room and a functional, practical, working environment. As a result, the development and optimisation of the bathroom is a key factor in the provision of care in the home.
The therapeutic bathroom of the future
The study entitled 'Pflegebad 2030' (Therapeutic Bathroom 2030) investigated the standards and requirements that are needed for bathrooms. It was undertaken by the German Sanitation, Heating and Air-Conditioning Association (Zentralverband Sanitär Heizung Klima -ZVSHK), in cooperation with the Association of the German Sanitation Industry (Vereinigung Deutsche Sanitärwirtschaft - VDS), the German Association of the Caring and Nursing Professions (Deutscher Berufsverband für Pflegeberufe - DBfK), the German Working Group of Senior Citizens' Organisations (Bundesarbeitsgemeinschaft der Seniorenorganisationen – BAGSO), the German Social Justice Organisation (Sozialverband VDK) and the German Working Group for Adaptive Housing (Bundesarbeitsgemeinschaft Wohnungsanpassung e.V.). The aim of the study is to foster the creation of standards for therapeutic bathrooms, to improve supplementary payments made by nursing care insurance providers for relevant building work and to stimulate developments of building work and building techniques for small spaces.
At the same time, it is important that patients and their families, nursing and care professionals, the tradesmen and women involved in the construction work and the technical experts and inspectors are all familiar with the requisite standards. The lack of expertise in re-structuring and/or installing a therapeutic bathroom in the home is a common problem – so that key features are often missed out in such construction work.
The biggest challenge for therapeutic bathrooms, according to the study, is the inadequate facilities, available in many bathrooms. In the first place, they are often far too small: the average bathroom in Germany covers just 9.1 square metres. When care is involved, however, additional space is required, if only because of the presence of at least two people – the carer and the patient; then there is the lack of suitable aids and equipment, such as a lift, grab-rails or somewhere to sit down. Secondly, we have to make sure that it is a safe environment for both people involved. Risk of injury arising from situationally determined accidents must be minimised.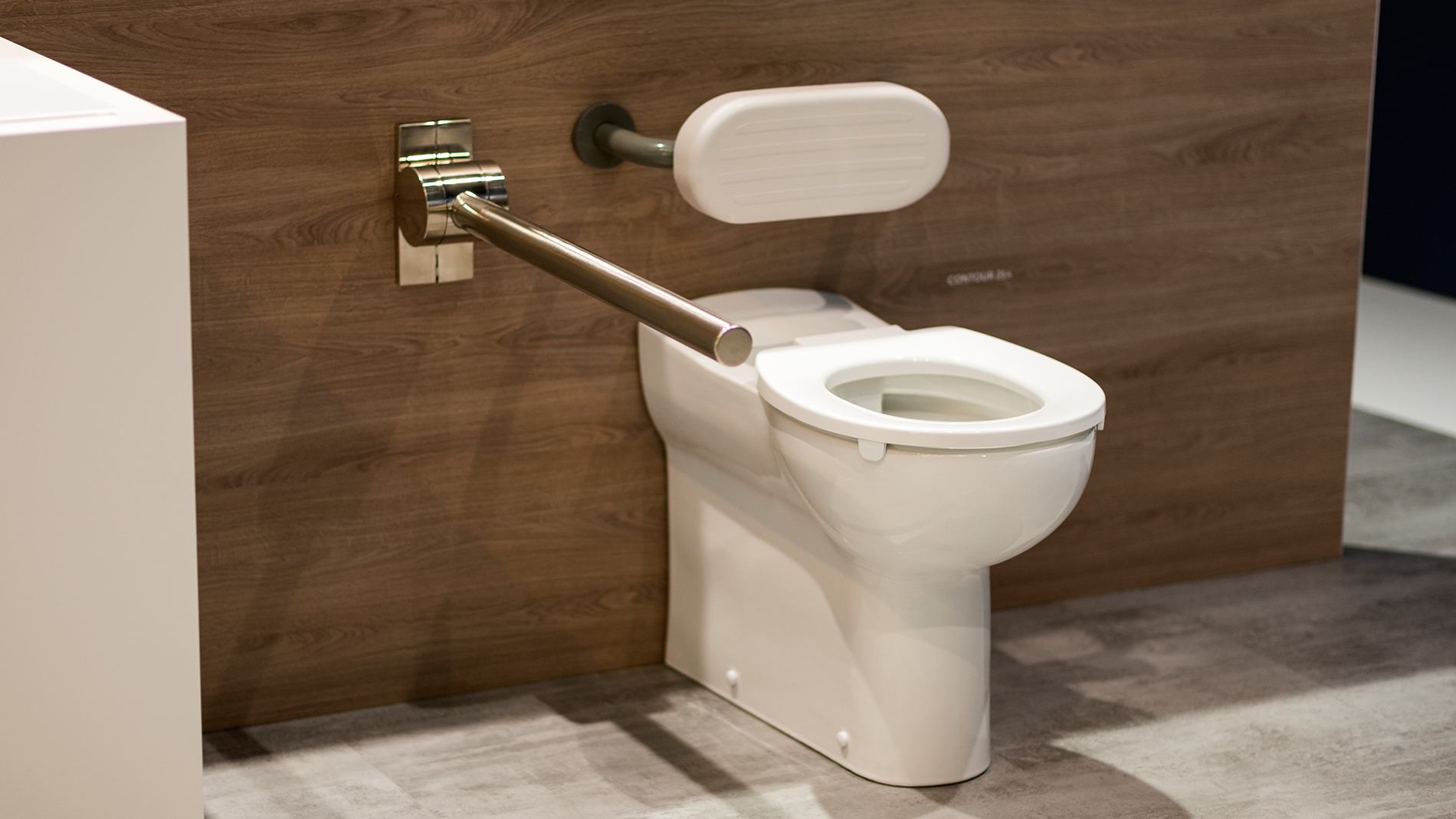 Ways to ensure that bathrooms meet individual needs
The study provides guidelines for the therapeutic bathroom – relating to the room itself, the technology and the building and installation work required. The major requirement of the therapeutic bathroom is adequate freedom of movement – particularly around the wash basin, the lavatory and the shower. And the access to the bathroom must also be designed in such a way as to be barrier free. Steps and thresholds have no place here. A wide door should make it easier to enter and leave the bathroom. Non-slip floors, too, are essential in a safe therapeutic bathroom. Sufficient and well-placed storage space and surfaces, on which to put tools and aids, as well as toiletries and products for personal hygiene, all make work easier for the carer. At the same time, the furniture should look as normal as possible, and avoid appearing in any way clinical – a sense of well-being is, after all, the most important thing in a therapeutic bathroom. Optimised temperature and ventilation, appropriate and pleasant lighting and adequate sockets create the right working atmosphere, together with an atmosphere of relaxation and well-being. Crucially, the building work involved in restructuring and creating a therapeutic bathroom must be accomplished as quickly and completely as possible. Nor should we forget to plan for a potential reversal of the reconstruction right from the outset.
Like to know more? Then visit the therapeutic bathroom of the future at ISH 2019. There is a hands-on example in Hall 3.1 A96, where visitors will be able to check out the 'Therapeutic bathroom 2030'.