ISH digital 2021
Against the background of the Covid-19 pandemic, the world's leading trade fair for HVAC + Water will bring the sector together digitally from 22 to 26 March 2021. The aim: to link exhibitors, visitors, experts and journalists for five days, to offer high-grade content and to present a comprehensive programme of events.
In March, the world will look to Frankfurt am Main – digitally at least. Nowhere else is so much expertise, and so much supply and demand, to be found at the same time every two years as at ISH. And ISH digital 2021 is sure to be no different. There, the international sanitation and HVAC sector will meet to exchange knowledge, to present new products and to reveal the latest solutions and innovations.
Find out more about the features of ISH digital 2021
ISH Contactor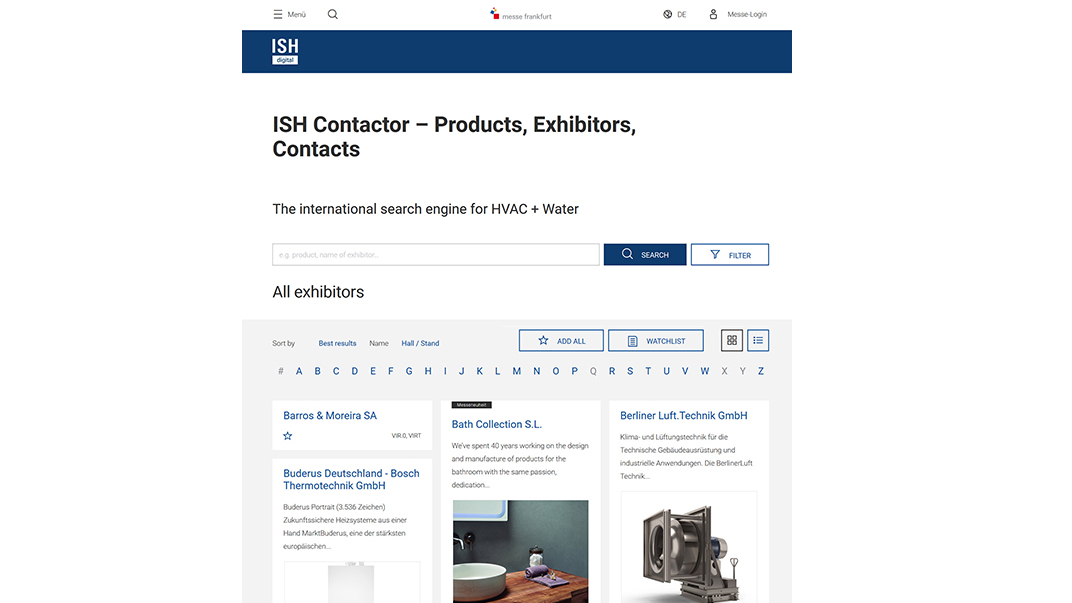 The ISH Contactor is the international search engine and catalogue for water, heating and air-conditioning. Gain an initial overview of who is taking part in ISH digital in March. We continue to receive registrations from manufacturers and the list of exhibitors is updated daily.
To the exhibitors
Subscribe to the newsletter and attend ISH digital 2021 for free!
Stay up to date and don't miss any news about the world's leading trade fair for HVAC + Water. Our newsletter provides you with the latest information and practical tips for your participation in ISH digital.
Simply subscribe to the newsletter - and you will receive a voucher code to redeem in the ticket shop.
To the newsletter archive
Statements of exhibitors
"Although this is the first time in the history of ISH that no one will meet face to face, we are still looking forward to the opportunity to engage with everyone. ISH digital will include a myriad of webinars, updates, chats and video calls, so we can meet virtually and exchange ideas."
"We are doing everything possible to maintain the familiar high quality of our trade-fair presentation on the digital plane. In view of this, it will pay for installers to take advantage of this offer."
"We are very happy to participate to ISH digital 2021. As a premium sponsor, we want to express our strong commitment to the European HVAC industry and its move to decarbonize heat."
"Deciding to take part in ISH digital 2021 was easy for us. For both our development and sales divi-sions, ISH is a traditional milestone for the presentation of our latest products and solutions."
"Geberit is taking part. Digitally. With innovations, with enthusiasm and with passion. And looking forward to encounters."
"Grundfos has been taking part in the fair in Frankfurt for many years and we will be participating in this year's digital edition to make a presentation and cultivate contacts."
"The health of our staff, as well as of our customers and partners, is of the utmost importance to us. Accordingly, we welcome the decision of fair and exhibition companies to shift to digital formats during times of pandemic. We are looking forward to taking part in the first online ISH and to hearing the reactions of our customers and partners."
"As the world's leading trade fair for the sector, ISH is an important platform for the presentation of these innovations. Therefore, we see the decision to hold a digital event in a very positive light and are supporting Messe Frankfurt with our participation."
"Presenting our latest products and highlights at ISH, the biggest international meeting place for the sector, is essential for leading indoor-climate and shower-design specialist Kermi."
"Digitalisation will give our overseas locations the opportunity to invite their customers to ISH who would not travel to a presence trade fair."
"Thanks to Messe Frankfurt's concept for ISH digital, March is and will continue to be 'ISH time' every two years. Even during the Corona-19 pandemic. And we are really looking forward to it!"
"As at every ISH, we will once again be presenting a host of new products and services this year, and are hoping they will prove to be of great interest to our customers. We regard presenting our latest products on this digital platform to be an exciting experiment."
"At ISH digital, ZIEHL-ABEGG will offer insights into a company that has been manufacturing electric motors and fans for over a century."
Save the Date ISH digital 2021
Capturing the voices of the industry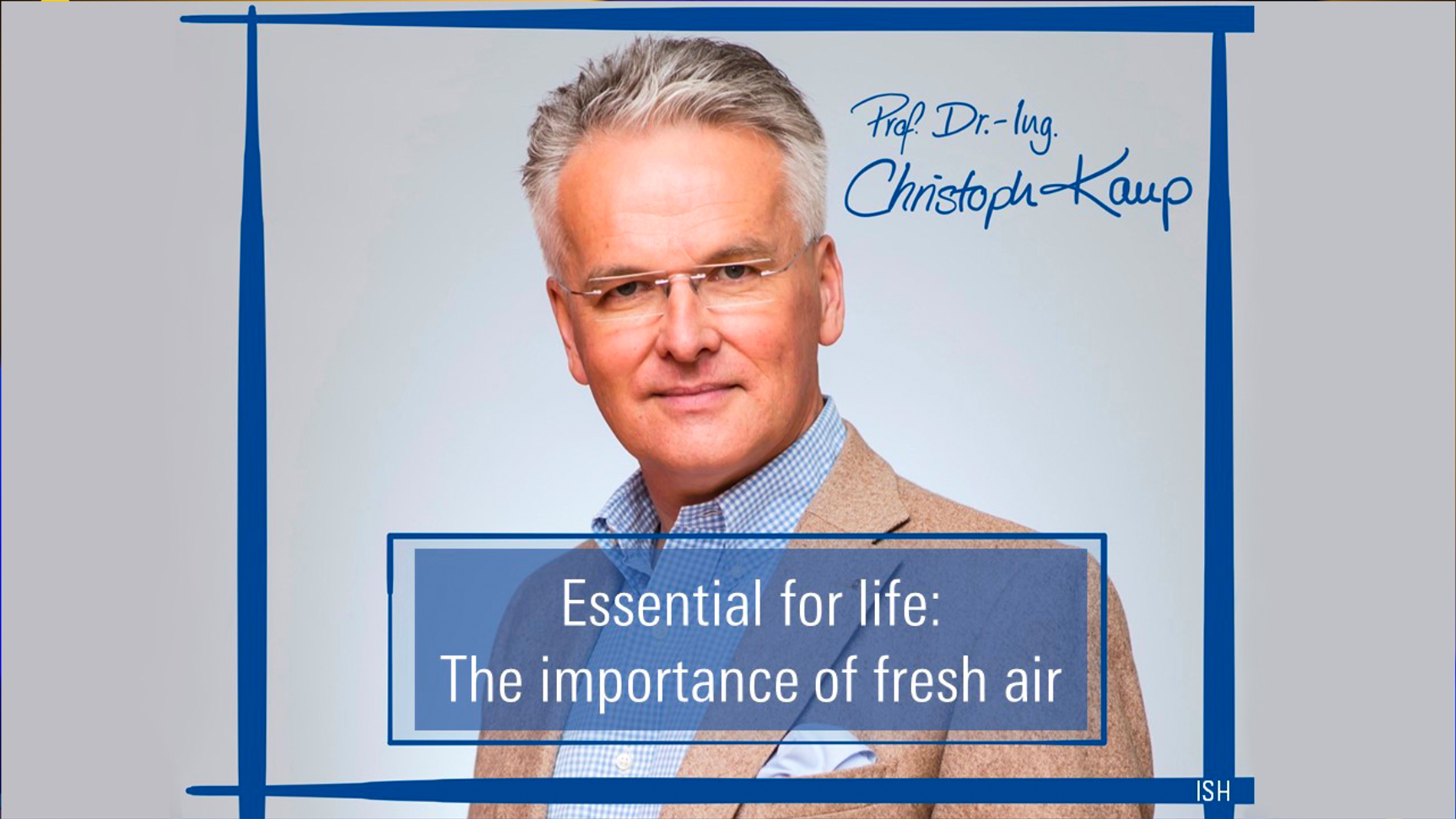 From experts for experts: They question one another, argue with one another, present to one another, talk shop and inspire. Specialists from very different areas of the HVAC and sanitation sector show their profile - on constantly new topics in the Building Technology Podcast. The kick-off is made by Prof. Dr. Christoph Kaup on the importance of fresh air.
To the podcast
About ISH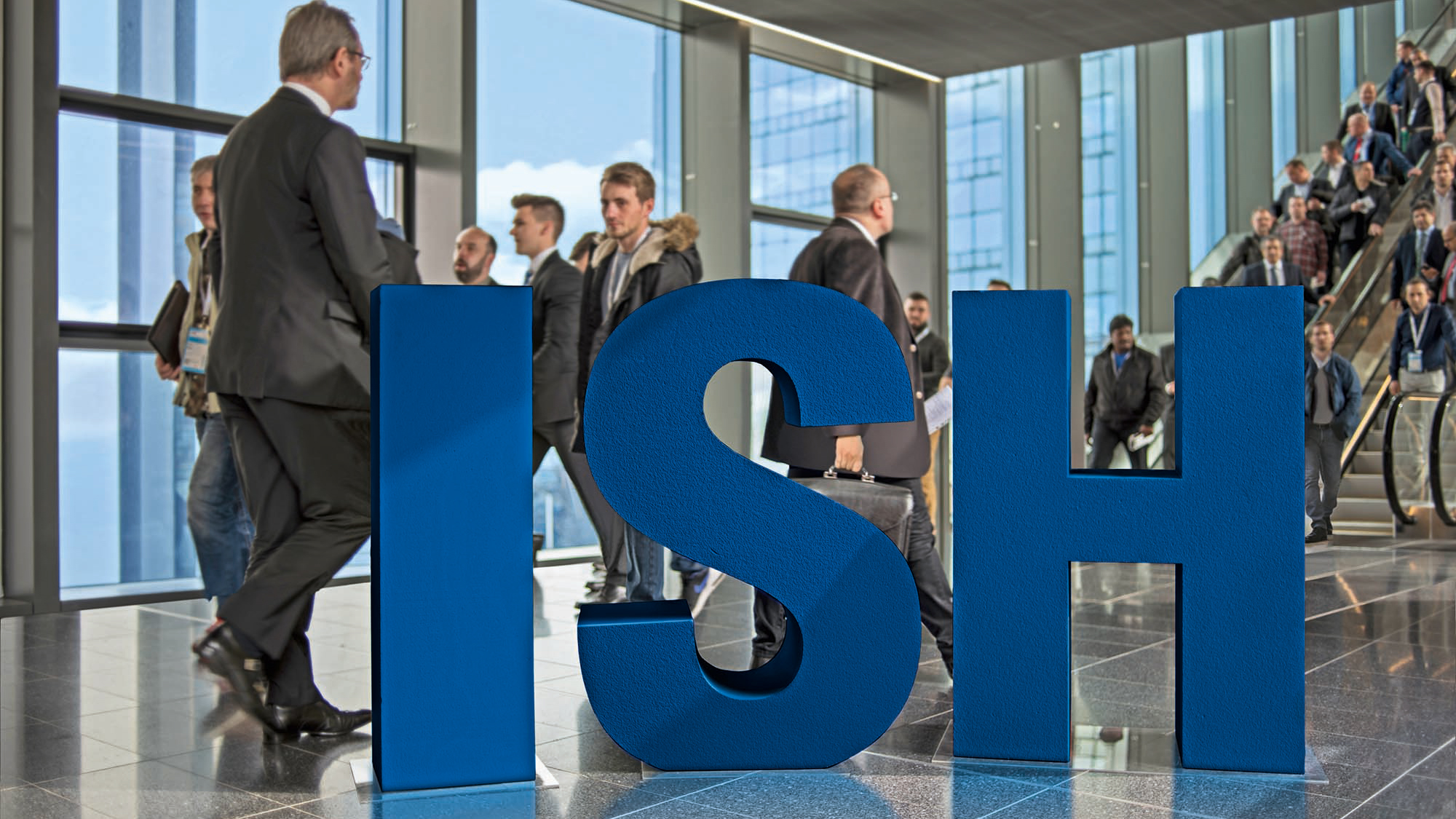 No other show is as sharply focused on forward-looking subjects such as the conservation of resources and the use of renewable energies. At the same time, ISH is the foremost showcase for sanitary installations, intelligent living and innovative building solutions.
This year ISH will take the form of a purely digital event.  
Learn more