General information about ISH 2023 for your participation as an exhibitor or visitor.
Opening times ISH 2023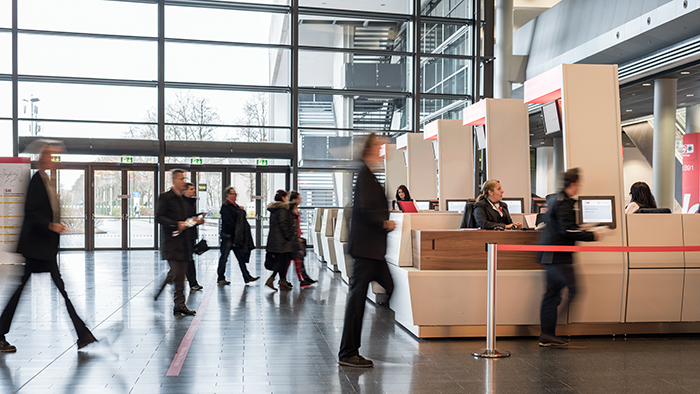 13. - 16.3.2023 (Monday to Thursday):
9 a.m. to 6 p.m.
17.3.2023 (Friday - Public day):
9 a.m. to 5 p.m.
From 13 to 16 March 2023 the fair is only open to trade visitors, public visitor day is 17 March 2023. Cash sales and sample hand-outs are not permitted. On the whole exhibition ground photographing, filming, and the carrying of cameras is only allowed with the approval of Messe Frankfurt.
Admission ISH 2023
The ISH ticket shop will open in early December.
We recommend that you purchase your ticket in advance online in our ticket shop. Please note that there may be waiting times on site and that only cashless payments can be made at the ticket offices.
1-day ticket*
Online ticket

17,00 EUR

Onsite (cash desk)
40,00 EUR
Reduced 1-day ticket (Students, online ticket)**
10,00 EUR

We are pleased to welcome public visitors on the last day of the fair. The day ticket can be purchased regularly in advance.
Season ticket*
Online ticket
46,00 €
Onsite (cash desk)
90,00 €
Digital Extension

10,00 €
* Your ISH ticket includes the use of the Digital Extension free of charge.
** Students: We reserve the right to check the legitimation on site. Please have appropriate proof ready.
Admission ticket = Local public-transport ticket
All admission tickets (except complimentary tickets) include free travel using local public-transport services operated by the RMV public-transport authority throughout the entire area covered  by the authority. Tickets purchased on arrival at the fair only entitle the user to travel back from Frankfurt Fair and Exhibition Centre free of charge. Vouchers must be exchanged for an admission ticket on the internet to be able to use local public-transport services operated by the RMV public-transport authority to and from the fair. Only visitors who have exchanged their voucher for an admission ticket are entitled to enter the fairground. Online tickets are only valid for use on local public-transport services operated by the RMV public-transport authority in combination with a valid identity card or passport.
To the RMV Website
If you have any questions, please call +49 69 7575 – 0 or use our contact form.
The ISH becomes hybrid – die ISH Digital Extension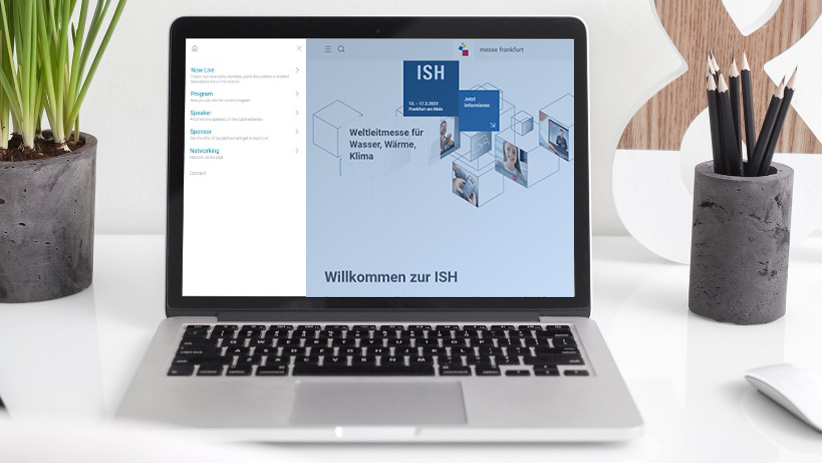 The personal encounter is indispensable. But digital is also part of the new normal today. ISH combines both. This is made possible by the new digital platform: ISH Digital Extension. It will open parallel to the event in Frankfurt and will also remain open for use for one week longer until 24 March 2023. Find out more
Questions about ISH Digital Extension?
In our FAQs you will find answers to the most frequently asked the digital platform and your presentation.
To the FAQ
Subscribe to the newsletter
Stay up to date and don't miss any news about the world's leading trade fair for HVAC + Water. Our newsletter provides you with the latest information and practical tips for your participation in ISH digital.

To the newsletter archive
ISH Navigator App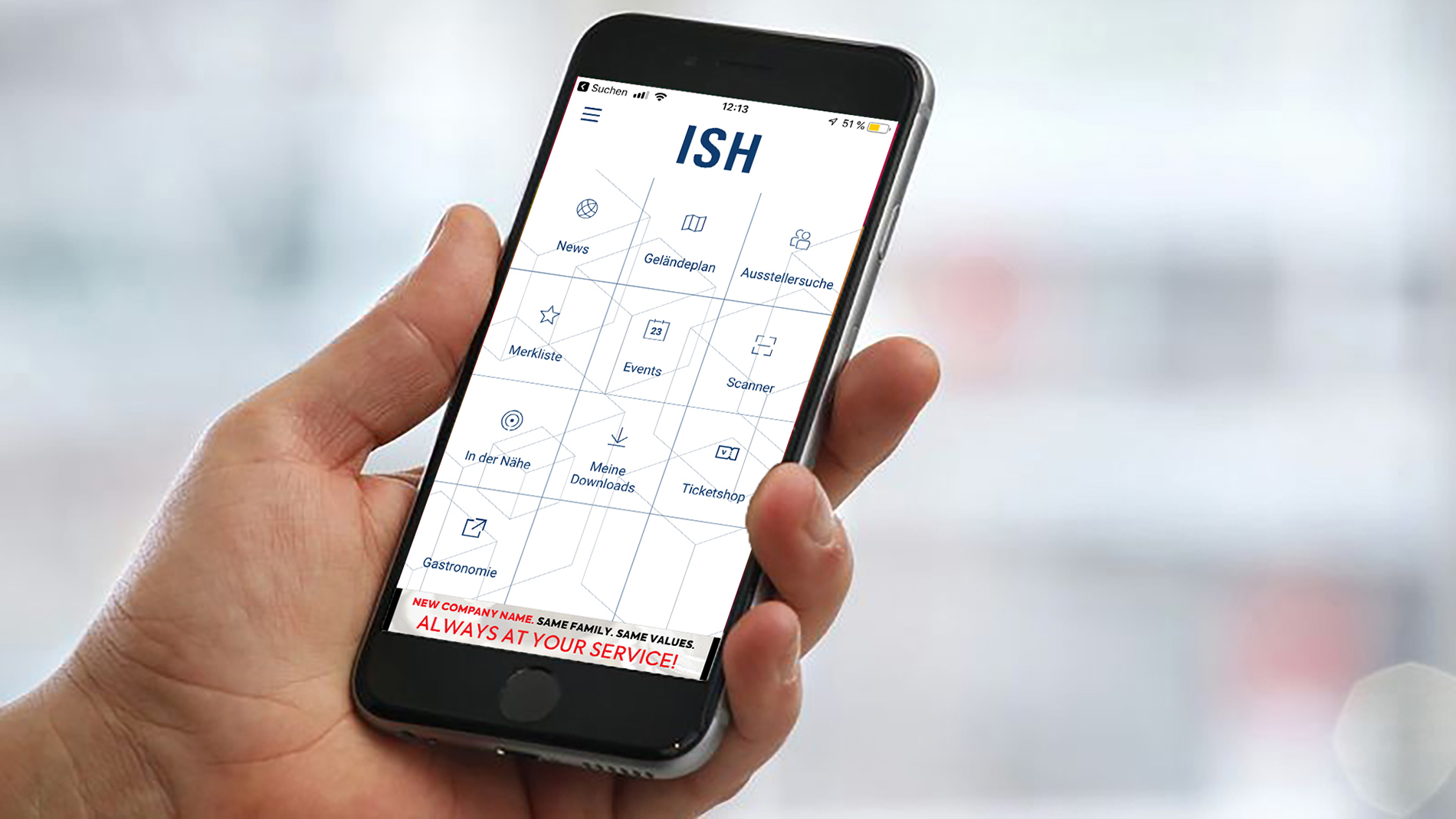 The "ISH Navigator" app is your orientation guide to the show. Here you can find all exhibitors and products as well as the events and news of ISH digital 2021. The ISH Navigator is available for Apple-Products (iPhone, iPad) on the App Store and Android on Google Play Store as a free App.
ISH Navigator in the App Store
WiFi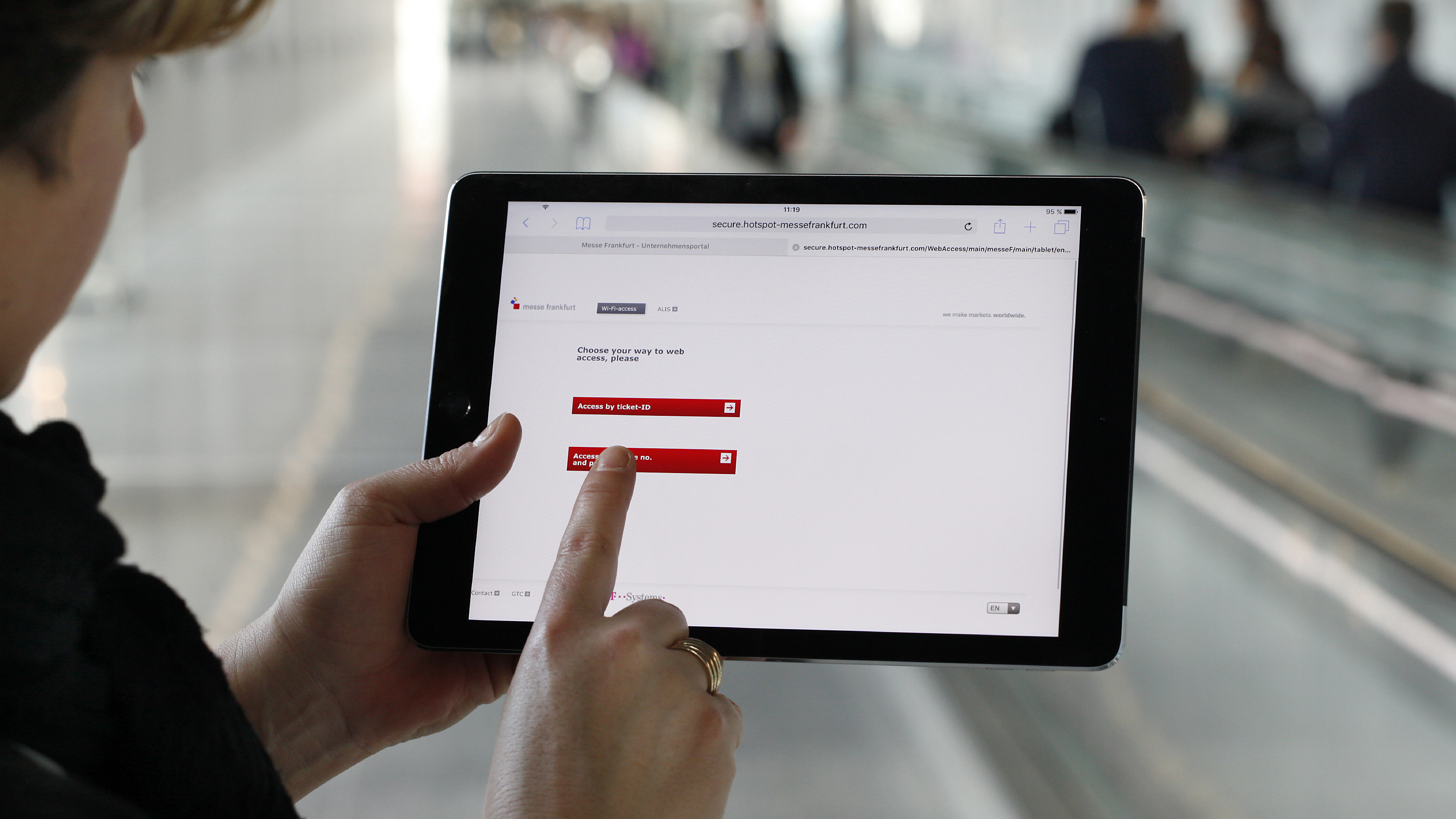 At the fairground, you can log in to our free WiFi network. Use your Messe-Login or your ticket ID for "Messe Frankfurt WiFi" with any WiFi device. This access is best suited to occasional checking emails or other messages. For higher rates of data transfer we offer special networks.