With around 190,000 visitors and over 2,500 exhibitors ISH is the world's leading trade fair and international meeting place for the sector at the same time. 46 % of the visitors 66 % of the exhibitors come from outside Germany. 96 % of all trade fair guests were satisfied with their visit in 2019.
About ISH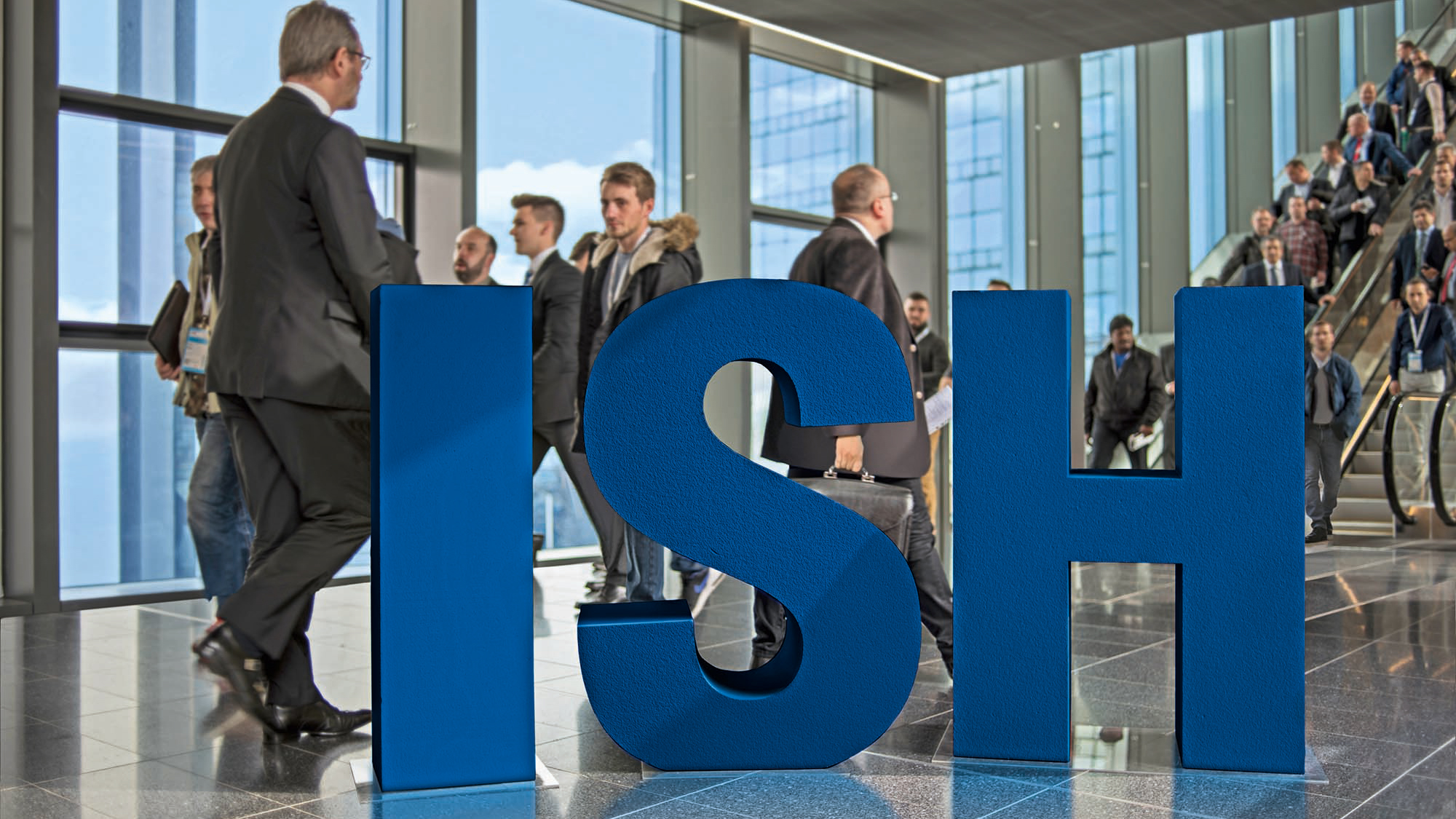 ISH focuses on modern bathroom design, sustainable heating and air-conditioning technology as well as intelligent home systems. The world's largest exhibition space for the HVAC sector showcases an array of practical solutions for the most important issues of our time: achievement of climate protection targets, conservation of resources through the use of renewable energies, increasing digitalisation and smart technologies.
Learn more
ISH 2019 in figures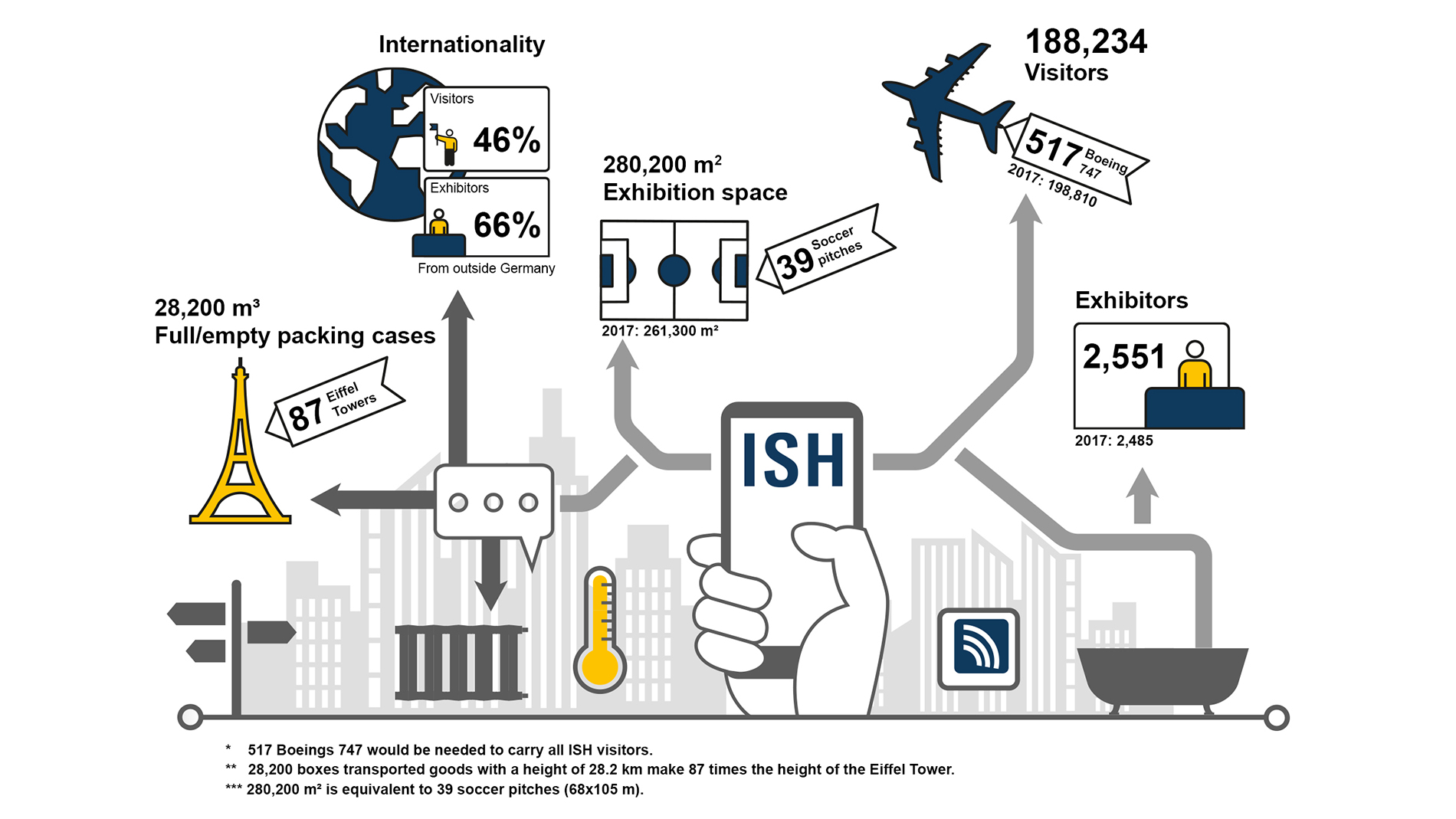 ISH, the world's leading trade fair for HVAC + Water, once again gave an impressive demonstration of its importance for German and international visitors and exhibitors. Achieving the climate targets is only possible by interconnecting systems and trades. With innumerable solutions, the global meeting place generated a plethora of fresh and future-oriented impulses.

Number of visitors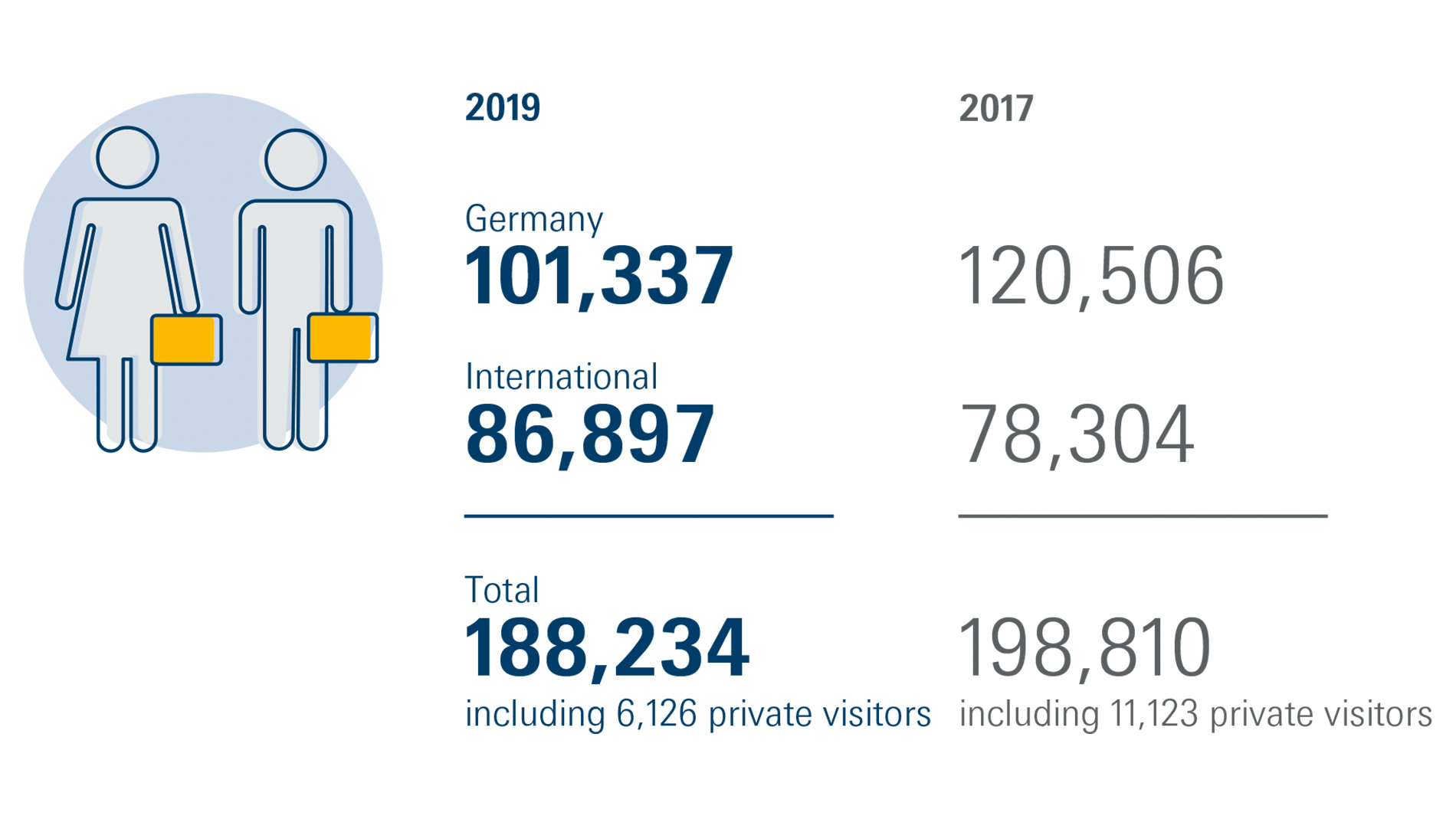 The world meets up at ISH. TOP international experts from the sanitary, heating and air-conditioning sectors come to Frankfurt. This makes the fair the industry's international highlight and its number one meeting place. At ISH 2019, a total of 188,234 visitors has experienced your highlights and innovations on a floor area of 280,200 sqm.
ISH lives up to its reputation as an international player in the trade fair sector. In 2019, the proportion of international visitors increased to 46 % and the trend continues to rise.
Number of exhibitors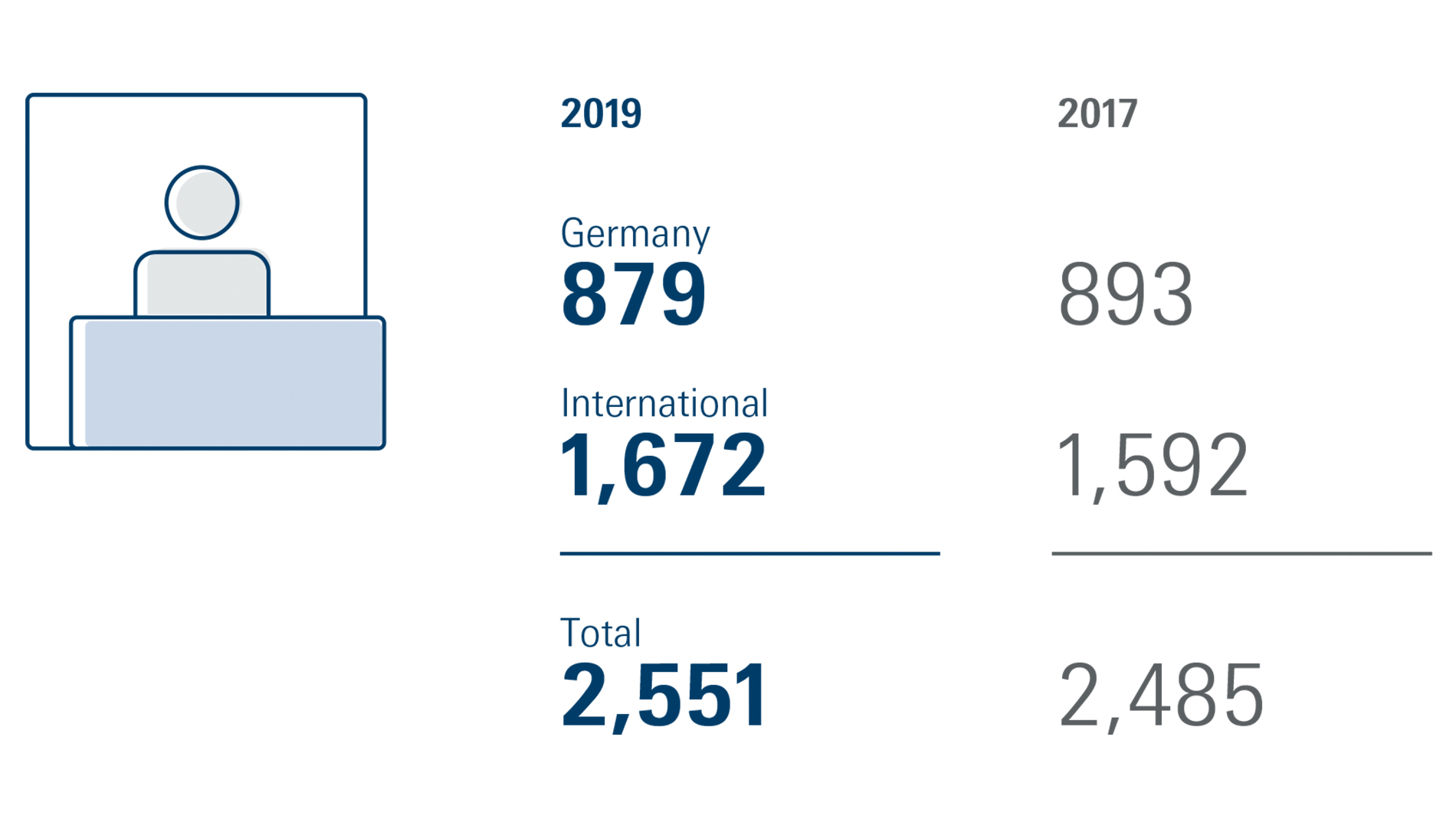 The place to be for the entire industry – and a focus of growing international interest. A total of 2,551 exhibitors demonstrated their expertise and innovations at the leading international industry showcase. And with 66 % of exhibitors coming from outside Germany, the international profile of the event continues to grow.
Larger exhibition area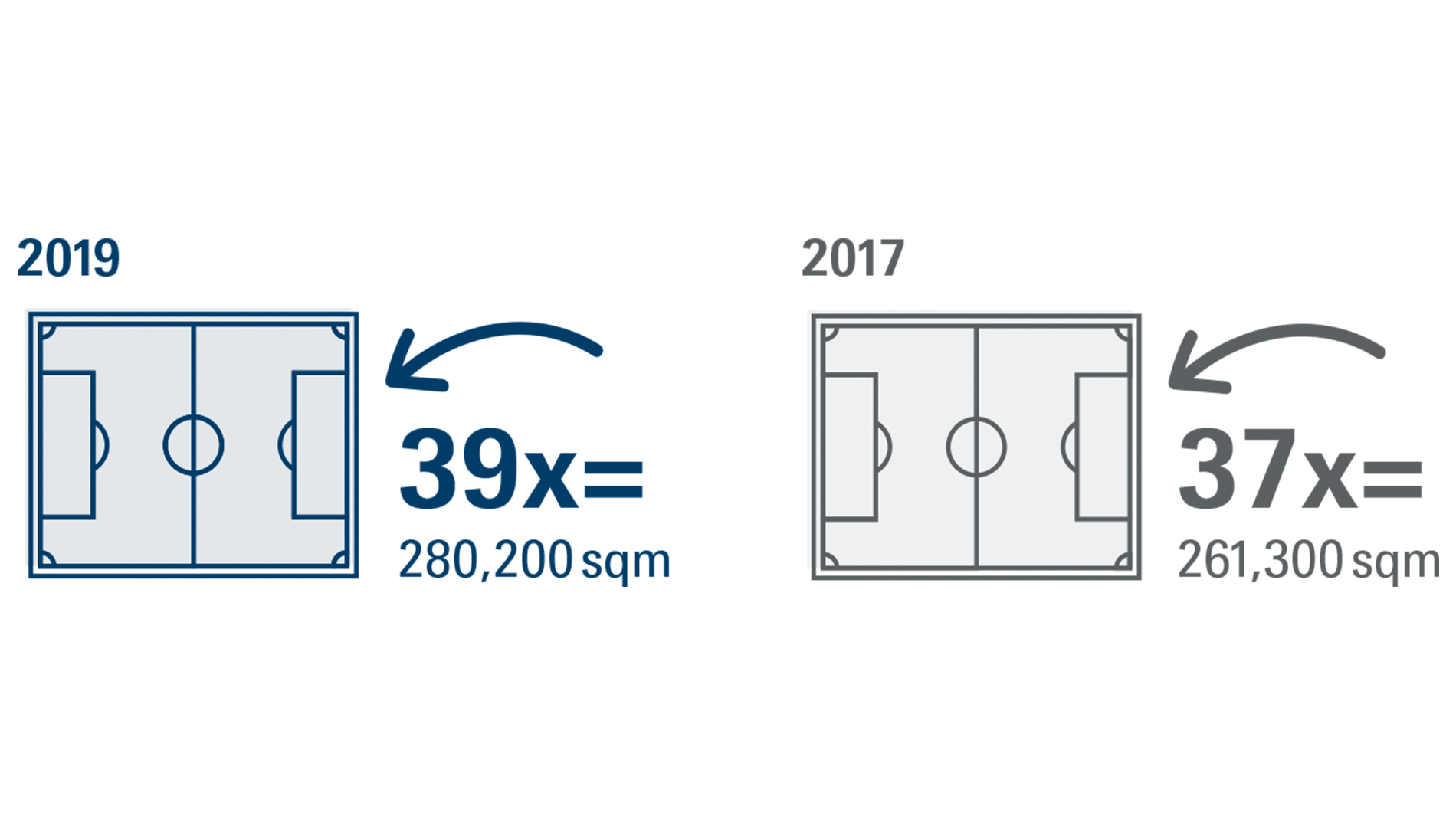 ISH continues on its growth path. The largest exhibition venue in the world for product innovations occupies an area equal to approximately 39 football pitches, an increase of roughly 19,000 sqm.
Ranking of ISH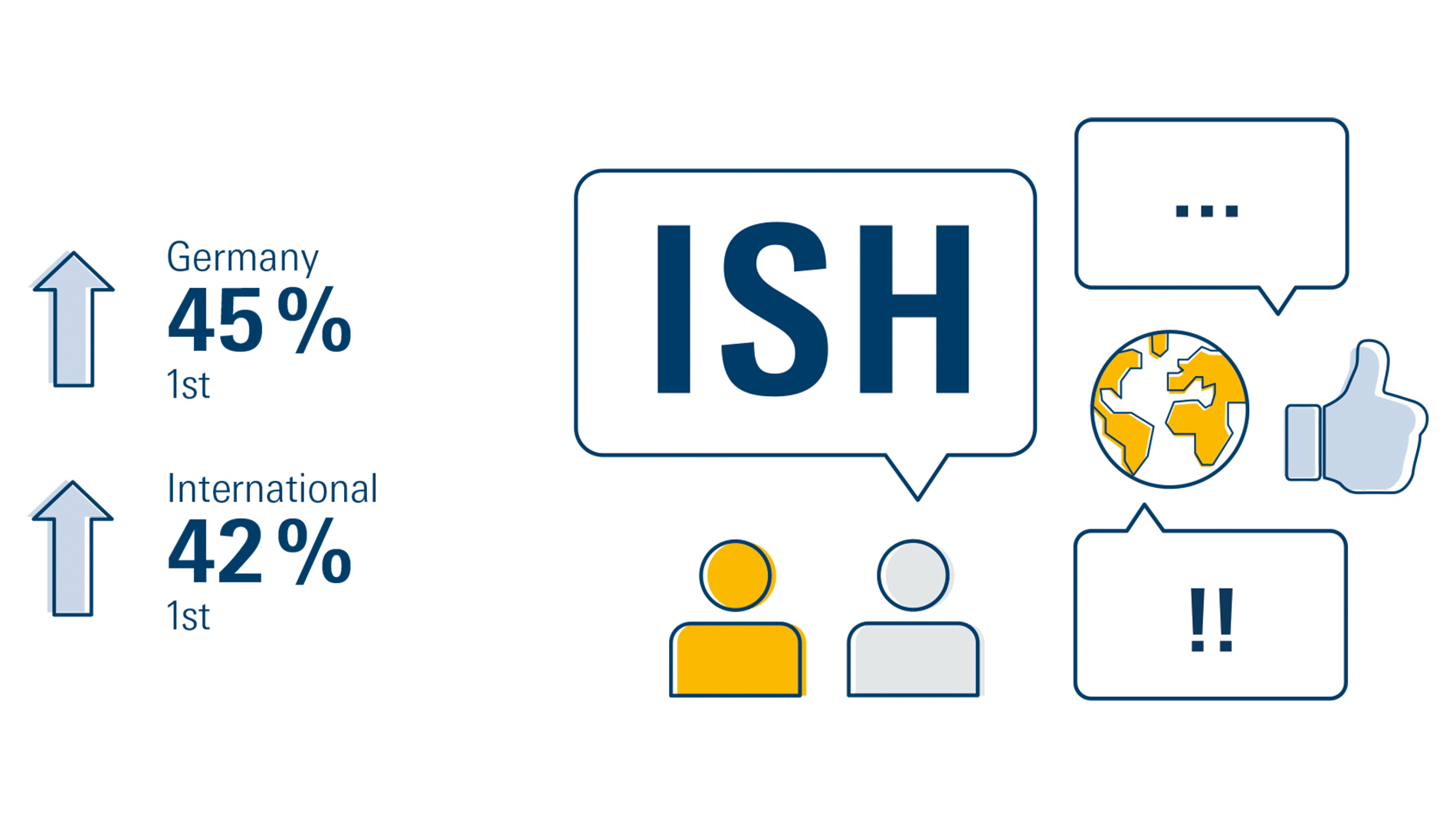 ISH has consolidated and improved its ranking. The fair is generating increasing interest among German and international trade visitors and reinforcing its unique selling point in comparison to other international trade fairs. The number of German trade visitors ranking it as the number one event increased by 3 percentage points to 45 %. And the same trend can be seen in terms of its ranking by international visitors with a 2 percentage point increase to 42 %.
Origin of international visitors
Internationally and globally unique: In 2019, visitors came from a total of 161 countries. This represents a rise in the proportion of international visitors to 46 %. Altogether 75 % of guests came from Europe, 18 % from Asia, 4 % from the Americas, 2 % from Africa and 1 % from Oceania.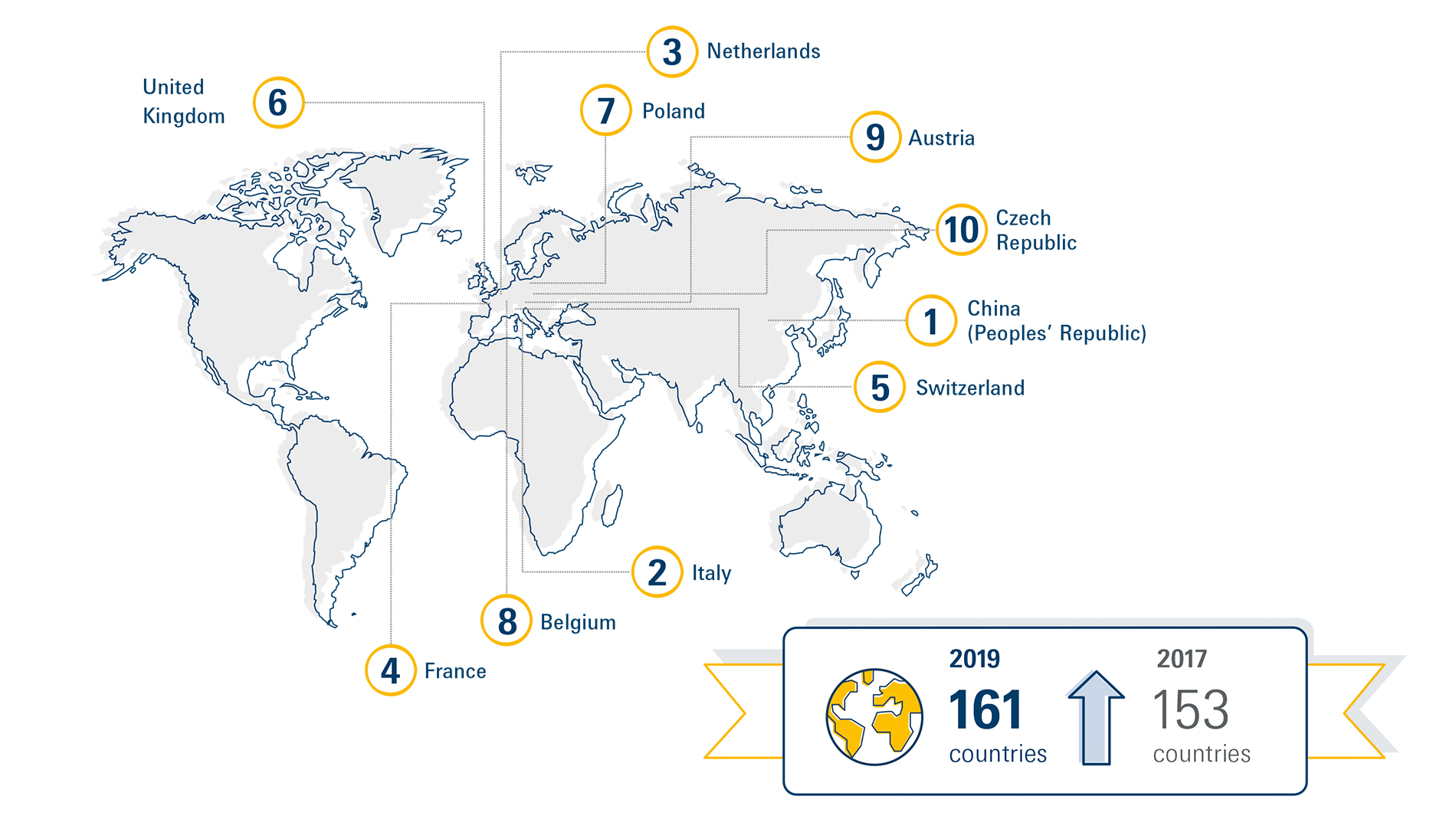 Visitor business sectors
You'll find the right industry contacts at ISH. Here you can meet top decision-makers from the installation trades, commerce and industry as well as from architecture, engineering and planning offices. In terms of German installation trades alone, 49 % of visitors came from top management. The extremely positive economic situation in the installation trades led to fewer visitors from the sector this time. However, the number of decision-makers at the trade fair rose.
Also on the up is the number of visitors from other target groups involved in construction, such as the real estate sector, property developers and building technology service providers.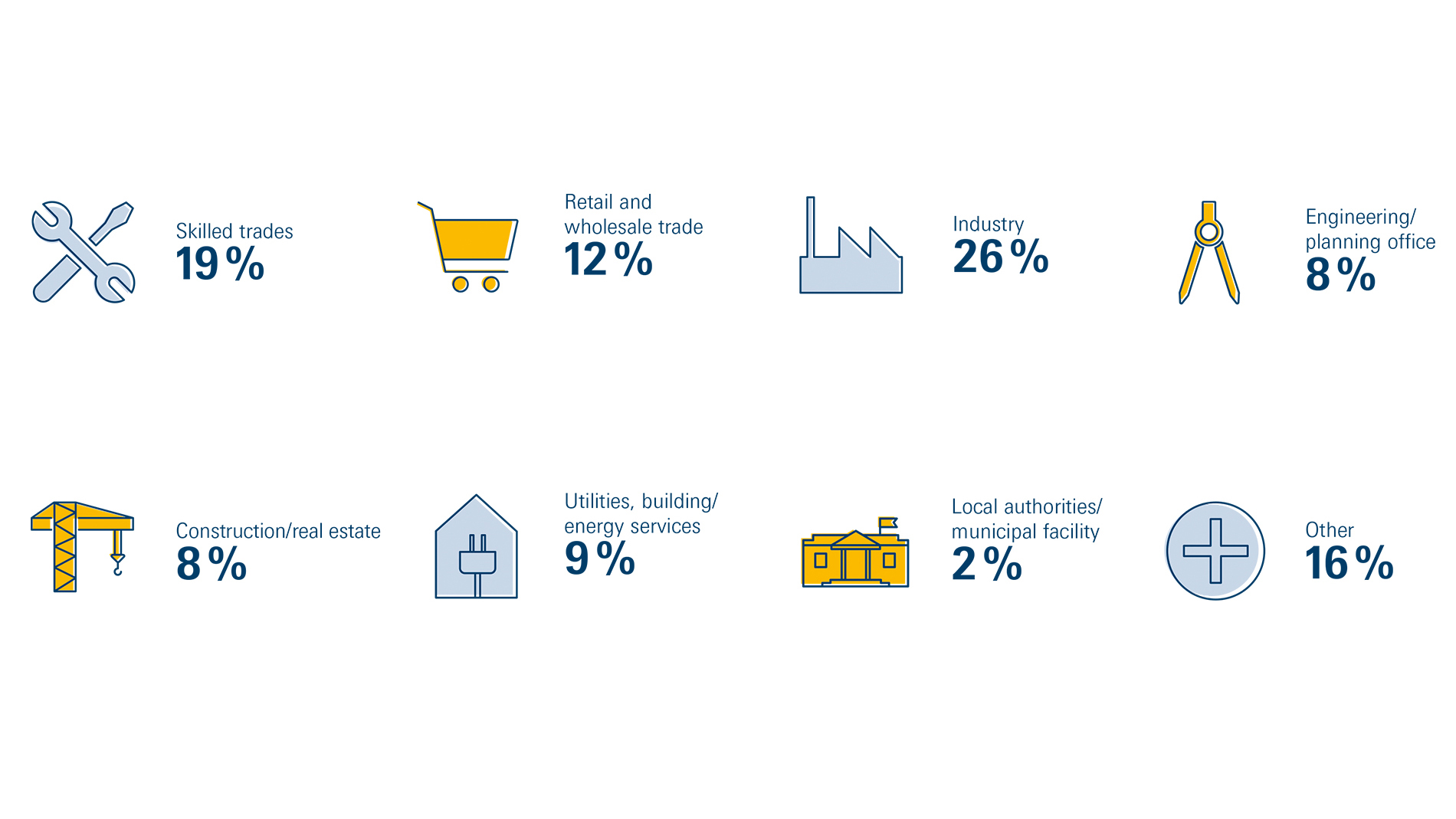 Occupational status of trade visitors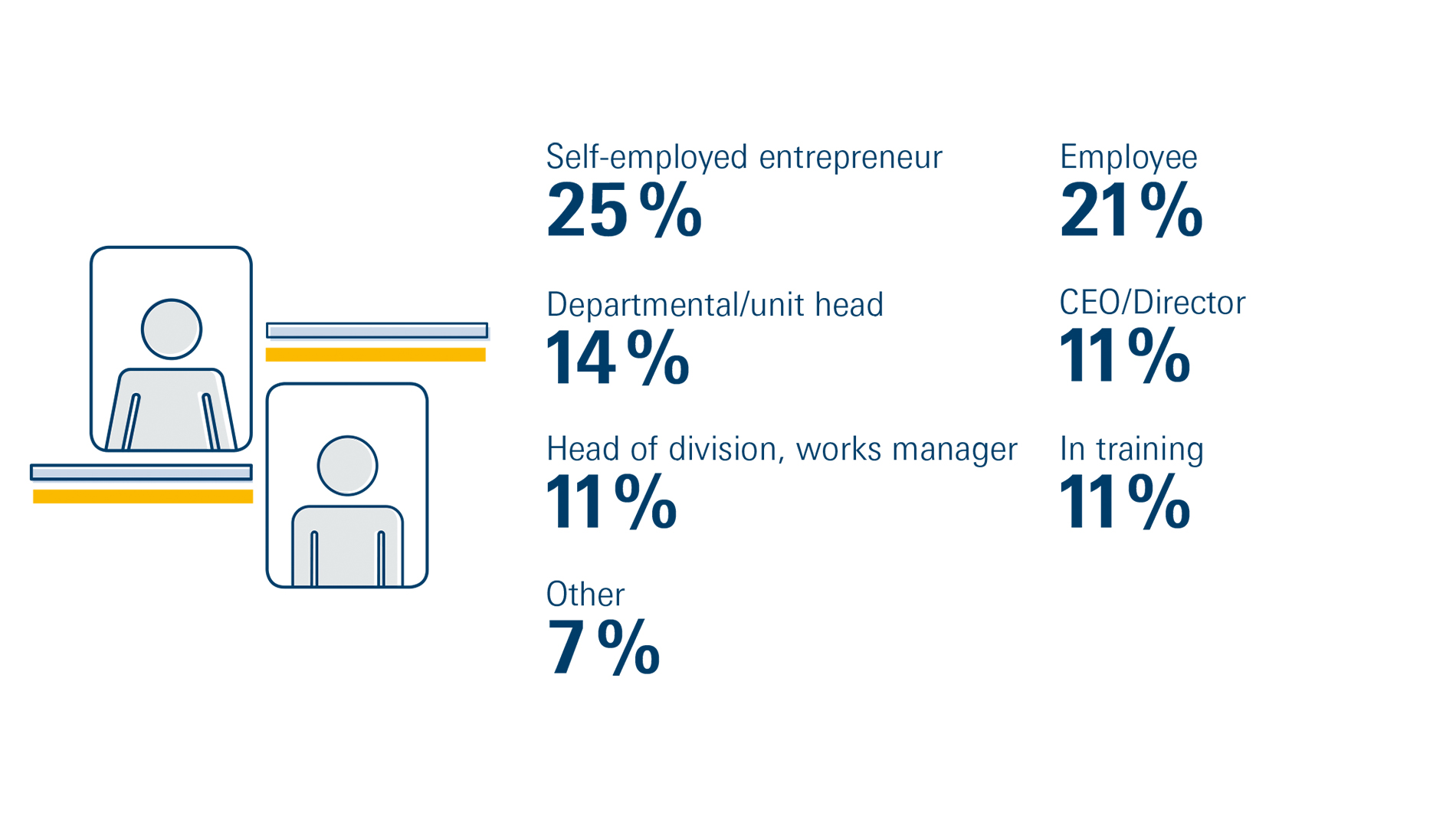 From trainees to CEOs – ISH offers a glimpse into the future for everyone no matter their occupational status and is the number one networking hub for executives and trainees alike.
Influence on purchasing decisions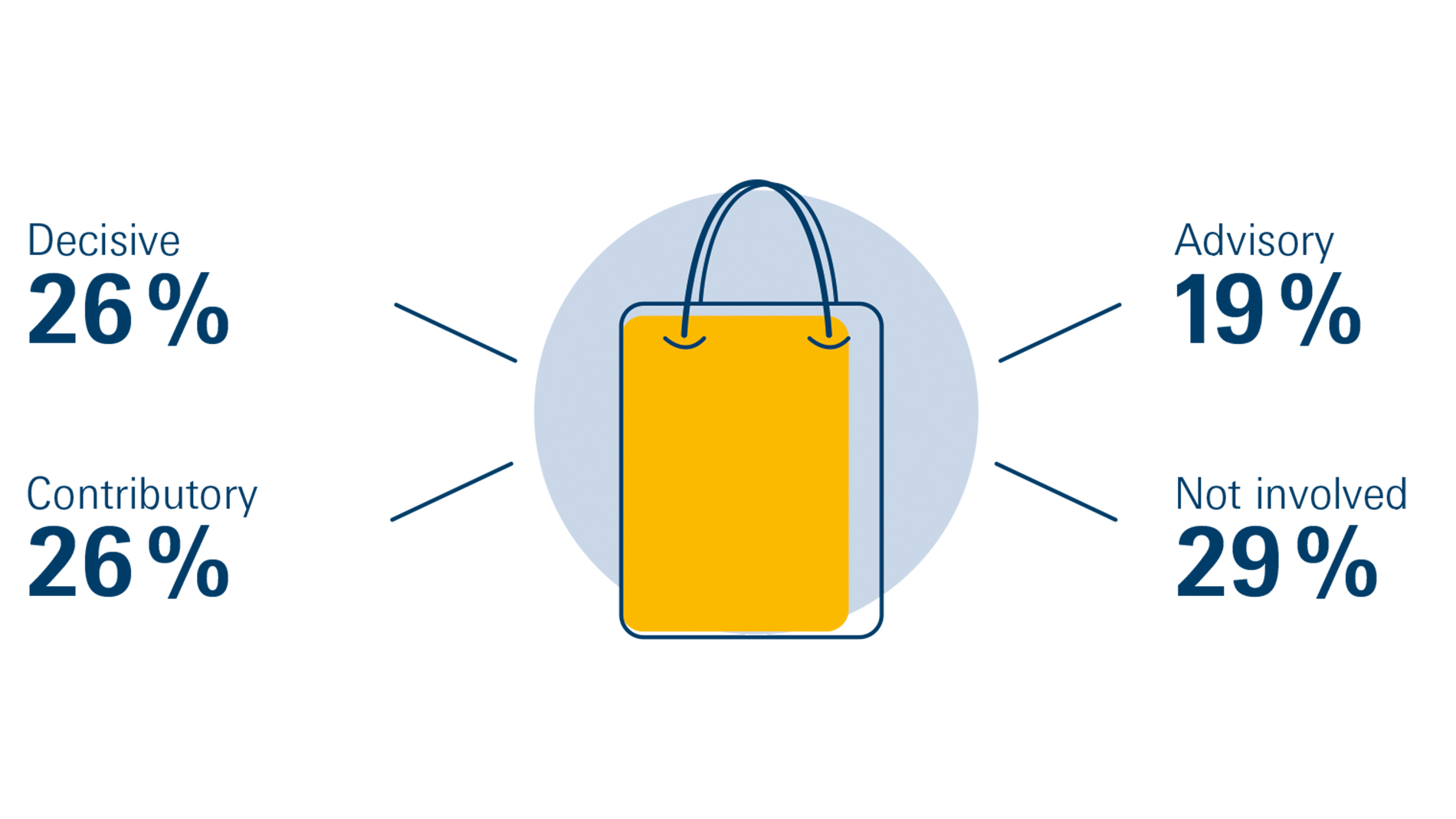 Meet decision makers, expand networks, discover markets: 71 % of visitors to ISH 2019 have an influence on purchasing and procurement decisions in their companies.
Trade fair visit objectives of visitors
ISH is a major show that reflects the current topics in the industry and thinks beyond traditional boundaries. This positioning has received a positive response from all visitors. They particularly appreciate the opportunity to familiarise themselves with a wide range of product innovations and new ideas, to take part in continuing professional development events and to expand their specialist knowledge.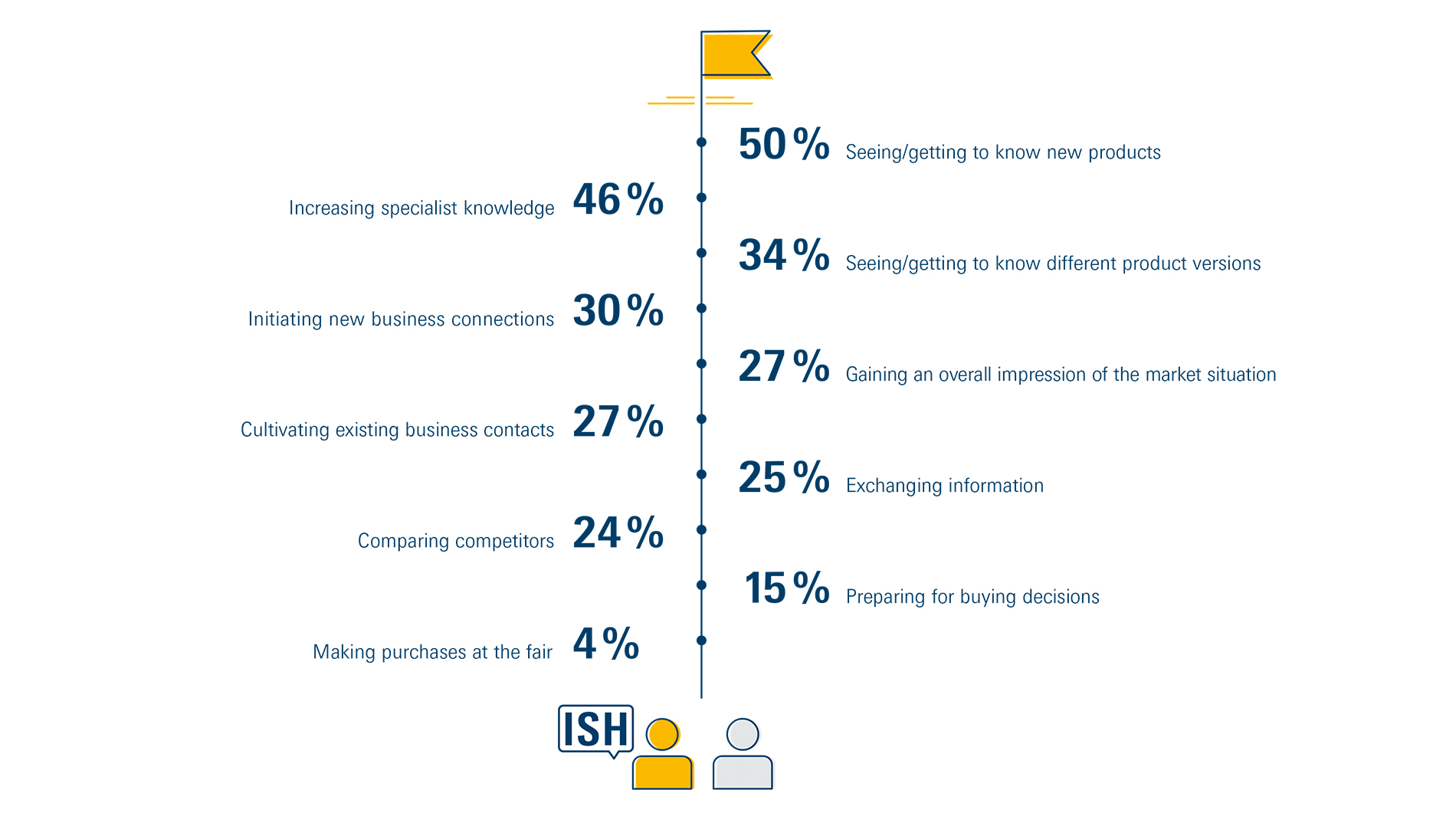 Areas of interest at the fair
ISH offers a complete overview of the industry's range of products and services. An effective mix that convinced trade visitors from all over the globe in 2019.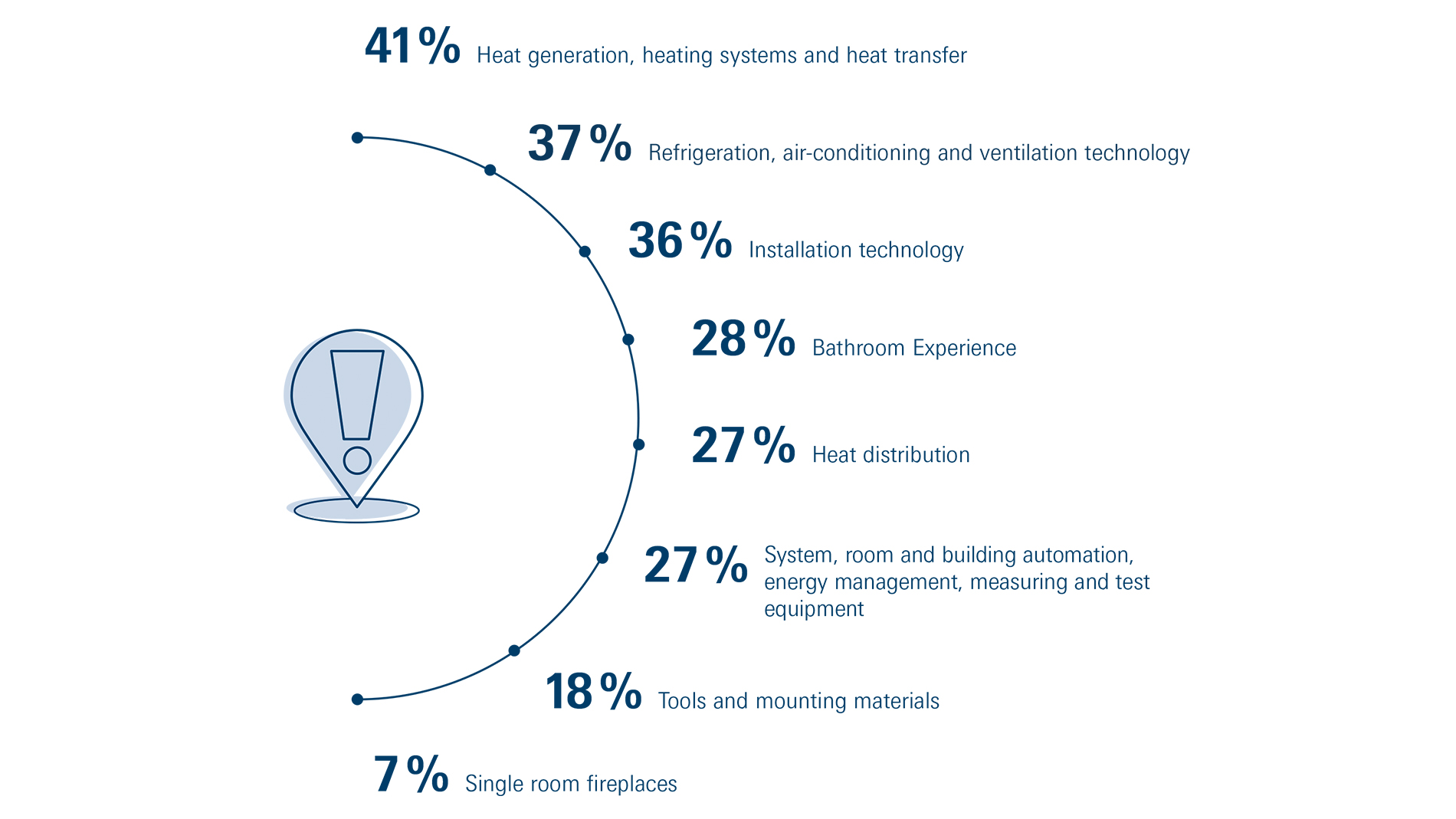 Satisfaction of visitors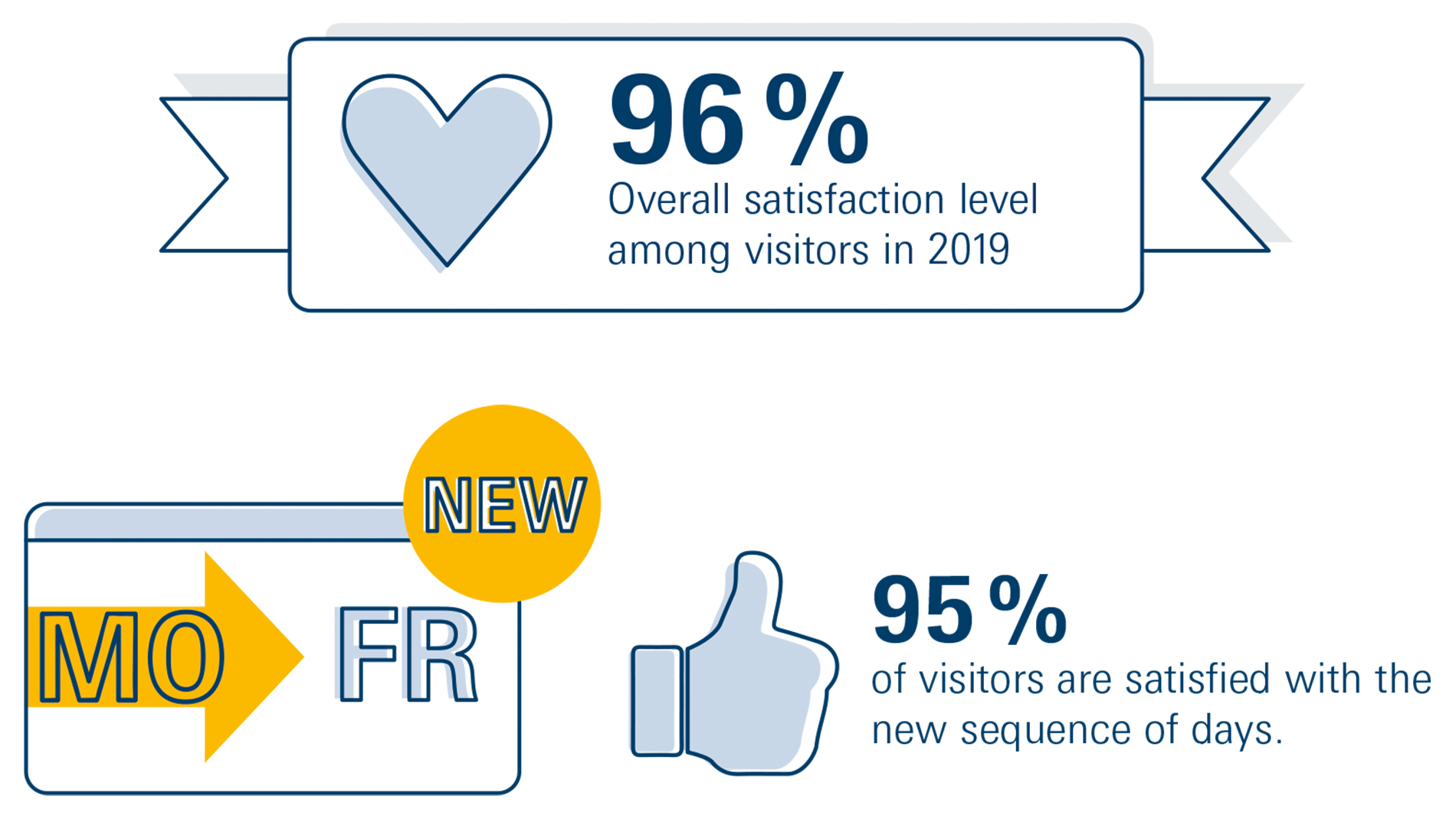 The figures are impressive: 96 % of all trade fair guests were satisfied with their visit in 2019, which represents a 4 percentage point rise in visitor satisfaction compared to ISH 2017.
The change in the sequence of days at ISH from Monday to Friday was rated positively by 95 % of visitors.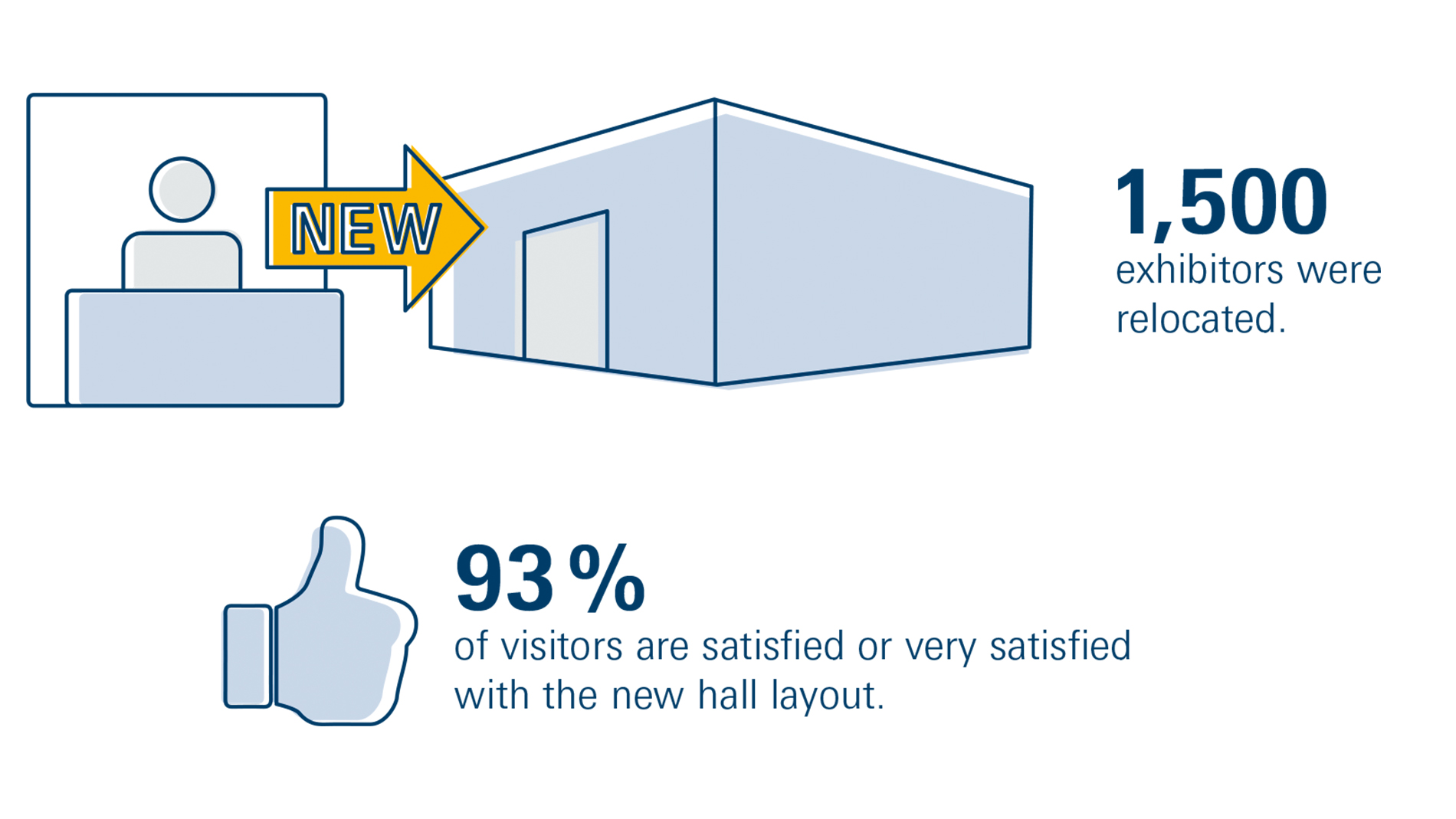 The expansion of ISH has led to a restructuring of the fair. Specifically, this meant that 1,500 of the 2,551 exhibitors moved to new stand locations (in new halls). The move was a success and exhibitor approval was extremely high at 93 %.
Frankfurt welcomes the entire sector. You'll find all key target groups at ISH: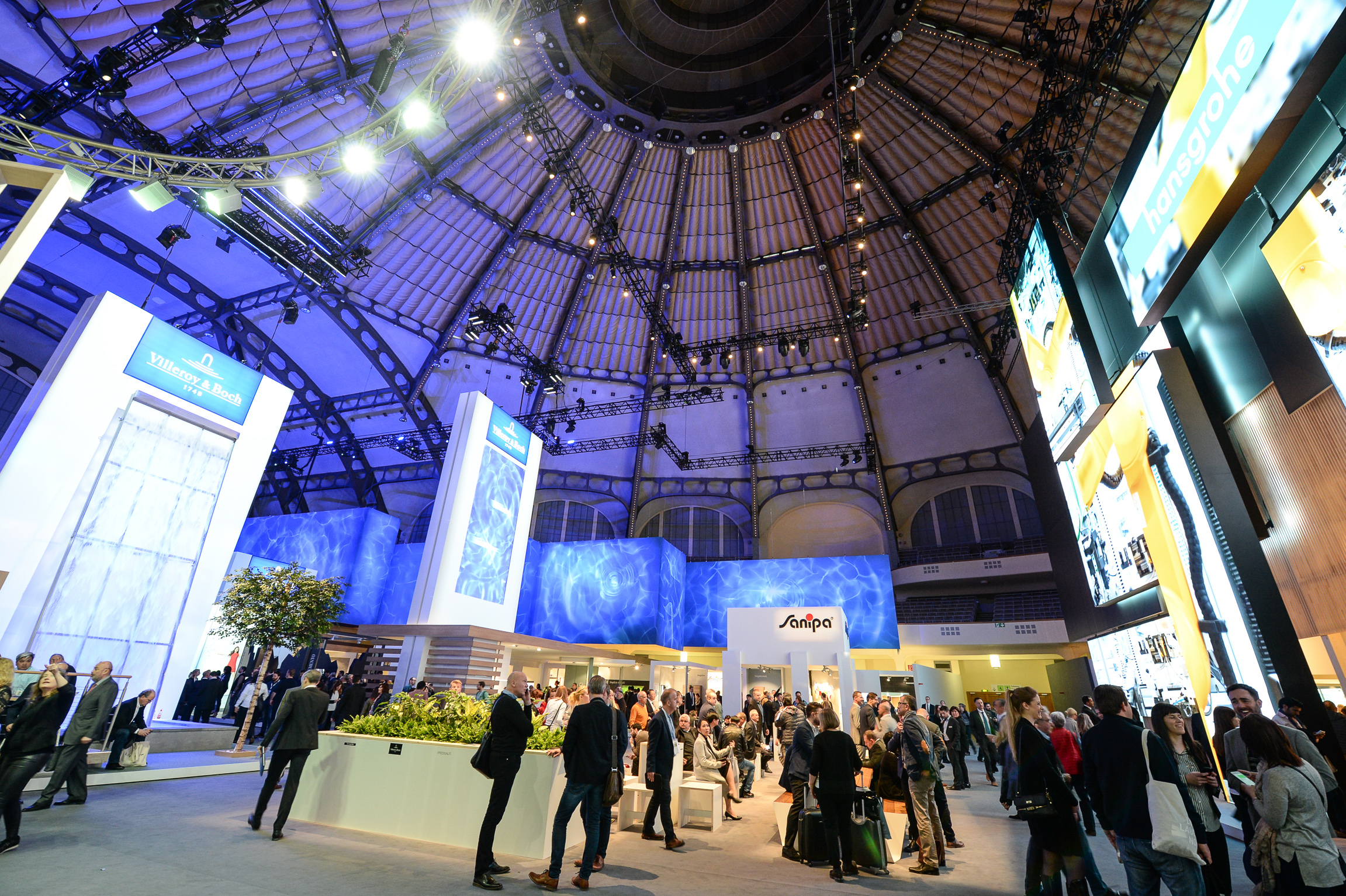 Sanitation, heating and air-conditioning installers and industry
System planners and engineers
Wholesalers and retailers
Architects, interior architects, designers
 Construction and housing industry
Investors and local authorities
Federation of German Heating Industry
Bundesverband der Deutschen Heizungsindustrie e. V. (BDH)
Uwe Glock
President BDH
Frankfurter Straße 720 - 726
51145 Köln

Andreas Lücke M.A.
General Director BDH 
Frankfurter Str. 720 - 726 
51145 Köln

www.bdh-koeln.de
Association of Air-Conditioning and Ventilation in Buildings
Fachverband Gebäude-Klima e.V. (FGK)
Prof. Dr.-Ing. Christoph Kaup
Chairman FGK
Keiperweg 11-15
55767  Brücken
Günther Mertz
Managing Director FGK
Fachverband Gebäude-Klima e.V.
Danziger Straße 20
74321 Bietigheim-Bissingen

www.fgk.de
German Association for Energy Efficiency in Building Services
VdZ – Forum für Energieeffizienz in der Gebäudetechnik e.V.
Dr. Michael Pietsch
President VdZ
Oranienburger Str. 3
10178 Berlin
Kerstin Vogt
Managing Director VdZ
Oranienburger Str. 3
10178 Berlin
German Sanitary Industry Association
Vereinigung Deutsche Sanitärwirtschaft e.V. (VDS)
Andreas Dornbracht
Chairman VDS
Aloys F. Dornbracht GmbH & Co. KG
Köbbingser Mühle 6
58640 Iserlohn
Jens Wischmann
Managing Director VDS
Rheinweg 24
53113 Bonn
The German Sanitation, Heating and Air-Conditioning Association
Zentralverband Sanitär Heizung Klima (ZVSHK)
Michael Hilpert
President ZVSHK
Rathausallee 6
53757 St. Augustin
Helmut Bramann
Managing Director ZVSHK
Rathausallee 6
53757 St. Augustin